Monastyrskiy Okroshka Kvass (Монастырский Окрошка Квас)

Monastyrskiy Kvas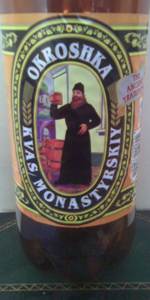 Write a Review
Beer Geek Stats:
| Print Shelf Talker
Style:

ABV:

not listed

Score:

Avg:

3.4

| pDev:

6.76%

Reviews:

9

Ratings:

From:

Avail:

Year-round

Wants

Gots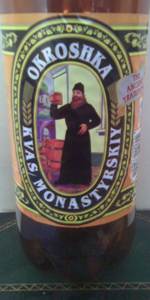 Notes:
dbrauneis from North Carolina
3.39
/5
rDev
-0.3%
look: 3.5 | smell: 3.25 | taste: 3.5 | feel: 3 | overall: 3.5
A: Pours an almost opaque yet still clear dark brown in color with light to moderate amounts of active visible carbonation rising quickly from the bottom of the glass and faint amber + garnet red + chestnut brown colored highlights. The beer has a finger tall fizzy tan head that quickly reduces to a thin ring at the edges of the glass. Minimal amounts of lacing are observed.
S: Just shy of moderate aromas of sweet dark rye breads + artificial cola sweetness.
T: Upfront there are moderate flavors of sweet dark rye breads with a moderate amount of caramel + molasses like sweetness and a hint of spicy rye. Light amounts of artificial cola soda flavors. No perceptible hops or bitterness.
M: Light bodied with moderate amounts of carbonation. Slightly crisp initially.
O: Drinks pretty easily and there are no off flavors but it tastes/feels/smells like more of a soft drink than a beer.
Aug 12, 2018
metter98 from New York
3.39
/5
rDev
-0.3%
look: 3.5 | smell: 3.25 | taste: 3.5 | feel: 3 | overall: 3.5
A: The beer is hazy dark red (brown when viewed from afar). It poured with just a thin collar consisting of light beige bubbles encircling the edge of the glass.
S: Moderate aromas of baked breads are present in the nose along with notes of cola.
T: The taste is rather sweet and has underlying notes of cola.
M: It feels light-bodied on the palate and has a moderate amount of carbonation.
O: This beer has a good amount of sweetness but is rather drinkable for a kvass and doesn't have any "off" flavors.
Serving type: 2 liter plastic bottle
Aug 12, 2018
tigg924 from Massachusetts
3.82
/5
rDev
+12.4%
look: 3.75 | smell: 3.5 | taste: 4 | feel: 4 | overall: 3.75
Pours clear, light brown in color with minimal head. Taste is similar to root beer with herbs. Light bodied, moderate carbonation and sweet. Like a soda beer hybrid. Drinks like a gruit. Tasty.
May 06, 2018

flagmantho from Washington
3.27
/5
rDev
-3.8%
look: 3 | smell: 2.75 | taste: 3.5 | feel: 3.25 | overall: 3.5
Poured from 2 liter bottle into a dimpled mug.
Appearance: dark reddish-brown with no haze and no head. There's a moderate effervescence, though. Pretty average for the style.
Smell: lightly sweet with a light breadiness and a hint of ... is it lemon? Nice enough, but the intensity is very low. Could use a lot more aroma here.
Taste: bready and not as sweet as many kvasses, with a hint more acidity. I rather like it. I guess this is the kind of kvass you want for making okroshka; perhaps that's why it's less sweet. I rather like it.
Mouthfeel: light body with a good carbonation. Quite refreshing.
Overall: a very drinkable kvass; the relative dryness makes it quite quaffable. I'd consider making this my regular kvass.
Mar 13, 2013

emerge077 from Illinois
3.17
/5
rDev
-6.8%
look: 2.75 | smell: 3.25 | taste: 3.25 | feel: 2.75 | overall: 3.25
"Shelf life 6 months from production date printed on bottle closure" which happens to be 07.04.13. (Must be a best by date, and it's in code). Kvass #14.
Pours with little fizz or carbonation, a few surface bubbles then zilch after a second or two. Still glassy surface. Caramel color, ruby highlights when held to the light.
First whiff was vaguely of rye toast, but soon after it smells like tootsie rolls.
It tastes like your basic commercial kvass specimen... sweet and raisiny with a hint of rye malt, tootsie rolls again. Limp carbonation, slight astringent bite. It's pretty ho hum, but drinkable if you have a sweet tooth. No great shakes here.
Feb 06, 2013

damndirtyape from Ohio
3.47
/5
rDev
+2.1%
look: 3.5 | smell: 4 | taste: 3.5 | feel: 3 | overall: 3
2L bottle (hard to see what the date was on the lid, maybe 2011 or maybe 2010) - some of it poured into a Tulip Stout glass.
Appearance: No head at all. Deep ruby red to mahogany brown color when held up to the light. Nice color.
Smell: Molasses, burnt rye bread, something fruity, and honey.
Taste: Sweet, but not cloying. Honey definitely, a bitter burnt bready flavor with a lot of that molasses again. A mildly acidic finish - a lot like a soda in a way. There is even some hints of cola at the end.
Mouthfeel: Some very faint carbonation when first poured but pretty much completely flat after that. I can see some bubbles on the sides of the glass but not a lot - so either this is majorly undercarbonated or it's not fresh at all. Otherwise sticky and a bit chewy in the mouthfeel.
Overall: I suspect this bottle is past its prime, but I would have no way of knowing since I've never had this beer before and because I can't read the label. And from reading the other reviews which describe it as fizzy I'm beginning to think it's definitely gone flat like a carbonated beverage will do over time. An interesting experience, but from what my Ukranian friend (not here to share this sadly) told me about this stuff, it's much better fresh served outside during the summer from a tanker truck. Yes - a tanker truck. So overall, glad I tried it, but I think I'll hold out on trying it again until I know that I have a very fresh bottle, or, I can try it at the native source.
Aug 13, 2011

woodychandler from Pennsylvania
3.7
/5
rDev
+8.8%
look: 3 | smell: 3 | taste: 4 | feel: 3 | overall: 4.5
If the Kvass Kick is to Kontinue, Kamarades, we must understand what is driving the flavorings. NeroFiddled mentions honey in his review and this is the definition of Okroshka from wikipedia: "Okróshka is a cold soup of Russian origin that is also popular in Ukraine. The name probably originates from "kroshit'" which means to chop or break into small pieces.
The classic soup is a mix of mostly raw vegetables (like cucumbers and spring onions), boiled potatoes, eggs, and a cooked meat such as beef, veal, sausages, or ham with kvass, the so-called bread drink, which is a mildly alcoholic beverage made from fermented black or rye bread. Okroshka is usually garnished with sour cream. Later versions that appeared in Soviet times use light or diluted kefir, vinegar, mineral water, or even beer instead of kvass.
The ingredients are diced and then mixed with kvass just before eating; the ratio of chopped food to kvass is similar to that of cereal to milk. This allows the vegetables to retain their texture. For that same reason, even though the ingredients are similar to those in a Russian salad, the taste of okroshka is quite different from that of the salad.
Okroshka is mostly served in summer because the soup combines the refreshing taste of kvass and the lightness of a salad. Salt and sugar can be added according to taste.
Okroshka is always served cold. Sometimes ice cubes are added to served portions to keep the soup cold in hot weather."
Kvass as the basis for a cold soup?!? Wild! I may try this in the summer. Kooking with Kvass.
This had a definite soda pop-like fizziness to it on the pour, but the head quickly dissipated. Nose was definitely bready, like fresh dark rye, with the now-familiar sour-sweet scent of dried dark fruit, like raisins or prunes incorporated. Color was a deep cola-brown with NE-quality clarity. Mouthfeel was very fizzy, much more like soda pop than some of the others, and with a much greater sweetness than the others. The taste, besides just simply being sweet, was more fruity and (perhaps) honeyed than any other one that I have tasted thus far. I do not drink much pop these days, but I could see this as a reasonable alternative to cola. I am truly curious to see what it will be like in the soup. Tasty!
Apr 30, 2011
NeroFiddled from Pennsylvania
3.65
/5
rDev
+7.4%
look: 3.5 | smell: 3.5 | taste: 4 | feel: 3 | overall: 3.5
This is the honey-flavored version of Monastyrskiy.
Poured side by side with the original they look almost exactly the same: a clear dark mahogany body with a hint of a ruby cast to it. While you're pouring it a flimsy surface of light tan bubbles appear, but then immediately fade - not unlike a cola. The Okroshka is just a touch lighter in color, perhaps by a difference of 1 SRM.
When poured cold they smell almost exactly the same, however a bit of the honey does make its way through, and it becomes almost bold once it warms a bit.
The flavor is actually quite similar as well, offering that sweetish molasses/rye breadiness, although the honey is quite clear. The main difference, I feel, is that the honey smooths it out and lends to a softer finish. In the original you go from bready, to just sweetness kind of abruptly, and then to drying, astringency, and subtle tartness in the finish whereas the honey version is more sweet/bready, bready/sweet, and then nutty/honeyish in the finish with less astringency.
Mar 28, 2011

TMoney2591 from Illinois
3.17
/5
rDev
-6.8%
look: 3 | smell: 3.5 | taste: 3 | feel: 2.5 | overall: 3.5
Served in a Chicago Bears shaker pint glass.
My first foray into flavored kvass. I love adding dimensions to my Kvass Kick! It pours a clear garnet topped by a very short-lived head of dirty ecru fizz. The nose comprises rye bread, fennel, wheat, light maple syrup, and a touch of cocoa powder. The taste holds notes of cola, fennel, light maple syrup, and root beer. The body is a light medium, with a fizzy carbonation and a thin, watery feel. Overall, I'm not getting much difference in taste between this and the non-flavored kvass (even of the same brand), but it does seem a good deal thinner. It's still pretty drinkable, but you'd have to be in for this sort o' thing.
Dec 10, 2010
Monastyrskiy Okroshka Kvass (Монастырский Окрошка Квас) from Monastyrskiy Kvas
Beer rating:
78
out of
100
with
13
ratings