Luminaria
| Del Norte Brewing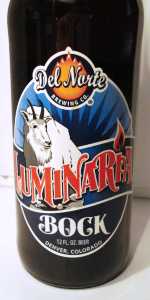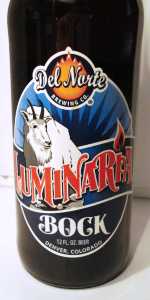 BEER INFO
Brewed by:
Del Norte Brewing
Colorado
,
United States
delnortebrewing.com
Style:
Doppelbock
Alcohol by volume (ABV):
7.80%
Availability:
Winter
Notes / Commercial Description:
No notes at this time.
Added by BradLikesBrew on 12-09-2009
This beer is retired; no longer brewed.
HISTOGRAM
Ratings: 14 | Reviews: 8
Reviews by rsdaugherty:
More User Reviews:



2.71
/5
rDev
-6.2%
look: 3.5 | smell: 2.5 | taste: 2.5 | feel: 3 | overall: 3
Shockingly weird murky brown stew. Like a Puerto Rican malta but dosed up with cheap hooch. Reminds me of that fraud of a dark beer, Lobotomy Bock, from the chemists at Mojave Brewing.
Chalky yet a touch of sour, but built on the substantial base of supermarket pecan pie dosed with cinammon and last week's coffee. I was hoping to prove the sceptics wrong, but this seems to get more peculiar as you sip and marvel. Still, it's not actually evil, it's just so downright peculiar. Recognizable caramel malt, and odor to match, just an apparent lack of hops or anything to balance the sweet cardboard.
Hoping to find some salvation, I mixed a half a wine glass with a like amount of an overly-bitter IPA (Spotless) to see if the Willamette and Zeus hops would jack it up. Wooof! Another experiment gone wrong, here in the shadow of Los Alamos, NM with the smoke scenting the night air.
888 characters

2.32
/5
rDev
-19.7%
look: 2.5 | smell: 3 | taste: 2.5 | feel: 1.5 | overall: 1.5
I was generously given a sample prior to release, wish I had opened it sooner.
Pours a caramel body with virtually no head. Aroma is malty and nutty. Caramel and perhaps a touch of cocoa on the palate.
I had been warned by the distributor that this beer is lightly carbonated. I was told that this was the intention, that it was the "style that they are going for." I don't know what style that would be, I have never experienced a flat doppelbock.
I can confirm that this beer is nearly un-carbonated. For me, this rendered it virtually undrinkable. I don't know, maybe some people like beer this way and if so, power to them. But I can't help but think that this was some sort of brewing error that someone is now claiming was the intention all along. I hope that's not the case. Del Norte says they produce this beer with low carbonation to make it more sessionable. I don't get it. I think less carbonation makes something less sessionable, that's one of the reasons most lagers are so highly carbonated, to make them crisper, more refreshing, and easier drinking.
This beer was a drain pour for me, hence the minimal tasting notes. It reminded me of a homebrew gone bad. I don't mean to offend the brewers, I am a big supporter of Del Norte and wish them nothing but the best. I have been waiting for this seasonal release for a long time and this was a big let down.
1,378 characters

1.8
/5
rDev
-37.7%
look: 2 | smell: 2 | taste: 2 | feel: 1 | overall: 1.5
4 pack from Wilbur's in Ft. Collins, around $8. Somewhat skeptical, as I gave the other three bottles to friends, and they all hated it.
A: Muddy murky brown in color, no head, none, i practically dumped this sucker out trying to get some bubbles and there were a few, but none from carbonation. Red accents. A few little bubbles towards the edge but nothing exciting here.
S: Not much, which isn't a good sign here, a whiff of caramel, some grains, not much else. This smells like nothingness in a glass.
T: Really nothing here either, tastes like thin malt extract syrup, and soil, has a very distinct soil taste. Slightly metallic, and also has this really distinct taste like completely flat keystone light keg beer. Somewhat salty? Cooked vegetables. Not good, I don't want to thrash this beer, but this has few redeeming qualities.
M: This is where it all falls apart. Zero carbonation. None, none at all, not even enough to register as mildly or lightly carbonated.
D: None, this is foul, each sip I take makes me think about gagging. This beer is a huge disappointment, as I've liked everything else from Del Norte. I don't know what they were thinking with this one, but it could be good, they just need to perfect it before they release it. This will be a drain pour unfortunately.
1,301 characters

3.59
/5
rDev
+24.2%
look: 2.5 | smell: 3.5 | taste: 4 | feel: 3 | overall: 3.5
Wow...people apparently don't like this beer. I guess I'm a weirdo because I definitely do!
Pours a cherrywood color. Not much foam or carbonation…kind of slick to be honest, but certainly not dead flat.
The flavor profile reminds me a lot of a normal German bock. Caramel, dates/figs, a little cocoa, and a rummy sweetness. It's a little boozy and overly sweet, but not all that different from some other supposedly very good bocks out there.
Maybe this recipe has been tweaked? I'm not sure, but I don't mind this one at all. It's inadvertently better than a lot of beers that are trying to emulate German doppelbocks.
I got 3 bottles as part of a mixed pack and they disappeared before any of the others did.
Give it a try if you like big malty beers. I'm guessing this has either gotten better or I'm just a strange dude for liking it.
853 characters
2.87
/5
rDev
-0.7%
look: 3 | smell: 3.5 | taste: 2.5 | feel: 2.5 | overall: 3
Bottle poured a clear dark reddish brown with a small lingering ring of tan foam. Aromas of carmel, molasses, prunes and raisins. mouthfeel was medium bodied and smooth with minimal carbonation (did Tomme have something to do with this beer?). Flavors of carmel, molasses and dark fruit with a smooth lingering carmel finish.
325 characters

2.49
/5
rDev
-13.8%
look: 2.5 | smell: 3.5 | taste: 2.5 | feel: 1 | overall: 2
Cloudy brown and overcarbonated. The coarse off white head took a good while to subside enough for me to drink anything. Head retention borders on eternity. Aroma is caramel and spicy/earthy. Very foamy upfront. Sweetness bordering on cloying in the middle with some of the alcohol coming through. Slightly metallic finish with a bit of an unpleasant bitterness. Body is a bit light for the style. Note: sediment in bottom makes me wonder if I waited to long to pop the cork. Possible live yeast contributed to over carbonation? Judging by previous reviews, a bit of overcompensation by the brewer.
598 characters
3.08
/5
rDev
+6.6%
look: 3.5 | smell: 3 | taste: 3 | feel: 3.5 | overall: 3
this is the biggest of the del norte beers so far, and one of my least favorite. it is on tap now at illegal petes on evans. pours copper penny colored with a patchy off white head with only a minute or two of retention. the smell is very sweet. caramel malty, but not that german malt im used to in a bock, this is something else entirely, and im not sure its totally appealing. alcohol also radiates from this beer. the taste is about the same, thickly malt heavy, tastes like the extract from those beer kits. boozy and filling, werid. its a funny take on a bock for sure, not sure if it just doesnt go well with a burrito, if i was a bit too drunk to fully appreciate this, or what, but to me it was a lackluster product. heavy mouthfeel from the syrupy body. carbonation was upbeat, but it couldnt save this one. nothing repulsive or anything, just sort of a miss in my book.
880 characters

1.65
/5
rDev
-42.9%
look: 2 | smell: 2 | taste: 1.5 | feel: 1.5 | overall: 1.5
Note: This review was a re-post from my former account, jmkratt, which was hacked and I lost all my reviews...sorry for the redundancy.
Purchased a 4-pack to complete Westword's Top 50 Beers of Colorado.
Poured from 12oz bottle to pilsner glass.
A - Poured a thick brown color with about as little head as I've seen, like an under-carbonated homebrew. Very disappointing appearance. No lacing.
S - A slight aroma of some roasted malts and caramel but not much else.
T/M - Shockingly there was also not much taste to accompany the lack of appearance and aroma! Tastes syruppy, almost like malted cough syrup, and earthy with a noticeable metallic feel. Undercarbonated and extremely thin.
D - Not at all.
Overall I was shocked this beer made the Top 50 List for Colorado, where there is a lot of great beer! I will continue to support Colorado craft brewers and Del Norte but am not a fan of this release. I gave 2 of the others to friends and they both were equally disappointed. I tried the last beer myself to confirm and it was bad. I don't know if I got a bad batch? The salesman at the store said it was fresh but who knows. I highly do not recommend.
Serving type: bottle
Reviewed on: 01-26-2011 14:00:10
1,219 characters
Luminaria from Del Norte Brewing
Beer rating:
2.89
out of
5
with
14
ratings