Blonde De L'Anse
| Microbrasserie Pit Caribou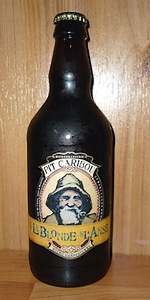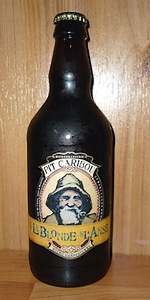 BEER INFO
Brewed by:
Microbrasserie Pit Caribou
Quebec
,
Canada
pitcaribou.com
Style:
English Pale Ale
Alcohol by volume (ABV):
5.00%
Availability:
Year-round
Notes / Commercial Description:
None provided.
Reviews: 8 | Ratings: 17

3.58
/5
rDev
+9.5%
look: 3.5 | smell: 3.5 | taste: 3.75 | feel: 2.75 | overall: 3.75
Pours pale gold with a light off whie head that dissipares quickly leaving very little lacing, Aroma is light hints of bready malt. Flavour - bready, cereal (wheatabix) with toffe notes not much hop distinctiveness - just enough to balance
239 characters

3.11
/5
rDev
-4.9%
look: 4 | smell: 3 | taste: 3 | feel: 3 | overall: 3.25
Appearance - Pours a nice clear gold with 2 fingers white head, film left when head reseeds.
Aroma - Bread hits my nose followed by cereal malts and some lemon.
Taste - Cereal malts followed by some fresh bread, fresh cut grass and lemon.
Mouth feel - light body with a very nice amount of prickly carbonation.
Overall - This is a pretty standard golden ale, it tastes fine and looks good. On a nice hot day I would really enjoy this beer. I probably wont buy it again though. unless the price is right. its just not standout enough.
539 characters

3.76
/5
rDev
+15%
look: 3.5 | smell: 3.75 | taste: 3.75 | feel: 4 | overall: 3.75
"Blonde of the Cove" Brewed by the sea near high capes.
Veiled, almost clear, dark straw color. Foamy white head for a minute for two.
Strong lacing. Pleasant but faint malty aroma with some sweetness, like caramel, and a touch of citrus and floral hops.
Balanced flavors but too faint. Nicely grainy and floral. Probably a little too much lemon for a pale ale. Good slick body with average carbonation. Pleasing mouth coat with a very balanced finish.
A fine beer overall, well crafted and fresh, but missing some intensity in flavors.
539 characters

3.86
/5
rDev
+18%
look: 3 | smell: 3.75 | taste: 4 | feel: 3.75 | overall: 4
Served from a 500ml bottle into a Nonic pint glass
A- clear golden/yellow color. Bone white head of somewhat explosive foam rises and settle within a minute, reducing to a thin layer.
S- the aroma is malty, with cereal grains and a touch of wheat. Fresh white bread. with a touch of lemon and a light dusting of some grassy hops.
T- Malty with flavors of fresh bread crusts and a touch of honey with some fruity undertones of mainly pear and lemon. Some faint grassy hops in the finish which is clean with little aftertaste.
M- great carbonation in this beer which is perfect for the style. Body is light.
D- This beer would be quite sessionable. I wish i had more than one :(
Overall this is a great example of a blond ale and one that i will seek out in the future. Love the look, aroma, and flavor profile... i like everything that this beer has to offer. ( why is this beer classed as an EPA? )
904 characters

3.13
/5
rDev
-4.3%
look: 3.5 | smell: 3 | taste: 3 | feel: 3 | overall: 3.5
500ml Bottle
Appearance – Slightly hazy yellow colour with an average size fizzy white coloured head. There is a below average amount of carbonation showing and there is some fairly good lacing. The head lasted for around 3 minutes before it was gone.
Smell - Grains/wheat, hops, lemons, malts
Taste & Mouth - The beer has an above average amount of carbonation. I can taste wheat mixed with lemons and a bit of hop bitterness. There are also some floral notes and an underlying maltiness. The beer finishes with a wheat and lemon aftertaste with some lingering hop bitterness.
Overall – Nothing groundbreaking here but it is a decent drinkable beer that would work well with the warmer weather. I wouldn't buy it again but I drank it quite quickly.
757 characters

4.15
/5
rDev
+26.9%
look: 4 | smell: 4 | taste: 4 | feel: 4.5 | overall: 4.5
To be honest, I was alway kind of suspicious of Pit-Caribou because two years ago the founder was jumping on beer forums asking how to brew beer with a very poor grammar. Then today while reading the previous reviews, I am wondering if it is the same beer we had.
Appearance, a normal blondish beer, with a good beer head that left a present lace.
smell was of cereal, shy hoppy and florals flavors with a hint of spices in between hops, malt and yeast.
Taste was nothing out of the ordinary but well balanced, well made, well rounded, with a sharp hop finish, a bit of floral flavors in mouth, followed by a shy malt and caramel presence.
not so bad
654 characters
2.49
/5
rDev
-23.9%
look: 4 | smell: 2.5 | taste: 2 | feel: 3.5 | overall: 2.5
I think this is my first time tasting anything from this brewery.
A- Dull gold which stil manages to look appealing. Loose off-white head which stayed for a while before receding to an even layer. First pour had even coverage lacing and second was speckled.
S- Smells a lot like my first Mr. Beer Homebrew (an APA). Slightly spicy, lemony hop, brewer's yeast and a hint of fermented pineapple juice.
T- Strange. A bit like it doesn't really have a taste but tons of after-taste. A bitter, medicinal, hand-lotion, ear-wax like after-taste. Some earthy hop and yeast in there too.
M-Full. Medium, enjoyable carbonation. Dry finish. It would all be great if it didn't leave a weird film in your mouth. Or maybe it's just the hand lotion taste messing with my senses.
D- I want to say whatever but it seems a tad bit arrogant. I'll say it's refreshing but just doesn't taste good enough to want to drink if you have a choice.
928 characters
2.5
/5
rDev
-23.5%
look: 2.5 | smell: 2.5 | taste: 2.5 | feel: 2.5 | overall: 2.5
Bottle: Poured a clear medium yellow blonde color ale with average carbonation and no lacing. Aroma of medium sweet malt is quite simplistic and boring. Taste is also a tad too sweet with no layer of complexity - no floral notes or hops or any interesting ester. Body is about average with average carbonation. A bit disappointed by this one - not even sure it qualifies as middle of the road.
393 characters
Blonde De L'Anse from Microbrasserie Pit Caribou
Beer rating:
3.27
out of
5
with
17
ratings