Panorama Wheat Ale
| Two Beers Brewing Co.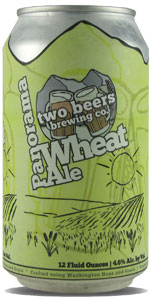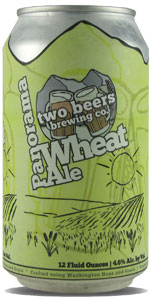 BEER INFO
Brewed by:
Two Beers Brewing Co.
Washington
,
United States
twobeersbrewery.com
Style:
American Pale Wheat Ale
Alcohol by volume (ABV):
4.60%
Availability:
Summer
Notes / Commercial Description:
No notes at this time.
Added by xnicknj on 07-27-2011
HISTOGRAM
Ratings: 11 | Reviews: 8


2.46
/5
rDev
-29.5%
look: 3 | smell: 2 | taste: 2.75 | feel: 2.5 | overall: 2.25
Poured into a tumbler.
Light golden with little head.
Little smell, a little acidity.
Taste is a front of sweet straw, a middle that is bitter and a finish that is bland and almost hoppy (most likely the citrus).
Drinkable.
It's not anything special, not what I was expecting, and not likely to get it again soon.
324 characters

3.45
/5
rDev
-1.1%
look: 4 | smell: 4 | taste: 3 | feel: 3.5 | overall: 3.5
Poured into a shaker pint.
Very cloudy mango-orange, with flaky yeast particles floating throughout hazing my fingers behind the glass to shadows. One inch of frothy white head descends very slowly, leaving pockets of bubbles on the sides.
Huge pineapple in the nose, which is unexpected. An almost equal amount of mango raises further questions. Orange Julius and wheat make up the rest of the sweet, fruity aroma.
The tropical oddities have been subdued in the flavor. A little banana, some crackers, a touch of orange and maybe the lightest hint of mango. Big difference from the nose. Crisp and light, with a dry finish.
Medium-high carbonation verges on the painful. Pinching, with just a little fizz as it moves. Medium-light to light body. Very dry, clean and refreshing.
Not bad, though I wish the nose followed to the flavor. Weird disposition there.
864 characters


3.72
/5
rDev
+6.6%
look: 3 | smell: 3.5 | taste: 4 | feel: 3 | overall: 4
Poured into a Gulden Draak tulip. Pours a pale yellow orange amber, thin white head that dissipates quickly but leaves hings of lacing. Tiny particulates floating around. Thin bodied, but decent carbonation. Very light wheat with faint light fruit aroma. Taste is wheat, light lemon and a distinct smoky flavor that is quite interesting. I don't see the smoky element in any other reviews, which is somewhat odd. Light, but I thought tasty and great to drink.
459 characters

4.02
/5
rDev
+15.2%
look: 3.5 | smell: 4 | taste: 4 | feel: 4.5 | overall: 4
I have a birthday card somewhere that reads "People who say that I am difficult to shop for must not know where to buy beer." I would amend that to read "CANned beer", but most people know of my predilection, including inflatablechair who sent me three (3) different CANs from this brewer in support of The CANQuest (TM).
From the CAN: "This beer is a perfect companion on a porch, a backyard, or a neighborhood BBQ. A crisp crystal wheat beer with a hint of citrus. Best if drank with a slice of lemon. Pack it in. Pack it out. Cheers! [undersigned] Joel"; "Crafted using Washington Hops and Grain".
The Crack was solid, but the Glug began a foaming that I was not expecting and I got a tad bit of overflow over the rim of the glass. Backing off, I allowed it to finish its foaminess, resulting in a two-plus finger rocky mound of fluffy bone-white head with decent retention. The color was a cloudy lemon-yellow, like the filling in lemon meringue pie. Nose was quite lemony, begging the question of why they would suggest more lemon, like gilding the lily. Mouthfeel was surprisingly full and very tart on the tongue. This would make a fine summertime beer. Frankly, this was one of the better wheat beers that I had been introduced to in some time. It won't make the cut for space on Hula in the Coola Day (01 Feb), but it would definitely go with me to the beach.
1,370 characters

3.92
/5
rDev
+12.3%
look: 3.5 | smell: 4 | taste: 4 | feel: 3.5 | overall: 4
Poured from 12oz can into a pint glass.
Appearance: slightly hazy silvery straw color with a finger of frothy white foam. Decent.
Smell: soft, slightly fruity aroma with a hint of grain underneath. Composition is almost tropical, but it is hard to put a finger on a particular fruit. I like it quite a bit.
Taste: very similar to the aroma, with a nice hint of fruitiness; it reminds me a little of banana, a little of watermelon, a little of grass. It is just an interesting and well-composed, if light, flavor. More pale wheat ales should be this tasty.
Mouthfeel: light body with a good level of carbonation. As creamy as something this light might be expected to be (which is not that much).
Overall: this is a satisfying and refreshing beer. I could probably quaff a ton of these on a warm day.
804 characters

2.71
/5
rDev
-22.3%
look: 3.5 | smell: 2.5 | taste: 2.5 | feel: 3 | overall: 3
I got excited because my wife loves wheat beer and finding one in a can is cool. I only bought one can as a single and I am glad of that as this is a subpar wheat beer. The nose was cardboardy which considering it is in a can and only a couple of months old should not be the case. I could taste the lemon notes but generally I could taste not much else than a boring wheat beer with an old cardboard nose and taste.
416 characters
3.46
/5
rDev
-0.9%
look: 4 | smell: 3 | taste: 3.5 | feel: 4 | overall: 3.5
12oz can thanks to Harrymel, appreciate it. Bright and light yellow color here, clear. Smells a little wheaty off the top. The flavor was your average wheat beer but wait, there is a disctint lemon flavor I detected and I enjoyed that aspect quite a bit. While this may not be the canned beer to knock your socks off it would be perfect for taking on a picnic, mowing a lawn, hiking, going to the beach, basically a good candidate for a can.
441 characters

3.43
/5
rDev
-1.7%
look: 3.5 | smell: 3 | taste: 3.5 | feel: 4 | overall: 3.5
12oz can poured into pint glass - thanks to harrymel
Pours slightly hazed golden yellow, a fluffy white head fades into a cloud of filmy retention. Some spots of lacing on the glass.
Notes of wheat and lemon peel in the nose, faint floral touch and some traces of biscuit and cracker.
Light floral hoppiness up front with a decent dose of lemon and citrus. Very soft sweetness, smooth wheat and biscuit tones hold down the body. Finishes slightly bitter and dry on the tongue.
Lighter medium body, well carbonated, brisk and refreshing on the palate, drinks smoothly. A decent beer for the summer months, although nothing particularly unusual or exciting.
670 characters
Panorama Wheat Ale from Two Beers Brewing Co.
Beer rating:
3.49
out of
5
with
11
ratings