Railway City Honey Bee'lixer
| Railway City Brewing Company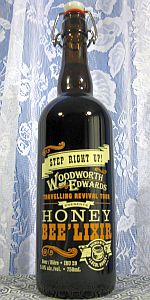 BEER INFO
Brewed by:
Railway City Brewing Company
Ontario
,
Canada
railwaycitybrewing.com
Style:
English Strong Ale
Alcohol by volume (ABV):
5.00%
Availability:
Rotating
Notes / Commercial Description:
No notes at this time.
Added by bryehn on 12-12-2012
Reviews: 7 | Ratings: 33
3.61
/5
rDev
+0.8%
look: 3.75 | smell: 3.25 | taste: 3.75 | feel: 4 | overall: 3.5
Pours dark, 2 finger head, very low retention. Has a slight metallic smell, little bit of malt. Smooth taste, very rich malt flavor. Very smooth to drink, leaves a warm after taste on the finish.
196 characters

3.67
/5
rDev
+2.5%
look: 3.5 | smell: 3.25 | taste: 3.75 | feel: 3.75 | overall: 4
750 mL swing-top bottle picked up at the LCBO; best before April 2015 and served slightly chilled.
Pours a foggy copper-ruby colour, topped off with one finger of creamy, light beige-coloured head. It disappears over the next couple of minutes, with the only remnants being a wispy film on the surface and a narrow, bubbly collar around the fringe. The aroma is approachable and clean, consisting largely of lightly toasted, biscuity malts, along with honey and brown sugar sweetness. Smells better out of the bottle than from the glass, but still kind of weak in intensity.
This is a highly enjoyable, no-nonsense malt-forward ale; somewhat reminiscent of an English brown but with a notably sweeter flavour. Bready malts, toasted biscuits, toffee and nuts come through initially, with a pronounced honey and treacle sweetness permeating much of the profile. Finishes with a hint of earthy bitterness, some nut skin and maybe a touch of cocoa. Mild honey and brown sugar sweetness carry on into the aftertaste. Fairly light-bodied, with moderate carbonation levels that give this ale a crisp bite. Not a remarkable beer in any aspect, but certainly well-rounded and charming enough to be hard to dislike.
Final Grade: 3.67, a B grade. I've had the opportunity to try this on multiple occasions from the brewery, where it comes in more affordable 500 mL bottles, but the bottle I picked up for this review marked the first time I bought it at an LCBO. Honey Bee-lixir is a pretty good amber/brown-type ale, but the retail price point is still a bit high, in my opinion - and that's really the only reason I wouldn't buy this regularly. Still, the fact of the matter is that if you really like honey in your beer, this brew shouldn't disappoint you.
1,751 characters

3.79
/5
rDev
+5.9%
look: 3.75 | smell: 4 | taste: 3.75 | feel: 3.5 | overall: 3.75
Bucky's second beer from the Railway City Brewing Company was their Honey Bee'Lixir ("HBL"), purchased from his local LCBO in a swing top 750 ml bottle. The bottle displays some pretty fancy printing designed to produce the feeling of an 1800's travelling medicine show. Apparently the LCBO objected to the beer's original name which contained the word "elixir"...hence the beer's new name. HBL was 5.0% alcohol by volume with a "best before" date of January 30, 2013 affixed to the bottom of the bottle. Be sure to read the reverse for a quick history of honey and some Bee'Lixir facts.
HBL poured a dark brown/amber colour with ruby highlights when backlit. Pouring produced about 1.5" of orange tinged, off white head which lasted for about 4 minutes before fading to a collar of foam and patchy film, leaving just traces of spotting and lacing down the glass. Its aroma was dominated by honey (I love it when beers with honey in the name actually have a detectable honey presence), with caramel undertones. HBL's flavour began with a honey and caramel sweetness, which was nicely balanced by a moderate dark malt bitterness at the end, which lingers for just a few seconds as an aftertaste. A very pleasant experience so far. The mouthfeel is a bit lighter than I would have preferred from a honey based beer, with the carbonation perhaps a bit underdone. Overall an enjoyable beer meant to be shared in a 750 ml bottle, but at $8.95 per bottle I would have to call this one overpriced and knock the rating down a notch accordingly. I imagine a fair bit of the price is due to the fancy packaging, since the brewery is offering a refund of $1.00 per bottle if returned to the brewery.
1,690 characters

3.77
/5
rDev
+5.3%
look: 4 | smell: 3.75 | taste: 3.75 | feel: 3.75 | overall: 3.75
Good looking beer with an interesting red cola-brown colour under a golden head. Neat to look at.
Lots of malt and grain throughout, noticeable honey to finish gives it an interesting twist. Just a hint of treacle. This one isa bit off the beaten track flavourwise, so I'm sure not for everybody. Interesting brew.
315 characters
3.15
/5
rDev
-12%
look: 3.5 | smell: 3.5 | taste: 3 | feel: 3 | overall: 3
A: Deep ruby red with hues of orange. No head present. Very clear
S: Suttle honey sweetness but has a lot of caramel. More on the hard candy caramel/toffee spectrum. Biscuit and bread present.
T: Caramel in the back of the tongue, honey sweetness coats the palate. The bread/biscuit is hard to spot.
M: Thin and watery and flavours are quickly washed away. Carbonation is of the right amount but has a bit of a bite.
O: Meh, the mouthfeel and taste are on the low end of what I expected from the smell. I really enjoy the concept of the beer, but I think it needs to be worked at.
584 characters

3.5
/5
rDev
-2.2%
look: 4 | smell: 4 | taste: 3.5 | feel: 3 | overall: 3
Honey Bee'lixer has a deep wet clay colour that is extraordinarily arresting; I stare into the glass like a gypsy consulting a crystal ball. Clarity is beyond reproach despite the dark tone; the beer has a very clean complexion. Carbonation is produced from yeast eating sugars so you'd figure a beer brewed with 22 lbs of honey would induce a ton of head - you couldn't be more wrong.
The aroma is a solo, spotlight exhibit of specialty malts. It has a perceptibly toasty, lightly roasted graininess and nutty-sweet frills. It's like a promotional pamphlet on dark crystal malts. There is a tinge of earthiness, but between the malts and honey the hop presentation is completely masked. I can't help but think that this would be a great candidate for heavy, pine-y dry-hoping.
I can't be sure of exactly what the brewer had in mind, but ales of this colour and makeup typically accommodate a balanced, mutually supportive relationship between sweetness and bitterness. Here, the honey tips the scale; it alters the texture, ultimately dulling it in the process. At a paltry 29 IBUs, the hoppiness - and any citrusy, leafy, herbal qualities it induces - are embalmed in a dark, sticky-sweet syrup.
The honey contributes to the flavour but overall weakens it in doing so: not only does it smooth over the hoppy notes, but it also distorts the nutty-toast of the maltiness. It's like a picture of an amber ale taken out of focus. The hops feel light and barely crisp while virtually all crunch is taken out of the malts. The bubbles don't overexert themselves (and, trust me, they could use a bit more exertion).
Honey Bee'lixer is a good-intentioned offering, but somewhere down the line thinking and doing failed to come together (I'd suggest a slight recipe change). I totally appreciate Railway City's integrity and their use of local honey, but I wonder if they had known beforehand it would turn out as pedestrian as it has at the cost of $8.95/bottle if they'd have even bothered making it. If I knew, I wouldn't have bothered buying it.
2,049 characters

3.65
/5
rDev
+2%
look: 4 | smell: 4 | taste: 3.5 | feel: 3.5 | overall: 3.5
New seasonal from Railway City in a 750 mL swing top.
Pours a beautiful, chill hazed ruby colour with a small tan head that evaporates quickly, leaving a stringy collar and very little lace.
Smell is so thick with honey it takes on a caramel hard candy tone. Almost liqueur-like. Dark berries or prunes, malts, chocolate.
Well-balanced taste, nice bitter bite. Toasted grains, bread, plum, chocolate, sweet honey. Boozy finish, earthy, grainy aftertaste.
Full-bodied, grainy with a mild carbonation. Small yeasty pop on the tongue mild oiliness. Manages not to be too syrupy at all.
Very smooth, pleasant amber ale. The honey adds a richness that makes the beer taste bigger than it really is. Would pair nicely with desserts like strudel, toffee and cheesecake, tea biscuits, graham crackers. Could work with a roast ham too.
841 characters
Railway City Honey Bee'lixer from Railway City Brewing Company
3.58
out of
5
based on
33
ratings.