Pub Dog Pizza & Drafthouse
BEER AVG
-
none
Awaiting 10 Ratings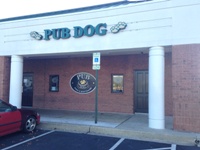 PLACE INFO
Type:
Brewery, Bar, Eatery
8865 Stanford Blvd.
Columbia
,
Maryland
, 21054
United States
(410) 872-0364 |
map
pubdog.net
Notes:
Not a brewpub, but some of the beers served are brewed for them by Pub Dog Brewing.
Added by Tbn2 on 06-29-2008
Reviews: 10 | Ratings: 18
3.23
/5
rDev
-12.5%
vibe: 4.5 | quality: 2.5 | service: 4 | selection: 2.5 | food: 4
I'm afraid I have to concur with the majority of other reviewers: I quite liked the vibe and the food, but the beer just wasn't very good.
The pub is located in a strip mall, which is tucked away inside a retail district. The facade therefore provides very little obvious charm, but then when you get closer you see a very spacious patio area brimming with dogs! Hooray! Apparently they take the "dog" part of their name quite seriously; not only are dogs very welcome, but they are a part of the pub's culture. They have a board up front with pictures of a few dozen regular dogs. Very nice. They are all very good.
I don't agree with people who say this place has a dingy or worn-down feel. It feels like it was opened a couple of decades ago, yes, but that's not a bad thing. I actually quite like places that don't seem to have been built from a kit labeled "Mid 2010's White People Restaurant Decor." This place has character. It feels lived in. It was nice.
The food menu is single-serving thin crust pizzas. Not, like, cracker thin. Nor formally wood fired or neopolitan style. But still good.
And then... the beer. Everything tastes as if it were derived from the same base beer, which is a lightly flavored and very fizzy blonde ale. It doesn't have any of the chemically or buttery or otherwise badly brewed nodes you pick up in truly awful brewpub beers. But everything is so light and interchangeable that it's just not very good. The regular offerings are fruit-flavored versions of the blonde (which are okay) and then some attempts at more traditional ales that just taste weird. Their "Tasty Dog," for example, was billed a very malty British style pub ale. It tasted like someone had seeped pale malt in seltzer water.
So... I dunno. If you're around the area, and you like dogs, and you're hungry, this is a good stop. But not the place you'll go to just for the beer.
1,913 characters
3.25
/5
rDev
-11.9%
Beer was not great. Food was good (pizza). I still recommend going because we had a great time. Those of us who are used to top tier beer quality will just have to adjust our expectations a bit. I didn't have anything I'd rate as above average, and a couple lower, but the wait staff were awesome and efficient and it was a great place to tie one on with some friends. A couple of the pies were worth writing home about, too. They do have liquor...
448 characters
3.74
/5
rDev
+1.4%
vibe: 3.5 | quality: 3.75 | service: 3.75 | selection: 3.5 | food: 4.5
I wrote a review for the Federal Hill location. This is basically the same except that the atmosphere isn't as good. It's Columbia after all. It's actually good for Columbia, but it doesn't compare to the old Baltimore townhouse feel. A lot of space in the bar though and the booths are big and can accommodate lots of people.
326 characters
3.58
/5
rDev
-3%
vibe: 3.75 | quality: 3.5 | service: 4 | selection: 3 | food: 4
I went here about a month ago on a double date to get some drinks and dinner and it was great! The bar is stretched out on the bottom floor all the way across to the other side of the building. Which also gives a nice view outside to the deck where a few people were having some drinks with they're dogs. At each end of the bar, there are steps leading up to the second floor where all of the booths are at. We ended up sitting up there. Our waitress was very friendly and did a great job taking care of us! The menu is all pizza but for me that wasn't a problem at all! Good beer and reasonable prices. Also loved all the Grand Mariner bottles lined around the place! I would definitely recommend stopping by here if you are in the area.
738 characters
3
/5
rDev
-18.7%
vibe: 3.5 | quality: 2 | service: 4 | selection: 3 | food: 3
When you go to a pub dog you know what you are expecting. Dog pairs for 4$ with only Pub Dog beers. So rating the selection is kind of hard to do. They have a decent beer selection, which they expand by mixing them (actually tastes better than it sounds). Also, they have a rotational (or seasonal) beer that changes.
This particular pub dog is kind of "run down", to use the term loosely. The bathrooms are always absolutely gross. Also, the TVs are hung in awkward locations and there are not many of them. Seating can be an absolute nightmare if you get there at the wrong time. They do have a nice shuffle board, but it is difficult to get a game.
The service is always pretty good, as they intentionally hire attractive girls (who doesn't) who treat you to an occasional shot.
The food is okay, but it is a limited menu. The prices seem a little high for the quantity of pizza you get.
893 characters
3.2
/5
rDev
-13.3%
vibe: 3 | quality: 3.5 | service: 3 | selection: 3 | food: 3.5
I used to goto Pub Dog quite a bit but now don't go too often.
Atmosphere - It is a pretty open room, you seat yourself or grab a spot at the bar. Good number of TVs showing sports.
Food - The pizza is good but not great. My favorite pizzas there are a bit usual and strong on flavor. The more typical pizzas I find a bit bland.
Service - As I said you seat yourself and it is pretty casual. Servers don't come around quite as often as I'd like.
Beer - Their beer is okay but not great. Most of their list I had no interest in being ether too light or too fruity for my tastes. There are a few nice beers on the list so you won't go thirsty.
Conclusion - If I'm in the mood for beer I'll goto Frisco Grille a few doors down. If I'm in the mood for pizza I'll goto Coalfire Pizza up Snowden River Pkwy. It has nothing (worth drinking) on tap but some nice bottles.
869 characters

4.25
/5
rDev
+15.2%
vibe: 4 | quality: 4 | service: 4.5 | selection: 4.5 | food: 4
What a great place to drop in for a quick bite and a great beer. Not the complex craft-style brews of a DuClaw or Gordon-Biersch, but definitely great tasting, easy drinking beer in a variety of very fresh flavors--even fruit ones (though I don't do fruity beer). I tried a few different styles, all were OK, but the brown and the stout were my favorites. Nothing fancy, but tasted as if you'd made them yourself--refreshing. Of course go hungry because their specialty is pizza. Very good pizza, with a whole huge selection of toppings. That, along with the casual, comfortable atmosphere (albeit a bit noisy at times), makes for a really fun place. Think of the old "Shakey's" pizza parlors, only with decent home-made beer. That's what this place reminded me of. Worth the trip.
Update March 2009: After another trip, I had to upgrade both the service (it really is great) and the selection. Their current seasonal is a Burboun (barrel aged?) Porter that is, IMHO, one of the best, richest and most enjoyable dark beers I've ever had. This is no slouch microbrewery. They can compete with the best of them. Kudos to the brewers.
1,132 characters
3.93
/5
rDev
+6.5%
vibe: 4.5 | quality: 4 | service: 4 | selection: 3.5 | food: 4
Cool place in the same shopping center as Frisco Grille.
Unusual, looong bar, beer menu in downward facing panels above the bar. Several TV's.
Pretty good pizza, only size is 10" personal size, but tons of varieties to choose from.
Only one seasonal beer offered (right now it's the Oktoberfest), everything else is static. Most of the beers are generic and won't excite the beer crowd (blueberry, peach, raspberry, red, etc.) but they do make a brown, an IPA, a stout.
The IPA was pretty good, I was surprised. Can't vouch for anything else.
All beers come in smaller 8 oz mugs, two at a time. Prices are cheap though, particularly at happy hour.
They also sell bottled "take-home" offerings of their beers in 750ml bottles with the Grolsch-style swing tops.
Kitchen's open late, until 1230 or 130 it seems most nights, overall this place stays open until 2 (Frisco's usually closes much earlier, although Victoria Gastro Pub nearby is also open until 2) daily.
Cool vibe, pizza + beer is almost always a winner. It's dog friendly (at least on the outside porch) with the usual dog themes and "Mixed Breeds" mixed beer conconctions they've thought up (I'll pass).
Lots of room to grow for them, there's some wasted space by the bar that takes some getting used to.
Overall its friendly and a nice neighborhood hangout type place. Fairly clean, although uninviting at first as you can't see inside the double doors at the entrance.
I'll be back, I enjoyed the pizza and my IPA.
1,488 characters
4.05
/5
rDev
+9.8%
vibe: 4 | quality: 4 | service: 4 | selection: 4 | food: 4.5
The Dog Pub was recommended to me by a friend who knows that I am both a dog owner and a fan of good beer. I didn't bring my dog with me this time, but I might in the future. Inside doesn't allow dogs because of health regulations, but dogs are permitted on the patio area outside -- which is cool.
Inside bar atmosphere was pretty standard: music, sports on TV, etc. But I found the decor somewhat entertaining and I like that the beer names have a dog theme. Naming the stout for a Led Zeppelin song is genius, and the "mixed breeds" made me laugh because of the "Harry the Dirty Dog" reference -- something I haven't seen since I was a kid.
I found the beer to be better than expected. It's good session beer all around. I like the stout better than Guinness draft and almost as much as Beamish...and I'm not a big fan of nitro stouts. The Irish red ale and the brown ale were both pretty mild and went down easy; the red ale has almost a tea-like character and the hops in the brown ale remind me a little of Dogfish Head's rendition. But this brown ale was much less aggressive. The peach beer was a total surprise: I tried it expecting a blonde ale that had possibly had peaches waved over it in the past, but it actually tasted like fresh peaches over a very mild blonde beer. And it wasn't cloying, either.
The staff was very attentive and quick to offer and bring the next round, and they knew how to properly pour beer. Beer selection is limited to the 7 or 8 beers brewed by the pub, but that's more than enough...and they also offer "mixed breeds" which take the black-and-tan concept to a whole different level. The food menu is also impressive for a place specializing in beer: I've only ever seen so many different kinds of pizza at one other place, and the pizza is good. Usually, with beer bar food, I allow a certain margin for greasiness or whatever, but this place could stand on its own as a pizza joint. Prices are also quite reasonable, especially for beer. I was eyeballing it, but the 2/$4 deal looks like two 10 or 12oz. mugs for $4, which is a better deal than you'll get almost anywhere else. I've seen cheap-ass-swill go for more than that.
2,175 characters
3.68
/5
rDev
-0.3%
vibe: 4 | quality: 3.5 | service: 4 | selection: 3.5 | food: 3.5
I was staying at a hotel in walking distance from here. I didn't want to go to a chain restaurant and ventured over to a small strip mall.
I found this Pizza Pub and was welcomed from the beginning. The people working here were really nice and welcoming.
The food is typical. Garlic Sticks / Mozz Cheese / Soft Pretzels for appetizers. They offer maybe 25 different types of personal pizzas. It is a thin crust and good portion for a table or individually.
The beer is typical, too. But, here, they offer some other fruit flavors (Peach, Rasberry, and Blueberry). I had the Brown and Red ales. Both were delicious. I finished with the Stout, which didn't have much flavor to it.
Here, they offer 2 glasses of beer for $4. Very reasonable.
Worth a try sometime.
768 characters
Pub Dog Pizza & Drafthouse in Columbia, MD
3.65
out of
5
based on
4
ratings.