Sticky Ale

Lawson's Finest Liquids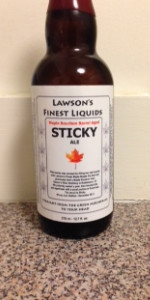 Write a Review
Beer Geek Stats:
| Print Shelf Talker
Style:

ABV:

9%

Score:

88

Avg:

4.01

| pDev:

9.48%

Reviews:

15

Ratings:

From:

Avail:

Retired (no longer brewed)

Wants

Gots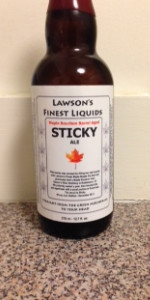 Notes: This beauty was created by filling two oak barrels with Lawson's Finest Maple Nipple Ale that had previously held a Maple Bourbon from Saxton's River Distillery in Brattleboro, VT. We patiently waited a year, then blended the oak-aged beer with a small portion of fresh beer. The result is Sticky.
lochraneg from New Hampshire
4.27
/5
rDev
+6.5%
look: 4 | smell: 4.5 | taste: 4.25 | feel: 4 | overall: 4.25
Brewed in 2013… poured 9/5/2015
Look: Brown Amber with almost no head
Smell: Syrup and Bourbon right off the bat.
Taste: Sweeter than expected, but an incredibly unique flavor. Maple syrup and Bourbon were the most prevalent
Feel: Light and smooth going down
Overall: Again, sweeter than I thought
Sep 14, 2015
Davepoolesque from Massachusetts
3.98
/5
rDev
-0.7%
look: 3.5 | smell: 4.25 | taste: 4 | feel: 3.5 | overall: 4
Drinks light. Not too sweet. Has a nice earthy, maple syrup backbone. Some vanilla, caramel and toffee flavors. No real bourbon booze flavor. It's good, but wish it was a bit thicker.
Mar 27, 2015
John_M from Oregon
4.05
/5
rDev
+1%
look: 3.75 | smell: 4.25 | taste: 4 | feel: 4 | overall: 4
The beer pours a somewhat hazy, reddish amber color with pretty decent head retention and lacing. Given the description of the beer on the lable, I guess it comes as no surprise that I pick up considereable maple syrup, vanilla, butter toffee and caramel. The flavor profile replicates the nose pretty closely in this fairly sweet beer, with the vanilla, maple syrup and butter toffee dominating. Mouthfeel is medium bodied, with fairly long, fairly sweet finish. Alcohol is pretty well integrated in the flavor profile, with no sense of heat or heaviness on the finish.
Bit of a one dimensional, one trick pony here (in terms of flavor), but still a pretty tasty beer for all that.
Thanks Derek!
Jun 23, 2014

lurpy1 from Minnesota
4.1
/5
rDev
+2.2%
look: 4 | smell: 4.5 | taste: 4 | feel: 3.75 | overall: 4
Thanks to sandman3479 for sending this along. Breaks my Lawson's cherry!
Oh, this was so, so, close to being out of this world. The barrel does a phenomenal job on smell. Woody, breakfast, the maple really comes through. If only it had the same effect on the taste. The maple fades on the tongue. More maple, more barrel please. If we had it, we'd have a world class beer. What remains is pretty good. I would definitely drink this again, but if Lawson's ever turns up the voltage on this guy, I'll be first in line.
Jun 04, 2014

Stevedore from Oregon
4.12
/5
rDev
+2.7%
look: 3.75 | smell: 4.25 | taste: 4 | feel: 4.25 | overall: 4.25
375ml bottle poured into a Lawson's snifter 5/31/2014. Thanks Joe.
A- Clear amber-caramel body, half finger white head with fair retention, not a lot of lacing.
S- Wow. Lots of sweet maple syrup, caramel and toffee. A bit one dimensional, but this reminds me of Better Half, but with even more maple character.
F- Maple syrup sweetness, lots of caramel and toffee, some molasses. As in the nose, this is not incredibly complex at all, but what I get here is a solidly delicious maple based beer. Again, reminds me of Better Half. There is even a faint oak presence, which is not surprising as this is Maple Barrel-Aged.
M- Medium body, a bit lower in carbonation but very slick and resinous as I would expect from a beer called "Sticky Ale". This is actually dangerously drinkable as I found myself on more than one occasion drinking this like it was water.
O- Very surprisingly good; surpasses the expectations I had for this. This is very maple barrel forward, and I think this is drinking better than Better Half is right now.
Jun 01, 2014
SonnyHenry from California
4.98
/5
rDev
+24.2%
look: 5 | smell: 5 | taste: 5 | feel: 4.75 | overall: 5
Bourbon, Maple, Chocolate Oh my...
But seriously a fantastic beer that I thoroughly enjoyed from finish to end.
The nose on this baby is so inviting and just draws your soul in. The taste delivers what the nose promised and kept me coming back for another sip until it was unfortunately gone :(
I haven't had a bad offering from Lawson's yet and will continue to seek out their brews!
May 06, 2014
UCLABrewN84 from California
3.56
/5
rDev
-11.2%
look: 3.5 | smell: 3.75 | taste: 3.5 | feel: 3.5 | overall: 3.5
Thanks to Wowcoolman for sharing this one at Retsinis' tasting.
Bottled December 2013.
Pours a murky orange-brown with a foamy tan head that settles to wisps of film on top of the beer. Small dots of lace form around the glass on the drink down. Smell is of malt, caramel, toffee, maple, bourbon, and wood aromas. Taste is much the same with caramel, bourbon, butter, and wood flavors on the finish. There is a mild amount of wood bitterness on the palate with each sip. This beer has a lower level of carbonation with a slightly crisp mouthfeel. Overall, this is a pretty good beer with a maple aspect that only comes through in the aroma for me.
Apr 28, 2014

dar482 from New York
4.1
/5
rDev
+2.2%
look: 4 | smell: 4.5 | taste: 4 | feel: 3.75 | overall: 4
The beer comes in a reddish brown.
The aroma is as advertised. It has sweet bourbon, maple syrup, dark caramel sweetness, some oak.
The flavor follows with everything as the aroma. There's bourbon, maple syrup, that sugary caramel throughout along with some oak on the finish.
The beer is smooth, although slightly light on the mouthfeel. It's missing some complexities and sweetness, but still a really well crafted brew.
Apr 13, 2014

rjp217 from Massachusetts
4.19
/5
rDev
+4.5%
look: 4 | smell: 4.25 | taste: 4.25 | feel: 3.75 | overall: 4.25
Picked this up at the Farmers Market, bottled Dec 2013 and poured into my Lawsons tulip....
A - Light brown in color, nice head and decent amount of lace
S - Good maple and bourbon combination, molasses, bread, milk
T - Much of the same as the nose. The bourbon is upfront and followed with a nice maple finish
M - Thin feel, exceptionally smooth
O - Very good beer. A tad thin but a good maple and bourbon mix. It's also remarkably smooth and the ABV is well hidden
Apr 10, 2014

BoldRulerVT from Vermont
4.24
/5
rDev
+5.7%
look: 4 | smell: 4.25 | taste: 4.25 | feel: 4.25 | overall: 4.25
Poured from the bottle into a Pro Pig snifter.
Pours a nice medium to dark amber with minimal head that dissipates.
Smells nice! Sweet maple, some bourbon and roasted malts.
Taste is delicious. More maple flavor, but not too sweet. Nice hints of bourbon, not too much.
Very drinkable and delicious.
Mouthfeel was cleaner than I was thinking. Not crisp by any means but not a sugary mess.
Overall, this was a very flavorful beer that showcased maple and bourbon flavors in union.
Mar 30, 2014
Rifugium from North Dakota
3.94
/5
rDev
-1.7%
look: 4 | smell: 4.25 | taste: 3.75 | feel: 3.75 | overall: 4
Poured into a Prohibition Pig cervoise. Deep brown color with a creamy tan head that retained well, lacing the glass. Aroma of caramel and maple syrup, almost barleywine-ish, bready yeast. Lots of barrel in the taste, maple sap, bready malts, herbal notes, fairly boozy with the yeast-flashed maple lending a neutral alcohol flavor, and a background smooth bourbon taste, vanilla and hints of coconut. The bourbon came out more as the beer came up to room temperature. Medium body, slick mouthfeel, very nice overall.
Feb 22, 2014
Hendry from Vermont
4.5
/5
rDev
+12.2%
look: 4.5 | smell: 4.5 | taste: 4.5 | feel: 4.5 | overall: 4.5
Amber in color, little to no head and not expected, average lacing.
Aroma is spiced maple syrup and a slight hint of bourbon.
Flavor matches the subtle aroma, this is a beautifully crafted BBA version of the original Maple Nipple Ale. Sean Lawson knows how to utilize maple syrup infused flavors, and Sticky is another shining example.
Mouthfeel is medium and creamy, appropriate level of carbonation thanks to the fresh ale being added back in.
Big fan of Lawson's ales and maple specialty beers, Sticky is another winner.
Jan 21, 2014

Huhzubendah from District of Columbia
3.53
/5
rDev
-12%
look: 4 | smell: 3.5 | taste: 3.5 | feel: 3.5 | overall: 3.5
Bottle shared by Lunch. Thanks Paul.
The beer is amber hued with a small, off-white head. Lots of booze in the aroma. Bourbon, oak, maple syrup, malt. The flavor brings ample maple character. Again, lots of booze presence. Sweet and indeed sticky on the palate. Aptly named. Another beer that is best in small samples.
Jan 20, 2014
TWStandley from Massachusetts
4.57
/5
rDev
+14%
look: 4 | smell: 4.5 | taste: 4.75 | feel: 4.5 | overall: 4.5
Poured from the bottle into a St. Bernardus goblet.
Appeared a brown/amber color with a 1 finger off white head. Slightly see through but only when held to the light.
Smell was mild - definite sweet maple smell with a bit of belgian candy sugar.
Taste was fantastic. Slightly sweet, slightly bitter, and slightly funky. Definite maple taste but not overpowering like fake maple syrup, more of a subtle maple.
Body was nice, not too thick, not too thin. Alcohol was barely noticeable.
Overall a solid offering. Not over-the-top at all which was nice.
Jan 07, 2014

jaasen64 from Massachusetts
3.94
/5
rDev
-1.7%
look: 4 | smell: 3.75 | taste: 4 | feel: 4 | overall: 4
375ml bottle poured into Lawson's tulip.
A- Pours a dark slightly translucent amber with a half-finger of white head that leaves some light clingy lacing, nice moderate amount of carbonation that has a very nice consistency.
S- Light maple, yeast, malts, oak, hint of booze. Nice barrel characteristics add to the base beer and definitely improves upon Maple Nipple, I like the extra maple and integrated oak.
T- Nice maple characteristics balance nicely with a typical ale backbone, a definite oak presence comes out from the barrel-aging that blends nicely with slightly yeast tasting ale malt presence. Nice balance, tasty, don't have a problem finishing the glass.
M- Medium bodied- maybe a bit light for a 9% barrel-aged beer, nice carbonation that isn't overpowering, very drinkable.
O- Sticky Ale is far from my favorite Lawson's offering, however it is a nice barrel-aged variation on a fairly mediocre base beer. It's not quite as good as the Fayston beers or Mapple Tripple, but it is a nice lighter and much cheaper alternative that makes nice use out of maple liquor barrels. Not something that I would want to drink all the time but it's definitely worth the try and I'm glad Lawson's experimented in making this. As for aging I don't think it will improve much but might be worth experimenting with.
Jan 05, 2014
Sticky Ale from Lawson's Finest Liquids
Beer rating:
88
out of
100
with
103
ratings