Tuned
| Lift Bridge Brewery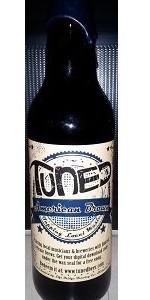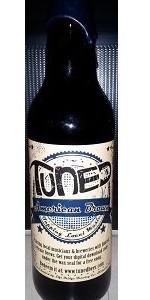 BEER INFO
Brewed by:
Lift Bridge Brewery
Minnesota
,
United States
liftbridgebrewery.com
Style:
American Brown Ale
Alcohol by volume (ABV):
6.50%
Availability:
Limited (brewed once)
Notes / Commercial Description:
No notes at this time.
Added by HardWater on 07-11-2013
This beer is retired; no longer brewed.
HISTOGRAM
Ratings: 14 | Reviews: 5
Reviews by flexabull:
More User Reviews:

4.24
/5
rDev
+19.8%
look: 4 | smell: 4.25 | taste: 4.25 | feel: 4.25 | overall: 4.25
Poured from a 22 oz. bottle into a Surly Darkness chalice.
Appearance: Pours a deep brown with hints of amber and ruby. Moderate amount of bubbles and a big tree finger off white head with decent retention. Leaves a lot of lacing around the glass.
Smell: A toasty aroma of dark malts with a good earthy hop presence. Toasted and roasted malts with hints of caramel, toffee, biscuit, toasted bread, chocolate, nuts, coffee bean, grains, and yeast. Big hop presence for the style with earthy, herbal, and floral hop hints. Hints of grass and pine. Subtle hints of citrus orange and grapefruit. A little brown sugar sweetness as well. A very solid brown ale aroma.
Taste: Like it smells, a toasty and nutty dark malt taste with a big balancing hop presence. Toasted and roasted malts with a taste of biscuit, caramel, toffee, nuts, and toasted bread along with notes of chocolate, coffee bean, grains, and yeast. Sweet notes of brown sugar. Big balancing bitterness from the hops with earthy, herbal, floral, and slight citrus notes. Noticeable grass and pine notes. Subtle citrus orange and grapefruit in the background. Taste is nicely rich and dry. Very good.
Mouthfeel: Medium bodied with a moderate amount of carbonation. Creamy, chewy, and fairly drying. Pretty smooth.
Overall: A very solid take on a Brown Ale. Good toasty dark malt flavors with a very nice presence of hops. Well balanced.
1,400 characters


3.36
/5
rDev
-5.1%
look: 3.5 | smell: 3.75 | taste: 3 | feel: 3.5 | overall: 3.5
A brown, tinted scarlet look to the body. When held to the light, it is clear but then distinctly has a warm reddish color.
It has a floral, citrusy, sweet smell and hints of roast.
Tastes of roasty malt, nutty, definitely hops but I felt bitterness trumped.
Has a crisp feel with just enough carbonation to compliment the hops.
The style is a hopped-up American Brown and most assured has a unique twist. IMO worth the money for the experience and to support local craft brew.
489 characters

3.57
/5
rDev
+0.8%
look: 3.75 | smell: 3.5 | taste: 3.5 | feel: 3.5 | overall: 3.75

3.74
/5
rDev
+5.6%
look: 4 | smell: 3.75 | taste: 3.75 | feel: 3 | overall: 4
No freshness dating I can see
A= Pours a hazy brown color with a nice two fingers of thick creamy head that holds great retention and lacing on the side of the glass.
S= The smell is initially very hoppy with a little bit of a caramel malt character but mostly just a hop forward beer.
T= This baby is interesting. It has a nice big hop character to it and has a nice malty character as well. It's a unique mix of malt and hops. The back has a little bit of a sweet malt character to it. This is a tasty beer for me not expecting it.
M= This has a little too much carbonation for me.
O= This is a better beer than I thought it was gonna be. Nice hop character as well as a complex malt backbone. Plus free music check this beer out.
738 characters

2.81
/5
rDev
-20.6%
look: 3.5 | smell: 2.5 | taste: 3 | feel: 3 | overall: 2.5
This is the weakest offering I have had from lift bridge, not sure how fresh it is but the label caught my attention.
a: clear dark brown in color, with an off white head.
s: not much aromas coming from this one, faint hops and some slightly roasted malts.
t: similar to the smell. disappointingly bland. a little bit of hops, but more roasty malted than anything else, finishes a little sweet.
m: medium low carbonation, medium body.
o.a.: not much to write about this one unfortunately. id much rather have a farm girl or hop dish from these guys...
552 characters
3.79
/5
rDev
+7.1%
look: 3.75 | smell: 4 | taste: 3.75 | feel: 3.5 | overall: 3.75
I don't fully understand what this Tuned thing is..."pairing breweries with bands"...you drink the beer, you check out the band, sure, whatever. I drank the beer, maybe later I'll use that code to find that song, meanwhile, here are the notes...
Lift Bridge Tuned American Brown, "Tapping Local Music", pairing local musicians & breweries with limited release brews. Get your digital dowload code under the wax seal for a free song. Redeem it at: www.tunedbeer.com." Okay.
Featured band: Reckless Ones. These 3 are rock & roll, plain and simple. Just trying to make an honest statement in a phony world. Their sound is from the heart and doesn't apologize for anything. This Minneapolis band has paid it's dues and now it's paying it off.
Alc. 6.5% by Vol. Brewed and bottled by Lift Bridge Brewing Company, Stillwater, MN. "The Lift Bridge crew did a hopped-up ale for this limited, one time release."
The look: dark brown coloring, smallish tan head.
The smell: grassy hops meet dark malt. Caramel, coffee, and cocoa under a layer of fresh-mown grass.
The taste: the promise from aroma lands on the palate. Hops make a splash on the tongue, grassy, spicy, citric a bit, and the flavor stays long while the rich malt rushes up to take it's place. I'm reminded of a brown ale, but the predominance of hops in the flavor subsumes and sublimates that.
Not that there's anything wrong with that, he says. It's taken me a while to get my head around the black IPA/Cascadian dark/black ale style. I still despise some versions. Getting to think that the big trend continues to be "hop it up and they'll buy it." I've got nothing against a brown ale that's a brown ale, a stout that's a stout.
But, hey, wait a minute, things are changing now, there's more roast coming up, more of the molasses and the treacle rising up, more of a blend of the sweetness and the bitter. I'm enjoying this one. Well done, Lift Bridge.
1,917 characters
Tuned from Lift Bridge Brewery
Beer rating:
3.54
out of
5
with
14
ratings