Great Crescent Blonde Ale
| Great Crescent Brewery
BA SCORE
81
good
10
Reviews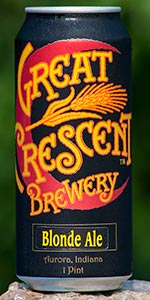 BEER INFO
Brewed by:
Great Crescent Brewery
Indiana
,
United States
gcbeer.com
Style:
American Blonde Ale
Alcohol by volume (ABV):
not listed
Availability:
Year-round
Notes / Commercial Description:
Great Crescent Blonde Ale is a German Kolsch Style beer fermented with British Ale yeast to create a true hybrid type beer that is clear, slightly malty with medium hop aroma and relatively low bitterness. German Perle hops are used for bittering and German Hersbrucker hops are used for flavor and aroma.
Added by Todd on 11-30-2008
Reviews: 10 | Ratings: 18
3.88
/5
rDev
+14.1%
look: 3.75 | smell: 3.75 | taste: 4 | feel: 4 | overall: 3.75
Can, drank straight up from the can.
A: Black and blue with writing all over it.
S: Undeniably a Kölsch in the aroma. Strong pils malt with a mild hop presence.
T: The taste up front hits more like a pale, with a surprising hop presence. The flavor balances well and is very refreshing. I detect some honey in there as well.
M: Crisp, slightly dry finish.
O: A very good offering in a style that isn't typically highly acclaimed. A Kölsch is a huge hit or miss for me, and this one is for sure a hit.
507 characters

3.76
/5
rDev
+10.6%
look: 3.75 | smell: 4 | taste: 3.5 | feel: 3.75 | overall: 4
I go back and forth, one day I love it, one day I don't care for it. Today I'm loving it, so I'll put those thoughts down now. I'm also not well versed in the blondes, so I'll approach it like just a beer.
Slow pours from the 34 degree can foamy and hazy with about a 3/4 inch pop-like head. It tames down to a creamy coating on top of the now orangish-amper not quite but almost clear bubbly drink.
Smell is sweet with a strong citrus. I can't label the citrus, but it is fairly prominent. There is also maybe some grass and a mustiness also?
Taste is crisp lemony and bitter - I can't place my finger on the bitter, maybe lemon/lime peels? It is quite refreshing, and I'm almost done with this glass!
Mouthfeel was pretty decent, creamy, crisp, the fizz held up, but I'm not giving it much time here to flatten out.
Finish is clean and citrusey.
Overall - today - I am really digging this drink! I'm done now, and as I think back - yes, I recommend at least giving it a try if you see it. Treat it like a hot day time for a refreshment beverage.
1,053 characters
3.56
/5
rDev
+4.7%
look: 4.5 | smell: 3.5 | taste: 3.5 | feel: 3.5 | overall: 3.5
Found this one in the $1 bin at a new liquor store. I figure for a pint of beer from a brewery near my hometown...why not? (16oz can)
Crack it open; assaulted by foam, and lots of it. After it calms and you can pour it, the beer is a brilliant orange hue. Body is moderately cloudy. Still a giant head that retains for days and laces well. Scent is kind of musty with some spices and grains being prominent. Light scent, with some orange zest on the end.
The taste and feel of this one reminds me of a lighter wheat ale. It follows the scent with light grains and medium spiciness throughout the drink. A somewhat creamy and light flavor I can't quite put a name with. Feel is very highly carbonated and light. Easy to drink and fairly refreshing. This screams summer beer in both taste and feel.
Overall, not a bad beer. $1 for a pint is pretty good, so I might go grab a few more. Not sure what was up with the exploding head, but it didn't seem to have any effect on the beer.
982 characters
2.93
/5
rDev
-13.8%
look: 3 | smell: 2.5 | taste: 3 | feel: 3.5 | overall: 3
16 ounce can. Served in a pint glass, the beer pours a hazy dark gold color with a small off-white head that went away pretty quickly. Not much lacing. The aroma is weak, the brew smells like bready and sweet malt, and a bit of honey. Taste is similar to the aroma, but I can also taste some herbal hops. Mouthfeel/body is light/medium, it's a bit coating and has moderate carbonation. For the most part it's an average overall brew. Worth a try if you can get a single can like I did, but I wouldn't buy a 4 pack of this.
522 characters
2.65
/5
rDev
-22.1%
look: 3 | smell: 3 | taste: 2 | feel: 3.5 | overall: 3
This just isn't a very good beer. It pours with about an 1/8th inch of head. Color looks more like an amber than a blonde, but still doesn't look bad. Just not like it's supposed to. The color is far less concerning than the complete absence of head. Not much in the way of smell. Maybe some faint grains and a touch of biscuit?
Taste is about the same, although a little off. I might like this better if it was properly carbed. It's easy to drink, but never really enjoyable. I don't expect great things from American Blonde ales, but even this one fails to deliver. My first from Great Crescent, and while I have high hopes for some of their other styles, I won't be buying this one again.
693 characters
4
/5
rDev
+17.6%
look: 4 | smell: 4 | taste: 4 | feel: 4 | overall: 4
A; Poured from a pint can into a pint glass, with a 1.5 in head, gold straw color, slightly hazy.
S: very slight, not much to tell, maybe some breadiness
T: hints of hoppiness, but not too pronounced on any notes.
M: Seems very light, foamy.
O: Okay overall, but not one of my favorites from this brewery, though it seems this might be a favorite of those who are more used to the bigger national brewery offerings, and are lokking for a stepping stone into something bolder. Still not a bad one if you are looking for a smooth pint.
539 characters

3.23
/5
rDev
-5%
look: 3 | smell: 2.5 | taste: 3.5 | feel: 3.5 | overall: 3.5
Picked up a single can at Keg Liquors in Jeffersonville, IN. and poured into a regular pint glass.
A - Clear, yellow, thin. Looks like a Budweiser sans carbonation when pouring out of the can. Thin white head that dissipated immediately. When held up to the light, appears a light orange-ish yellow color.
S - What smell? Seriously, I am only getting a very faint biscuity smell. My nose actually took an accidental dip in this because I had it buried in the glass trying to get a smell.
T - Slight malty taste, a bit of cereal, a bit of honey, a little bitter and a little sweet at the same time. Not much of anything strong. Absolutely no lacing on the glass.
M - Low carbonation, kind of thin. Kind of like a lager but without the carbonation.
O - Pretty low showing for a blonde ale. I really expected stronger fruit smell and taste.
I visited the brewery a few weeks ago, although they had just run out of this. Great little place with some amazing other beers! This one turns out to be a bit of a disappointment.
1,024 characters

3.18
/5
rDev
-6.5%
look: 3.5 | smell: 3 | taste: 3 | feel: 3.5 | overall: 3.5
Tried some of this from a growler my friend purchased at the brewery.
A: Pours a hazy gold with white head that quickly dissipates to a ring around the glass.
S: I get some malt and wheat, but nothing strong
T: Similar to the smell with something I can't quite pin down. It's almost an earthy taste that's not bad but not something I'd like a lot of.
M: Smooth mouthfeel and pleasant
D: This is an easy-drinking beer but I wouldn't be interested in drinking more than one.
477 characters
4.8
/5
rDev
+41.2%
look: 4.5 | smell: 4.5 | taste: 5 | feel: 4.5 | overall: 5
I tried all of the samples that Great Crescent had at the time (stout, coconut porter, IPA, cherry ale, blonde, wit, mild), but bought a growler of this to go, and normally I'm an IPA or stout guy.
I very much liked this blonde ale. It was easy drinking, malty, with a bit of breadiness and underlying sweetness. It's the kind of beer I could have a few pints of.
364 characters

3.81
/5
rDev
+12.1%
look: 4 | smell: 3 | taste: 4 | feel: 3.5 | overall: 4.5
Lucky enough to pick up a fresh batch of this brew from this relatively new brewery just outside of Cincinnati.
Poured a stawlike, golden color. Unfiltered. Little to no head in my 10oz British pint glass. Looks tasty.
The scent was relatively weak as I was expecting some more fruit overtones, this being an ale and all. There was a bit of citrus, but very light. Almost smelled like a lager.
Tasted very fresh, crisp and clean. Again very lager like. There was a slight bitterness that went away with time. Very little hang. The fruit really didn't come out here either.
Mouthfeel was very nice, as I said, went down easy, a little bit of carbonation.
Drinkability is off the charts. Not sure if it's just me, but this was very lager like but tasted far better than your average lager. Could make a session out of this.
825 characters
Great Crescent Blonde Ale from Great Crescent Brewery
3.4
out of
5
based on
18
ratings.