Avec Les Bons Voeux Super Saison
| McKenzie Brew House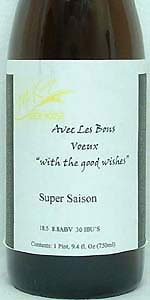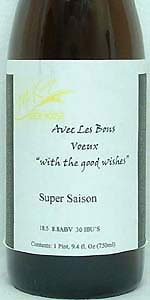 BEER INFO
Brewed by:
McKenzie Brew House
Pennsylvania
,
United States
mckenziebrewhouse.com
Style:
Saison / Farmhouse Ale
Alcohol by volume (ABV):
8.80%
Availability:
Rotating
Notes / Commercial Description:
No notes at this time.
Added by BeerAdvocate on 12-23-2004
This beer is retired; no longer brewed.
HISTOGRAM
Ratings: 12 | Reviews: 11
Reviews by sulldaddy:
4.72
/5
rDev
+7%
look: 4 | smell: 4.5 | taste: 5 | feel: 4 | overall: 5
I am drinking this brew at cellar temp (cold apartment) in a snifter.
The beer pours a clear bright, copper orange hue. A large fluffy bleached white head of 3 cm foams up very easily. The head is densely packed on top but rather spacious on the sides of the glass. The head fades gradually to a frothy surface layer.
Aroma is spicy and fruity with orange and lemon mixing with cloves and coriander. Also a bit of musky scent filters through.
First sip reveals a tingly carbonation that tickles my palate and an average to light body.
Flavor is very complex, slightly fruity sweet up front with citrus orange and lemon rolling into tangy pineapple and finishing with some banana. Beyond the fruit I also get some biscuity yeast and perhaps a hint of anice. NOt one of my favorite flavors but it is well mixed with the plethora of tastes in my mouth. The brew finishes slightly dry and tart making me smack my lips a few times. Very easy to drink and quite refreshing. I would never guess this has the 8.8% abv, more like 5 judging from the lack of heat on the palate or in my belly.
Another outstanding brew from McKenzie's. I must go back!
1,148 characters
More User Reviews:

4.6
/5
rDev
+4.3%
look: 4.5 | smell: 4.5 | taste: 4.5 | feel: 4.5 | overall: 5
Took a snow day for me to crack this baby open (I'm now without any McK's 750s <tear>).
Poured a clear, beautiful golden with a touch of amber. Clearly effervescent with a big, thick and mighty off-white head. Gorgeous.
Smells were Belgian-esque... extreme pineapples, apples, meadowy floral notes, hints of honey. Mouth-watering.
My tongue was greeted first by an electrifying buzz of carbonation. Sharp on the tongue were tangy apple flavors combined with other sour fruits. A kiss of orange-blossom honey followed by a mild but mouth-coating bitter finish. Thick in the mouth. Crisp and refreshing. Killer, killer stuff. I could drink gallons of it.
664 characters
4.08
/5
rDev
-7.5%
look: 4.5 | smell: 4 | taste: 4 | feel: 4.5 | overall: 4
Remarkable golden hue, cloudy. Decent lacing occurs amongst the white foam, initially big, but swiftly switching to a ring state. Not quite Dupont's, but this aroma has a kick for sure. Mellow alcohol supervises over a grainy (good grains) and peppery, foresty dry-hopped meadow. Yeast component is very strong, serious complexity, it just doesn't have Dupont's serenity, less expressive malts, less biting, resinous, jungle-like hops, less general fluffiness. I'd still drink this almost anywhen. Good white peppery yeast, quite bitter, definitely very dry. Has a good biscuity malt backbone, but you mostly feel it rather than taste it. Creamy texture, strong carbonation, full bodied. Efficient and lovely. Who'd guess this is from Pennsylvania?
753 characters
4.68
/5
rDev
+6.1%
look: 5 | smell: 4.5 | taste: 4.5 | feel: 5 | overall: 5
750ml bottled with a bottled on date of 10/04 bought from the brewpub. Upon pouring this a huge white fluffy head erupted over the slightly hazy light orange body. The head didn't want to die at all. It held its ground till the last drops leaving sheets and clumps of lacing galore. A bit of citrus fruit can be smelled while this was poured as well as a good strong spicy funky aroma. The spices are strong and complex with a backing of other fruity esters. It so complex you could sit there with your nose in the glass most of the time and still not pick everything up. Flavor starts with a fruity sweetness and spiciness combined over a fairly light musty taste. There is a slight tartness to it as well. Ends on a slightly bitter spicy kick. A light and crisp in the body fit this perfectly. The drinkability is about as good as you get. Each sip leaves you wanting more as it goes down smoothly. This brew would be great any time summer, winter or with a meal. A must try for any fan of the Saison.
1,004 characters

4.54
/5
rDev
+2.9%
look: 4 | smell: 5 | taste: 4.5 | feel: 4 | overall: 4.5
Drinking at cellar temperature after sitting outside for a few hours today in about 50 degree temps and pouring into a tulip glass.
It pours an amber color with some slight cloudiness; 2 inches of seafoamy head with lots of clingy lacing on the glass. Mainly fruit malts- bright citrus or green grapes aromas; slight sugary cotten candy and some underlying hops come through a bit. Taking a sip, I notice a sweet citrus flavor backed by some caramel and light hops that has a puckering alcohol finish-this is one complex brew and hard to figure out besides the fact that it is a great tasting brew. Feel is light and thin on the finish, but the medium-bodied w/ a fun alcohol finish; nothing overbearing and easy to consume. I wish I had another bottle!
757 characters

3.91
/5
rDev
-11.3%
look: 4.5 | smell: 3.5 | taste: 4 | feel: 4 | overall: 4
Brewed October 2004, Sampled March 2005
Pours a hazy copper color. It is well carbonated and is topped by a frothy 4 finger thick tan head. The aroma is fruity with notes of apple, pears, banana, a soft spiciness, and what smells a bit like diacetyl (though I am not entirely sure at first). The beer is light and slightly sweet up front, it quickly moves to a fruity middle that is again reminiscent of fresh cut apples. This beer finishes with a tart bite of hop bitterness, yeast complexity and carbonation bite. Interestingly enough the diacetyl note that seemed to dominate the nose is not evident in the taste (thank goodness).
I think that I was hoping for too much from this beer as it is a bit of a let down. Don't get me wrong, as my scoring shows, I think that this is a wonderful beer, it just does not quite compare to the Dupont version. The spice character is a bit more muted, in fact it plays more of a supporting role/ background note than it does in the Dupont version. If I had to hazard a guess, I would say that this was not fermented at the elevated temperatures that is usual/ suggested for the yeast strain. As this beer warms up a bit the buttery diacetyl note becomes a bit more evident. It is not yet so strong that I don't want to finish the beer though, and I am particularly susceptible to it. After about a 1/2 hour the diacetyl component seems to really lessen from the nose and taste. Did I just get used to it (doubtful given my sensitivity to it) or was it something else.
1,512 characters

4.41
/5
rDev 0%
look: 5 | smell: 4 | taste: 4.5 | feel: 4.5 | overall: 4.5
Pours from the 750 mL with a glorious meringue cap that melts to a statuesque prescence of khaki vanilla hues coatong the glass with a frothy dense lace. Body is a golden orange oh so slightly hazy hue containing spotty bead bubbles rising.
Scents are of a dense vanilla and spicy airy hay grass. Plenty of coppery aromatics.
First swigs: Earthy mineral and choppy vanilla. Dry hoppy straw. Some delicate fruit of ripe red apple and some caramel is briskly intertwined with a caramel meets copper penny. A linger of rum cake or grain waffle malt, enhanced by the hops. A slightly peppery yeasty punch.
Feel is well attenuated and frothy to the touch. Some tongue coating slickness.
Last swigs: Basically, a masterpiece of Belgian blood infused in a local offering. Maple syrup hints. I couldn't wait to try this any longer. The cap looked like it was ready to go. Thank goodness that it opened with a FSST! Complex and puzzling. Not really saison like to tell the truth, but no matter.
Beer is good. Happy beering.
1,030 characters

4.62
/5
rDev
+4.8%
look: 4 | smell: 4.5 | taste: 4.5 | feel: 5 | overall: 5
How could I not have reviewed this one yet, one of the most beautiful homages ever paid to a beer. The "Dude" is really good at doing that, almost showing up the beers he emulates on a regular basis. Well at least that was happening on a regular basis, back when these bottles and TPA bottles were happily flying all over the place. Back when You could go to the source have one drink at the pretty lame bar, drop down $100 or so and leave with a full case of 12 750ml bottles of brew. Yeah, well this bottle is back from those days of yore. This is a pretty good looking brew. A ruddy amber/golden with a pretty big head of white fluffy foam, and nice retention. Small bubled carbonation rises from the bottom of my Saison chalice. Aromas are classic DuPont Avec Les Bons Voeux notes. Lovely peppery floral green leafy hops, bready, biscuity, doughy malts, a bit of yeasty spicy funk, some citrus fruitiness, and more. Taste is spicy and citric with some lovely spice notes from the yeast...black pepper, white pepper, coriander, and more. Mouthfeel is medium bodied and just perfect. Drinkability is insane as well. So complex, and yet so easy drinking. Truly the best of both worlds. Bought to us by a very talanted state-side brewer "With Best Wishes" from the Dupont family of Belgium. I wish McKenzies would grant my own personal wish, and have these Best Bottles available regularly again! Until than, this one has aged into quite a beauty, but I believe it was even better fresh. C'mon Scott bring the funk, and than bottle the funk once more...
1,553 characters
4.67
/5
rDev
+5.9%
look: 4 | smell: 4.5 | taste: 5 | feel: 4.5 | overall: 4.5
750 ml bottle courtesy of GeoffFromSJ. Thanks again Geoff for all the great beers you sent me from McKenzie's!
Bottled October 2004.
Enjoyed July 7th, my birthday, 2005.
Pours a deep golden copper, almost IPA color with a massive, dense white head. Lacing and retention are both extremely impressive. Carbonation visibly climbs the sides of my snifter which makes for a pretty cool effect.
Smell is exceptionally fruity, with lemon, and other citrus flavors melding together with a pretty distinct yeasty funk, and obvious spicing. There is some alcohol presence in the aroma, but very minor. Definitely wheat in this one.
Taste is innitial hop bitterness, followed by slight wheat twang. Fruty esters explode in the mouth (green apple, lemon, oranges), along with a definite spiciness (coriander, which I suspected in the nose, makes itself known in the flavor...big time). A slight yeasty funk smooths this one over the back of the palate. A very minor breadiness to the finish makes this one quite remarkable as well as a very very slight alcohol heat (which is pretty darn impressive for an 8.8% abv beer).
Mouthfeel is medium to full (closer to full), this one fills the mouth, coats the palate and just slides down so smooth and enjoyably.
Overall, quite drinkable, and very enjoyable. I've been saving this one in my fridge for quite some time, waiting for a special occasion. Well, my birthday seems to be it. A wonderful present to myself, I just can't wait to drink more of it.
1,506 characters
4.15
/5
rDev
-5.9%
look: 4 | smell: 4 | taste: 4 | feel: 4.5 | overall: 4.5
1/2 Gallon Growler. Golden color. Aromatic nose, showing hints of Belgian cane sugar, ripe fruits (Peach, pear, tangerine) along with a highly aromatic hop presence as well, giving an herbaceous scent. Delicious flavor, full of fruits, apricot, lemon and orange in particular, along with a touch of sweetness and hop bitterness on the finish. Very well balanced and tasty.
372 characters
4.08
/5
rDev
-7.5%
look: 4.5 | smell: 4 | taste: 4 | feel: 4.5 | overall: 4
I bought this at the end of 2003 and it held up well. Hops are at the nose. Sizeable white head.
The taste primarily consists of the hops. I believe I detect some Belgian yeast esters underneath, but the hops is what you generally notice.
Smoother mouthfeel. Aged well considering.
287 characters
Avec Les Bons Voeux Super Saison from McKenzie Brew House
Beer rating:
4.41
out of
5
with
12
ratings