Oer Faute
| McKenzie Brew House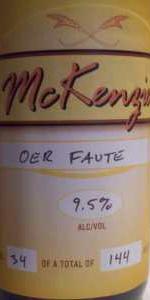 Write a Review

Average: 4.07

| pDev:

8.85%

Needs more ratings to obtain a BA Score. Reviews:

8

| Ratings: Baltic Porter

| 9.50% ABV

Wants Gots McKenzie Brew House Pennsylvania

,

United Statesmckenziebrewhouse.com

Notes:

This beer is retired; no longer brewed.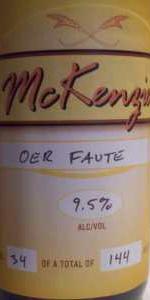 Reviews: 8 | Ratings: 9
Reviews by yourefragile:
4.32
/5
rDev
+6.1%
look: 4 | smell: 4.5 | taste: 4.5 | feel: 4 | overall: 4
750 mL capped, unwaxed and unlabeled bottle with a handwritten sticker identifying the contents. Described as a soured baltic porter; I assume the base beer for this is the currently unlisted La Faulte. It is also described as a "huge sour ale with giant fruits and plenty of dark malty depth" from their Brewer's Blog.
Pours a dark murky mahogany color with a large tan bubbly head that quickly fades to a crown of bubbles with light specks of lacing. So far, so normal I guess, looking like a baltic porter. The aroma is where things take the plunge off the deep from the norm; as soon as the cap is removed thick, pungent sour aromas hit the nose. The traditional roasty, malty, nutty, chocolate and dark fruit (cherry) aromas of a baltic porter are bubbling under the surface of strong funk and vinous sourness. Surprisingly, the blend of contrasting rich dark malt and sourness complements each other well and is my favorite part of the beer. The body is a slightly lighter side of medium with moderate carbonation, very soft on the tongue and ends with a pleasant dryness. A slightly more robust body would complement the rich flavors.
The flavor is not quite as complex as the aroma, but mirrors a similar blend of malts and sourness, dominated by the latter. The flavor begins with chocolate and roast malt with a strong tart cherry presence before quickly being overcome by fruity sourness and a dry earthy and funky finish. There is a slight burn of alcohol heat in the finish, combined with the drying and puckering sourness knocks both the mouthfeel and drinkability down a peg from my initial impression. Regardless, I was skeptical of this beer with the sour baltic porter description as in my experience I'm not a fan of soured malt forward beers. They run the risk of tasting like an infection, but this never veers anywhere near that territory. Still slightly messy and dirty tasting, some aging will do this well, but worth the try.
1,952 characters
More User Reviews:
4.62
/5
rDev
+13.5%
look: 4.5 | smell: 5 | taste: 4.5 | feel: 4.5 | overall: 4.5
Shared during the Oktoberfest Beer Dinner...
This is the La Faute that was aged in a French red wine barrel and dosed with the McKenzie house "bugs".
Appears a dark amber with a fluffy, off white head that seems to stick around before slowly fading into a mild cap. Sticky bits of streaked lacing are left all around the glass.
Smell is of dark fruit, red cherries, cocoa powder, vanilla, honey roasted nuts, with a hard lean towards tartness coming in the form of earthy, leathery, balsamic vinegar, cooked wild mushrooms, and citrus.
The flavors pull together as the beer reminds me a little of a balsamic vinegar infused with a pinot noir that one would enjoy enough to carbonate and have with a meal. For the record, I adore balsamics...so, I really dig this beer. I believe it's something of a rare gem.
Mouthfeel is medium bodied with carbonation, and tartness doing it's proper job to really open up the palate and senses for more beer exploration. With a winner like this around, why bother to explore the other options?
In many ways, this reminds me of a young Oerbier Reserva...and the hauntingly similar name was not intended to draw that parrallel.
1,160 characters

3.58
/5
rDev
-12%
look: 4 | smell: 3.5 | taste: 3.5 | feel: 4 | overall: 3.5
Pours a very dark clear burgundy, near black, with a creamy head, nice lacing. Nose is nicely integrated wine barrel, brett, light balsamic vinegar, with a surprising and welcome roasted, almost espresso note. Easily the best nose of any McKenzie beer I've sampled. Mouth is pretty creamy and rich, unfolds into a nice sourness, very lightly acidic in a pleasant way. Berries, maybe plums in there. A roasted quality comes through a bit, as does that light balsamic. A bit boozy and hot in the finish. As it warms the roast comes through a bit more, which gives it a delightful edge. Very seamless integration of sour fruits, barrel, and roasted malt here. I might be stretching a bit but it's kind of reminding me of Black Cherry Bomb.
EDIT. After drinking a few more bottles of this, I'm well aware that this is simply not very good. Overly vinous and wine-like. Flabby with little finesse. I'm encouraged that McKenzie's subsequent bottlings have toned down the wine barrel significantly. Drank this next to some clearly superior dark sours (Black Cherry Bomb, Perseguidor 4) which really highlighted how weak this is.
1,123 characters


4.04
/5
rDev
-0.7%
look: 3.5 | smell: 4.5 | taste: 4 | feel: 3.5 | overall: 4
Thanks to Kiel for this bottle, #13 of 144, shared with the Brick Store crew.
Pours murky chestnut brown, much lighter than I was expecting for a baltic porter. Smallish head that recedes almost immediately and doesn't leave much lacing.
Aroma is slightly sweet with some light brown sugar with lactic sourness and some grapes. Noticeable vinegar notes as well as some oak and even a bit of roasty chocolate malts.
Taste is a little bit funkier than the aroma with some earthiness on top of the same vinegar and sour grapes from the nose. The finish is dry and oaky, plenty of barrel character.
The feel is drier than just about any baltic porter I've tasted though the body is very light for the style.
It's tough to judge this one as a baltic porter due to the barrel and bugs. Very interesting beer though.
814 characters
4.1
/5
rDev
+0.7%
look: 4 | smell: 4 | taste: 4 | feel: 4 | overall: 4.5
Bottle shared by Grant – thanks! Bottle 13/144.
Pours an almost opaque deep brown color with a thin tan head leaving decent lacing.
Smells of dark malts with large amounts of tart dark fruits and hints of funk and roasted malts. Also present are slight amounts of milk chocolate.
Tastes similar to how it smells, though the tartness is less pronounced. Dark caramel malts up front backed by solid amounts of roast lead into lightly tart dark fruits. Heavy funk brings everything together near the end. The ending is crisp and lightly tart. Mouthfeel is good, with smooth carbonation.
Overall I enjoyed this beer and wish more breweries would make more like this. Very interesting and well worth a shot.
708 characters

3.65
/5
rDev
-10.3%
look: 4.25 | smell: 3.5 | taste: 3.5 | feel: 4 | overall: 3.75
Pours a dark chestnut brown color with mahogany edges and a two finger beige head that very slowly settles into a thick, lasting cap. Sporadic spotty lacing left behind.
Spicy, earthy aroma with dark malt sweetness, peppery spice and leathery malts. Barrel isn't very strong at this point. Some dry oak but not much red wine character in the nose. Spicy sarsaparilla/root beer presence that's almost cola like with leathery malt, subtle roast, light malt sweetness and just a touch of acetic vinegar. Interesting.
Medium body with soft carbonation, strong acetone and a weird balance of damp oak, vinous red wine, dark malts, acetic vinegar and peppery spice. Again I'm picking up a strange peppery spice/green chilies flavor along with sarsaparilla, root beer and vanilla. This is followed by earthy, leathery malt as well as vinous fig, raisin and grape. Acetic vinegar with only slight solvency that's not too harsh. Roasted coffee bean and dark cocoa countered by caramel, lighter chocolate malt. Stronger vinous red wine presence and a bit more acetone as it warms but this is a pretty interesting beer. Would like to have tried it fresh.
1,159 characters
4.19
/5
rDev
+2.9%
look: 4 | smell: 5 | taste: 4 | feel: 3.5 | overall: 4
750ml bottle shared with some central PA BA's (wisslers, Deuane and Murren) on 12/11/10. Poured into a Dreamweaver fluted tulip. Bottle #17/144.
Appears a dark brown color that is murky and much lighter brown than expected. A fingers worth of head forms that is creamy yellowish stained to tan in color. Spotty lacing is left on the glass as the head fades and holds tight to the walls of the glass.
The aroma of this brew is tangy with a wild mixture of sour vinegar meets sweet vanilla oakiness. Strangely enough the combination works to produce a pleasing aroma that is lactic with sour grape notes through the back.
The taste of this brew is tart and vinous with a present vanilla smoothness. The grains produce a light touch of chocolate and caramel sweetness that turns sharp with acidity. A light funkiness grows as the brew warms tasting lightly cheesy in the back with alcohol warmth. The alcohol is bold and bright with a fusel touch. This brew finishes dry and woody with a grape skin flavor that is earthy. A lingering herbal bitterness remains.
Medium to light bodied brew with a modest level of carbonation. A very bold alcohol character exists in this brew and it has a feel that goes between creamy smoothness and watery...interesting. This brew smelled awesome but fell a bit short in the flavor. It's lacking a bit in malt and body but overall it was a intersting experience.
1,398 characters

3.67
/5
rDev
-9.8%
look: 4 | smell: 4.5 | taste: 3.5 | feel: 2.5 | overall: 3.5
Bottle shared thanks to yourefragile. Thanks Michael! Did not write down the bottle number on this one...
A: Pours a dark, dark brown hue with a crimson overtone. Ring of head that dies and leaves little to no lacing with a swirl.
S: An interesting aroma with wine grapes rivaling right aside the porter roasted chocolate. Some funk and barnyard like yeast is detected in there with a white oak or cedar like spice note as well.
T: Definitely a healthy helping of white oak in the flavor with a definite sour twist of wine grapes and then to a lesser degree the roast and chocolate of the porter. Some strange conflicts between the dry bitter malt and the sour yeast/funk.
M: Thin and not appealing, a little weird and conflicted.
Overall this is a sort of head scratcher and I'm not sure what to think on this one overall, would like to try and rate again but I doubt that will happen.
893 characters
Oer Faute from McKenzie Brew House
Beer rating:
0
out of
100
with
9
ratings