Dismiss Notice
Dismiss Notice
Resolution Rye Stout
| Old Forge Brewing Company
BA SCORE
84
good
14
Reviews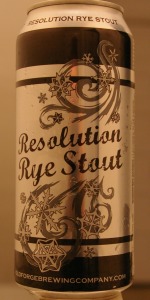 BEER INFO
Brewed by:
Old Forge Brewing Company
Pennsylvania
,
United States
|
website
Style:
American Stout
Alcohol by volume (ABV):
6.80%
Availability:
Rotating
Notes / Commercial Description:
No notes at this time.
Added by Sludgeman on 07-14-2013
Reviews: 14 | Ratings: 55

3.82
/5
rDev
+2.1%
look: 4 | smell: 3.75 | taste: 3.75 | feel: 3.75 | overall: 4
Pours a deep dark mahogany bordering black with a caramel colored head, good retention.
Smells of coffee, chocolate, caramel, and whole grain bread.
Taste is bitter coffee and chocolate backed by bitter herb hop balanced by caramel malt sweetness.
★
251 characters

3.75
/5
rDev
+0.3%
look: 3.75 | smell: 3.75 | taste: 3.75 | feel: 3.75 | overall: 3.75
Poured from a tallboy can into a tulip glass.
L: Pours a dark black... faint hints of amber/red. Thin brown head that falls quickly. No lacing worth mentioning.
S: Strong roast character... faint chocolate and pleasant espresso. Hints of rye in the background.
T/F: Strong roasted malts dominate the brew... coffee for sure and the rye comes through in the finish. The rye really does stand out... it gives it a crisper flavor than you'd expect... making this taste drier than it probably is. Low carbonation, fairly smooth, and after the rye fades coffee lingers on the palate.
O: I know what I hate... and I don't hate this. Very drinkable, complex flavors, and the rye really works here. First beer I've had from the relatively local Old Forge and it definitely won't be the last.
★
799 characters

3.48
/5
rDev
-7%
look: 3.5 | smell: 3.5 | taste: 3.5 | feel: 3.25 | overall: 3.5
Undated 16 oz can served in a Belgian snifter.
Very dark reddish brown with a decent head that lacks durability.
Aroma: dark roasted grains and hints of chocolate with nary a hint of rye.
Flavor: plenty of dark roasted grains but with some earthy and spicy notes, presummably from the rye. Some burnt toast, char and smoke notes.
★
333 characters

3.96
/5
rDev
+5.9%
look: 3.75 | smell: 4 | taste: 4 | feel: 3.75 | overall: 4
Pours a deep brown with a tall mocha head.
Malty aromatics with roast, char, spicy rye and yeast.
the taste is good, very roasted with some burnt notes too. Rye malts and the spiciness it brings is a bit subtle. A good bit of char can be tasted too.
Drinks a heavy medium with considerable grit or char.
★
304 characters
3.59
/5
rDev
-4%
look: 4 | smell: 3.75 | taste: 3.5 | feel: 3.5 | overall: 3.5
Pounder can poured into a tulip. The brew appears black in color with a khaki head. Some spotty lace sticks and cap shows fair retention power.
The smell includes notes of roast with herbal to citrus hops. A mild fruit and earth component gets almost nutty with additional whiffs.
The taste is bitter with earthen roast, some citrus and pine hops to mildly herbal. It has a pleasant mix of character that is fresh and inviting.
This is medium bodied with a modest amount of carbonation. Not bad but not outstanding. I could see myself enjoying this from time to time just based on the locality thing but there are better offerings out there.
★
644 characters

4.08
/5
rDev
+9.1%
look: 4 | smell: 4 | taste: 4.25 | feel: 3.75 | overall: 4
Here is another CAN that had been held in abeyance awaiting picture approval, but now I am ready to add it to The CANQuest (TM)!
From the CAN: "Forging Better Beer"; "We strive to honor personal craftsmanship. Our handcrafted beer is made in small batches to ensure quality and peak freshness. Brewed and CANned by Old Forge Brewing Company, Danville, PA."; "Resolution Rye Stout is deceptively smooth, with a spicy malt backbone and Belgian yeast aromatics. Resolutely delicious."
The Crack! unleashed a spray across my fingers out of its brimful CAN and I wanted to employ an inverted Glug, except that it was a pint CAN and I have had less than optimal results doing that in the past. Even with a standard pour, I was still seeing a pseudo-cascade, resulting in two-plus fingers of dense, deep-tan head with great retention. Color was a deep, dark-brown (SRM = 44) with garnet and cola highlights at the edges. Nose had a charcoal smell along with a mustiness from the yeast. My curiosity and interest were definitely piqued by all of it. Mouthfeel was medium-to-full, another highly carbonated beer from Old Forge B.C. The taste was an odd melange of flavors - smoke, charcoal, and a mustiness like old newspapers found in the attic. Interesting. The finish evinced all of that as well as a black pepper spiciness that left it semi-dry. I would not have characterized it as a sweet stout anyway, but the combination of the yeast and the rye on the finish really dried it out nicely. I think that this was a Winter seasonal for them and I would probably be more apt to drink it in the colder months. It made for an interesting change of pace and if you like stouts, this would be worth a try.
★
1,698 characters
3.28
/5
rDev
-12.3%
look: 4.75 | smell: 3 | taste: 3 | feel: 4.25 | overall: 3.25
Poured into a 16oz tulip glass
Appearance - Very black, nice tan head, nice lacing.
Smell: Burnt coffee, rye, charred, a very slight metallic like smell in there as well (because of the can?)
Taste: Again, burnt coffee, rye, ashy like flavor.
Mouthfeel: Felt more carbonated than a lot of stouts I've had, very dry finish, leaving a taste/feeling like I just smoked a cigarette/cigar.
Overall. Interesting, never really had a beer like this, though I'm not familiar with nor do I remember having a stout stout specifically labeled a rye stout. I really appreciate smokey and burnt tasting beers, but this one, to me, had too much of the "ashy "profile than fresh and nice smoky or roasted profile.
★
705 characters

3.28
/5
rDev
-12.3%
look: 3.5 | smell: 3.5 | taste: 3.25 | feel: 3.25 | overall: 3
Strange as halloween, strange as a burnt down haunted house. This defines strange brew!
A: Poured out of a 16oz can, a big brown head rises on top of a suitably black body. But it's just a bit thin compared to the best. Good lacing.
S: Smell is roast ROASTED CHARCOAL! the darkest, roastiest, most charred smell ever. It's burnt malt mixed vague hop presence and some strange burnt off notes. A little bit ashtray.
T: Taste of roasted malt (To a CHARCOAL!) is too strong up front, again like stale cigarettes or a wood fire gone out There's rye? earthiness, some hop bitterness, and I don't get the belgian yeast here. Some pepper. No fruitiness, no sweetness, no real spice except pepper.
Mouthfeel is bitter, pungent, engaging the tongue, drying, finishing strongly bitter w those yeast off notes. Odd. Make me want a cigarette or cigar. (not really a good thing).
Totally different, odd ball, charred and not disagreeable, a masculine, muscly brew, and I think a bit of mistake, I'd not get it again. A strange warming winter brew.
Revisit on 3/10/14. In late winter it passes my palate only slightly more favorably. Still way too charred, but made a nice black & pale on top of Yards IPA and on top of Dales Pale Ale.
Not good as a stand alone.
Serving type: can
★
1,281 characters
3.5
/5
rDev
-6.4%
look: 4 | smell: 3.25 | taste: 3.5 | feel: 3.75 | overall: 3.5
Another can courtesy of the creator of the canquest, woodychandler. Poured from a 16 oz. can. Has a black color with a 1 inch head. Smell is mild, some roasted malts. Taste is smokey, bitter, some charcoal, different but not bad. Feels full bodied in the mouth and overall is a pretty good beer.
★
295 characters
4
/5
rDev
+7%
look: 5 | smell: 3.75 | taste: 4 | feel: 4 | overall: 4
pours with a beautiful head, had to take a few sips before the entire pint could make it into my chalice
smell is roasty and with a hint of toffee and belgian phenols. may be a little stretch but i got a slight whiff of what is either leather, smoke, or a combination of the two
taste is great, with the spicy smokey leather adding to a standard stout base flavor of roasted malts. becomes more reminiscent of a Belgian dark ale on the finish. the rye does shine through, especially adding to the mouthfeel. Tastes reasonably well attenuated, being on the drier side of the stout spectrum
Carbonation is slightly above moderate, more tiny sharp bubbles than what i would consider average for a stout, equivalent to the similarly styled "Take the Black" stout by Ommegang
★
770 characters
3.91
/5
rDev
+4.5%
look: 3.5 | smell: 3.75 | taste: 4 | feel: 4 | overall: 4
Overall a good beer, quite a strong head when poured into a glass. Dark brown in color, not too thick.
The nose isn't all that impressive, some rye and malt notes. Taste however was great, nice complez notes from the rye with a good hop balance to the malty stout base. Mouthfeel is smooth and not too thick like some stouts.
★
326 characters
3.92
/5
rDev
+4.8%
look: 4 | smell: 3.75 | taste: 4 | feel: 3.75 | overall: 4
Poured into a standard pint glass, color is black, no edging, head is tan, fine bubbles and nice head, light lacing.
Smell is roast malt mixed with some rye malt, light hop presence and maybe a touch of yeast off notes.
Taste is roast malt very strong upfront, rye malt earthiness comes through subtley, finishing flavors are a little dry with some belgian yeast phenols. No fruitiness noted, no strong sweetness which is good as the rye and roast create quite a bitter taste profile with a strong overpowering hop.
Mouthfeel is quite biting and strong on the tongue, strong bitter malt flavors and yeast off notes are drying, but expected.
Overall, an interesting take, i like this beer, it has good mix of flavors and somewhat you unique balance of malt and yeast notes, great for a warming winter time ale.
★
813 characters
3.65
/5
rDev
-2.4%
look: 3.75 | smell: 3.75 | taste: 3.5 | feel: 3.75 | overall: 3.75
Pours an opaque black body with a small frothy light brown head that faded to a thin ring. The nose is heavy roast with a fair amount of sweetness and coffee. Nice fairly aggressive hop profile as well. The flavor is very intense and roasty with a hefty hop bitterness that keeps the sweetness in check. There's a nice earthy undertone to it all that adds a really interesting note to the finish as well.
★
406 characters

3.91
/5
rDev
+4.5%
look: 4.5 | smell: 3.5 | taste: 4 | feel: 4 | overall: 4
The Old Forge website describes this beer as a "big, complex stout using both malted rye and flaked rye, along with our house Belgian yeast strain."
I like this beer very much. A very balanced beer - bitter, roast, a little funk, a extemely sessionable stout.
A - Black, opaque, excellent lacing, one-finger tan head.
S - Nondescript. This beer's downfall.
T - Roasty but minimal bitterness, Not much funk from the belgian yeast. Spiciness of the rye offsets the belgian funk, which I think is an interesting dynamic.
MF - Smooth start with a fizziness in the finish.
★
574 characters
Resolution Rye Stout from Old Forge Brewing Company
84
out of
100
based on
14
ratings.