Eddy Out Pale Ale
| KettleHouse Brewing Co. (Southside Taproom)
BA SCORE
83
good
15
Reviews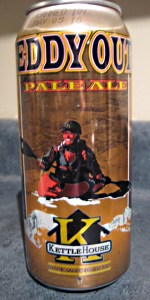 BEER INFO
Brewed by:
KettleHouse Brewing Co. (Southside Taproom)
Montana
,
United States
kettlehouse.com
Style:
American Pale Ale (APA)
Alcohol by volume (ABV):
5.50%
Availability:
Year-round
Notes / Commercial Description:
Eddy Out Pale Ale has been a favorite of the locals at the Kettlehouse Brewery since 1996. Brewed with a healthy dose of Cascade aroma hops, Eddy Out is a classic American Pale Ale. This style is characterized by a citrusy American hoppiness balanced with a slight biscuit flavored malt character. The light copper color in this ale comes from caramelized malt which also aids in head retention. All this to describe a highly quaffable brew with a crisp hop finish. Great on a hot summer day, or a cold winter day while dreaming of a hot summer day.
55 IBU
Added by loren01 on 09-25-2006
Reviews: 15 | Ratings: 51

4.38
/5
rDev
+20.3%
look: 4 | smell: 4 | taste: 4.75 | feel: 4.25 | overall: 4.25
Impressed. This beer comes in a god-awful looking can, with a pixelated kayaker looking like she needs to find an eddy to pull out into so that she can get away from whoever captured this moment in MS-DOS.
But you're not on beerlabeladvocate.com, so I'll focus on the contents of the can. The beer pours like a medium bodied amber, head isn't quite as persistent as it could be, but any head is good head, right? The color is a pleasing amber, which really sets you up for the caramel malt and slight grass, slighter floral, and slight melon nose. The first sip takes you way aback, as the kayaker on the can really didn't excite you, and you continue to sip with fervor, allowing all of the complex malt character to play out on your tongue as though blossoming into a full blown gingerbread house in your mouth.
This beer surprised me quite a bit; the excellent blend of crystal malts with caramalt and good old two row really makes you feel like you're having a decadent pastry, with just enough hop aroma and kick to balance it and bring you back to beer-world. I would drink these all day.
★
1,097 characters

2.97
/5
rDev
-18.4%
look: 2.25 | smell: 3.25 | taste: 2.75 | feel: 3.5 | overall: 3
Poured from a 16oz can into a pint glass in high elevation Kalispell, Mont. Reviewed live.
A- Finger and a half cream-colored head atop a pale yellow body. Retention of the large bubbled, active head is fairly weak. Lasts about 45 seconds. Not a terribly appealing beer.
S- Starts grassy, but manages to really pop with caramel malts. Aromatic and appealing.
T- Spicy, some bitter northwest hops. Caramel malt body. Can't complain too much about it.
M- Medium bodied, wet and slightly sticky with a barely perceptible roasty feel.
O- Oscillates from good to bad. Lands in the middle.
★
589 characters
3.88
/5
rDev
+6.6%
look: 4 | smell: 3.5 | taste: 4 | feel: 4 | overall: 4
Picked up a four-pak at Wolds Valley Market today for $8.39.
Brew poured a light copper with a nice head that is leaving lacing behind.
Nose is malt based with a hint of floral hops.
Taste is well balanced between the biscuity malts and citrus hops.
Mouthfeel is medium bodied, smooth, with moderate carbonation that makes it refreshing as well.
Overall this is a very well put together pale. I like it the best of the 3 Kettlehouse brews i have tried this week. A very nice APA that is worthy of a shot!
★
509 characters
3.76
/5
rDev
+3.3%
look: 4 | smell: 3 | taste: 4 | feel: 4 | overall: 4
16oz can, purchased and consumed within yellowstone
appearance: pale copper body, moderate carbonation, light white froth
smell: light toasted malts, bright citrus, tea leaves
taste: pretty functional camping beer - refreshing and full flavored - lots of citrus flavor, tea, lemon, grassy, toasted montana malts.
mouthfeel: true to style - light bitterness and refreshing
overall: good
★
390 characters
4
/5
rDev
+9.9%
look: 4 | smell: 4 | taste: 4 | feel: 4 | overall: 4
Pour - light golden or straw colored with a good inch of fluffy white head on top and some lacing beginning to streak the inside of the glass. Looks clean and clear and as it should Nice looking beer.
Aroma - lemons, fresh cut grass, orange peel, tea leaves, mango along with toast and honey.
Taste - one sip and the citrusy hops certainly shine. This has some zip to it with the hops really being the focal point and a solid, yet subdued, doughy, malt backbone providing the necessary balance. A little tangy and lemony in the finish. Very crisp and refreshing and just the way I like my pale ales.
Overall - This on leans a little more towards an IPA with it's assertive hop profile. If you like you're pale ales hoppy you'll be happy with this one. Definitely worth picking up and enjoying somewhere outdoors on a warm sunny day!
Would I buy more of it? - definitely. I'd love to get some more of all of Kettlehouse's beers. I haven't been back to Montana since 2000, it's way overdue.
★
996 characters
3.78
/5
rDev
+3.8%
look: 4 | smell: 3.5 | taste: 4 | feel: 3 | overall: 4
Poured from a 160z can into the ol' trusy shaker glass. Poured a coppyr color with a foamy white head that lingers for a bit. Aroma of citrus with some malt. Taste was very nice: citrus, malt, with a small amount of hop bitterness at the end. This is definitely a go-to beer and I hope to score more in the future.
★
314 characters

3.98
/5
rDev
+9.3%
look: 4.5 | smell: 4 | taste: 4 | feel: 3.5 | overall: 4
I have been diddling around with Russian and Eastern European beers for a more extended period than I had intended, thanks to hitting on the concept of markets here in the US that sell beer and Kvass from those regions. It is time to get The CANQuest (TM) back in action!
From the CAN: "Hand Crafted and Canned in Missoula, Montana"; "We at the Kettlehouse love to play on Montana's big rivers. After hooking a native cutthroat trout, or running a pucker-producing rapid, fellow boaters will circle a hand in the air to signal it's time to "eddy out" - catch the next eddy, relax, regroup, tie on a new fly or plan the next big move. River eddies provide us with the necessary time to gather our thoughts, slow down a bit, relax, chill out. Brewed with a generous helping of Northwest grown Cascade hops, Montana grown and malted barley, and pure Montana water from the aquifer below the Clark Fork River, Eddy Out Pale Ale is our straw colored version of a classic American Pale Ale. We encourage you to slow down, enjoy, Eddy Out, plan your next adventure and oh yeah ... pack out your empties! Slainte [undersigned] Tim O'Leary Kettlehouse Brewing Company LLC".
The Crack reveled yet one more craft CAN filled nearly to the brim! What is with this phenomenon? I rarely, if ever, see it in a macro and it happens with a good deal of frequency with micros. Do they want us to REALLY get our money's worth? I am not CANplaining, but it just seems unusual and noteworthy. The Glug went off without a hitch and produced two foamy tawny fingers of head in the process. Color was a deep golden-amber with NE-quality clarity. BUPGOO! Nose had a minty quality, like spearmint or peppermint, along with the citrusy notes that I expected. Wild! Mouthfeel was medium and it struck a nice balance between the hops and malt in the mouth. It was initially more hoppy, but then I began to taste caramel sweetness. Finish was likewise initially hoppy, followed by a wash of sweetness that lingered well after the swallow. This would certainly be a cooler CANdidate, if it were more readily available to me.
★
2,094 characters
3.2
/5
rDev
-12.1%
look: 3.5 | smell: 3.5 | taste: 3 | feel: 3.5 | overall: 3
Thanks to woodychandler for this beer. Poured from a 16 oz. can. Has a cloudy golden color with a small head. Smell is rather mild, some hops are present. Taste is of piney hops, not much else going on, no malts to speak of. Feels medium bodied in the mouth and has average drinkability. Overall this is a decent brew but nothing great.
★
336 characters
3.4
/5
rDev
-6.6%
look: 3.5 | smell: 3.5 | taste: 3 | feel: 3.5 | overall: 4
Thanks to Schmittymack for this one (finally got that one done). Poured from the 16 ounce can a dark copper color, with a lacy white head. Some mildly hoppy aromas (citrus, pine) and a light malt. Light to medium bodied, slightly hoppy with a little malt. Not bad.
★
264 characters

3.58
/5
rDev
-1.6%
look: 3.5 | smell: 3 | taste: 3.5 | feel: 3.5 | overall: 4.5
Awesome 16 ounce can thanks to Toby. Pours a almost totally clear golden color with a large white head and some sticky lacing. A sweet honey touched grain nose, some sweet fruity hops. A nice mellow flavor; oranges, light bitterness in the finish like grapefruit, spicy earthy grains. Fairly dry and tasty. Easygoing. I enjoyed this one.
★
337 characters
3.55
/5
rDev
-2.5%
look: 3.5 | smell: 3.5 | taste: 3.5 | feel: 3 | overall: 4
16oz can out of an "8-pack" picked up today at the Bozeman COOP. Enjoyed from a big wine glass at the wife's home. Canned on Sept 29th.
Foamy white head only creeps up about 1/2" and quickly drops back leaving an okay cap with modest lacing. The brew is very clear orange.
Nose shows an atypical APA hop profile... really only minor citrus, but more floral and a bit grassy/minty. Some pale maltiness helps round things out.
Flavor is pretty mild all around, but makes for a pleasant session brew... a little toasty malt adds to the complexities the nose shows.. Body is a little thin, but I think it makes it more drinkable and really isn't a detraction.
3.5/3.5/3.5/3/4
★
676 characters
3.95
/5
rDev
+8.5%
look: 4 | smell: 4 | taste: 4 | feel: 3.5 | overall: 4
One American pint of whitewater wisdom!
This beer pours a medium golden amber hue, with lots of foamy, rocky off-white head, which leaves some nice spaced, webbed lace around the glass as it recedes. It smells of caramel, almost nougaty malt, a bit of biscuit, and grassy, leafy hops. The taste is sweet bready malt, a twinge of alcohol, and more grassy, earthy hops. The carbonation is fairly tame, the body medium weight, smooth, and clean, and it finishes crisp, mostly dry, and a little warm.
A nice, flavourful APA, with a decent balance of malt and well chosen hops. Eddy's in the time continuum?!!!
★
607 characters
3.37
/5
rDev
-7.4%
look: 3 | smell: 3.5 | taste: 3.5 | feel: 3.5 | overall: 3
Poured from a 16 oz. can on 12/26/09.
A - pours a clear light copper orange color with 1/4 inch of foam
S - aroma is mainly grassy hops
T - light malt and grassy ops, good flavor but very earthy, almost like chewing grass
M - light, crisp mouthfeel, good carbonation
D - easy to drink, the grassiness is too much for me though
★
331 characters
3.81
/5
rDev
+4.7%
look: 4.5 | smell: 3.5 | taste: 4 | feel: 4 | overall: 3.5
5/9/07- Had on tap at the Kettlehouse Brewery in Missoula, MT.
Presentation- From the tap into two 4oz samplers.
Appearance- Golden-orange in color. Very creamy with a 1/2 inch head. Light chunky lace remains.
Smell- A bit of toasted malt followed by a very light whiff of grapefruit hops. Nothing explosive.
Taste- Lightly watery, but has a sharp pine and grapefruit hop flavor. Light toasted malt plays second fiddle here.
Mouthfeel- A tad thin with a creamy feel. Low carbonation with a extreme lasting bitter aftertaste.
Drinkability- All in all a pretty decent brew. I think it's listed under IPA at the brewery. Whatever it is, it's not bad at all.
★
672 characters

3.98
/5
rDev
+9.3%
look: 4.5 | smell: 4 | taste: 3.5 | feel: 4.5 | overall: 4.5
A: Poured from can into standard pint glass. Poured a cloudy orange color with some sediment. Good sized frothy white head, good lacing
S: Good floral hoppy scent
T: Nice balance of biscut maltiness and flavorfull and slightly bitter hop aftertaste
M: Perfect amount of carbonation, very easy drinking
D: Excellent pale ale, would have this again for sure
★
359 characters
Eddy Out Pale Ale from KettleHouse Brewing Co. (Southside Taproom)
3.64
out of
5
based on
51
ratings.