Schooner Exact Brewing Company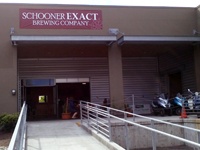 PLACE INFO
Type:
Brewery, Bar, Eatery
3901 1st Ave S
Seattle
,
Washington
, 98134
United States
(206) 261-6294 |
map
schoonerexact.com
Notes:
No notes at this time.
Added by t0rin0 on 04-09-2009
Reviews: 9 | Ratings: 30

4.07
/5
rDev
+2.3%
vibe: 4 | quality: 4 | service: 4 | selection: 4.25
I visited Schooner Exact last weekend and I enjoyed my visit. They had 12 beers on tap when I was there, and I tried three. The limited-release NW Sour was a real standout -- evidently, they release periodic test sours, and if this is an indication of their typical quality, then I really want to come back and try more.
The service was good at the bar, and the build-out is really cool with indoor and outdoor seating as well as a restaurant-type area. There is a kitchen as well, but I did not sample the food on this visit. Overall I think I'll definitely be returning here.
★
582 characters
4
/5
rDev
+0.5%
vibe: 4.25 | quality: 4 | service: 4.25 | selection: 3.75 | food: 3.75
Went yesterday with the wife and kids. It's divided into three primary areas: An indoor area of just tables (more like a traditional restaurant), an outdoor area of tables, and then the bar area, with some tall tables that you seat yourself and will probably sit next to strangers. This last area also has a view into their actual brewery. It was fairly busy -- apparently it gets really busy near Sounders games. I imagine the same is true for Mariners or Seahawks.
The food was good (I had a burger, my wife had a steak sandwich, the kids had kid food), but not stellar. The servers were friendly and helpful, despite a busy and chaotic environment.
I liked the vibe. The other patrons were generally pretty cool. We talked to the couple sitting next to us on the table most of the time we were there.
They had about a dozen taps -- eight of their standard beers, four seasonal or one-off beers. They also had one or two ciders or wines. Beer is fine -- better than I remember it being in the past, but again not stellar.
★
1,026 characters
3.84
/5
rDev
-3.5%
vibe: 3.75 | quality: 3.75 | service: 4 | selection: 3.75 | food: 4
Brewery in SODO district Seattle
Industrial District but easy to find
Lots of parking near the tap room
Very Good service, really attentive
Beer is ok- had the flights
Overall a great place to hang out in the Seattle rainy climate
★
232 characters

4.28
/5
rDev
+7.5%
vibe: 3.75 | quality: 4.5 | service: 4.25 | selection: 4.25 | food: 4.25
Beer is exceptional. I have visited 3-4 times and have found that I have never had a bad experience. The standard taps are all worth trying. The seasonals never fail.
The food is always fresh and well prepared.
The atmosphere is that of a microbrewery.
Will return.
★
266 characters
4.03
/5
rDev
+1.3%
vibe: 4 | quality: 4 | service: 4.25 | selection: 3.75 | food: 4.25
Schooner Exact has a dining room/bar combo. The dining room seats about 40, with attractive wood tables and chairs, well spaced. Music was playing when we visited on a Wednesday afternoon, so it's not the quietest spot, but it's more subdued than some -- it's easy to talk! The bar in the next room is also quite pleasant, a good spot to sip and talk to the bartender.
The food is really well done. We had a smoked salmon salad ($10) and a pork/avocado/lettuce sandwich ($11 with a fine side salad). Those are typical of lunch items. We didn't look at a dinner menu.
As for the beer ... they have 8 taps, six for their standard selections, and two for rotating seasonals. We had their standard Profanity Hill Porter, which was OK, and a seasonal Fog Lifter DIPA, which was excellent. Pints are $4.50, half pints $3, and 4 oz tasters are $2.
In my experience with Seattle area brewpubs and tasting rooms, Schooner Exact has better than average beer and much better than average food. It's actually pretty hard to find this combination. The places that have exceptional beer tend not to have much in the way of food. And there are quite a few brewpubs that don't do either food or beer as well as Schooner Exact. So this is a fine place to stop, and a very good value considering the quality.
★
1,294 characters
3.8
/5
rDev
-4.5%
vibe: 3.5 | quality: 4 | service: 3.5 | selection: 4
The highlight of a recent 3 brewery tour of Seattle was finally getting to visit the home of my favorite local/regional IPA, SE's 3 Grid. The basic industrial vibe typical of the tasting room scene is what you'll get here. 8-10 barstools, a few tables and some outside seating during the nicer weather. Family friendly, in fact the owners baby was napping in a playpen by the tanks during our visit.
Service was good, a friendly and competent bartender, while new to SE, clearly had some skill and easily kept up with needs of hos 12-15 customers and people stopping in for growler fills. SE is a relatively small brewery and they tend to have to brew their mainline brews often to meet demand. That said there were several brews I'd never had before and I had a couple of them.
As is typical for the tasting room, no food is served (aside from nuts and chips), but you are welcome to bring in you own o rhave eats delivered. The prices were right in line with pint prices in the Puget Sound area. A must stop if you visit the Jet City.
★
1,038 characters
3.5
/5
rDev
-12.1%
vibe: 3.5 | quality: 3.5 | service: 4 | selection: 3
Stopped here for the soft opening during SBW 2010. One of the first at the bar on a beautiful Seattle Saturday. Been here several times since.
A: Good. About ten stools at the bar which is sordove inside a warehouse, loading dock area. You can see the tanks, there is a beer garden feel as they had the doors open with outdoor seating too. Plenty of parking but it was tough for me to find even with GPS. Look for the beer sign. Some good beer talk at the bar and amongst the clients
Q: I have had several Schooner E beers prior to coming here but today I had Hoppy the Woodsman, Foxy Mocha Brown and the Imp Project #2..all being very good. The beers from Schooner range from good to very good, never an average brew.
S: Knowledgable, talkative and cool
S: I was here for the opening and then a follow up months later and at that time they had ten beers, most of them I had not seen in the state before. Imp Project 1 and 2, the Foxy brown Mocha was new, they had another IIPA and something else. Selection was good. Something to please everyone. After n umerous stops after the grand opening and shortly after it turned into a "safe house" for beer. Meaning they have not done anything beyond the casual and usual standard lineup. It has gotten boring on selection since the first six months. I just downgraded selection because it is now pretty safe and a snoozer. When I go to a brewery I exoect to have something different that I can NOT find on tap anywhere in the Sound area. Schooner E is doing well, turning a profit and appears they lost the sense of adventure.
F: I had a BBQ pulled pork sandwich there which was about average on taste at the openning but usually pretzels or something.
★
1,703 characters
3.86
/5
rDev
-3%
vibe: 4 | quality: 4 | service: 4 | selection: 3.5
located on 1st ave, south of downtown. off the beaten path for much of seattle but still a short drive from most of us urban residents
conveniently located next to a vespa dealer in case you get carried away.
the tap room opens up in industrial fashion from the brewing facility - small bar with 8-10 barstools, a few tables, and some picnic tables outdoors.
one tv in the corner, some free nuts, and 8-ish taps. nothing particularly special on tap - 6 regulars and 2 rotationals which were far from appealing on my visit
the IPA was abrasive and hoppy and $3 pints all day on thursday and sunday is difficult to beat.
i would swing back through only if i knew of special releases on tap, but i can see this being a beacon of the neighborhood - its just pretty far from my own
★
781 characters
4.03
/5
rDev
+1.3%
vibe: 4 | quality: 4.5 | service: 3.5 | selection: 4
Great brewpub right on the border of SoDo and Georgetown tucked away in a warehouse complex next to a Vespa dealer. Can beer hard to find if you don't know where it is or you miss the beer -> sign.
Pros:
-Great beer all around, have tried almost everything that they have brewed and have only disliked a couple beers. Their now seasonal Hopvine IPA which they brewed initially for the 15th anniversary of the Hopvine pub in Capitol Hill is incredible, one of my all time favorite IPAs. Too bad they don't brew it more frequently (hint hint).
-8 taps, 5 or so beers are always on tap, their IPA, pale, golden, hefe, and brown, other taps are for special or limited releases which are usually fantastic.
-Growler fills are $8 for the regular beers and only $6 on happy growler day, which is Thursday last time I checked.
-Friendly staff, their owner/brewer Matt is a great and very knowledgeable guy.
Cons:
-My only real complaint is that they are somewhat understaffed, if you go in for a growler fill and they are somewhat busy you can expect to wait a while because they only have 1 employee at the bar.
★
1,114 characters
Schooner Exact Brewing Company in Seattle, WA
3.75
out of
5
based on
618
ratings.