La Petite Mort
| Black Raven Brewing Co.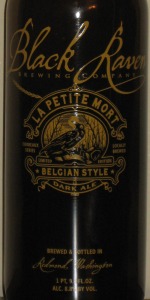 BEER INFO
Brewed by:
Black Raven Brewing Co.
Washington
,
United States
blackravenbrewing.com
Style:
Belgian Dark Ale
Alcohol by volume (ABV):
8.70%
Availability:
Rotating
Notes / Commercial Description:
No notes at this time.
Added by beertunes on 07-15-2009
Reviews: 7 | Ratings: 41

3.65
/5
rDev
-10.8%
I had this on-tap in a snifter at Special Brews in Lynnwood, WA.
Appearance: rich dark amber with minimal haze and a thin layer of creamy ivory foam. Very attractive indeed.
Smell: lightly toasty, spicy aroma. Quite subtle.
Taste: very toasty and biscuity malt with a lightly fruity, yeasty character; there's also just a touch of chocolate here. It reminds me very much of a dubbel. Not bad for the style, but in general it's a bit biscuity for my taste.
Mouthfeel: medium body with a decent carbonation and creaminess. Not as largely creamy as a nice bottle-conditioned Belgian, but nice enough.
Overall: it is the rare Belgian dark ale/dubbel/amber that grabs me, and alas this beer is not among them. Not a bad beer at all for the style, but not really to my taste.
785 characters
4.49
/5
rDev
+9.8%
look: 4.25 | smell: 4.5 | taste: 4.5 | feel: 4.5 | overall: 4.5
On tap at Hopvine in Seattle. In a snifter.
It appears a deep, dark, brackish ruby with a solid finger of off-white froth as a head.
Smells like bourbon, raisins, cherries, maple, and molasses. A tempting aroma.
It tastes pretty much exactly like it smells, but with the addition of a classically Belgian, bready finish. The flavor also has more vanilla, I think.
The feel isn't overly spritzy for a Belgian ale, which I like. Sweet and syrupy.
Really a lovely dark Belgian ale.
483 characters
4.2
/5
rDev
+2.7%
look: 4 | smell: 4 | taste: 4.5 | feel: 4 | overall: 4
A: Poured a brownish color with ruby highlights, good carbonation, nice white cap and bubbles
S: Some dark fruits and sugar
T: Caramelized sugar, brown sugar, toffee notes with fig and raisin and a hit at nuts and a nice booze presence
M: Nice body, easy to drink the mouthfeel is abit thin but tasty and very drinkable
O: Good
331 characters

3.86
/5
rDev
-5.6%
look: 4.5 | smell: 3.5 | taste: 4 | feel: 3.5 | overall: 4
Belgian Abbey Strong Brown 2011 release 7/14/2011 draft pour at the brewery.
Nice dark deep red/brown appearance.
Nothing significant on the nose that I could pick up.
Taste nutty, sweet, balanced.
Mouthfeel smooth and somewhat on the thin side.
Much fanfair from my favorite brewery left me a little disappointed. Drinkable alright but too much so. I expected more.
I'm glad I tried it but wouldn't go out of my way for it again.
433 characters
4.47
/5
rDev
+9.3%
look: 4 | smell: 4.5 | taste: 4.5 | feel: 4.5 | overall: 4.5
A- Poured from cask, this supposedly the last cask of this batch of La Petite Mort from the summer. Black Raven is releasing a new Bourbon La Petite Mort tomorrow which should be amazing. Anyways, to the beer!
Glass came to me with a light head and and left lots of bubbles around the sides. Lacing is alright. Color is a dark amber or maroon.
S- Very fruity like plums and pineapple and just of citrus. Very good smelling and the aging i am sure brought out a lot in this brew.
T- This has a nice woody flavor to it. All of the fruits from the nose come out on the palate. I also get a dose of hops on the back end which is just awesome.
M- Goes down and in very smooth. Cannot taste the high ABV at all which is nice.
D- At this ABV, it is dangerously drinkable. So smooth and good. I could start and finish my night with something like. Thanks Black Raven and can't wait to try the bourbon LPM.
903 characters
4.1
/5
rDev
+0.2%
look: 4 | smell: 4 | taste: 4 | feel: 4 | overall: 4.5
Had this on tap at black raven and was really excited to try this!
Poured a dark rather clear beer with superb amber hints and a decent head into a tulip glass and due to the style i don't exactly know what i would pour this into if i had a bottle.... Nice 1/2 finger head that stuck around for a bit before fading
Smell was a bit funky with a touch of sour. A wbit sweet with spices and cloves.
Taste was sweet and malty with a bit of hops up front and a funky farm toward the back which made for an interesting brew with some weird twang to it..
Mouth was solid and well slid out for the expected style. I wasn't expecting anything too thick or over carbonated for the style... maybe a bit more carbonation but this works well..
Drink was well balanced and i really enjoyed it. a friend of mine said it was hoppy up front with some smoke in the back, but she was drunk =)
Overall a solid beer and i would get this again, but i would try a different style of glass just to check it out
992 characters
3.75
/5
rDev
-8.3%
look: 3.5 | smell: 3.5 | taste: 4 | feel: 4 | overall: 3.5
The brewery lists this as a "Abbey Brown Ale", so if this review is miscatagorized that's my bad. Served in straight pint glass. Poured a clear, sharp, medium brown, sort of leather colored. Had a over an inch of fluffy light tan head, that dissipated at a moderate pace leaving just a hint of lacing.
A sweet aroma hits the nose first, followed by a slight hint of spice. The flavors are much bolder than the aromas lead me to expect, with a sharp tang on the front, followed by the expected malt sweetness and finishing with a nice touch of spicieness.
The body is solid and full without being heavy. The only reason drinkability suffers is due to the strength making it tricky to have more than a couple. I think this beer will develop a nice smoothness with a little time. Worth seeking out.
801 characters
La Petite Mort from Black Raven Brewing Co.
4.09
out of
5
based on
41
ratings.