Mash Collective Aureus Chrysalis
| Stone & Wood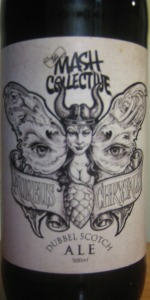 BEER INFO
Brewed by:
Stone & Wood
Australia
stoneandwood.com.au
Style:
Dubbel
Alcohol by volume (ABV):
6.50%
Availability:
Limited (brewed once)
Notes / Commercial Description:
No notes at this time.
Added by CrazyDavros on 04-18-2013
This beer is retired; no longer brewed.
Ratings: 7 | Reviews: 5
Reviews by doktorhops:

3.58
/5
rDev
+5.6%
look: 4 | smell: 3.5 | taste: 3.5 | feel: 4 | overall: 3.5
After having become a fan of the Stone & Wood Pacific Ale, there's nothing quite like it in the entire world as far as I can tell, and being disappointed by their Jasper Ale (what were they thinking?) I approach this Dubbel Scotch Ale with trepidation and hope that they can pull another rabbit out of their hat.
Poured from a 500ml bottle into a St Feuillien chalice.
A: Appearance presents a murky deep russet body with a minimal tan lacing, looks just like a large espresso shot in a glass.
S: Aroma is a mixture of Islay single malt whiskey, burnt chocolate, earthy hops, and a hint of dark fruits. There is also a dusty smell that permeates the aroma as a whole, much like a set of old leather boots in a Scottish manor.
T: Both the Dubbel and Scotch ale flavours come through right away with the smokiness of an Islay single malt whiskey (not a Laphroaig or anything that peaty), followed by some sweet macerated dark fruits, earthy hops, vegemite (an Australian yeast paste spread) and a slight bitter finish. It's a well done brew except for that dusty smell, which presents in the flavour as well and seems a tad out of place.
M: Medium bodied with a light but dense carbonation very much in the style of a Dubbel or even Tripel.
D: Well valued for the style (at least cheaper than a Belgian Dubbel), and overall a tasty beer that is only let down by that odd dustiness that lies under the surface and makes you think "Huh?". That being said it is nice to have Australian craft brewers like Little Creatures, Gage Roads and Stone & Wood try their hands at making Belgian styled beers, it should go without saying that Belgium is the Mecca of brewing and we all need to respect the Dubbel.
Food match: Very much an after dinner cigar and brandy type of brew (minus the brandy unless you want to get your sauce on). However it will work with game meats like venison or for the vegetarian audience; grilled Portobello mushrooms and eggplant, with a creamy mash potato side to balance it out.
2,004 characters
More User Reviews:
3.62
/5
rDev
+6.8%
look: 3 | smell: 3.5 | taste: 4 | feel: 3 | overall: 3.5
Pours dark brown with a small off-white head.
Nose shows soft peat, nutty notes, golden syrup, toasty malt and spices.
Equally malty flavours but with more breads and toasty malt alongside a bit of gentle booze. Slightly metallic.
Body feels a bit watery.
258 characters
3.17
/5
rDev
-6.5%
look: 3.5 | smell: 3.25 | taste: 3.25 | feel: 2.75 | overall: 3
Pours a hazed light copper hue with a creamy two finger head and sporadic lacing,the smell is brandied pears,alcohol,a touch of peat and molasses,the mouthfeel is just under medium bodied and a tad over carbonated with tastes of brandied pears,a touch of peat,marzipan and finished with a dried fruitiness and overall it's average and was expecting a lot more cheers.
367 characters

3.34
/5
rDev
-1.5%
look: 3.5 | smell: 3.25 | taste: 3.5 | feel: 3 | overall: 3.25
From Slowbeer. No BB.
Appearance - Hazy mahogany, one finger head, spotty lace.
Smell - smoke, malt whisky/barrels/wood.
Taste - smoky, peaty, not too Belgian imho.
Mouthfeel - moderate carbonation, medium bodied. Bit alcoholic as it goes down.
Overall - Jury out. More of a scotch ale than Dubbel certainly. And not really out there enough to be a special beer or a collab type thingy
390 characters

3.43
/5
rDev
+1.2%
look: 4 | smell: 3.5 | taste: 3.25 | feel: 3.5 | overall: 3.5
Somewhat hazy mahogany colour. Small, light tan head. Decent head retention. Not bad.
Surprisingly hoppy with some lightly citrussy notes going on. Touches of caramelised malt and peppery spice.
A bit weird. I get the English malt flavours going on here with some Belgian yeast phenols. Bits of earthiness. The hop character doesn't really work for me.
Medium-light body with moderately-high carbonation. Okay.
An interesting beer. I can see where they were going here but the flavour profiles clash a little bit. it works really well with food but I don't think it stands by itself.
587 characters
Mash Collective Aureus Chrysalis from Stone & Wood
3.39
out of
5
based on
7
ratings.