Mountain Man DIPA
| Penobscot Bay Brewery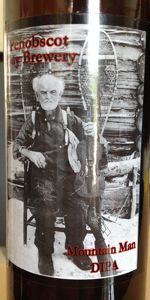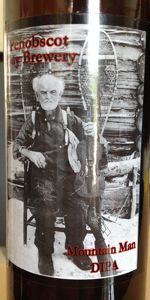 BEER INFO
Brewed by:
Penobscot Bay Brewery
Maine
,
United States
winterportwinery.com
Style:
American Double / Imperial IPA
Alcohol by volume (ABV):
9.50%
Availability:
Year-round
Notes / Commercial Description:
No notes at this time.
Added by hockeypuck on 11-16-2013
HISTOGRAM
Ratings: 15 | Reviews: 6

3.8
/5
rDev
+8.9%
look: 4 | smell: 4 | taste: 3.75 | feel: 3.5 | overall: 3.75
With a few "tweaks" here and there this VERY taste and hoppy DIPA could have been a "KEEPER" but in the end it is too bitter for my liking. IF they could have cut back on the alcohol kick/taste and ADDED more carbonation...I'd have been a MOUNTAIN MAN for life.
261 characters

3.5
/5
rDev
+0.3%
look: 3.5 | smell: 3.5 | taste: 3.5 | feel: 3.5 | overall: 3.5
2.5
/5
rDev
-28.4%
look: 2.5 | smell: 2.5 | taste: 2.5 | feel: 2.5 | overall: 2.5
Poured from a bomber into a glass. Murky amber beer has almost head. Aroma is boozy with a bit of caramel. Taste is thick and malty. Finish is bitter brown bread. Not much else. There are clearly a lot of hops in here---it's strongly bitter. But the overall effect is incoherent. The finish is boozy and bitter and not very interesting. Mouthfeel is a bit heavy. There's a lot of alcohol warming---too much, in my opinion---and I think it could use a bit more carbonation. Regrettably, this beer is pretty disappointing.
531 characters
3.44
/5
rDev
-1.4%
look: 3.5 | smell: 3.25 | taste: 3.5 | feel: 3.5 | overall: 3.5
3.51
/5
rDev
+0.6%
look: 4 | smell: 3.5 | taste: 3.25 | feel: 3.75 | overall: 3.75



4.2
/5
rDev
+20.3%
look: 4.5 | smell: 4.5 | taste: 4 | feel: 4 | overall: 4.25
750ml bottle
A) Pours with a finger thick head, tight and creamy. Clear, deep bronze colored body.
S) Citrus notes. Hints of pine. Subtle peach, buttery caramel.
T) Bold hop bite from the beginning. Piney. Peppery. Malts are present, but a bit overshadowed by the hops. Caramel notes.
M) Medium body. Creamy. Hop tannins in the finish.
O) A very good double IPA. Nice complex taste profile.
392 characters

3.65
/5
rDev
+4.6%
look: 3.75 | smell: 3.75 | taste: 3.5 | feel: 3.75 | overall: 3.75
From the bottle, poured into a snifter. The beer was a gold color with a small white head. There was a small amount of lace
Aroma of pine and citrus. Somewhat earthy. A bit of sweet malt.
Resiney pine taste, earthy hops. A little grapefruit.
Caramel background. A bit underwhelming.
Oily. Not that hoppy for a DIPA.
Maybe drink again, but not likely.
354 characters

3.44
/5
rDev
-1.4%
look: 4 | smell: 3 | taste: 3.25 | feel: 4.75 | overall: 3.5
First brewed to celebrate the 2nd anniversary of Nocturnem Drafthuas in Bangor and now bottled.
Pours a light amber color with a good sized creamy looking head, fades at a slow rate, leaves a good deal of spotty lacing on the glass while maintaining a thin cap on top.
Smell is mostly sweet caramel malt, touch of fruity pine but mostly malt character.
Taste is on the sweet side, caramel malt dominates the flavor profile, some fruity notes hit the sides, there wants to be a pine-y bitter aftertaste but its too mild to sustain, the body is excellent with a wicked super creamy mouthfeel, there's plenty of carbonation but it's soft with small bubbles which gives it a velvety texture, alcohol is well hidden and I would never have guessed it to be so strong except.
No idea how long this beer sat on the shelf which may explain the muted hop presence, while not a bad beer, it no longer fits the category... it should be law for a DIPA to have a bottled date printed somewhere.
984 characters

3.12
/5
rDev
-10.6%
look: 4 | smell: 2 | taste: 3 | feel: 4.5 | overall: 3.75
In Maine for awhile, greedily snapping up local brews. Maine has it's fair share of excellent local brews and I have not been disappointed, until I came to this beer. I don't write full reviews unless it is something out of the expected (do I really need to add a millionth review to Heady Topper?)
Penobscot brewery produces a chocolate milk stout that proudly proclaims that it was rated the best home brew in Maine, despite the lack of carbonation (which I assume was just my batch) it had a great flavor and is a hell of a homebrew. This leads me t believe that most of Penobscot's stuff is small batch, so YMMV.
This is from a corked bomber bought at the Belfast CO-OP, it is an excellent store, and the only CO-OP that I endorse (having meat and beer and actual food, but I digress).
Poured into a goblet.
A: This is an appealing looking beer, amber and maple syrup come to mind. a nice tight off white head.
S: WTF? this smells like some kind of pine scented cleaning solvent. It isn't rated lower because it actually has a potent smell which is always good, but it just smells off. Not appealing. If the brewer is checking this, change your
[email protected]
&ing smell.
T: again having something versus nothing in taste brings up the points on an uninteresting brew. It isn't fizzy piss water but is a little off. For a beer that comes in at 9.5 abv I expect a whole lot of flavor and I am disappointed.
M: This is spot on, The carbonation is pleasant and gives the brew full body, I was worried about this after the chocolate milk stout, but it turned out to be beyond my expectations. Keep this up.
O: Astringent smell and a weak and slightly funky taste bring this beer down. Half of this beer is done really well, and it shows that it has some real potential. I don't want to knock these guys since it is apparent that they are really trying to turn out some good stuff, but when it comes to stuff like Meadowlark IPA and Maine Beer Company 2013, I can't in all good conscience say that this is in the same league. On the other hand, I for one will be following this company and continuing to support them, if just to see ho they develop over the years. If you are looking to buy local and have had some of the headliners this will be an interesting drink and much better alternative to the locally available Gritty's IPA.
2,330 characters
Mountain Man DIPA from Penobscot Bay Brewery
Beer rating:
3.49
out of
5
with
15
ratings