Messe De Minuit
| Les Brasseurs Du Temps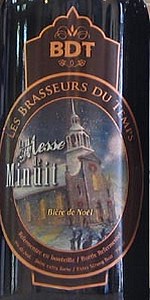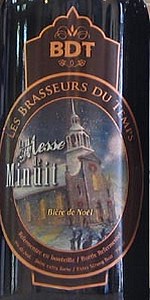 BEER INFO
Brewed by:
Les Brasseurs Du Temps
Quebec
,
Canada
brasseursdutemps.com
Style:
Herbed / Spiced Beer
Alcohol by volume (ABV):
9.50%
Availability:
Winter
Notes / Commercial Description:
No notes at this time.
Added by Phyl21ca on 02-06-2011
HISTOGRAM
Ratings: 9 | Reviews: 7
Reviews by JohnnyBarman:
2.71
/5
rDev
-14%
look: 3.5 | smell: 2.5 | taste: 2.5 | feel: 3.5 | overall: 2.75
750mL bottle picked up from Broue Ha Ha in Gatineau. Bottled 11/25/13.
Poured into a tulip, as per the bottle's request. Caramel charcoal in colour, with an offwhite head of about a half inch that settles into a fine ring. Some lacing.
Bought this expecting more of a classic winter warmer (actually, more for the label than anything, to be honest), something malty, cinnamon, nutmeg, or perhaps some other spices. Nose is pure black licorice, or star anise, which is not a flavor I typically go for, but there it is. Bold anise, sweetness, bit of caramel lingering in there.
Four words for this brew - too. much. star. anise. The bottle describes the "seven spices weaving through", but all I get is star anise and my word is it overpowering. Bit of dryness and some hops to the finish, but other than that this is a licorice bomb that, as someone who really can't get into black licorice, is a chore to finish.
If you love star anise, perhaps this is the brew for you. As for me, I'll get through it, but it's a real struggle. Really needed more spiced balance; a little subtlety goes a long way.
1,105 characters
More User Reviews:
4.02
/5
rDev
+27.6%
look: 4 | smell: 4.5 | taste: 4 | feel: 3 | overall: 4
Enjoyed on tap at the brewpub. One of the better ones, and showing how they took it up a notch this is the x-mas beer kept on because of demand. Sour aromas, cuvee, a workout for the nose. Above-average mouthfeel, very lacey dark colour. The taste comes through even when it was cold. Aggressively carbonated. Anise, lciorice, cinammon, corriander, orange peel, nutmeg and cloves. Sourish and most drinkable.
408 characters

2.06
/5
rDev
-34.6%
look: 3.5 | smell: 2.5 | taste: 1.5 | feel: 2.5 | overall: 2
I love Brasseurs Du temps Beer, so like always, exciting to try something I've never had by them.
Poured a nice, dark yet crystal clear with moderate head. Smells. Star Anise. STRONG star anise. Taste...Ouch, More star Anise. There must be a shortage of Star Anise in the world after drinking this one, its sweet with really no flavor apart from Star and Hops.
Undrinkable. I can't finish this nor can the 5 beer drinkers trying this with me. The really need to cut back on the malt and star anise.
502 characters
3.62
/5
rDev
+14.9%
look: 3.5 | smell: 4 | taste: 3.5 | feel: 3.5 | overall: 3.5
Tap: Poured a deep dark brown color ale with a small foamy head with light retention and lacing. Aroma of spices (maybe some liquorice, anis and some other s that are to distinguish in the mix). Taste is quite refreshing with loads of spices flavor though not overwhelming with some sweet Belgian style malt. Body is bit lighter then I was expecting with some good carbonation and no apparent alcohol. Interesting take on there style but fuller body would have provided even more enjoyment out of that one.
506 characters
3.73
/5
rDev
+18.4%
look: 3.75 | smell: 3.75 | taste: 3.75 | feel: 3.5 | overall: 3.75
Aged 1 year.
Pours a black body, lots of spices in the flavor, fruit cake, cinnamon and various others. Finishes with a bit of a metallic edge which is weird but overall i liked it. A bottle to share though for sure.
217 characters
2.79
/5
rDev
-11.4%
look: 4 | smell: 2.5 | taste: 2.5 | feel: 3.5 | overall: 3
De minuit from notes
A- deep deep dark redish brown. Almost black. Four finger light tan mousse like head. Lacing is excellent.
S- Huge licorice, brown sugar, vanilla with cinnamon and cherry.
T- Coffee, brown sugar, vanilla, licorice and figs with cloves and cinnamon.
M- medium bodied, subtle carbonation. Sticky on the lips.
O- I love winter warmers but this one had so much licorice in it that I couldn't get through the whole bottle. If they leaned back on the licorice it would have been fantastic.
509 characters

4.39
/5
rDev
+39.4%
look: 4.5 | smell: 4.25 | taste: 4.25 | feel: 4.5 | overall: 4.75
La Messe De Minuit ("midnight mass") looks far more sinister than angelic; it is a most deep, very dark, completely opaque blackish-brown colour. Its head is built like an olympic weightlifter and that bulky, stout brown foam wraps around the glass like a ribbon on a present.
The aroma is as intimidating as the appearance. Outwardly strong, immensely spiced and extremely sweet smelling, it is a lot for two nostrils to take in. The botanical, licorice-y, minty flavour of wormwood leads the way together with anise, fennel, and more typical notes of orange peel, nutmeg, and clove.
The impressions of molasses and brown sugar further develop on the palate, but there's enough zesty citrus skin, savory herbals and strong baking spices that the beer is impressively balanced. Still, the almost overwhelming tastes of black licorice, rum-macerated raisins, fennel, ginger, and absinthe make this perfect for sharing (and for that matter stashing away in the cellar for next season).
The holidays can be a trying time, but Messe De Minuit is strong enough to get you through it. Its satiating sweet dark malt, pacifying spiciness, and sedative 9% alcohol are tranquil escape from the pressures of family or the stresses of shopping. Just a few sips can make even the most worried, wound-up bundle of nerves to melt like Frosty on a warm day.
La Messe De Minuit is appropriately composed of a 'holy trinity' of sweet, savory and spicy flavours with which it's more generous than even Santa Claus. It is a warming, cheerful, and special tipple that became an instant Christmas favourite. This mass is anything but boring - I'm attending every year!
1,657 characters
Messe De Minuit from Les Brasseurs Du Temps
Beer rating:
3.15
out of
5
with
9
ratings