Nesher Malt
| Tempo Beer Industries LTD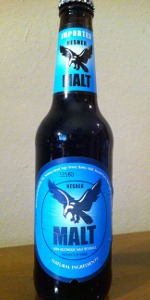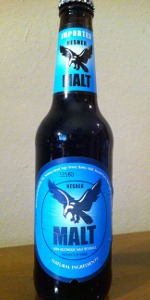 BEER INFO
Brewed by:
Tempo Beer Industries LTD
Israel
tempo.co.il
Style:
Kvass
Alcohol by volume (ABV):
not listed
Availability:
Year-round
Notes / Commercial Description:
No notes at this time.
Added by TMoney2591 on 01-06-2011
HISTOGRAM
Ratings: 10 | Reviews: 6
Reviews by flagmantho:

3.04
/5
rDev
-4.4%
look: 3 | smell: 3.25 | taste: 3 | feel: 2.75 | overall: 3
Poured from 330mL bottle into a dimpled mug -- my preferred kvass vehicle nowadays.
Appearance: rich, deep-brown hue with minimal head. There does not appear to be much haze to this beer, but it is hard to tell due to its very dark color. Not bad for the style.
Smell: sweet and quite malty; a lot more barley malt aroma than a traditional kvass. A hint of breadiness and raisin which fits it in with the style; actually not too bad.
Taste: sweet and rather bready. This has got the Grape Nuts character of freshly mashed barley. Decent enough, but a little bit monotonous.
Mouthfeel: light body with pretty low carbonation. Not too exciting, even for a kvass.
Overall: this is drinkable and refreshing, although a little more character would be nice.
756 characters
More User Reviews:
3.92
/5
rDev
+23.3%
look: 4 | smell: 3.75 | taste: 4 | feel: 3.75 | overall: 4
A: Dark brown with slightly ruby tinge, no head and its hard to see the little carbonation.
S: Malts, candy malts, near beer like.
T: Malts, candy malts, toasted malts, rye bread
M: Medium thick syrupy body, medium low carbonation.
O: My first Kvass, had in Israel Dec 3, 2013. Very much a malt beverage, really enjoying the rye taste and Russian style.
358 characters
2.51
/5
rDev
-21.1%
look: 3.5 | smell: 2.5 | taste: 2.5 | feel: 3 | overall: 2
Another beer I brought back from Israel a few weeks ago. This one by the big macro like company Tempo, with low reviews, so not looking good for this one, but we'll see.
Pours a nice fluffy/fizzy 1 finger head that fades semi slowly with just a bit of lacing, over caramel cola dark brown colored beer with just a hint of light sneaking through.
Nose is not great, lots of syrupy aromas and extract like syrups, cheap cola syrup, just a hint of malty aromas, light corn syrup and molasses, some corn husky and straw.
Taste starts really sweet, wow, hard to even continue... but I'll try. It's not too unusual for a Kvass though, which is pretty much syrupy water with like 2% abv. This is more syrupy flavors, corn syrup, light molasses, cheap cola syrup, lots of extracts and syrupy flavors. Again corn husk and straw flavors, and a light bitterness that I don't think is from hops, more from bad malt and syrup flavors. All that and it's still fairly watery. Finish is still quite sweet, slightly sticky and syrupy, light lingering icky bitterness, and more husk and straw.
Mouth is med bodied but watery, and syrupy, with decent carb.
Overall again this is just not my style. Too sweet, syrupy, extract tasting, straw and corn husk, bad bitterness that doesn't come from hops, but still watery. Don't think I'm going to finish this beer.
1,345 characters

3.22
/5
rDev
+1.3%
look: 3 | smell: 3.5 | taste: 3 | feel: 3 | overall: 3.5
Served in a glass mug.
I discovered this among a mountain of other kvass bottles at a nearby market and decided to share it on New Year's Eve with my Jewish buddy and his kosher-dining girlfriend. Good times. It pours a clear dark garnet topped by a minor bit o' dirty white foam. The nose is a light mix of root beer and light roasted malts. As somewhat weak as it is, it's still slightly better than most of the other encounters during the ongoing Kvass Kick. The taste maintains the root beer-ness, though now it's watered down slightly and has a new partner in fennel. The body is a heavy-feeling light, with a lightly fizzy carbonation and a kinda watery feel. Not sure why, but though this closely resembles every other kvass I've had, it seems slightly more drinkable. Perhaps it's the company...?
807 characters


3
/5
rDev
-5.7%
look: 3 | smell: 3 | taste: 3 | feel: 3 | overall: 3
Appearance: Nesher Malt has a light amount of foam.
Smell: Nesher Malt has an aroma similar to molasses.
Taste: Nesher Malt has a taste similar to a Euro Strong Lager. There is a vague sweet aftertaste within the flavour of Nesher Malt.
Feel: Nesher Malt has a low amount of carbonation. Nesher Malt is smooth to drink.
Overall: Nesher Malt has qualities similar to a Euro Strong Lager. Unlike Euro Strong Lagers, Nesher Malt has no alcohol!
I purchased a bottle of Nesher Malt in Los Angeles, CA/USA for $2.50 USD.
525 characters

2.36
/5
rDev
-25.8%
look: 3.5 | smell: 2.5 | taste: 2 | feel: 3.5 | overall: 2
Poured from a 12 oz. bottle into my DFH tulip. Received from Tmoney2591 in Round 5 of the Blind BIF; thanks Kyle!
a - Pours a very dark brown color, almost black, with two inches of light tan ehad and moderate carbonation evident. Looks like it might be a porter.
s - Smell is pretty interesting. Getting some roasted malts, chocolate, burnt and toasted malts, and some light sweet sugar.
t - Woah, the taste is like straight up sugar. Insanely sweet, and some light roasted malts, chocolate, and again, burnt malts. Way too sweet; pretty hard to drink.
m - Relatively light body and low carbonation. Again, tough to drink because it's so sweet.
o - Overall I'm going to guess this was meant to be a kill shot. Smell seems a bit off, and than the taste was ridiculously sweet; pure sugar. Not something I'd look to have again.
831 characters
2.25
/5
rDev
-29.2%
look: 2.25 | smell: 2.25 | taste: 2.25 | feel: 2.25 | overall: 2.25
Nesher Malt from Tempo Beer Industries LTD
Beer rating:
3.18
out of
5
with
10
ratings