White Birch Winter Warmer
| White Birch Brewing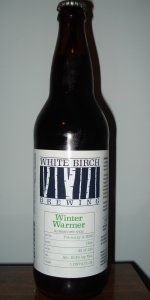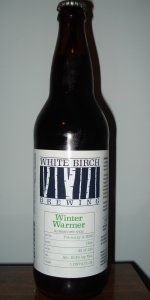 BEER INFO
Brewed by:
White Birch Brewing
New Hampshire
,
United States
whitebirchbrewing.com
Style:
Winter Warmer
Alcohol by volume (ABV):
10.40%
Availability:
Winter
Notes / Commercial Description:
A blend of spices are used to in this beer. Brewed once per year.
Added by barleywinebrewer on 02-24-2010
This beer is retired; no longer brewed.
HISTOGRAM
Ratings: 14 | Reviews: 12
Reviews by puboflyons:
4.5
/5
rDev
+29.3%
look: 4.5 | smell: 4.5 | taste: 4.5 | feel: 4.5 | overall: 4.5
From a 22 ouncer bottled on February 4, 2010. Batch One. Bottle 113 of 213. Sampled on March 5, 2010. The pour is a nice looking, generally clear brown tone with mahogany hues and a thcik, foamy head. The aroma comes on strong with a nice balance of spices like clove, allspice, nutmeg, and coriander. There is also something malty in there but thin in hops. The mouthfeel is of decent, heavy texture. The taste is delicious with some pears and peaches along with spices. The pears and peaches often create a tart or sour quality but there is none of that here. The 10.4% ABV is well-masked with a vague dry hop finish. This is a very nice beer.
645 characters
More User Reviews:

2.86
/5
rDev
-17.8%
look: 4 | smell: 3 | taste: 3 | feel: 2 | overall: 2.5
Received this as an extra from jkane101 in a recent trade. Thanks!
Appearance- Pours a dark chestnut out of the bottle that is hazy but lets some light in around the edges. About a half finger of slightly tan head yielded off of a mild pour. Dies back to a thin sheet across the top of the beer and sticks around for the rest of the drink. Some mild lacing left as well.
Smell- Mild spice profile come across first and seems to be comprised of cloves, cinnamon, and maybe a little bit of coriander. Also a slight banana fruitiness to it as well that almost reminds me of a dunkelweizen. Finishes off with some slightly bready malt as well.
Taste- Cloves and a little bit of the cinnamon come through initially, along with the bready malts as well. Again, I pick up on a little bit of fruity esters as well. I have to say though, the flavor profile over all seemed a little bit weak and was even milder than the smell. This was compounded by a very thin and watery finish.
Mouthfeel/Drinkability- I have to say that I was very disappointed by the mouthfeel. It was very thin and watery and only served to make the flavors come across as weak. Really could have used some more substance. The beer went down okay but as a result of the watery body and flavor profile, I wasn't really left wanting more.
This is my second White Birch beer (the other being the BA tripel), and I have to say that I have been left a little bit disappointed each time. Each beer seemed to have a very thin body that weakened the flavor profile. With more substance, this could have been a winner. I'm going to keep trying the lineup though, as I continue to hear good things.
Overall,
1,666 characters
4.1
/5
rDev
+17.8%
look: 4 | smell: 4 | taste: 4 | feel: 4 | overall: 4.5
Poured from a 22oz bomber into a St. Bernardus goblet. Extra special thanks to vanillamike for this from a recent trade!
Bottled February 4, 2010
Batch One
Bottle 207 of 213
ABV Alc. 10.4% by Vol.
A: Pours a clear tarnished copper color with a small (just) off white layer of foam on top that quickly turns into a thin skim with a thick and bubbly ring. Tiny amount of splotchy lace. The second (swirled) pour netted muddy clarity and a creamy/bubbly head that did a much better retention job than the first pour.
S: Initially, the aroma was of sweet malt, dark fruit, and ginger snaps. When it came up to temp, I was able to pick out aromas of clove, lavender, allspice, and coriander. I swirled the second pour, to get all the sediment, and noticed a distinct fresh ground black pepper aroma.
T: See above. Right out of the fridge this felt a little safe with a slight bit of holiday cookie spiciness. However, as it warmed, the flavors became more daring with clove, fennel seed/anise, corainder, orange, and black and white peppercorns.
M: The first pour came off on the thin side. After it came up to temp and all the sediment was poured into the glass, it really came alive. Dry, peppery, and spicy are the name of the game here with brief snatches of malty sweetness and tangy citrus. Very cool black pepper tingle in the mouth during the long finish.
D: I kept checking the bottle to make sure I read the label correctly. 10.4%? Ok, where is it? This drank as easy as a beer half the strength!
1,507 characters

4.33
/5
rDev
+24.4%
look: 4.5 | smell: 4 | taste: 4.5 | feel: 4 | overall: 4.5
Poured from a bottle into my White Birch glass. The beer pours a very dark mahogany color with a dense one finger off white head. As the head fades it leaves a thick foamy lacing on the walls of the glass. When this one is held up to the light it drastically changes to a deep glowing hazy ruby color.
The smell is subtle spices, a nice blend of brown sugar, cinnamon and nutmeg. It's a warm, gentle spiciness that doesn't overwhelm at all, or smell like a store-bought pumpkin pie. There are hints of milk chocolate, graham cracker and biscuity malts. As the beer warms the malts get a bit more roasty.
The taste matches the smell nicely, but the spices take a backseat for sure. The blend of crisp graham cracker and biscuit malt introduce the flavors, followed by a nice mellow peppery hop characteristic that was not present in the nose. There is a quick hint of some sharp lemon zest, and it quickly fades to the mellow, warm spices that remind me so much of winter.
The beer is medium bodied, well carbonated and very full flavored. The finish is very crisp and dry. This beer manages to add a nice blend of spices without allowing them to take over, which is always appreciated. Re-reading my review at this point I see the word "mellow" more than once and I really think that is the best way to describe this beer. The flavors are complex, well blended and very smooth. At no point does the 10.4% abv make an appearance, it's completely hidden in this beer, which is quite dangerous.
1,494 characters

4.12
/5
rDev
+18.4%
look: 4 | smell: 4.5 | taste: 4 | feel: 4 | overall: 4
Thanks to rpstevens for this extra given at KTG last year. Let it sit until this winter, which worked out quite well. Bottle 212 or 213 - February 4, 2010. Served in a snifter on Christmas Day 2010.
Pours a nice, bright reddish-brown color with a good white head and a bit of streaky lacing. The nose is quite spicy with a good malt base. Lots of cinnamon. Nutmeg and allspice there as well. All of the spicing blends quite well even though it's quite strong overall.
The taste is sweet and spicy with a bit of cherry and some strawberry seeds. Slightly-dry finish on a medium body. I was really shocked at the ABV on this one, as it was not detectable at all. Probably the best White Birch beer that I've had to date. Quite impressive, especially as I often don't really care for winter warmers.
798 characters
3.7
/5
rDev
+6.3%
look: 4 | smell: 4 | taste: 3.5 | feel: 4 | overall: 3.5
A: A decent fluffy 1/2 finger head rises up and fades slowly, over semi clear and semi hazy auburn brown color.
N: Toasty malts, lots of toasty malts, some sweet syrupy molasses and sugar syrupy aromas, lots of spices as well, some nutty aromas, nutmeg, cinnamon, and lots of those same toasty spices you get from normal Pumkin ales or winter spiced ales. It even has a slight fluffy pumpkin aroma. A hint of hazelnut too.
T: Taste is similar to the nose but toned down a bit. Lots of toasty malts start, a slightly sweet base with a little maple, sugar, and molasses. WIth those is more toasty spices, with nutmeg, cinnamon, and again other Xmas like spices and pumpkin ale spices. Again a get some nutty flavors and even hazelnut flavors. A slight creamy malt, and some darker malt flavors, but mostly the spices. I'm not a big fan of the spiced beers, and this is right there, but not so bad. I think there's a touch of coriander, orange peel, etc.
M: Medium body, slightly syrupy and slightly spicy, and decent carbonation.
F: Finishes slightly sweet still with a little syrupy sweetness, little lingering molasses, etc, but has this really dry finish bite as well. Lots of lingering spices, nutty flavors, and hazelnut. More lingering toasty malts too. There is even a slight tangy flavor coming from all the spices and malts. A slight sticky syrupy lingering long finish as well with some bitterness and orange peel flavors. Not quite my cup of tea, but not a bad beer. Hides the booze well too.
1,505 characters
2.99
/5
rDev
-14.1%
look: 4 | smell: 2.5 | taste: 3 | feel: 3.5 | overall: 3
Got this from GFunk720 in a BIF.
Poured this into my Duvel tulip and really like the color. It is a deep amber/garnet color with a head the same color of the bubbles on a root beer. The lacing is spotty, but the color makes up for it.
This really smells kind of musty to me. I do smell some malty goodness... but that old dusty garage smell is really powerful. In a way it faintly reminds me of a Belgian dark ale, but not as fruity and estery. The taste presents that same old feel and flavor. The malts are sweet and their is some dark fruit flavor in here too... Maybe some citrus flavor too... but again, that mustiness is overpowering. This reminds me of an old ale, and not that great of one at that.
This is at least average on the mouthfeel... Decent body is just a hair lighter than I was expecting... But carbonation level is sufficient to allow this beer to be consumed comfortably. As for drinkability... I wouldn't WANT to really drink more of this one. It isn't terrible, but it is average, maybe slightly better than average. Worth trying, just to experience a different brew, but not one I will seek out, and not one I would buy again.
1,154 characters

3.01
/5
rDev
-13.5%
look: 4 | smell: 3 | taste: 3 | feel: 2.5 | overall: 3
Thanks to Rochefort10nh for this extra! Batch One, bottled 2/4/10, 43/213. Lovely copper amber color with a half inch off white head that left some nice sheets of lacing down the glass. Aroma is yeasty, light bread, and some spices in the background, probably nutmeg and maybe cinnamon? But very light. Taste follows the nose. Very light indeed. There's some winter spicery going on, but not much in the way of sweet malts to back things up, and there's virtually zero bitterness. Spices are there in the right amount but it really needs some MALT to make this one balanced and tasty. Maybe some orange or lemon peel on the finish? The 10.4% ABV is completely absent in the nose and the taste. Feels more like a 6%-er to me. Thin body, strong carbonation. Ho hum, not so sure about this one. It seems like it could be a winner if there was some kind of sweetness to back things up. It's dry, a tad thin, and not much going on. This was one of WB's higher rated brews, and I guess I was expecting more than what I got. Not terrible though.
1,038 characters

3.9
/5
rDev
+12.1%
look: 4 | smell: 4 | taste: 4 | feel: 3 | overall: 4
Batch 1 2/4/2010
It's sixty-five degrees out on the first day of April. What the hell I think I'll open a winter warmer.
Pours a fairly clear deep orange/mahogany color with a thinnish off white head that quickly dissipates but leaves a little lace on the way down.
Aroma is heavy on the spices. I imagine nutmeg and allspice. Some caramel and prunes in there but buried deep underneath the spices.
Taste is spicy slightly bready up front. I get a blast of tart lemons or maybe a hop bite on my tongue but that fades quickly. Sweet with fruit and a hint of toffee. Slight phenolic mid way through finishing rather dry with a long lingering pumpkin pie flavor. I found the body to be a bit thin carbonation medium to low.
I didn't enjoy this one at first, but through the coarse of the bottle it did grow on me. I would have loved a bit more body and maybe a little less subtlety in the flavors. But then again my palette is used to being assaulted with Double IPA's and Imperial Stouts. The bottle says 10.4% I can't find that anywhere! Decent brew!
1,050 characters
2.64
/5
rDev
-24.1%
look: 3 | smell: 4 | taste: 2 | feel: 2 | overall: 2.5
A - Cloudy, murky burnt orange with a fair amount of bubbly off-white head that doesn't last very long. Little to no lacing. Average looking.
S - Smell is the high point. Pretty much what I'd expect from a winter warmer. Lots of clove with hints of nutmeg and maybe some cinnamon. Smells like Christmas. Not perfect but pretty good here.
T - Overly bitter, but slightly fruity. Very little going on other than the spices. I don't get any of the sweetness or malt mentioned in some of the other reviews.
M - Disappointingly thin, especially for 10+% alcohol. Almost watery.
D - While the alcohol is surprisingly masked, I am not really craving a second glass out of the bottle.
While I'll admit that winter warmer is one of my less favorite styles, I can't give this one high marks. Though, I do appreciate it as an extra!
826 characters
4.03
/5
rDev
+15.8%
look: 4.5 | smell: 4 | taste: 4 | feel: 3 | overall: 4.5
Bottled: Feb 4, 2010
Batch: 1
Bottle: 205/213
A - Deep ruby pour with a thick tan head.
S - Spicy (nutmeg, cinnamon, allspice), caramel/bready sweetness, with little to no hop presence.
T - Spice cookie, caramel malts, and slight piney/earth hop finish. Alcohol very well hidden. Very complex beer, but the main flavor that I am getting is spice cookie / gingersnap. Very tasty beer!
M - Thinner body, bubbly from both the carbonation the spice.
D - Drinks like a 4.5% winter warmer, not a 10.4%. Very drinkable beer.
522 characters
4.08
/5
rDev
+17.2%
look: 4.5 | smell: 4 | taste: 4 | feel: 4.5 | overall: 4
22oz bottle from the fridge.
Pours dark mahogany with a half-inch head of beige. When held to the light the body holds a sparkling ruby color, and traces of lacing remain throughout the glass.
Aromatics lead off with hints of nutmeg, anise, clove, and dark fruit. A nice mix without being overbearing or tiring. Black licorice follows through along with traces of toasted malt and cocoa nubs. Some faint burnt rubber as the brew warms.
Medium bodied with a crisp, slightly tacky mouthfeel.
Ripe fruit, warming spice, and toasted dark bread start the palate. Hints of toffee and chocolate follow through.
Finishes with warming alcohol, and lingering licorice with cardamon.
Another tasty brew from Bill. I'd be interested in seeing where this one would have went with Belgian yeast.
787 characters

White Birch Winter Warmer from White Birch Brewing
Beer rating:
3.48
out of
5
with
14
ratings