White Birch Birchwood Smoked Stout

White Birch Brewing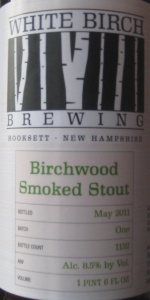 Write a Review
Beer Geek Stats:
| Print Shelf Talker
Style:

ABV:

11.5%

Score:

Avg:

3.92

| pDev:

16.58%

Reviews:

13

Ratings:

From:

Avail:

Rotating

Wants

Gots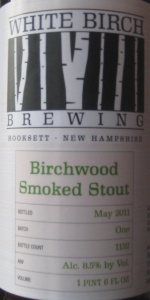 Notes: Made with birchwood smoked malt courtesy of our friends at Valley Malt in Hadley, MA. This rich full bodied American stout has a wonderful smoked character unlike any we've tried before.
3.48
/5
rDev
-11.2%
look: 4 | smell: 3.5 | taste: 3.25 | feel: 4 | overall: 3.5
Pours dark brown, almost black, into the glass. Small dark tan head, some lacing. Alcohol rating makes me enjoy over two nights. Perhaps it is my tastebuds, but I did not note much smoke in this one. Recheck tomorrow night and possibly revise!
247 characters
4.02
/5
rDev
+2.6%
look: 4.5 | smell: 3.75 | taste: 4 | feel: 4.5 | overall: 4
22 oz bomber, bottled Jan 2015, batch One (bottle 64 of 576), ABV 11.5%. Consumed at about 50-55°F as suggested on the bottle. Pours black with a smaller-sized brown head. Good retention and good lacing on the glass. Smells of roasted malts and some earthy hops, mild in smell. Tastes is largely roasted malts and smoke. The smoke hits in the middle and lingers, but it isn't as strong as other smoked stouts I've had before. Mouthfeel is rich and coating, wonderful. Carbonation is low. Overall this seems like a good attempt at an imperial smoked stout.
565 characters
3.92
/5
rDev 0%
look: 4.25 | smell: 4 | taste: 3.75 | feel: 4 | overall: 4
May 2011 batch one
Nice creamy dark colored head fades at a med pace, decent lacing, pitch black thick beer decent legs.
Nose lots of nice smoke, smoking log, smoldering, light roasty almost acrid dark malt, black charred malt, light booze and sweet malt, light earthy spicy hops.
Taste very dark and slightly acrid, tannic char and smoke, lots of smoke, light campfire and smoldering log, creamy dark malt and roasty acrid like with little char and black malts. Lots of tannic smoke and char lead to bitterness, light earthy spicy hops too, and bit of phenolic booze. Finish is little sticky but drier, hint more booze, dark malts and smoke lingering.
Mouth is fuller bod, creamy, decent carb, light warming booze.
Overall not bad, back to the good beers for WB, no more of hte poorly done apprentice series beers, although this is a much older one,but it still held up.
876 characters
4.13
/5
rDev
+5.4%
look: 4 | smell: 3.5 | taste: 4.5 | feel: 4.5 | overall: 4
22oz bottle purchased as a single somewhere localish.
Poured into an imperial pint, formed a 1/4" DARK brown head over the opaque dark brown/black brew. Head fades gradually, with leggy, sheeting down lacing. Aroma is smoke and sweet darkness with an overpowering alcohol presence.
Taste leaves the gates with sweet dark malts, smoke comes on next, a touch of fruitiness, and closes with moderate alcohol warmth. Flavor is more balanced than the aroma. Mouthfeel is velvety smooth, and drinkability is pretty good. This one grew on me, although wish is was more sessionable to better enjoy the flavors.
605 characters

2.94
/5
rDev
-25%
look: 4 | smell: 2.5 | taste: 3 | feel: 3 | overall: 3
Damn, how many WB beers had to show up at my birthday tasting?
A - A black beer, looks like a stout, with brown on the edges and a brown head.
S - Wow, this really is a smoked beer. Smells like burning. Okay, really smells like a campfire, too much campfire. There's a bit of burnt rubber in there as well which is kind of unpleasant. I get the feeling a tire has gotten lost somewhere in the WB brewing process.
T - Taste is a bit better than the nose. It's a ton of smoke, but there is some cocoa in there as well. No tire, thankfully. It's so smokey it just gets overpowering after a little bit.
M - Lots of carbonation, heavier side of medium bodied.
O - If you like smoke, this isn't a bad call. Too much for me, but not a horrible beer like a lot of WB stuff. Still, it's not all that good either.
809 characters

3.08
/5
rDev
-21.4%
look: 3.5 | smell: 3 | taste: 3 | feel: 3.5 | overall: 3
22oz bottle, provided by me as a "good beer" at our Good Beer/Bad Beer tasting (just kidding). Poured into Bell's Tulip.
A - Pours black, mocha-colored head, thin cap.
S - Huge smokey nose...think forrest fire & burning rubber. It's really hard to get much else, perhaps some chocolate notes in there as well along with some roast. The smoke is simply HUGE!
T - Again, more of the same. A crap-load of smoke which dominates just about everything else with some roast and chocolate following behind. Less stout and more smoked beer, no doubt about it.
M - Full body, good carbonation, creamy smoked finish.
O - I think they just poured an entire bottle of "smoked liquid" into this stout, because it's just an overpowering amount of smoke. Holy jeez! That said, it's a smoked beer, and I'd say this follows right in line with the style. If the smoke was dialed down a bit, I'd rate this a bit higher. If you want to pretend you're camping this winter, but it's too cold, just open one of these.
998 characters

2.99
/5
rDev
-23.7%
look: 4 | smell: 2.5 | taste: 3 | feel: 3.5 | overall: 3
Thanks Sean! Good to see you're finally on-board the White Birch train. Batch 1, consisting of 1152 bottles. Bottled May 2011.
A - Super dark brown foam settles to a thin collar. Body is black with the faintest brown glint at the edges.
S - Smoke, campfire, vulcanized rubber, light alcohol, more smoke, and a touch of permanent marker.
T - The taste actually shows some balance, with a bit of chocolate malt sweetness fighting valiantly against the oppressive smoke and char flavors. Becomes fatiguing pretty quickly.
M - Surprisingly zesty carbonation, medium-full body, sticky and chewy texture, and the standard well-hidden alcohol. Perhaps a bit too bubbly for the style, but not bad.
D - Other than the odd rubbery notes in the aroma this is a passable beer. It's not something I'd want again, but it delivers what it promises, even if it is a tad one-dimensional. If you really like smoked beers you may actually enjoy this a little.
945 characters

4.23
/5
rDev
+7.9%
look: 4.5 | smell: 4 | taste: 4.5 | feel: 4 | overall: 4
Bottled on 5/11, batch 1, bottle #1152
Purchased @ Johnsons Market Place, New Durham NH
Price - $13.98/bomber
The appearance here is a flat out black beauty, wow! Pitch black liquid goodness with a rich dark chocolate head followed by a fair amount of lacing. Creamy swirls of film dominate the top with a thin ring around the glass.
Ahh, the sweet smell of chocolate, caramel, a Saturday night camp fire smoke followed by a hint of alcohol, well done.
The flavor follows suit with the aroma and a pleasent roastiness in the chocolate malt, caramel and molasses. The smokiness is perfectly done allowing for a quick finish of the bottle.
The mouthfeel is silky smooth with a medium body in the beginning but towards the end a noticeable dryness takes over. A pleasent bitterness from the hops keeps it from being just another malt bomb. lightly carbonated.
What can I say, this is a very tasty example of the style. Could be mistaken as a smoked porter or a rauchbier if not for the midnight colored appearance. Anyway I'm happy to see this listed as a rotating style. The cost is my biggest hang up here and brings down the overall score a bit. Keep this one on the menu Bill.
1,187 characters
3.75
/5
rDev
-4.3%
look: 4 | smell: 4 | taste: 3.5 | feel: 3.5 | overall: 4
Tight-bubbled head that leaves abundant, chunky lace on the glass after each sip. The foam is light brown/tan. The liquid is deep, dark brown where no light passes.
Burnt patent malt smell initially. There's a definitive smoky touch at the end of the smell.
Very dry with a biting astringency from the powerful smoke kick. More Rauchbier than Stout, but there are elements of both. The body is thin, but it sits heavily on the tongue...interesting and unique. Strong carbonation. The aftertaste is chewy with a bitter chocolate flavor.
538 characters

4.62
/5
rDev
+17.9%
look: 4.5 | smell: 5 | taste: 4.5 | feel: 4.5 | overall: 4.5
Poured from a 22oz bomber into a tulip glass
A: Pours an opaque brown/black with a touch of garnet when held to the light. The head is thin, comprised of very tiny bubbles and dissipates quickly leaving lacing.
S: Smoke up front, reminiscent of a campfire. Some malty sweetness evident.
T: Smoke, followed by a very deep malty sweetness. Nice caramel backbone is also present.
M: Nice full body. No carbonation sting but carbonation is evident. Creamy, silky mouthfeel
O: WOW! Nice stout. Great on a chilly evening.
521 characters

4.12
/5
rDev
+5.1%
look: 4 | smell: 4.5 | taste: 4 | feel: 4 | overall: 4
Finally, a smoked beer from the U.S. to match the intensity of the classics from Aecht Scherlenkerla! That's not to say that this beer is in the Rauchbier style, but that the smoke is at the forefront like no other beer made on these shores.
Deep, dark and foreboding with a corona of garnet when held to the light. A frothy mocha colored one fingered head with a vigorous pour. Tight, tiny bubbles rise to the surface and dissipate quickly.
A deep, intense smokiness permeates one's olfactory system when nosed in a snifter. Sweet malt is also present with a slight scent of caramel.
The taste is a deep charred sweetness - like well carmelized bbq sauce and slightly burnt roasted marshmallow. Hops are nigh existent as this is a very malt forward beer.
Mouthfeel is great with a moderate/heavy viscosity typical of a double stout with this much residual sweetness.
This is by far White Birch's sweetest beer, and with this style, it is incredibly apropos. This might be the best beer I've had from Bill and Co.!
1,022 characters
4.36
/5
rDev
+11.2%
look: 5 | smell: 4 | taste: 4.5 | feel: 4 | overall: 4.5
Bottle no. 1152, batch one. Sampled on September 3, 2011. The pour is a deep black color with a delicately, silky, light brown head. The aroma is highly smoked with a vague dark malt background although not much hoppiness. The body ia pretty full. The taste is just as smoked as the aroma with a great bitter hop bite at the end. It was a very satisfying experience. If you like your stouts smoked I think you will appreciate this one.
435 characters

3.73
/5
rDev
-4.8%
look: 4 | smell: 3.5 | taste: 3.5 | feel: 4.5 | overall: 4
Pours a solid black color with a creamy tan head that slowly recedes to a cap on top. Smells like a minty campfire. Smoky phenols dominate the aroma and let little else through. Hints of chocolate and roast are there, I think. Taste is pretty smoky as well. That subtlety fairy that usually invades Bill's beers seems to be away when it comes time to add the smoked malt. Smoky campfire with a minty herbal edge with chocolate and caramel fringes on the ends. Stout or Rauchbier, its hard to tell. Medium to thick body, light carbonation with a long lingering smoky sugary mouthfeel. This one is different. The smoke for me is a bit overpowering but the beer is really quite tasty. If the smoke were toned down a bit I think this would be an incredible beer, but as is its only just good.
788 characters
White Birch Birchwood Smoked Stout from White Birch Brewing
Beer rating:
87
out of
100
with
26
ratings