White Birch Apprentice Series Eorna Ceol Ale
| White Birch Brewing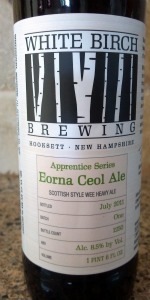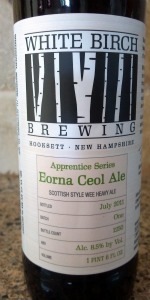 BEER INFO
Brewed by:
White Birch Brewing
New Hampshire
,
United States
whitebirchbrewing.com
Style:
Scotch Ale / Wee Heavy
Alcohol by volume (ABV):
8.50%
Availability:
Limited (brewed once)
Notes / Commercial Description:
With this release by Justin Umlah, our seventh brewer apprentice, we bring you his take on a Scottish Style Wee Heavy. Eorna Ceol, or barley music in Gaelic, is a rich, full bodied ale with a beautiful mahogany color.
As Justin moves on, we raise a toast and hope you enjoy this beer as much as we do.
This beer is lightly carbonated and we enjoy it best between 55 degrees and room temp. We expect that it will mature nicely overtime!
Added by rudzud on 09-17-2011
This beer is retired; no longer brewed.
HISTOGRAM
Ratings: 10 | Reviews: 6
Reviews by puboflyons:
3.64
/5
rDev
+19.7%
look: 3 | smell: 4 | taste: 3.5 | feel: 4 | overall: 3.5
From Batch One, Bottle no. 1250. Sampled on November 6, 2011. It pours a headless apple cider mahogany with a cloudy appearance. Malts creep up as soon as the cap is popped off with a sugar sweetness in the background. The body is nice and full and almost creamy. The taste is primarily malts with a sour hop bite kicking in at the end of a sip or two. I think this beer is more like a mild Barleywine that has been shelved for a few months rather than a Scottish Wee Heavy.
474 characters
More User Reviews:
3.17
/5
rDev
+4.3%
look: 3 | smell: 3.5 | taste: 3.5 | feel: 2.5 | overall: 2.5
Wow Matt, you got a White Birch beer before me even! Really cold night, figured this was a good one to crack.
Pours no head, no carbonation, wtf! A hazy maroon purplish red color.
Nose is almost barleywine like, tons of sweet malts, reddish malts, caramel, lots of toffee, slight bready malts, molasses, various crystal malts, slight candy, and hint of chocolate even.
Taste starts sweet as expected, malts galore again, lots of caramel, molasses, candy, toffee, even a hint of chocolate powder and buttery biscuit. A bit of booze there just warming but not a lot. Slight earthy malts, various crystal malts, reddish malts but not a lot, hint of smoke I think?, sweet candy flavoring. I don't really get any hops either. I think the lack of carbonation really takes away from it as well. Finishes semi sweet, lots of reddish malts and caramel, toffee, and some bitterness finally coming through, and hint of booze.
Mouth is med to slightly heavier bodied, zero, and I mean ZERO carbonation!!!
Overall I'm disappointed Bill! What happened to the quality control? I remember the times you would hold bottles until they were ready for store delivery, and even grab bottles from the shelves of stores and make sure they were still good. The complete lack of carbonation is very hard to overcome, and the beer itself doesn't have a lot going for it. Not as complex as I hoped for what it was. Almost no hop bitterness, plenty of malts but more barleywine like than Scottish wee-heavy.
1,484 characters

2.9
/5
rDev
-4.6%
look: 3 | smell: 3 | taste: 3 | feel: 2 | overall: 3
Bottled July 2011 Batch 1
Opens with barely a hiss, oh no. Pours a deep slightly cloudy orange/brown color with a minimal amount of bubbles that barely form a ring on top of the glass. Smell is sugary sweet; brown sugar, caramel, hints of smoke, apple cider, and no hops to be found. Taste is sweet but not overly so as suggested from the nose. Brown sugar, caramel, hints of smokey phenolic, hints of cider. Medium body, almost non existent carbonation, sweet sticky syrupy mouthfeel. Well, this doesn't taste half bad, but really needs some bubbles. I think the lack of carbonation ruins the mouthfeel and makes this taste and smell overly sweet.
648 characters


3.17
/5
rDev
+4.3%
look: 2.5 | smell: 3 | taste: 3.5 | feel: 3 | overall: 3
Part of my search for the perfect Scotch Ale/Wee Heavy series. Got this in a BIF/trade. Pours a cloudy iced tea color into my Doulglas thistle glass. Minimal head, sublime lacing.
Aroma is too hop forward for a wee-heavy/scotch ale. But I proceed undaunted.
Ah. Well. Odd taste here. Not sure how to begin to describe this one. Lots of candied fruit, some Belgian yeast in play? Lots of residual malt and straight up sugar that hasn't been turned into alcohol yet.
Closing in on an American Barleywine with all this sugary hoppiness.
Bit of a sour cider taste at work here as well.I taste honey, apple, vinegar...
I'm not going to slam this brew like others have, because it's kind of a pleasant taste. BUT it's as far from a Scotch Ale/Wee Heavy as you can get. Other than a general maltiness. There are some killer aftertastes in this one. I'd recommend it if you're trying Barleywines.
894 characters
2.44
/5
rDev
-19.7%
look: 1.5 | smell: 2.5 | taste: 3 | feel: 1.5 | overall: 2
Picked up a bottle of this at Julio's. Bottled in July 2011, Batch One, Bottle Count 1250. Unfortunately unimpressive. This is the seventh brewer apprentice ale and named Eorna Ceol which is barley music in Gaelic.
A - Poured into a Duvel tulip a flat crystal clear mahogany pour. So incredibly umpressive, I knew danger when I popped the cap and there was no noise. No head, no bubbles, no nothing.
S - Sweet carmel malts. Kinda earthy, light sweet fruits, maybe a hint of chocolate. No hops or bitterness, just sweetness.
T - Just well, an average wee heavy ale. More sweet carmely malts. Pretty one note....sweet malts. Oh, and alcohol.
M - This stuff is drinkable, but not enjoyable. Stuff is as flat as flat can be.
O - This probably WAS a good beer, but not anymore. Dont know if it was a bad bottle, bad bottling, something, but one cant excuse the incredibly lacking carbonation.
903 characters

2.83
/5
rDev
-6.9%
look: 3 | smell: 2.5 | taste: 3 | feel: 2.5 | overall: 3
Pours a deep reddish brown, with very little head. Smells sweet, with slight notes of caramel and vanilla. No hops in the aroma. Taste is a bit bland, slightly sweet and without the expected malt and caramel that is typical for the style. The beer is very undercarbonated, which is not necessarily terrible for the style, but this is to the extreme. Overall this isn't a terrible beer and it's cool to try an apprentice's first offering, but I doubt I would buy this one again.
477 characters
White Birch Apprentice Series Eorna Ceol Ale from White Birch Brewing
Beer rating:
3.04
out of
5
with
10
ratings