White Birch 3 Anniversary Ale
| White Birch Brewing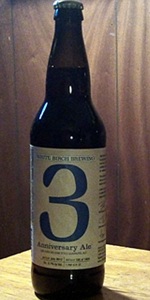 BEER INFO
Brewed by:
White Birch Brewing
New Hampshire
,
United States
whitebirchbrewing.com
Style:
Quadrupel (Quad)
Alcohol by volume (ABV):
10.00%
Availability:
Limited (brewed once)
Notes / Commercial Description:
No notes at this time.
Added by Jason on 08-09-2012
This beer is retired; no longer brewed.
Reviews: 7 | Ratings: 16
3.88
/5
rDev
+9%
look: 4 | smell: 3.5 | taste: 4 | feel: 4 | overall: 4
Bottle #256 of 1404. Cost $10.99 for 25 ounces. Bottled July 2012.
I'm surprised this beer received such a low rating. Very drinkable, smooth, belies its alcohol content. Not a lot of oak aging but well-aged and pleasantly drinkable. Oak is there but not dominating. Maybe the easy drinking, well-balanced qualities is what caused others to rate it lower because it wasn't hop-forward and in-your-face with oak, etc.
417 characters
3.59
/5
rDev
+0.8%
look: 3.75 | smell: 3.5 | taste: 3.5 | feel: 3.75 | overall: 3.75
Bottle to snifter.
A - Deep amber; opaque. A thin layer of light brown head formed on the pour and slowly receded.
S - Big oak aroma with bread, caramel, toffee, light yeast esters and spice.
T - Very sweet - toffee, caramel and brown sugar notes dominate with some toasted oak coming through int he background. A slight warming alcohol presence throughout.
M - Medium to full body. Light carbonation.
408 characters
4.04
/5
rDev
+13.5%
look: 4 | smell: 4.25 | taste: 4 | feel: 3.75 | overall: 4
From the 550 ml. bottle number 185 of 1,404. Bottled July 2012. Sampled June 8, 2013.
The pour is mahogany brown with a quick lasting beige head and good carbonation.
The aroma is malt forward, dark fruits like fig, yeast, and sugar sweet. Hops are downplayed.
The body is thinner and more acidic like a Tripel rather than a Quad. It has a kind of wine-texture to it.
The taste is upfront malty and figgy, with a low to moderate bitterness at the end. Alcohol is well-integrated into it and not noticeable at all. Kind of a nice brew.
540 characters

2.69
/5
rDev
-24.4%
look: 4 | smell: 2.5 | taste: 2.5 | feel: 2.5 | overall: 3
Bottled July 2012
Bottle #472 of 1404
ABV 9.7%
Pours into a chalice a rusty brown color with a thin head, what bubbles there are fizz away very quickly, no lacing on the glass.
Smell is surprisingly subdued for a quad, mainly picking up malt with only subtle hints of spicing.
Taste starts out with a strong alcoholic burn, after the burning sensation dies down a bit the sweet caramel malt, strong anise flavoring as well, not my favorite flavor but I won't hold it against it too much, finishes very oaky and boozy.
Comes on way too strong and stays strong throughout, thought some time might cool this one out but was proved wrong.
638 characters
3.65
/5
rDev
+2.5%
look: 4 | smell: 4 | taste: 3.5 | feel: 3.5 | overall: 3.5
Bottle #57 of 1404
Poured in a snifter, the beer is a dark, opaque, ruby-brown coloring with a frothy, filmy, small bubbled, off-white head. Aromas of tangy caramel, candied sugar, fig and date sweetness, coriander, all-spice, and some woody and earthy tones. Very dynamic and very well blended aromas. Flavors are roasted and extremely oaky on the initial taste, with tangy old world fruit sweetness coming through on the second wave. Toffee sweetness comes through at the end of the palate. There is an effervescent, tangy sweet and roasted aftertaste with more of the oaky characteristics. Thin, rich finish that remains light with a frothy feel due to the carbonation. Strong brew with rich flavors, but remains light and drinkable. Tasty.
743 characters

2.94
/5
rDev
-17.4%
look: 4 | smell: 2.5 | taste: 3 | feel: 4 | overall: 2.5
Bottle generously provided by Chris and Jason, from their pilgrimage to White Birch. Served in a Hill Farmstead tulip.
A - Off-white foam settles to a thick collar, wisps, and minimal lacework. Murky cherry-brown body.
S - Strange - reminds me a little of a homebrew mead I had recently. There's the expected anise, red fruits, and vinous quad flavors, but a strange corn tortilla and bread flavor as well. Low sweetness, and mildly vegetal.
T - The taste is better, as the off flavors in the aroma are largely gone. Spicy Belgian yeast, candi sugar, and anise dominate, along with a hint of dark and red fruit sweetness. Not getting much oak character at all, and perhaps only a mild vinous flavor - I'm guessing this was wine barrel-aged as there's no hint of bourbon whatsoever.
M - Medium body, with zesty carbonation, dry and tannic texture, and very little booze. As usual, White Birch hides the alcohol masterfully. The high carbonation isn't my favorite, but its not atypical for the style.
D - It's a bit too attenuated for my tastes, as a I like a little more sweetness and a little less spice and anise in my quads. For a White Birch offering it's surprisingly decent, but I ended up pouring out much of my glass as there were many significantly better offerings available. The bitter anise finish gets very fatiguing too.
1,338 characters

4
/5
rDev
+12.4%
look: 4 | smell: 4 | taste: 4 | feel: 4 | overall: 4
Bottle from the brewery Bottled July 2012.
Pours a slightly murky light brown with a huge fluffy tan head that slowly recedes leaving lots of stickage on the way down. Smells of caramel molasses and brown sugar with a nice hit of dark fruits, some pepper and spice and a bit of wood tannin. The flavor is sweet and malty with lots of dark and candy sugars and a nice bit of cherries and currants. Mild spice in the middle and finish with a hint of warming alcohol, dark chocolate and vanilla oak. Medium to thick body with a moderate to high level of carbonation and a sweet bubbly mouthfeel. Nice quad I really enjoyed this one.
629 characters
White Birch 3 Anniversary Ale from White Birch Brewing
3.56
out of
5
based on
16
ratings.