Viking Chili Stout (Megagrisk)

Hornbeer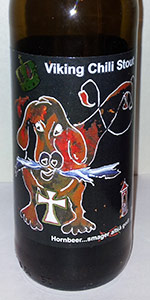 Write a Review
Beer Geek Stats:
| Print Shelf Talker
Style:

ABV:

10%

Score:

Avg:

3.8

| pDev:

12.11%

Reviews:

8

Ratings:

From:

Avail:

Year-round

Wants

Gots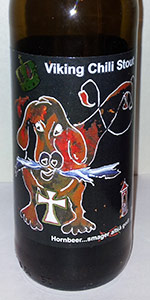 Notes:
biboergosum from Canada (AB)
3.5
/5
rDev
-7.9%
look: 3.5 | smell: 3.5 | taste: 3.5 | feel: 3.5 | overall: 3.5
500ml bottle - brewed with chocolate, licorice, vanilla, and chili. Not exactly sure what 'megagrisk' means, as Google Translate comes up with 'mega avaricious', which makes some sense here, I suppose.
This beer pours a solid black hole, with the barest of basal red cola edges, and three fingers of puffy, loosely foamy, and somewhat fizzy brown head, which leaves nothing in the way of lace anywhere near the glass as it gently subsides.
It smells of lightly roasted, bready and doughy caramel malt, bittersweet cocoa powder, vanilla extract, wan black licorice, some free-range phenolic smokiness, a hint of green chili heat, and a menacing dose of medicinal and estery alcohol. The taste is gritty and grainy caramel malt, some indistinct tame spiciness, woody vanilla, stale dark chocolate, some wispy ashiness, a suggestion of those Scandihoovian anise 'candies', and more herbal and metallic booziness.
The carbonation is fairly meek in its barely-there frothiness, the body a decent medium weight, and not particularly smooth, as both the chili and alcohol make for tough slogging through here. It finishes off-dry, the chili and caramel/chocolate essences starting to fully come into focus.
Overall, this is a highly disjointed and hard to put back brew - the chilies impart a green and medicinal character that takes a long while to get used to, and the booze never seems to be that far from breaking the seal. Interesting, sure, but not exactly my cup of tea, or more aptly, spicy Imperial stout.
Dec 27, 2016

JonCorbett from Canada (BC)
3.85
/5
rDev
+1.3%
look: 4 | smell: 4 | taste: 3.75 | feel: 4 | overall: 3.75
Appearance: Sienna red tinged black with a stupendous creamy and simultaneously chunky sandstone head that dissipates at a slightly slower than moderate pace, and just a couple (literally 2) spotty clusters of lace which drop back down into the full surface cap anyways.
Aromatics: Lightly molasses and brown sugar sweetness with a slightly metallic tang with some soft cocoa and mild earthy grass with a hint of vanilla.
Taste: Dusty chalky unsweetened chocolate but also milky. But I am searching for the chili... there is a very subtle hint of it, but I was kind of expecting more - I love chili stouts (of the very few that I can get my hands on) and this one seems to be quite reserved, and to quote the bottle "without being aggressive" appears to be slightly understated. Maybe so it doesn't scare away people who like stouts but don't care much for heat? I dunno.
Mouth: A pretty active carbonation for a stout but soft enough to retain some creaminess, and it does carry with it the chili tingle - not a lot, but some. A good medium to full body, actually all-in-all quite pleasant on the palate leaving behind just that passive chili tingle and some dark chocolate bitterness in the finish.
Overall: I enjoyed it as a stout, but I do like it when the chili kick as a bit more oomph. It was delicious though, and no glimpse of the 10%, that was very well hidden.
Pairing: Bring on the heat! Because the chili in this is so understated, I am going to propose a massive Mexican fiesta - roll out the taco, burritos, and chimichangas. Personally, I think I would add extra (i.e. missing) jalapeno chilis to the accompaniments like the sour cream, cheese, and salsa - not as whole elements on their own and not necessarily blended into the filling. You want that heat on the surface where it is easily accessible by the stout. Of course there are other ways of adding in that heat without using the jalapeno method(s). Score a Thai with a knife and drop it right in the brew. Or take about a tablespoon of beer and blend it with a dash or two of chipotle chili powder trying your best to "dissolve" the powder and slowly pour that back into your glass. This should also add a bit of smokiness which won't hurt either.
Nov 01, 2016

BlurryVisi0n from New York
3.62
/5
rDev
-4.7%
look: 4 | smell: 3.25 | taste: 3.75 | feel: 4 | overall: 3.5
Served in a tulip from the bottle.
Appearance: Thin black body with a Ligt tan head rising maybe quarter of an inch. Drops to nothing with zero lacing.
Smell: light smoke decent consisting of light malts.
Taste: Spicy feel, with hard hits of malts and hops but the spiciness might give you a bit of an upset stomach.
Mouth: Medium carbonation. Quite sticky but not the most appetizing form of sticky.
Overall: It's good but damn there much room for improvement to the point where it's a tough balance between sand and water. I hope you can understand, drink with love my friends. Salud!
Jul 19, 2016

biegaman from Canada (ON)
3.91
/5
rDev
+2.9%
look: 4.5 | smell: 4 | taste: 3.75 | feel: 3.75 | overall: 4
Pour Viking Chili Stout cautiously or you'll have more foamy, ebony-tinged head than straight black liquid; carbonation is often a challenge for double-digit beers - especially those made with head-killing hot pepper oils - but this one has no shortage of bubbly brown froth. It looks serious.
The aroma, like the ingredients list, showcases chocolate, licorice, vanilla and chilies with no false modesty. There's no excuse for knowing exactly what you're getting yourself into; both dessert and spice are direct and on display. This posits itself to be both rich, distinctive (and likely divisive)...
Which it aught to be if shipped all the way from Denmark, no?! There's no shortage of imperial stouts produced locally, but Hornbeer's ample inclusion of chili peppers - not to mention use of actual cocoa and vanilla - probably distinguishes it as something worthy of spending a few extra bucks on.
Perhaps a little intense for some, this spicy, roasty, mole/Mexican hot chocolate profile definitely makes its mark. The cinnamon and cayenne flair, tempered by wafer, tea-biscuits, milk chocolate and coffee, is delicious and well worth the $8.20 price of admission (since one's likely enough anyway).
Between Black Magic Woman, Fundamental Blackhorn, and Viking Chili Stout, it's apparent that this Danish micro has a knack for darker, stronger beers. Those weighing the risks over this so-named "Megagrisks" beer aren't gambling much, especially if they enjoy a little spice in their life.
Feb 25, 2016
Phyl21ca from Canada (QC)
3.7
/5
rDev
-2.6%
look: 4 | smell: 4 | taste: 3.5 | feel: 3.5 | overall: 3.75
Bottle: Poured a deep black color stout with a large brown foamy head with good retention. Aroma of chili is easily noticeable with some roasted malt and black chocolate notes also easily perceptible. Taste is a mix of roasted malt with some black chocolate notes with strong spicy finish. Body is full with nice creamy body and good carbonation with no apparent alcohol notes. Too spicy for my taste buds and 500ml could be easily share between many people.
Jan 02, 2016

taxandbeerguy from Canada (ON)
4.06
/5
rDev
+6.8%
look: 4.5 | smell: 4 | taste: 4 | feel: 4.25 | overall: 4
500 ml bottle served at fridge temperature into a Sam Smith's pint glass. Purchased at the LCBO for $8.20 CDN.
Appearance - Midnight black, darker than the heart of every evil god like ever. Nice two fingers of dense brown head and crazy head retention lasting at a finger for at least five minutes and essentially the entire beer is consumed with a small head on top.
Smell - big aromatic nose of coffee, black licorice and some spicy chili peppers. Some molasses completes this aromatic delight.
Taste - dark and roasty with flavours of cocoa, slightly burnt coffee, black liquorice and some molasses mixed in for good measure. Bitterness is prominent upfront and lingers through the heavily roasted malt flavours giving risky to a slightly smokey and ashy flavor. Chiles show up at the very end to give a little heat, and while may be a focal point based on the labelling, they are not too prominent until a few sips in when the heat ramps up some.
Mouthfeel - smooth slick, carbonation is present but not prominent. Feel is oily and slick, dense mouthfeel but not chewy.
Overall - awesome and flavourful stout, huge flavours, bold aromas and a nice addition of chiles, giving this beer some heat, but not substantial enough to turn off beer lovers. Underneath is a well crafted stout with some typical flavours and the molasses and liquorice blend takes it up one level. Not cheap but certainly worth a try.
Oct 04, 2015
andrenaline from Canada (ON)
3.88
/5
rDev
+2.1%
look: 4.5 | smell: 4 | taste: 3.75 | feel: 4 | overall: 3.75
Pitch black, two thumbs of dark mocha head, decent retention and sporadic lacing. Nose I complex with cocoa, burnt toast, hints of molasses and vegetal earthy greens. Solid imperial stout with loads of cocoa and sweet malts, the licorice and molasses come through nicely, but the chili's are very green and are extremely mild offering up only a touch of heat which fades quickly. A decent chili stout, but I like mine spicy and this is definitely mild on the scale.
Oct 02, 2015

GONZALOYANNA from Spain
4.23
/5
rDev
+11.3%
look: 4.5 | smell: 4 | taste: 4.5 | feel: 4 | overall: 4
On-tap. Shaker glass @ Freiburg (Barcelona). Pitch black & yellowish tan head. Creamy & lasting crown leaves a web on sides. Roasted malts, cocoa, pepper aromas with hints of wood & smoke. Creamy roasted & fudge cocoa flavors. Full body. Soft carbonation. Viscous texture & silky palate. Peppery touch all over but so gentle & flavorful sensation. Herbal bitterness arises in the middle & lingers into a dry spicy & bitter finish. Chili & roasted malts on the aftertaste. Delicious beer, A big one !!
Apr 14, 2014
Viking Chili Stout (Megagrisk) from Hornbeer
Beer rating:
90
out of
100
with
23
ratings