Frozen Tail Ale

Fire Island Beer Company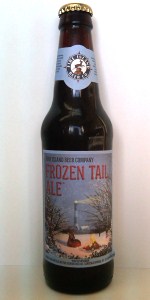 Rate It
Beer Geek Stats
| Print Shelf Talker
Style:

ABV:

6.5%

Score:

Avg:

3.44

| pDev:

17.73%

Reviews:

12

Ratings:

From:

Avail:

Rotating/Seasonal

Wants

Gots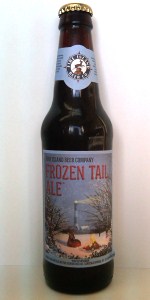 Notes: A festive layered blend of five different American and British hops, balanced nicely with four specialty malts that impart delicious roasted caramel and toffee flavors. Frozen Tail Ale is a medium bodied mahogany-colored beer that is intricately balanced to be clean, smooth, and flavorful.

illpass78 from Maine
3.14
/5
rDev
-8.7%
look: 3.5 | smell: 3.25 | taste: 3 | feel: 3.5 | overall: 3
12 oz. bottle poured into a nonic.
Appearance: Pours a dark reddish brown with a minimal white head that recedes quickly. Lacing is moderate to minimal. Carbonation less than I expected.
Aromas: Smells like a glass full of liquified pine cones. The nose gives me pine, hops and booze. Really, really heavy with piny hops. Smells like an IPA almost.
Taste: This is a lot more bitter than I expected. The taste has notes of pine, grapefruit, and raisins. Those flavors are kind of dominated by a heavy, biting hop bitterness. Maybe it's just my lack of familiarity with winter warmers, but I was expecting malts and sweetness more than hop bitterness. There's some sweetness here, but the bitter bite dominates, especially on the finish. Gets boozier and more bitter as it warms. I can't find the IBU for this anywhere, but it must be a lot. It's not bad, but it's not what I expected.
Mouthfeel: The body is pretty decent. Not watery, not sludgy thick. In terms of thickness it's a nice alternative to the heavy stouts that dominate winter seasonals.
Overall: Decent winter beer. I'm not surprised they don't market this as specific style, because it's kind of a hybrid. The ad copy hints at it being a winter warmer, but it also has characteristics of strong ales and hoppy ales. All in all, it's very OK.
Feb 28, 2014
dirtylou from New York
3.5
/5
rDev
+1.7%
look: 3.5 | smell: 3.5 | taste: 3.5 | feel: 3.5 | overall: 3.5
12oz single
Served in a new holland pint - garnet mahogany body, smells of buttery toffee, caramel, grains, herbal hops. Some bitterness, dry herbal finish.
Drinkable winter seasonal but not particularly memorable - time to move forward to spring.
Feb 14, 2013

GPHarris from Alabama
3.87
/5
rDev
+12.5%
look: 3.5 | smell: 4 | taste: 4 | feel: 4 | overall: 3.5
a - poured a one finger thick light tan and bubbly head into a snifter that dissipated quickly. the body was dark brown with purple highlights.
s - dark cherries and some spice.
t - grainy, dark fruits, grapes, a hint of piney hops, spice.
m - medium thickness that was bubbly and crisp but as it warmed it became more slick.
o - solid sipper and complex, i wish it had more carbonation though.
Dec 03, 2012
DrDemento456 from Pennsylvania
3.9
/5
rDev
+13.4%
look: 4 | smell: 4 | taste: 4 | feel: 4 | overall: 3.5
A - color is a nice ruby brown color, clear with a 1/2 inch of tan colored head.
S - English malts and sweet caramel malts are the first thing I notice. Mild herbal hops and spices second.
T - Well it's not a very spicy beer and it drinks well. Taste of English herbal hops mixing well with sweet malts and a mild twang of what I can assume is cinnamon. Not bad.
M - Light to medium could use more body to be a "warmer"
Overall for what it was it was good. Similar to the Red Wagon IPA it's just another beer that was good just not distributed to me so hurts a re-visit quite a bit. COME ON PA!
Mar 28, 2012
mikesgroove from South Carolina
3.41
/5
rDev
-0.9%
look: 4 | smell: 3 | taste: 3.5 | feel: 3.5 | overall: 3.5
mahogany color came forward right away. Some light ruby tones showing up around the sides and the bottom of the glass. A nice inch and half of creamy white head popped up over the top and settled down to a thin crown with some nice side glass lacing.
Nice aroma of caramel malts, hints of spice and touches of light herbal hops. Not a heavy aroma, but defintley on the winter tone with nice spice notes. Smooth, creamy, medium bodied ale with a nice carbonation really let the flavors pop. Intresting mix again of light caramel malts, hints of cinnamon and nutmeg and a touch of light grain
Nov 22, 2011

david18 from New York
3.27
/5
rDev
-4.9%
look: 3 | smell: 3.5 | taste: 3 | feel: 3.5 | overall: 3.5
I saw this beer on draft and the information was not clear about the style. The abv was somewhat low for a winter warmer but the title suggests it's a winter beer. I was surprised how much knowing the style will effect my experience of a beer. Anyway, I liked it other than the fact that the alcohol did taste a bit thin for the other ingredients.
A redish/brown color but quite clear and a little light or thin looking. Carbonation was a bit low.
Aroma featured a lot of light fruit as well as a bit of raisin and bread.
Flavor, as I mentioned earlier, is a little bit unbalanced. Overall, it had a twang that I associate with the style.
I probably wouldn't order this beer again as it's not heavy enough to be warming and there are plenty of other styles I prefer in that abv range.
Mar 13, 2011
wahhmaster from Virginia
3.4
/5
rDev
-1.2%
look: 3 | smell: 3 | taste: 3.5 | feel: 4 | overall: 3.5
Poured from a 12 oz. bottle into a nonic imperial pint glass.
Appearance: Pours a dark, reddish-brown color. Has a medium-sized, foamy head that dissipates slowly and leaves some spotty lacing.
Smell: Smells of sweet malts with strong notes of caramel.
Taste: Starts out mildly bitter with some spiciness as well. Finishes sweet and mildly fruity.
Mouthfeel: Full-bodied with a nice bite to it.
Drinkability: A decent beer and a good winter warmer. It certainly has a warming quality to it and is an unassuming, simple beer. I could see myself putting back several of these on a cold night. Certainly worth a try, if you can find it.
Feb 20, 2011
metter98 from New York
3.53
/5
rDev
+2.6%
look: 4 | smell: 3.5 | taste: 3.5 | feel: 3.5 | overall: 3.5
A: The beer is clear mahogany in color and poured with a two finger high creamy beige head that quickly died down but consistently left a thin layer of bubbles covering the surface. A light amount of carbonation is visible.
S: There are aromas of caramel malts in the nose.
T: The overall taste is very malty and has flavors of caramel, grainy and roasted malts as well as toffee. The finish has some notes of bitterness and spices.
M: It feels medium-bodied and somewhat smooth on the palate with a moderate amount of carbonation. There is a bit of dryness in the finish along with some hints of warming from the alcohol.
D: The beer isn't overly difficult to drink and the variety of malts used keeps the taste interesting.
Jan 15, 2011

Mosstrooper from California
3.68
/5
rDev
+7%
look: 4 | smell: 3.5 | taste: 4 | feel: 3 | overall: 3.5
Poured from a 12oz bottle into 16oz Samuel Adams Perfect Pint glass.
Appearance: Pours a dark mahogany color with a large slightly brown head that dissipates slowly and leaves behind spotty lace.
Smell: Sweet caramel is dominant with some notes of citrus, apple, grape, and plum.
Taste: Begins with sweet caramel and grape flavors, rounding out to more fruity flavors that stay around in the finish, but the finish also has a notable, assertive, hop profile.
Mouthfeel: Medium body with rounded carbonation and a dry finish.
Drinkability: This is a good, well-balanced beer with a good flavor profile. I would be happy to drink this again, but, given the assertive hops and dryer finish, I don't know how well it fits as a winter seasonal. A good beer, but it loses points for mouthfeel and drinkability due to it's out-of-season characteristics.
Jan 03, 2011

Billolick from New York
3.53
/5
rDev
+2.6%
look: 4 | smell: 3.5 | taste: 3.5 | feel: 3.5 | overall: 3.5
12 ounce bottle, part of an 11 dollar six pack, picked up at Peekskill beer and soda, Peekskill, NY.
No freshness info to be had.
Pours dark chocolate, murky, under a lose medium tan head, leaves some low sheeting and minor lacing.
Some chocolate and lite smoke in the nose.
Decent flavor, more chocolate, maple malts, toffee, I'd like it to be amped up a bit flavor wise, not really packing the punch of a top flight winter warmer. Also on the thin side body/mouthfeel wise. Decent but not overly impressive.
I'm a sucker for the Fire Island lighthouse theme (enjoying annual long walk on the beach down to the light house) they are going for with this line of beers, but come on, does anybody believe this is brewed on Fire Island....good marketing, slightly better then middle of the road brews...
Dec 28, 2010

Gmann from New York
3.53
/5
rDev
+2.6%
look: 4 | smell: 3.5 | taste: 3.5 | feel: 3.5 | overall: 3.5
Pours a cleary ruby brown color with a big airy khaki colored head that slowly settles.
The aroma is of a bready malt with some honey and toffee notes. Some light hops and candied cherries as well. Seems to be more malt driven.
The taste seems to take on an English malt flavor. A tea like malt presence with hints of honey and hard water. The malt has a bready flavor to it and some light roast. The grassy hops come in at the end and provide some bitterness.
The feel is moderate with fizzy carbonation; finishes slightly bitter.
A malty beer for sure. You can definitely notice the diffent malts used. I would have liked to have seen some more hop flavor besides the grassy bitter kind or perhaps a light touch of spice. It is a well made beer but rather ho-hum.
Dec 19, 2010
JoeyBeerBelly from New York
4
/5
rDev
+16.3%
look: 4 | smell: 4 | taste: 4 | feel: 4 | overall: 4
12oz bottle served in a glass beer mug.
L - clear mahogony color with a creamy beige head that thinned to a ring and left a light coat of lacing.
S - roasted caramel malt with some piney hops in the background.
T - bitter hop bite upfront balanced by roasted malt and toffee sweetness before finishing dry and bitter-sweet.
F - medium bodied with good carbonation.
D - goes down smooth and easy.
Dec 14, 2010
Frozen Tail Ale from Fire Island Beer Company
Beer rating:
82
out of
100
with
28
ratings