Sol Invictus Saison

Kuhnhenn Brewing Company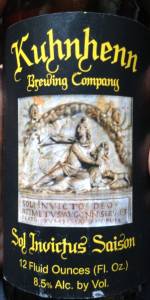 Write a Review
Beer Geek Stats:
| Print Shelf Talker
Style:

ABV:

8.5%

Score:

85

Avg:

3.71

| pDev:

9.7%

Reviews:

14

Ratings:

From:

Avail:

Retired (no longer brewed)

Wants

Gots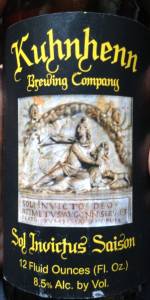 Notes:

3.65
/5
rDev
-1.6%
look: 3.75 | smell: 3.75 | taste: 3.5 | feel: 3.75 | overall: 3.75
Reviewed from notes. Bottle grabbed as I left the brewery back in June of 2013. The appearance was a clear orange/amber body with a one finger white foamy head, some light lacing but slides down into the body. The smell had a slightly tart/spicy/floral all combined nicely and leaving a sort of herbal-ness to it. The taste had a mostly the same with some citrusy/malty thing goin' on, tart aftertaste and a dry finish. The palate had a light to medium in body, came across somewhat sessionable. Carbonation is adequately felt for the style and for me. Overall, pretty nice "tart" saison, I could come back to.
612 characters
2.82
/5
rDev
-24%
look: 3.25 | smell: 3 | taste: 2.75 | feel: 3 | overall: 2.5
12 oz. bottle poured into a snifter. This bottle is apparently old.
Appearance - Amber body with an ample white head and some chunks. Medium collar.
Smell - Caramel malt and a little yeastiness. Apple fruitiness. A little oxidized.
Taste - Very yeasty. Hefty caramel malt. A little bitter from the yeastiness. Slight apple fruitiness.
Mouthfeel - Medium heavy. Low carbonation. Bitter.
Overall - Old and not very exciting.
427 characters

3.66
/5
rDev
-1.3%
look: 4.5 | smell: 4 | taste: 3.5 | feel: 4.25 | overall: 3
Presentation is pretty amazing. Poured into a stemware glass with a wide body. Massive off-white head, three fingers thick, like sea foam that won't go away. Clings immediately to the glass. The body of the beer is a deep amber gold color, hazed and showing good carbonation.
A pungent herbal aroma, unfortunately a bit reminiscent of floor cleaner for me. But to parse it out, there is a strong herbal aroma of sage and lemongrass, over top of a sweet orange and grapefruit aroma. Maybe a vague Saison yeast aroma right up front.
Oh god, this is a beast of a beer. I am immediately struck by how full bodied this beer is and how absolutely necessary that high carbonation is to lighten the body a little bit. Pretty dry finish for a big beer. Up front is a rich, full bodied sage and citrus beer, slightly sweet, but never heavy. Alcohol expresses itself on the swallow and at first comes across the palate kind of harshly. It smooths out and becomes more mellow. The mid palate is filled with a grainy, yeasty flavor, followed by a herbal aftertaste and finish.
I'm not really a fan of imperialized Saisons but this one was well crafted enough that I could finish the glass. I'm not sure what the point is of having such high abv beers. Is it really that cold in Michigan? I wouldn't buy this if I saw it again.
1,319 characters
3.84
/5
rDev
+3.5%
look: 3.75 | smell: 4 | taste: 3.75 | feel: 4 | overall: 3.75
12 Fluid Ounce bottle
Served in a tulip glass
Bottled November 21, 2012
A - It is orange with golden highlights. I looks like an "invincible sun." It was topped with about an inch of off-white head.
S - I get some orange and bread. I also smell some coriander.
T - It tastes like an orange flavored saison. As the bottle indicates, it is made with orange peel. The orange seems to mask the spiciness of this beer. The spices come through more in the finish.
M - It is highly effervescent with a medium body.
O - It is a pleasant beer if you like orange flavor. It is the dominant scent and taste for me.
610 characters
3.66
/5
rDev
-1.3%
look: 4.25 | smell: 3.75 | taste: 3.5 | feel: 4 | overall: 3.5
Bottle opened on 9.9.13
A - Pours a cloudy medium orange with a huge, foamy yellow head that fades slowly.
S - Very lemony and lots of heavy spices. Unique.
T - Lots of Belgian spice with a crisp lemony-citrus finish.
D - Tons of carbonation with a light body.
O - Heavy spices with lots of citrus.
303 characters
3.3
/5
rDev
-11.1%
look: 3.75 | smell: 3.75 | taste: 3.25 | feel: 2.75 | overall: 3
Bottle (2012)
Acquired via trade
Thanks, Spartan213!
(Aged for ~1 year)
A clear dark amber. Moderately-sized, large white head that dies down fairly quickly. Streaky spiderwebs of lace left down the glass.
Interesting combination of caramel sweetness, moderate bread, and lots of sage character. It doesn't really turn vegetal at all, but the spice and herb notes come out nicely.
The flavor is similar, with sage, bread, and caramel sweetness combining. A touch of an alcohol presence. This would probably succeed more if there was a touch less of an alcohol presence.
Medium bodied with very high carbonation. It's probably too highly carbonated, especially on the first few gulps.
Tasty, but slightly flawed, in my opinion.
733 characters

3.99
/5
rDev
+7.5%
look: 4.25 | smell: 4 | taste: 4 | feel: 3.75 | overall: 4
Bottle from Liam I believe. Served in a snifter.
A - White foam settles to a thin cap, solid collar, and minimal lace. Lightly hazed peach-colored body.
S - Lots of sage and peppery yeast here, with a note of citrus peel. Adjuncts and yeast rule the day, with very low malt sweetness; what's there is comprised of fairly neutral grain and bread flavors.
T - Taste is similar, albeit a tiny bit sweeter. Citrus peel recedes, allowing some grassy and hay-like hop character to peek through and join the heavy doses of sage and peppery farmhouse yeast. No alcohol to be found.
M - Dry, medium body, with zesty, crisp, and refreshing carbonation. A bit of alcohol warmth at this stage, but not excessively so for 8.5%.
D - I actually kind of enjoyed this. I'm glad I let it sit for a few months, as I imagine it may have been to heavy on the sage and spice when fresh. Slightly overcarbonated for my tastes, but one of the best Belgian offerings I've had from Kuhnhenn. I'd like to see them try their hand at making more Saisons.
1,030 characters
3.92
/5
rDev
+5.7%
look: 4.25 | smell: 4 | taste: 3.75 | feel: 4 | overall: 4
A - Golden, hazed, white head has good retention and lacing.
S/T - Yeast funk, candy sugar, herbal hops. Abv stays well hidden.
M - Medium/light body, high carbonation, stays smooth, finishes with a bit of residual sugars, not completely clean.
O - While a good, tasty beer, it really didn't have enough barnyard-y funk to it for me. More like a strong pale/tripel.
368 characters

4.18
/5
rDev
+12.7%
look: 5 | smell: 4.5 | taste: 4 | feel: 4 | overall: 4
Pours a glowing, yet cloudy amber to orange color. A whirlpool of tiny bubble race up to half a glass worth of thick off white head. The head takes its time falling leaving sheets of lacing.
The aroma has a strong floral / herbal character, with some light fruit notes as well. I get pear, white grape, herbs, lemongrass, pepper, and lime. Clean, and pleasant with just the slightest phenolic weirdness.
Its flavor pretty much falls in line with its aroma. Not as nicely balanced though, maybe time will fix that. It starts of with apple, grape, and then lime transition to a peppery herbal finish. Nice flavors, just a little bite at the end. As the beer warms it taste, and finishes better!
Light to medium in body. The carbonation scrubs my tongue. It has a dry finish.
A nice example in style. I wish I would have picked up a few more of these. Put a ghost on the label, then everyone would rate this one higher. It could use a few months to mellow IMO, but I'm happy non the less.
990 characters
3.79
/5
rDev
+2.2%
look: 4 | smell: 3.75 | taste: 3.75 | feel: 4 | overall: 3.75
Quite a few of these bottles have passed through my grip without me ever actually trying one, so I figured it was time to finally give it a shot. The body has a nice amber and orange gradient; translucent and foggy all around. An enormous amount of tiny carbonation bubble streams jet from the bottom of the glass to the top of the brew where a huge, volatile, and eggshell colored head perches and stays, cloudy and lumpy with lots of lace left in its path.
A nice multitude of spices is the first thing I'm getting from the aroma. The sage is heavy, much like the bottle notes. Sage is one of the few spices I can pin-point, but it seems to me there are a few more spices in the aroma that my untrained nose can't quite recognize. Quite hoppy, with a largely floral and herbal profile that meshes nicely with the large amount of spice.
The latter half of the aromatic profile includes a small resurgence of light lemon peel and orange zest; just slightly tart with a backbone made of thick, heavy, Belgian-style yeast. The yeast contributes quite a bit to the aroma, and may even be responsible for some of the "unidentifiable" spices earlier. Clove, bread, sweet esters, light phenol, and sticky bubblegum close out the nose. Complex, different, intriguing.
Despite the sizable amount of spice in the aroma, I'd say the spiciness is even more relevant on the palate. The sage comes out HUGE; leafy, herbal, and peppery, the first sip tastes something like a hodge-podge kitchen spice rack turned liquid. Mild tartness jolts in immediately after the spice assault; light lemon, orange peel, and tart apple skins provide a nice, swift kick to the taste buds.
The finishing touches of Sol Invictus introduce a bit of thick yeast and a smell helping of funk. Coriander, clove, and large waves of bread followed up by an aftertaste with a faint cheesy, musty, and dingy funk, akin to a cob-web filled, damp cellar. A like the addition of funk, but wish it were a little more balanced in the final moments. Thick bodied with a surprisingly spritzy mouth feel and heavy carbonation.
Not a bad saison at all, but far from one of the better examples of the style. It's definitely a bit different, I'll give it that. Lots of spices going on - sage is definitely the strongest, and the yeast provides some spicy, phenol esters to the mix, too. Possibly a little overwhelming with the spice and unadulterated funk finish, but still solid overall.
2,442 characters
4
/5
rDev
+7.8%
look: 4 | smell: 4 | taste: 4 | feel: 4 | overall: 4
12 ounce bottle into signature tulip glass, bottled on 11/21/2012. Pours hazy golden amber color with a nice 2-3 finger foamy white head with great retention, that reduces to a nice cap that lingers. Spotty foamy lacing clings on the glass, with plenty of streaming carbonation. Aromas of big pear, apple, grape, clove, pepper, sage, orange zest, grass, floral, light funk, and earthy yeast spiciness. Damn nice aromas with great balance of spicy/earthy yeast esters with fruitiness and spicing; with good complexity. Taste of pear, apple, grape, orange zest, pepper, clove, sage, grass, floral, light funk, and earthy yeast spiciness. Lingering notes of light fruits, pepper, clove, sage, grass, floral, and earthy spiciness on the finish for a bit. Very nice balance and complexity of fruity/spicy esters with moderate herbal spicing notes; and zero cloying flavors present after the finish. Very high carbonation and medium bodied; with a very smooth, prickly, and crisp mouthfeel that is very nice. Finish is moderately dry due to carbonation, but still flavorful. Alcohol is very well hidden with hardly any warming noticed after the finish. Overall this is a damn nice spiced saison. All around well balanced fruity/spicy esters with herbal spices; and very smooth and crisp to sip on. A very enjoyable offering.
1,318 characters

4.03
/5
rDev
+8.6%
look: 4 | smell: 4 | taste: 4.25 | feel: 3.25 | overall: 4
Extra from a trade with tectactoe, thanks man. Bottle from 11/21/12, 12 oz, poured into a FFF Teku.
A: Orange amber, opaque body, pure white head of 3+ fingers, good retention, some lacing.
S: Nicely herbal and floral. Sage is definitely there, as expected. Some citrus and orange as well.
T: Follows the nose, very nice citrus bite, herbal, the malts are well-balanced.
M: A bit overcarbonated, to the point of feeling like a champagne beer.Light to medium body. Average finish.
O: Not my favorite style but I like what was done with this beer. Pleased to have had the opportunity to try it.
598 characters

4.05
/5
rDev
+9.2%
look: 4 | smell: 4 | taste: 4 | feel: 3.5 | overall: 4.5
Served from the bottle at the 2012 Winter Solstice, into a pint glass.
Hazy orange, with some golden yellow highlights. White head with good retention and some lacing. Nose is spicy, floral, coriander, sage and some other herbal/floral notes I'm not sure about. Taste is spicy similar to the nose, zesty, wheat and spicy into the finish. Not terribly drying, moderate sweetness. Medium feel, good texture. Alcohol is detectable, medium high carbonation. A nice spicy imperial saison.
484 characters
3.72
/5
rDev
+0.3%
look: 3.5 | smell: 4 | taste: 3.5 | feel: 3.5 | overall: 4
Bottle from the owner. Just released. A sage based saison. Very decent for the style, good drinkability. Carbonation a bit aggressive. I liked the farmhouse yeast character to it. Not as complex as the sage used by Great Lakes and Amsterdam this summer in Toronto, or as smooth as the Stillwater.
296 characters
Sol Invictus Saison from Kuhnhenn Brewing Company
Beer rating:
85
out of
100
with
43
ratings