Window Pane Series Blackberries

Mother Earth Brewing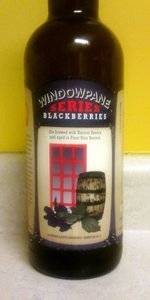 Rate It
Beer Geek Stats
| Print Shelf Talker
Style:

ABV:

9%

Score:

86

Avg:

3.86

| pDev:

10.36%

Reviews:

13

Ratings:

From:

Avail:

Retired (no longer brewed)

Wants

Gots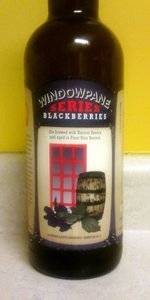 Notes: Mother Earth's first beer in the Window Pane Series. This is a double wit aged for 3 months on pinot noir barrels with local raspberries. Limited to only 20 barrels (620 gallons).

macrosmatic from Florida
3.37
/5
rDev
-12.7%
look: 3.5 | smell: 3.25 | taste: 3.5 | feel: 3.25 | overall: 3.25
Reviewed from notes. Poured from 750 mL bottle into a Guinness pint glass.
A: Pours a hazy gold with a thin white head and fairly low visible carbonation.
S: Light tartness, oak tannins, and some cracker malt. Minimal berry aroma, or fruit at all, other than the lemon-citrus Lacto character.
T: Lactic acid hit up front, then some cracker malts with a modest wheat grainy character. The malt develops more pilsner character as it warms. Some vinous and oak flavors then fade into a fairly sweet blackberry flavor as the tartness completely disappears - which was a weird experience, and one I didn't enjoy. The finish ends up reminding me of a poorly made blueberry wheat beer.
M: Light body and a bit watery. Moderate carbonation sensation, low alcohol presence.
O: This isn't offensive or anything, but the parts of the beer didn't seem put together as well as they could have been. Good concept, but I won't be having another.
Jan 03, 2014

chinchill from South Carolina
3.55
/5
rDev
-8%
look: 3.25 | smell: 3.25 | taste: 3.75 | feel: 3.75 | overall: 3.5
Blackberry liquor and muffins in the nose.
More tart in the nose than the mouth.
Flavor: Slightly yeasty. More tart than sweet. Fine, mildly tart, lingering aftertaste.
O: My least favorite of the 3 beers I've tried in the Mother Earth Windowpane series.
Nov 17, 2013

mdfb79 from New York
4
/5
rDev
+3.6%
look: 4 | smell: 4 | taste: 4 | feel: 4 | overall: 4
From 09/22/13 notes. Bottle from dogphishead as an extra; thanks man. 750ml bottle into my Lost Abbey stemware, bottled in 2013.
a - Pours a hazy, dark orange color with two inches of bright white head and high carbonation evident.
s - Smells of wine, blackberries, citrus, raspberries, oak, tannin, fruity malts, light spice, cloves, and vanilla. Interesting nose, with some definite wine and fruit to it. I like it.
t - Tastes of mixed, dark berries, mainly raspberries, red wine, oak, citrus, orange, tannins, fruity malts, bread, yeast, and spice. Taste has more berries and fruity malts than the nose had, and less tannins and vanilla.
m - Medium bod and moderate to high carbonation. Easy to drink.
o - Overall an interesting beer, but worked well and I liked it. The wine definitely comes through in the nose, and the berries come through everywhere, especially in the taste. Not tart or sour, but a fun experiement and one of the better Mother Earth beers I've had, even though I've only had a few.
Sep 24, 2013

GJ40 from North Carolina
3.68
/5
rDev
-4.7%
look: 4 | smell: 4 | taste: 3.5 | feel: 3.75 | overall: 3.5
Sampled from a 750ml bottle bottled on "2013".
A - Golden with a slight haze and a small white head. Nice lacing.
S - Grapes, green apple, lemon, funk and a hint of blackberries. Not much oak.
T - A very mild tartness (less than the aroma indicated) with grapes and again, a hint of blackberries. Not especially depp or complex but good. I started it at 50 degrees yet it still gets better as it warms.
M - Creamy with a low to moderate carbonation.
O - Interesting but not complex enough given the price.
Sep 08, 2013
stakem from Pennsylvania
3.87
/5
rDev
+0.3%
look: 4 | smell: 3.75 | taste: 3.75 | feel: 4.25 | overall: 4
750ml corked and caged offering I recently picked up for $19 during a trip to NC. The brew poured into a snifter looks a hazed golden color with a rich white froth that provides a full wall of webby lace on the glass. A swirl revives a finger back to the surface.
The aroma is somewhat vinous with an earthen cheese and sulfur accompaniment. Some trade hints of oak and vanilla sweetness to the nose before getting mildly yeasty with it's own slicy and earthen aspect. While berry fruit hints are faintly suggested in the nose, it does not seem readily evident as blackberry.
The taste is minorly vinous and tart with some faint clove and wheaty grain sweetness. An oak barrel presence is felt along with tangy alcohol that gets a bit grassy and earthen as it warms up across the back. Like the nose, the blackberry inclusion never really jumped out in this, instead it was faded or perhaps muddled under the rest of the characteristics.
This is a medium to lighter bodied brew with a modest amount of carbonation. An interesting offering but I am not sold on the wit yeast and tartness interplaying well. Unfortubately, the berries were pretty well gone at this point and the wine barrel fills the void. Not a bad brew, just not worth the cost of admission. It sounds better than it really is.
Aug 06, 2013
dbrauneis from North Carolina
4.02
/5
rDev
+4.1%
look: 4 | smell: 3.75 | taste: 4.25 | feel: 3.75 | overall: 4
A: Pours a hazy medium apricot/peach to orange in color with some heavy amounts of very active visible carbonation and a fair amount of orange highlights. The beer has a two finger tall fizzy white head that reduces to a thin film covering the entire surface of the beer evenly. Light amounts of lacing are observed.
S: Moderate aromas of blackberries over some lighter notes of wheat and lemon zest. Light to moderate notes of the Pinot Noir and hints of oak from the barrels.
T: Upfront there is a light flavor of wheat with some hints of lemon zest which is followed by light to moderate flavors of fresh slightly tart blackberries (since we have been eating lots of them lately, it is a very familiar flavor). Towards the finish there is light amounts of Belgian yeast giving it a pasty hint and light to moderate flavors of red wine (Pinot Noir) and oak. Minimal amounts of bitterness in the finish.
M: Light bodied with moderate to heavy amounts of carbonation. Slight amount of tart prickliness and some faint alcohol warming in the finish.
O: I really enjoyed this beer with the tartness of the blackberries and the notes from the Pinot Noir barrels. I found it pretty easy to drink (it drinks like a much lower ABV beer) and the alcohol is pretty well hidden. I'm looking forward to trying some more of the beers in this series.
Jul 26, 2013
Pencible from Virginia
4.12
/5
rDev
+6.7%
look: 4 | smell: 4.5 | taste: 4 | feel: 4 | overall: 4
A: This poured a hazy gold with quickly dissipating white head.
S: It smelled like tart white grapes and apple cider vinegar, with some fresh wheat and funky oak and maybe blackberries.
T: It tasted like fresh wheat and sweet honey malt, with tart blackberries and apple cider vinegar, and a bit of funky oak and tannic grapes. It had a clean sweet and sour aftertaste.
M: It was oily with a lot of carbonation. Big lively body.
D: This was a great unique brew, with complex and enjoyable scent and taste. The body was fitting for the style, and actually helped make it easier to drink. Could probably age well, but really doesn't need it, since it's so smooth fresh. I wish the blackberries were a bit more pronounced, but this brew is still recommended, if you can find it.
Jul 04, 2013
Axnjxn from North Carolina
4.28
/5
rDev
+10.9%
look: 4.25 | smell: 4.25 | taste: 4.25 | feel: 4.5 | overall: 4.25
On tap at Sams in Durham. Poured into a Mother Earth pint glass.
Pours a dark golden color with a small, fizzy white head. The smell is of tart grapes and is quite pleasant. Taste is tart up front with a great berry flavor. I don't get specifically blackberries but a mix of delicious fruitiness. Extremely easy to drink, the 9% ABV is unreal. Medium bodied with high carbonation.
Overall this is a huge winner. The peaches variety was horrible, but this one redeems the series. I loved it.
Jun 22, 2013

Onenote81 from North Carolina
4.03
/5
rDev
+4.4%
look: 3.75 | smell: 3.75 | taste: 4.25 | feel: 4 | overall: 4
Huge thanks go out to MrPeabodysBeard for the hookup on this one! Another one that I never saw in my area, so Chris generously held a bottle for me. Prosit!
Bottle poured into a chalice. Pours a dark orange that carries a slight chill haze. Small off-white head on top. The aroma is almost completely wine-like. That barrel really took over the bouquet. Really a tart scent - lemon zest, grapes, blackberries, some ethanol.
Moderate carbonation. I actually expected this one to carry a bit more spritz, but it seems thin at times. Light feel, though, eases the drinkability of this tart beer.
This beer packs a wallop of fruity flavors. Blackberry, lemon, and the pinot grapes really dominate, leaving a nice tart smack on the palate. The finish is short though, causing me to sip and sip all the more. The spices that are normally present in a Wit, I'm not finding much of. The barreling as well as time aged I'm sure have mellowed those out a bit. A nice simple tart beer.
I really enjoyed this one much more than their second installment - Peach. This one delivered as advertised: an easy drinking tart beer. Nice work, MEB.
Feb 10, 2013
jsanford from Georgia
4.19
/5
rDev
+8.5%
look: 3.5 | smell: 4.5 | taste: 4 | feel: 4 | overall: 4.5
Pours a cloudy orange-brown with a very thin white head that dissipates quickly. Very nice blackberry aromas, jam-like. Getting a bit of vanilla from the oak, pinot noir grapes, orange peel, and Witbier yeast. Really lovely. Taste is just as nice, more jammy blackberry, oak, red grapes, and juicy citrus. Excellent brew. Mouthfeel is smooth and crisp, with a medium body and slightly low carbonation. Overall a uniquely delicious beer, can't wait to see what else this Window Pane Series holds!
Oct 10, 2012
brentk56 from North Carolina
4.09
/5
rDev
+6%
look: 3.5 | smell: 4.5 | taste: 4 | feel: 4 | overall: 4
Appearance: Pours a hazy honey color without much of a head, though what head there is leaves lots of dots behind
Smell: The blackberry and vinous Pinot Noir fruit are complemented by buttery oak
Taste: Very fruity, up front, with the blackberry flavor (tempered by the Pinot Noir grapes) making an initial statement; in the middle, the wheat and vanilla become more pronounced, along with the yeast phenols and peppery spice elements; after the swallow, the tartness builds, adding a subtle sour character to balance the sweetness; just a tad boozy in the finish
Mouthfeel: Medium body with low to moderate carbonation; a bit of warmth in the gullet
Overall: It is a little difficult to think of this as a Wit as it lacks the citrus, coriander and distinct Belgian character of the style; this tastes more like a barrel-aged, double wheat beer than a Wit; still, it is quite enjoyable, with a range of flavors that balance out nicely
Sep 09, 2012
jlindros from Massachusetts
4.47
/5
rDev
+15.8%
look: 4 | smell: 4.5 | taste: 4.5 | feel: 4.5 | overall: 4.5
This was a double-wit aged with blackberries in pinot-noir barrels. The first of their Window Pane Series. Generously shared by Rudzud.
Light creamy head hits almost 1 finger with decent lacing, super hazy reddish orange color.
Nose just dominates with pinot noir and oak!! Lots of nice pinot wine aromas, almost as if they dumped half a glass of pinot into my beer, and tons of buttery oak. The oak brings lots of buttery oak aromas and a bit of vanilla. Some wheat and big wit malt, and hint if wit spices and fruit. Some fresh blackberry as well.
Taste is loaded with more of the same, but also has some light tartness and big blackberry juice. Lots of big malty wheat and wit flavors with some sweetness, and a bit of wit style spices, coriander and orange peel like. Bitterness comes through with that. Now that I got the subtle flavors, tons of oak, vanilla and lots of buttery oak. Then some juicy slight tart pinot noir wine and light vinous. Finish is slightly tart and phlegmy, lingering tons of buttery oak and light pinot as well as light wit spices.
Mouth is thicker, decent carb, sight tart and phlegm, and hides the booze fairly well as there is just a hint of warming booze.
Overall awesome. Really impressed with this one. The wit beer has it's qualities underneath, with bits of spices and wheat, subtle but definitely there. Then the oak explodes, so I could see how some people may not like the big buttery oak but I do. And the pinot wine aromas and flavors are huge. Most of the time with a wine barrel age you can tell it was wine, and vinous, but can't really get the flavors of the wine and pick them out, in this case you really can tell it was a pinot noir as it has the bright fruit, soft tannins, smooth red wine flavors. Very tasty, drinkable despite the phlegmy feel. I really wish I could get more of these bottles, maybe I'll try to get some myself.
Jul 28, 2012
rudzud from Massachusetts
4.47
/5
rDev
+15.8%
look: 4 | smell: 4.5 | taste: 4.5 | feel: 4.5 | overall: 4.5
So this beer is the first in Mother Earth's Window Pane Series and is a double wit aged in pinot noir barrels for 3 months with local blackberries. Received this beer in a trade with Hopbully. Shared with JLindros and BPK59, poured into a tulip.
A - Poured a hazy, light copper almost berry juice hue with a nice half finger soapy head that left light side lacing. This really does look like berry juice, not really say a raspberry or blackberry, but definitely has a berry juice like appearance.
S - What the heck. I nearly spit out my beer when I watched JLindros smell and taste this beer. Staggering and knee buckling, this beer bursts with buttery oak barrel and pinot noir. Not talking that diacetyl butteriness that some beers get, but the type of butter from rich, rich oak. There are very nice lightly tart blackberry aromas, good vanilla, and some light belgian wit spices on the end. The butter on the nose is really something special.
T - Taste, yeah. I staggered a little but Jared got the shakey legs from this. TONS of vanilla. I really cant stress how much vanilla is in here alon with buttery oak. There are some tart blackberry notes along with good healthy vinous pinot noir barrel notes. Oh god is this buttery and perfumy! Sooo much butter. There are light wit flavours, the finish is lightly tart. So, so much going on with this beer. Outstanding.
M - Mouthfeel is delicious. The ABV is hidden wonderfully. I'd never guess this was 9%, drinks like its a nice 5%!
O - Overall this was an incredible shocker from Mother Earth. I've got one more of this but wish I had a whole case. Not sure how well this will hold up over time, its so incredibly buttery with some light tartness. This beer is just awesome!
Jul 26, 2012
Window Pane Series Blackberries from Mother Earth Brewing
Beer rating:
86
out of
100
with
49
ratings