Well Built E.S.B.
| Breckenridge Brewery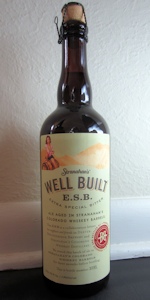 BEER INFO
Brewed by:
Breckenridge Brewery
Colorado
,
United States
breckbrew.com
Style:
Extra Special / Strong Bitter (ESB)
Alcohol by volume (ABV):
7.80%
Availability:
Limited (brewed once)
Notes / Commercial Description:
No notes at this time.
Added by DavoleBomb on 07-12-2012
This beer is retired; no longer brewed.
Reviews: 15 | Ratings: 73

4.75
/5
rDev
+26.3%
01/09/14 On tap at Rattle n Hum, NYC. Thanks to Dave. This is one of the most phenomenal brews I've ever tasted. The immediate nose is buttered popcorn. Once done, you taste a browned butter flavor that borders butterscotch without the sweetness . So not what I was expecting...way...way better. If an outside the IPA thing is what you're looking for...look no further.
369 characters
3.66
/5
rDev
-2.7%
look: 3.25 | smell: 3.5 | taste: 3.75 | feel: 3.75 | overall: 3.75
This ESB looks the part; it's pale orange-red-brown with some deeper reddish hues that's translucent as it's somewhat clear but not enough to see through the haze that is there. The off-white head is a bit of a wisp but a strong one with some persistence. Lacing is heavily spotty in terms of placement but not structure, per se.
The smell is initially, and remains primarily, boozy wood. It takes almost all of its character from the barrel. Perhaps the base beer is just that mild, being a mild style, but it takes work to draw the actual beer's character out on its own. Some leaf, maybe toast underneath, and a mild metallic note are drawn out with time.
The taste is similar but brings more of the beer itself out. The whiskey is a major, perhaps the major, component, but this time I have little problem drawing out leafy and earthy hops notes, toast, some nuttiness, a steely, mineral note, and an herbal leaf finish. In truth, though, I would give this to someone who wanted to like whiskey but found it too hard.
The light-medium body starts off sweeter and finishes in the dry end. It's got a light bite and is creamy on the tongue, and a bit of the herbal leaf toward the middle is what lends it more dryness along with alcohol. It thins a little in the middle, though not terribly.
1,293 characters

3.97
/5
rDev
+5.6%
look: 3.75 | smell: 3.5 | taste: 4.25 | feel: 4 | overall: 4
Apperance ie a deep amber with some clarity and heavy lacing. Nose is somewhat muted with mild caramel malts coming through with almost no hop character. Taste is straight up caramel. Notes of salt, caramel.. The candy not the malt. Nice balance, not too sweet. Mouthfeel is light and moderately carbonated. Overall, nice flavors here, a bit different for the style.
366 characters
3.58
/5
rDev
-4.8%
look: 3.75 | smell: 3.75 | taste: 3.5 | feel: 3.5 | overall: 3.5
The sweet, spicy and oaky elegance of Stanahan's whisky makes for a near-perfect complement to beers of sweeter fare- or at least it should. Breckenridge's ESB should be a match made in beer heaven.
Its appearance is everything-ESB. Medium copper in color, the beer is lightly hazy with its unfiltered appearance. A creamy bone-white head builds upon the ale and then retains well while trailing with spotty lace.
Bold malty-sweet scents capture the caramel, toffee and biscuit aromas that are common to ESB, but its light hop presence can hardly balance the grain. Its mild herbal character comes across like curing tobacco. Couple that with fruit notes and the scent is lightly reminescent of apple jelly. As the oak spice carries as much weight as the hops do, there's simply a barrel influence playing out here.
To taste, the hearty bready-sweet flavors are of toffee and biscuit- just ahead of a nutty, grassy and leafy middle due to the late arrival of hop flavor. Wood sweetness and spiciness captivate the finish with mild oak and tannin that balance the beer as much as the broad hop bitterness does. Even with a sweet boozy finish, the flavors of whisky are all present yet the beer doesn't come across as together as whisky barrel aged beers do.
Creamy and sweet in body, the beer slowly fades to partial dryness as the carbonation dissolves and the sweetness begins to recede. Lightly astringent, the extra bite comes from both woodish hops and oak tannin. Not as crisp or as clean as classic ESB, the whisky barrel character makes this beer a little more savory and meant for sipping in comparison.
I rather liked the Stranahan Barrel Aged ESB, but it is a little messy as a classic ESB and not as powerful or complex as most barrel aged beers. Landing it in no-man's-land is as much of a curse for the beer as it is a blessing.
1,846 characters
3.75
/5
rDev
-0.3%
look: 3.75 | smell: 3.75 | taste: 3.75 | feel: 3.75 | overall: 3.75
This pours with a solid caramel brown color that supported a fizzy head with tons of life.
The aromas are grain-centric with plenty of barley and raw grain husk. The aroma is good but it doesn't give off a ton of the barrel or whiskey notes.
Grains are most evident on the tongue but it eases into the barrel character. A woody oak like flavor is understated but it is followed by a cream and whiskey. The cream is more towards the half and half and less the vanilla usually associated with barrel aging.
The feel is very airy and crisp and gives a feel that there is more carbonation that the appearance showed.
This was a nice change, an interesting beer but a bit of a disappointment when I paid $18 for it.
714 characters
3.91
/5
rDev
+4%
look: 4.25 | smell: 3.75 | taste: 4 | feel: 3.5 | overall: 4
Dark russet tone, reddish with bright clarity and sparse rising carbonation. Long lasting tan foam, creamy texture on the surface, flecks of spotty lace. Great lasting retention and color.
Plum and oak in the aroma, it's nice enough but doesn't really smell overtly like Stranahans, which is a letdown. Where's the vanilla, coconut, and banana chips?
Taste is woody and barrel forward, pipe tobacco, plum, clove, walnut, fruitcake, cookie dough. Creamy feel, well carbonated, mild astringency a bit thin. Overall it's good, but the lack of signature Stranahans qualities was a bit of a bummer. I'll keep drinking Samaels as long as they keep using Stranahans barrels with great success.
690 characters

4.33
/5
rDev
+15.2%
look: 4.5 | smell: 4 | taste: 4.5 | feel: 4 | overall: 4.5
1 pint 9.4 fl oz. bottle, no apparent bottled on date present, bottle number 8995. The local beer store has only had these for about a week. I went to the store with the intention of buying Flying Dog Barrel-Aged Gonzo Imperial Porter, but noticed two of these left, so I just had to grab one before it was too late. A barrel aged extra special bitter; no idea what to expect.
Poured into a clear balloon snifter glass.
A - A gentle pour yields three fingers of soft creamy pillowy off-white / khaki foam for a head. Body is a dark cola / mahogany color with some ruby highlights when held to the light. Thin fluffy rings of lace. Looks truly mouthwatering.
S - Smell is of sweet candied caramelized malts, toffee, whiskey barrels, and beautiful vanilla. The aroma becomes increasingly powerful as the beer sits and warms toward room temperature.
T - Bittering hop presence is maintained in the taste, which is a nice surprise, since I was expecting the barrel aging to have faded the hops. Smooth caramel malt, vanilla, wood, earth, yeast, some nuttiness, hint of chocolate, copper / minerals, and some alcohol heat & sugary green apple skin on the finish. Well balanced and well built; it lives up to it's name. Very nice.
M - Feel keeps some sugary green apple skin / hop stickiness & bittering on the palate, to remind you that you are drinking an E.S.B. Hint of alcohol heat on the finish. A wonderful end to a wonderful beer.
Overall, this is definitely the best thing I've had from Breckenridge so far. Whereas most of their beers are mediocre, this one is an entirely different beast. Was it worth the $16.99+ tax that I paid for it? Probably. There is depth and complexity present here that I wasn't sure Breckenridge was capable of, based on their year-round offerings. Definitely a beer to get your hands on, if you can.
Breckenridge Stranahan's Well Built E.S.B. ---4.5/5
1,890 characters
3.09
/5
rDev
-17.8%
look: 4.25 | smell: 4.5 | taste: 2.5 | feel: 2 | overall: 2.75
Pours a fluffy creamy head, only about a half inch but it looks great for being a bit thin. The body is deep amber with some haze.
A nose of oak, hops, and ruby red malts. This reminds me a bit more of a Scottish ale than ESB.
I'm not sure what to expect from an ESB aged in barrels but I almost expect the hops to either be faded and to let the oak dominate with the ESB malt backing it up or some kind of hop and oak accented blend. What this beer gives off however is vanilla notes to open with a lingering bigger hop profile. It is like the brewer just made an esb and at the last second just threw it in barrels without considering what the beer would taste like at the end. Vanilla with artificial candy flavors and lingering herbal bitterness.
The ~8 abv doesn't over do it here and it's fairly drinkable. I'm not sure I'd want to share this one with anyone special since it isn't special and I certainly don't want a full bottle. Add in at 16 bucks you kinda want a great beer.
This isn't a bad beer. If they put it in a 12 oz bottle it might be something to pick up a single of from time to time. In a big bottle this is an awful format for the beer and there is no value here. As simply a beer no judgement on format or price it's a nice beer. The hops don't work well with the barrel flavors. The carbonation isn't high enough to drinkability. Bottom line the beer just doesn't blend the elements together well and the end product suffers. Not recommended in bottle but I would bite the bullet for a glass at a bar.
1,534 characters

3.91
/5
rDev
+4%
look: 3.75 | smell: 4 | taste: 4 | feel: 3.25 | overall: 4
Pours burnt caramel brown with a khaki head. Aroma initially offesr a slight hit of some whiskey and its oak barrel that definitely comes on much stronger as it begins to warm up, caramel, toffee brown sugar and just a touch of some vanilla in the finish. Flavor is quite similar with some whiskey, oak, caramel and toffee, vanilla, and a slight kiss of some hops in the finish. A thin to maybe medium mouthfeel. Overall, Breck has impressed me lately with their barrel offerings. They really have figured things out since my initial experience trying their barrel aged vanilla porter (winter of '11). Really quite enjoyed this one a good deal. Have now tried via the bottle and on tap, and enjoyed it via both mediums. Glad to see Breck stepping their game up like this.
771 characters
2.92
/5
rDev
-22.3%
look: 2.5 | smell: 3 | taste: 3 | feel: 2.5 | overall: 3
This is a strange one. Hazy reddish brown in color. Smells sweet and tangy. Taste includes tang, sort of a burnt sugar flavor, with slight bitterness and not much hop flavor. The tang reminds me a little of certain strong ales I've had (but those had 11+%, and this isn't even 8%). That makes it seem like a sipper, despite its moderate alcohol content. The burnt sugary note is slightly reminiscent of Dogfish Head India Brown Ale, though this isn't nearly as hoppy. There is a touch of wood, and this does make sit slightly more interesting. Overall, I'm disappointed I paid $15 for this, however, as it warms it does seem to gain some complexity, so definitely don't serve ice cold.
685 characters
2.98
/5
rDev
-20.7%
look: 4 | smell: 3.5 | taste: 2.5 | feel: 3 | overall: 3
Solid honey body with a rich, creamy, thick, off-white head. Sharp, woody and earthy aroma; malty; caramel. Phenolic tinged yet sweet malt taste; light hint of fruit; boozy. Medium bodied; fairly effervescent.
A rather disappointing ESB. Too biting and acrid; not enough soothing malt flavors. Balance just isn't there; burning, plastic taste overpowers any redeeming qualities...
381 characters
4.3
/5
rDev
+14.4%
look: 4 | smell: 4 | taste: 4.5 | feel: 4 | overall: 4.5
You know when a steaming mug of hot cocoa with the little tiny marshmallows takes you back to the freezing cold hockey rinks of your youth? Or when a tart glass of fresh lemonade brings you to the hottest day of August, no matter what time of year? Some beverages just have that unique transformative ability to take you away somewhere, all five of your senses along for the ride. The Well Built ESB from Breckenridge takes this power to a whole new level.
Let me make two things clear. First, I am not wild about ESBs. The heavy doses of English malt, the cloying caramel sweetness, and that dusty ancient tasting finish, all with enough body to count as a meal. There is a time and a place, but I have rarely found it, and have been disappointed time and again by the style, especially American incarnations of it, which have always seemed half assed to me.
Second, I am not wild about Breckenridge Brewery. When I lived back east, I loved their Oatmeal Stout and their 471 IPA, both of which I still enjoy. Now that I live in Denver though, I've discovered most Breck offerings to be fairly generic, uninspired, and frankly not up to the very high beer standards of this fine metropolis. Time after time I got tooth aches from the sugary Vanilla Porter, got stomach aches from the artificial Agave Wheat, got head aches from the stupidly alcoholic Pandora's Bock, and got downright bored to sleep by the Avalanche Amber. I had pretty much written Breck off as mediocre.
The Well Built is a very different story, and one I am happy to tell. It pours a lovely copper to ruby color from the corked bottle with some light haze and a lazy tan head that just sort of does its own thing. There is an element of intrigue in the color of this, a little familiar, but also a little exotic. The nose is intense. Its woody and definitely bourbon aged. There is charcoal, vanilla, dried red fruits, and bold English caramel malts, all in excellent balance. The flavor is a pleasurable mix of all of these components, but add in some warming alcohol, bittering hops, and a candied sweetness that rounds out the finish perfectly. The mouthfeel is a little flat from the barrel, but it works in a wine-like capacity here, forcing the careful drinker to contemplate each sip, a task that kindly rewards patience.
These however, are insights I obtained from my second bottle of Well Built, not my first.
The magic of this beer is maybe not even the beer itself, but where it takes you.
My first bottle was opened in the kitchen of my house with my girlfriend and two other couples. Not knowing what to expect, I pulled 3 wine glasses and poured this nectar evenly into them, so that each couple could share in the new beverage together. There had been some bickering and squabbling that evening. Somebody forgot to let the cat out and it pooped on the rug. Somebody else took too long getting ready and a dinner reservation was missed. I think I had accidentally used my girlfriend's utility bill payment to buy this very beer. Nothing serious, but it was the kind of quarreling couples get into after they've been together for too long, and it had really soured the mood.
I decanted this baby to try to revive the night, bring up morale, and save my relationship from another night of disagreement over my irresponsibility. We each found a corner of the humble kitchen and started to sip on this. I heard a few oohs and aahs, but I was pretty focused on my own glass. My lady looked at me long and hard, and kissed me hotly. The next thing I knew, we were in a full on session of kissing and fondling there in the kitchen. I looked up and noticed both other couples getting jivey in a similar way. Before I knew it, the three couples all immediately made for the bedrooms and engaged in compelling acts of passion.
A few hours later I snuck out of my room to the bathroom. Passing through the kitchen I noticed the three glasses all had a drink or two left in them. They had been abandoned in the heat of the moment, but it was now obvious to me that this stuff was a powerful aphrodisiac. I picked up one of the glasses and finished it off, noticing how intense the flavors had gotten now that the beer was up to room temperature. One of the other guys came out with an exasperated look about him and emptied another of the glasses, giving me a nod that told me he knew what this beer had done for all of us.
In the morning, all six of us agreed that the Well Built was an impressive love potion. It independently took three feuding couples and physically brought them together. It has an amazing ability to take you to a place where you almost certainly always want to go, it is absolutely Well Built, and it is by far and away the best thing Breckenridge brewery ever built.
I strongly recommend that if you find a bottle of this, you get your hands on it. Share it with your lover and see what her hands will be on. It also goes expertly with aged semi-hard cheeses, but you don't care about that…
5,008 characters

3.58
/5
rDev
-4.8%
look: 4 | smell: 3.5 | taste: 3.5 | feel: 4 | overall: 3.5
Pours a copper color with an off-white head. Sweet toffee aroma with a hint of vanilla and booze. Not much in the way of whiskey, light green apple. There is a hint of citrus peel and light floral hop aromas. The flavor is sweet and malty with lots of caramel and toffee, light toast, too. There is a bit of oak and vanilla, mild whiskey flavor, and a bit of alcohol.
367 characters

4.04
/5
rDev
+7.4%
look: 4.5 | smell: 3 | taste: 4.5 | feel: 4.5 | overall: 4
Had this once before and it was delicious. Hope it still is. Bottle #1627 poured into CS SR globe. The cork was diss-formed as I pulled it out.
A - I gave it an aggressive pour and the head came out. About two fingers of solid cappuccino head. Looks thick. Body is cloudy and a deep brown color. Maybe some red in there. Great lacing.
S - Not feeling it here. Light and fresh with strawberries. A little artificial. Maybe some green berries as well. Earthy, but not great.
T - Why does Stranahan's taste so good? That is clearly the best part of this beer. Makes everything smooth. Slight dark fruits like prunes and cherries. Very sweet in vanilla, oak, and caramel. Mmmmm.
M - Great carbonation and body. Overall mouthfeel is wonderful.
O - Like I'm drinking some sort of mixed drink with carbonation and no alcohol with Strany's. Super smooth and nice.
862 characters

2.39
/5
rDev
-36.4%
look: 3.5 | smell: 2 | taste: 2.5 | feel: 3 | overall: 2
Poured into a snifter. Bottle #0994.
3.5 A: Opaque mahogany brown color. Nearly three fingers of frothy/foamy beige head. Retention is good and plenty of lacing is left.
2.0 S: Weird. It smells like sorachi ace hops and plastic. It also smells like watered down whiskey, which it basically is. Lemongrass, earthiness, and a light fruitiness.
2.5 T: Tastes like it smells. Lemongrass, plastic, woody earthiness, light honeydew and apricot fruitiness. Vanilla and oak underneath. Strange and not quite desirable. I don't know if the weird off flavors are coming from the base beer, the whiskey, or the barrel aging process.
3.0 M: Lighter medium body. A bit overcarbonated. A bit bity and not particularly creamy.
2.0 D: The idea of putting an ESB in a whiskey barrel makes no sense to me. I had to buy it though to see how it would turn out though. Turns out it was a costly error as this was $15 or something absurd like that. This mainly tastes like watered down whiskey, but with off-flavors added. Not a beer worth your money.
1,044 characters
Well Built E.S.B. from Breckenridge Brewery
3.76
out of
5
based on
73
ratings.