Galaxy X2

Big Muddy Brewing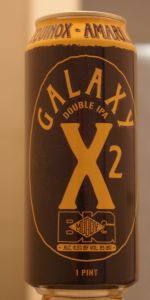 Rate It
Beer Geek Stats
From:

Style:

ABV:

8.5%

Score:

Avg:

3.83

| pDev:

8.09%

Reviews:

5

Ratings:

Status:

Active

Rated:

Sep 05, 2017

Added:

Aug 19, 2016

Wants:

Gots: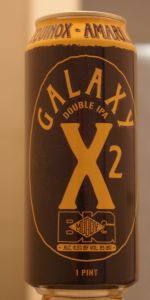 Recent ratings and reviews.

Reviewed by Wiffler27 from North Carolina
3.87
/5
rDev
+1%
look: 3.75 | smell: 3.5 | taste: 4 | feel: 4 | overall: 4
pours a gold color with a crazy head. opening the can had it bubbling out the hole. pouring it was nearly all head, now have to wait for that to subside so i can get more than 4oz in my glass

aroma is bland, not much to it. slight hops but nothing shines through at all

taste is clean and easy to drink. not super bitter and a thin body for 8.5%. the hops are certainly NE style but it doesn't have that haze to it.
Sep 05, 2017
Reviewed by JerzDevl2000 from New Jersey
3.75
/5
rDev
-2.1%
look: 3.75 | smell: 3.75 | taste: 3.75 | feel: 3.75 | overall: 3.75
Traded for this a while ago - so long ago that it was in the back of my fridge and was out of carbonation by the time I opened it. I decided to have it anyways because 1) It's beer and 2) It held up enough that I wanted to give it a go regardless of that. It tasted fine but there wasn't much of anything memorable or outstanding about this. With plenty of stickiness and body, there was more than enough to enjoy here regardless of it's condition upon cracking open!

The look to this was decent enough, with a hazy and waxy almond hue that poured somewhat thick. Minimal head and lacing to boot but that was my fault and certainly not that of the beers! Plenty of earth, dank, stickiness, and caramel in the muted nose with more of those in the taste as well. Not a bad combination of hops here but the end result was a heavy concoction that tasted like weed more than anything else. A bit of smoke and bitter chocolate gave this some depth as this felt like a Lagunitas or Green Flash-type West Coast IPA.

Plenty of booze in here too but it was felt more than could be discerned as a nice warming effect took hold by the time I finished this can off. While not a bad IPA, it would lose out to one of the aforementioned brewers or something with more body and heft. This would make a fine substitute and has me wanting a fresh can, at the same time. Any traders out there up for the task?
Jun 07, 2017

Reviewed by woodychandler from Pennsylvania
4.49
/5
rDev
+17.2%
look: 4 | smell: 4.25 | taste: 5 | feel: 3.75 | overall: 4.25
Dig it, man. I jumped on The CANQuest (tm) kick about a decade ago & I haven't looked back since. This trip has been heavy at times, especially with the advent of DIPAs in aluminum cylinders, but I kept at it, dig? Now, man, they want to pull me outta the Big Muddy and send me off into the Galaxy x 2! Wow. Mind = blown, man! I'm like those cats in the commercial whose minds blow in a purple cloud. Speaking of which, where might a righteous guy score some purple haze, man?

From the groovy shrink-wrapped CAN: "Galaxy-Apollo-Equinox-Amarillo Hops".

Wow! I CAN't wait to get this trip started. It always begins with the Crack! and this one was both loud & revealing. It revealed yet another brimful craft CAN & then the whole thing seemed to grow in size until it loomed over me like the monolith in "2001: A Space Odyssey". I could hardly bring myself to lift it, but I utilized the gentlest of Glugs. An in-glass swirl raised both my CANciousness & a finger of dense, foamy, tawny head that just hung around like that last guest who doesn't get the idea that he's bringing me down, man. No, it's cool, baby, it gives me time to take the temperature on the color, dig? Wow, it was that chick, Amber (SRM = > 7, < 9), from that groovy place, Nebraska, who laid the coolest clarity on me! Nose was like LOX, man, not salmon, that would be a drag. No, think liquid oxygen! Cool, clean, slightly minty, whew! My first ship had a LOX plant onboard and sometimes after they ran it, we would go down and inhale until we got our fill. It was a gorgeous shade of blue, but there was NO smoking or open flame afterwards for several hours. It was a high like no other and totally natural, dig? This beer had that same icy coolness on the nose. Mouthfeel was thin for the style, but I CAN hang, having had my poor, bruised tongue jackhammered & pummeled by hops in the past. The taste was like chilled fruit, right? Man, it gave off a crazy pineapple & coconut vibe, but with a mentholated coolness that shook me to my core. Baby, the Galaxy was opening up, not before my eyes, but in my glass! As it warmed, I began to really catch a beautiful melon note coming on strong. It also began to rock an earthy maltiness, leaving me to wonder if I had blasted off after all, or was I still rooted in my kitchen. Man, what a great trip! The finish was the softest landing on my pad. It was breathtaking with a shot of heat followed by a minty coolness, accompanied by a lingering fruitiness. I could only sit back, stunned by the depth & breadth of it! Baby, how soon CAN you stop back? I may need a day or two to get ready, but ...
Oct 23, 2016
Reviewed by citizencane from Pennsylvania
3.96
/5
rDev
+3.4%
look: 4 | smell: 3.5 | taste: 4 | feel: 4.25 | overall: 4.25
Love the initial mouthfeel on this one. Thick and chewy but thirst-quenching. Initial taste and mouthfeel reminiscent of Deviant Dales. Taste similar to what I remember. Balanced and not really bitter at all save for a bit of smoke or grass at the back end. Once the head dies down and it warms a touch mouthfeel is less thick, but still solid and quenching. The thick creamy malt notes were very well done, but I wish they did just a bit more with the hops.. EDIT: Aroma is faint, but I swear I'm getting peaches and cream notes. That's definitely a first.
Oct 22, 2016
Reviewed by q33jeff from New Jersey
3.74
/5
rDev
-2.3%
look: 3.5 | smell: 3.75 | taste: 3.75 | feel: 3.75 | overall: 3.75
**
09/05/16
Can ( courtesy of Dave) to pilsener glass. Labor Day dinner.

LOOK: brownish orange, small white head, lasting.

AROMA: hops, smoke, grass, some light fruity notes.
TASTE: ash up front, juicy fresh hops late.
FEEL: Pretty full body. Medium carbonation.


Pretty good DIPA, juicy, not too much hair spray.

**
Sep 05, 2016
Galaxy X2 from Big Muddy Brewing
Beer rating:
3.83
out of
5
with
9
ratings