Invading Ireland Oak Aged Stout (Saga Series)
| Odin Brewing Company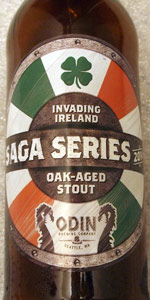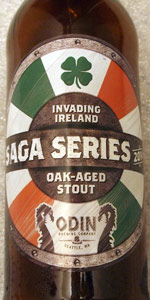 BEER INFO
Brewed by:
Odin Brewing Company
Washington
,
United States
odinbrewing.com
Style:
Irish Dry Stout
Alcohol by volume (ABV):
7.50%
Availability:
Limited (brewed once)
Notes / Commercial Description:
No notes at this time.
Added by LiquidAmber on 01-11-2014
This beer is retired; no longer brewed.
HISTOGRAM
Ratings: 14 | Reviews: 7
4.5
/5
rDev
+13.9%
look: 4.5 | smell: 4.5 | taste: 4.5 | feel: 4.5 | overall: 4.5
4.25
/5
rDev
+7.6%
Difficult to challenge Obsidian by Deschutes. Saga (or whatever it' s called) is smokey and good. Long hops and wonderful carbonation. Keep and eye on Odin.
156 characters



4.17
/5
rDev
+5.6%
look: 4.5 | smell: 4.25 | taste: 4.25 | feel: 3.75 | overall: 4
22oz bottle purchased at Huckleberry's in Spokane. Part of 2014's "Saga Series," according to the label. I suspect this hit the shelves around St. Patrick's Day. Although there's no freshness date per se, with 2014 so prominently featured on the label, I'm sure it can't be too old.
The color of this beer is...impenetrable darkness. The pour brought with it a big, creamy and sudsy head somewhere between beige and tan in color. Lots of lace.
Smells like an oaky version of an Irish dry stout, which makes sense because that is what it's supposed to be.
Slightly bitter and coffeeish, with some brown sugar and molasses. Midway through the taste, the woodiness from the oak-aging kicks in. There's a slight alcohol flavor that becomes more obvious as it warms up, but it's not to the same degree as an imperial stout that's undergone similar oak-aging. This beer has all you would expect from an Irish dry stout, but with an added dimension that is complementary to the style.
Slick, coating mouthfeel. The body seemed a little watery, but then again a lot of Irish dry stouts have seemed that way to me.
I have to admit I'm impressed for more reasons than one. It's a pretty good spin on a style that I haven't been terribly into for a long time now. It's also the first beer from Odin that I've felt I would be interested in trying again. Don't get me wrong, I don't remember ever having a bad beer from Odin. More to the point, I don't remember anything memorable about any Odin beers – until now.
1,548 characters
4.13
/5
rDev
+4.6%
look: 4.5 | smell: 4 | taste: 4 | feel: 4.5 | overall: 4.25
On tap poured into a pint glass. It has a pitch black appearance with no transparency and a 3/4 inch tan head. It has a faint milk chocolate nose. It has a half and half milk chocolate taste mixed with roasted malts. It has a very creamy thick mouth feel with a medium dry finish. Overall it's a nice Irishish style stout.
323 characters

3.89
/5
rDev
-1.5%
look: 4 | smell: 3.75 | taste: 4 | feel: 3.5 | overall: 4
Very nearly black brew with a brown-beige head. Ample suds in the Ciney snifter with plenty of carbonation on the tongue. Mouthfeel is on the thin side, like an Irish sort of Stout. It lacks the creamy carbonation you might hope for in this style.
This has that classic watery, refreshing body of some Stouts. The oak is not obtrusive and there is just a hint of vanilla. Still, it's enough to give this an aromatic, slightly woody tang. Rather than the austere dry taste of the olde sod Irish stouts, this has some malty sweetness that is quite pleasing. The bitter hop notes and the burnt grainy taste carry on the tradition, however.
Totally drinkable flavorful black brew. It's an improvement on the run-of-the-mill stout, whatever style. Not overly strong, either. From the 22 oz bottle purchased at Bottleworks in Seattle.
830 characters

3.93
/5
rDev
-0.5%
look: 3.75 | smell: 3.75 | taste: 4 | feel: 4 | overall: 4
A: Deep and dark, with a light tan head that simply never leaves.
S: Strong roasted malt, dark chocolate, oak.
T: Bitter dark chocolate up front, espresso bitterness, dark fruits, giving way to subtle hints of vanilla and caramel. Anlong lasting roasted finish. Very well balanced.
M: A little thinner than I'd like, I prefer my barrel aged stouts to be thick as mud. More carbonation than I'm used to, but still extremely enjoyable.
O: A great beer, and one I feel would develop wonderfully with a little age on it. Very much worth the buy.
549 characters


3.38
/5
rDev
-14.4%
look: 4 | smell: 3.5 | taste: 3.25 | feel: 3.5 | overall: 3.25
Poured from 22oz bomber into a pint glass.
Appearance: very dark brown, bordering on black with just some brown highlights around the edges. Head is two fingers of frothy brown foam with good retention and a nice chunky lace. I like it.
Smell: dry and roasty aroma with a little bit of coffee character and a fairly high dose of vegetal hops. Not bad, but it could be cleaner.
Taste: a little bit sweeter than the aroma, but plenty roasty and bitter, with a little hint of an ashy aftertaste. I think the hops are a bit over-done here; they're herby and vegetal in character with a bitterness that is a bit strong for the style.
Mouthfeel: medium body with a decent carbonation and creaminess for the style.
Overall: this beer is a bit harsh on my palate, especially considering the general smoothness of the style. Certainly not terrible, but maybe made for stronger constitutions than my own.
900 characters


3.91
/5
rDev
-1%
look: 3.75 | smell: 4 | taste: 4 | feel: 3.75 | overall: 3.75
Poured into a Reuben's Brew snifter. Pours a very dark mahogany brown, appearing nearly opaque in the glass. Thin brown ring around the glass and thin patchy foam. Nice roasty toasted malt and coffee aroma with hints of lactose. Flavor is toasted malt, coffee and chocolate, quite roasty but well integrated. Finishes with charred malt and coffee with vanilla from the oak barrels and a moderate lingering hop bitterness. Medium bodied with a mild creaminess. A nice roasty stout that probably leans more in the direction of an American stout because of the full body and light hopping. And that's not to its discredit, a moderately light stout close to style and with this much flavor is welcome and kind of blows the usual suspects out of the water. Maybe would score a little lower for a traditionalist, but I liked it enough to give it the benefit of the doubt. As I finish this review, the vanilla toastiness is still making itself known after quite a while.
963 characters
Invading Ireland Oak Aged Stout (Saga Series) from Odin Brewing Company
Beer rating:
3.95
out of
5
with
14
ratings