Revolution

Eagle Rock Brewery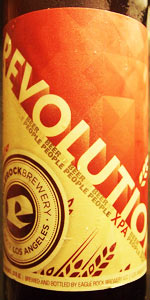 Write a Review
Beer Geek Stats:
| Print Shelf Talker
Style:

ABV:

5.6%

Score:

Avg:

3.69

| pDev:

13.01%

Reviews:

13

Ratings:

From:

Avail:

Year-round

Wants

Gots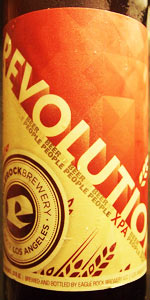 Notes:

4
/5
rDev
+8.4%
look: 4 | smell: 4 | taste: 4 | feel: 4 | overall: 4
A - Pours a slightly hazy golden-orange with a finger of frothy white head. The head fades down at a normal pace leaving behind some nice lacing.
S - Aroma is a mix of grapefruit, citrus, and light pine hops with some caramel, pale, and biscuit malts and a bit of lemon zest.
T - Starts off with a mix of pale and caramel malts with some grapefruit, orange, and citrus hops and some bitterness. Through the middle, some pine hops come through with a bit more bitterness and some biscuit malts. The finish is a mix of sweet bready malts, citrus and light pine hops, a bit of bitterness, and some lemon zest.
M - Medium bodied with moderate carbonation. Feels smooth with a dry and lightly sweet and bitter finish.
D - Very drinkable. Nice balanced APA. Good sessionability.
776 characters
2.84
/5
rDev
-23%
look: 4 | smell: 2.5 | taste: 2.5 | feel: 4 | overall: 3
On-tap at Beachwood I,
A: Pours amber with a medium white head with some clingy lace. Nice look.
S: Light, with some citrus and pine, biscuity malt.
T: Spicy hops, grapefruit, grass. Not terribly flavourful, tastes like a Sierra Nevada Pale light. Not a bad flavour, just left wanting.
M: Soft frothy carbonation, light to medium-bodied.
O: An OK pale ale, the flavours are not bad at all, there's just not much of them there.
431 characters
3.67
/5
rDev
-0.5%
look: 3 | smell: 3.5 | taste: 4 | feel: 3.5 | overall: 3.5
Consumed July 2nd, 2012. Poured into a standard pint glass.
Beer appears clear yellow, a shade or two paler than "medium". Good carbonation. One finger white head leaves little lacing.
Grainy and juicy aroma. Some bitter wood as well.
A bit of caramel malt up front, some pine and grapefruit as it finishes. Restrained bitterness. There's a lot of hop flavor here.
Dry and a little prickly on the tongue.
This XPA (extra pale ale) is a decent enough effort, but I think I prefer Stone's Levitation in this sub-genre.
521 characters
3.85
/5
rDev
+4.3%
look: 3.5 | smell: 3.5 | taste: 4 | feel: 4 | overall: 4
I'm starting to see bottles coming out of Eagle Rock Brewing. I'll support the cause by purchasing a 22 ounce bottle of Revolution. On to the beer:
This is a pale orange colored beer, topped off by solid soapy head and a few splashes of lace. The nose leans towards the hop side, "lean" hops. In other words, a hoppiness that provides some raw flowers without the magnificent fruit flavors provided by some. That's fine. Honey graham cracker sneaks in to the bill later on.
Hops are the key in this pale ale. The malt backbone is unheard of until midway through, where it picks up some biscuit and honey notes. The hops are rather raw and provide resin, leaves, and some piney bitterness. It wasn't too unbalanced for me, and with a medium body that's properly carbonated and its easy drinking character, this is a pale ale that's a good option to kick back with.
866 characters

3.97
/5
rDev
+7.6%
look: 4 | smell: 4.5 | taste: 4 | feel: 3.5 | overall: 3.5
The lighter style of APA. The brewer calls it an Extra Pale Ale. Clear golden color with very nice suds. Pleasant mouthfeel with just a little substance to it.
Hops are big in the aroma. A nice fresh hop cone smell, more floral than spicy. Some of the pine and citrus rind flavors, but not overly bitter. The bitterness does linger after you've sipped for a while. Though this is more of a quaffing beer. Some malty flavor to start, more biscuit in the aftertaste. Great nose of resiny hops and cereal. I look forward to tasting more from Eagle Rock. They seem to have done a clean job on this light, modest alcohol brew.
22 oz bottle from Best Damn in San Diego. Nice color scheme and graphics on the label. I took the photo.
728 characters

2.4
/5
rDev
-35%
look: 3 | smell: 3 | taste: 2 | feel: 2 | overall: 2.5
22 fl oz brown glass bottle with standard pressure cap served into a Disneyland scotch ale thimble glass in me gaff in low altitude Los Angeles, California. Reviewed live. Expectations are low given the brewery. ABV listed as 5.2%. Acquired at Wally's Wine in Westwood, California.
Served refrigerator cold and allowed to warm over the course of consumption. Not paired with food. My second beer of the night.
A: Pours a 2.5 finger head of slight cream, decent thickness, and good retention - though the ABV is merely 5.2%. Colour is a clear boring yellow.
Sm: Pleasant floral hops. Appealing. A mild to moderate strength aroma.
T: Floral hops atop a clean malt foundation. Simple but pleasant. Boring and bland for the style. No layering, complexity, or subtlety. Too full-bodied for the lack of flavour. Imbalanced and badly built.
Mf: Smooth and wet, with entirely too much thickness. Overcarbonated.
Dr: Difficult to drink given its overdone thickness and lack of appealing flavour. I wouldn't get this again. A bad pale ale. Priced pretty high as well, even in Los Angeles. This is a small brewery I won't be supporting.
D+
1,142 characters
3.58
/5
rDev
-3%
look: 4 | smell: 3.5 | taste: 3.5 | feel: 4 | overall: 3.5
On tap at Eagle Rock Brewery in Los Angeles, CA.
Pours a slightly hazy light orange with a foamy white head that settles to a film on top of the beer. Thick rings of lace line the glass on the drink down. Smell is of citrus zest, tropical fruit, and some herbal hops. Taste is of citrus zest, herbal hops, and slight tropical fruit and malt flavors. There is a mild bitterness on the palate after each sip. This beer has a good level of carbonation with a crisp mouthfeel. Overall, this a pretty good beer but I think it tastes better than it smells.
551 characters
3.5
/5
rDev
-5.1%
look: 3.5 | smell: 3.5 | taste: 3.5 | feel: 3.5 | overall: 3.5
One of my favorite light pale ales.
This is an easily sessionable brew. Crisp hops, a little buttery malt. Carbonation is spot on.
This is a beer that needs to be bottled or better yet, canned. I'd love to drink a sixer of this on a porch or on the beach.
256 characters

3.44
/5
rDev
-6.8%
look: 4.5 | smell: 3 | taste: 3.5 | feel: 3.5 | overall: 3.5
939th Review on BA
Draft to Pint
16 oz
@Eureka!Burger, Claremont, CA
App- This was a golden amber Orange with a ½ finger of head. A good amount of sheen and cling. Fell to a generous pond layer of head.
Smell- A small citrus aroma with a bit of stinging malt behind it. Only a touch of hop oil to it. On a big whiff more wheat came up. A little one sided.
Taste- It's tasty but needs to be thinned out a bit. More malty and spicy forward flavors. Again, a tad one sided with a good bit of grapefruit flavors and only a very small note of hops.
Mouth- Medium bodied and Medium carbonation. A thicker feeling APA with more malts on the residual flavors.
Drink- Overall, its pretty good. Better than average but not wowing by any means. Needs a bit more citrus pop for me.
776 characters

3.58
/5
rDev
-3%
look: 4 | smell: 3.5 | taste: 3.5 | feel: 4 | overall: 3.5
On-tap at Eureka!Burger Claremont
A: The beer pours a light amber color with a creamy off-white head and mild lacing.
S: Smells decently hoppy with some citrus and citrus peel notes. There is quite a bit of bready malt and toffee giving it a mild sweetness. There is a light grass note to it and some mild toast notes.
T: somewhat sweet with bread, toffee, and toasted malts. There is a little bit of citrus hoppiness and some floral hop character. Mild bitterness, and not super hoppy overall. Sort of bland and a really short finish.
M: The body is light to medium with a moderate carbonation.
O: Just pretty bland. It has some decent flavor when you take the sip, but it quickly vanishes.
696 characters
4.1
/5
rDev
+11.1%
look: 4 | smell: 4 | taste: 4 | feel: 4 | overall: 4.5
Pour in my glass is a little bit gold, a little bit blonde brass. Decent head. Very pleasant.
Aroma is smooth and mild, cool California hops over a bready, bright malt base. It could stand to have a bit more presence, but that's a quibble.
Taste is quite nice as well. To be honest, the flavor is unremarkable -- and that's a compliment. Too many small breweries try to take what should be a modest style of beer -- American Pale Ale -- and then knock you over the head with overhopping, or big doses of booze, or something wild and wacky and out of place. None of that here. The flavors are wonderfully clean, and crisp, and balanced. Bright, citrusy hops! A sturdy, nuanced, studied malt balance! This is American Pale Ale, by the stylebook, to the letter. What more do you need?
Mouthfeel is right on par as well, not too much fizz, but not dead in the glass either.
Drinkability is lovely; a few glasses could disappear before you know it.
In short, this is a wonderful brew. Furthermore, to have quality control this good at a brewery this small is quite the achievement.
The only thing that I didn't care for was the name; there's nothing revolutionary about this at all. On second thought, in today's brewing landscape, perhaps it is. Bravo.
1,255 characters
4
/5
rDev
+8.4%
look: 4 | smell: 4 | taste: 4 | feel: 4 | overall: 4
Had this at the brewery. Golden color poured into pint glass. The smell of citrus off the glass. Light hoppy taste off the first sip. Nice mouthfeel,not overwhelming. Good drinkability with a light hoppy flavor. This was the second beer I had (Red Velvet, Solidarity being the others). Good for a few more.
306 characters
4.03
/5
rDev
+9.2%
look: 4.5 | smell: 4 | taste: 4 | feel: 4 | overall: 4
Listed as an xpa, typing this while sitting in the tasting room.
Fairly clear pour with small white head, dissapates quick.
Light floral smell, fairly restrained aroma.
Nice light bitterness with citrus and fruity hop flavors, leaves a nice bitterness on the pallet. Very drinkable, a little rough around the edges, nice beer for a hot day, can't wait for summer.
*UPDATE* New batch of this is clean, crisp, nicely citrusy and hoppy, very enjoyable, my score reflects the new batch.
486 characters
Revolution from Eagle Rock Brewery
Beer rating:
84
out of
100
with
72
ratings