Kamenitza Svetlo
| Kamenitza AD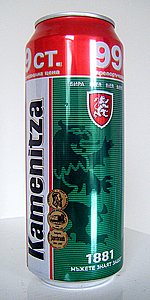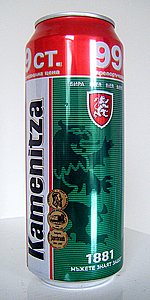 BEER INFO
Brewed by:
Kamenitza AD
Bulgaria
kamenitza.bg
Style:
American Adjunct Lager
Alcohol by volume (ABV):
4.40%
Availability:
Year-round
Notes / Commercial Description:
No notes at this time.
Added by BeerAdvocate on 03-01-2005
HISTOGRAM
Ratings: 11 | Reviews: 10
Reviews by wl0307:
3.03
/5
rDev
+7.1%
look: 3.5 | smell: 3 | taste: 3 | feel: 3 | overall: 3
Tis the second time to try the bottle version of this beer; BB 24/10/2010, served chilled in a straight imperial pint glass.
A: pours a clear, straw-ish colour, coming with a nice white frothy head leaving even sheets of lacing as it retreats, on top of constant streams of mid-sized bubbles.
S: clean, there's not much aroma yet no undesirable cloying notes of adjunct, either; a close sniff reveals mildly lemony notes of a standard lager beer, light lager malts and rather moderate hint of German hops.
T: following an initially clean and light-bodied swallow of lager malts and mildly sour-ish flavour of a standard lager bier, an overly light body against a semi-sticky feel manifests, as a result of adjunct or inferior malt wash. The finish is filled with the aforementioned semi-sticky feel and a lightly... "dried corn"-ish grainy undertone, but floral hints of hops and a faintly dry touch are still available to be picked up...
M&D: the carbonation is moderate, not too fizzy, while the body remains medium to light for a 4.4%abv. lager. All in all, this beer shows its downside with the semi-sticky mouthfeel that simply refuses to go away after one or two sips. I once had this beer to go with Bulgarian kebabcheto and it proved much better (or less unimpressive) with food...!
1,291 characters
More User Reviews:
2
/5
rDev
-29.3%
look: 2 | smell: 2 | taste: 2 | feel: 2 | overall: 2

1.97
/5
rDev
-30.4%
look: 3.5 | smell: 1.5 | taste: 1.5 | feel: 3 | overall: 2.5
Served in a Chicago Bears shaker pint glass.
Dont'cha just love finding beers from random countries at the local store? This one pours a clear pale straw topped by a finger of quickly-dying white foam that emits a swan song akin to recently-milked Rice Krispies. The nose comprises vinyl, puffed rice, and meek corn syrup. The taste holds notes of fried wheat, melted vinyl, rubber, and Todor Zhivkov's brutality (look it up). The body is pretty light, with a moderate carbonation and a watery feel. Overall, I can only hope that this beer has gone bad (though the date, indicating that it is best by a few months from now, says otherwise), as it is quite nasty. Seriously. And somehow this couldn't wait for the start of Swill Tour 2010...
741 characters
2.65
/5
rDev
-6.4%
look: 2.5 | smell: 2.5 | taste: 2.5 | feel: 3 | overall: 3
330 ml. bottle - Golden yellow- short lasting white head – nose yeast , corn , skunk , hopps and slight metallic - taste sweet skunk, yeast, lime peel, lemon juice, corn , and a hint of hopps – light , dry body- aftertaste dry short salty, and acidic
252 characters

3.33
/5
rDev
+17.7%
look: 3.5 | smell: 3 | taste: 3.5 | feel: 3 | overall: 3.5
Poured from 500mL bottle into a pint glass.
Appearance: clear, light golden color with two fingers of rapidly-dissipating white head. This actually has a relatively nice, rich color for the style.
Smell: sweet malt with a touch of grain. Basically no notable hop aroma here.
Taste: again, sweet malt with a touch of grain. There is a hint of hop bitterness here but it is not all that much. For an adjunct lager, it's actually not too bad.
Mouthfeel: relatively thin; carbonation isn't that high either so there's not much interesting here.
Drinkability: not bad. As relatively low-grade hot-weather beers go, you could do a lot worse.
641 characters

3.77
/5
rDev
+33.2%
look: 3 | smell: 3.5 | taste: 4 | feel: 3.5 | overall: 4
Bottle into Ball Mason jar.
A: From the bottle with 1881 writ on it. 2 finger head over a nice gold body. Minimal lacing. Head completely dissipates.
S: Nice floral euro hops and pale malts.
T: Very nicely balanced. Malt plays well with the hops. An almost sweet start gives way to a nice dry slightly bitter end.
M: Light bodied definitely a bit more than its American Adjunct Lager label. Its anything this is a nice example of a euro pale ale.
D: Very good.
466 characters

2.44
/5
rDev
-13.8%
look: 4 | smell: 2.5 | taste: 2 | feel: 3 | overall: 2.5
Look: pours a clear yellow-straw color with a white head.
Smell: Light in everything, malts, citrus, hops and straw.
Taste: Full of sweet malts and straw. Light bitterness and bit spicy in the aftertaste
Mouthfeel: Medium carbonation and watery body
Overall: Not too pleasant. Overwhelming straw taste is not to my liking in this style
335 characters

2.24
/5
rDev
-20.8%
look: 1 | smell: 2 | taste: 2.5 | feel: 2 | overall: 2.5
Had on draft in Varna, Bulgaria near the aquarium
A: pale yellow, no carb beads, no head, flat as pita bread
S: stale bready aroma; old, yeasty; not a typical macrobrew smell
T: not as bad as it could be, and other Bulgarian beers are; brown banana and a bit of pear come through what is a typical lager
M: bit watery and dead
Overall, nothing to go out of your way for; but by other reviews it sounds like I did all right by getting it on draft in Varna.
457 characters
2.31
/5
rDev
-18.4%
look: 3.5 | smell: 2.5 | taste: 2 | feel: 2 | overall: 2.5
Lucid lemon with large bubbles amassing on the bottom of the glass, then breaking free and slamming into the underside of a pretty good looking slice of eggshell colored foam. Not bad in the lace department either.
American adjunct lager? Seriously? The beer smells like a classic Euro pale lager, with the usual lack of maltiness and big whiff of musky-grassy hops. Light lager would work better than either one since Svetlo means 'light' and the ABV is what it is.
Kamenitza Svetlo (1881) tastes exactly like a light Euro pale lager should. That doesn't mean it tastes good, although might less of something that typically isn't enjoyable be more enjoyable? There isn't much to work with, but I'll do my best.
Barley is mighty scarce... and hops are too. KS tastes like it smells (see above), so I won't repeat myself. Let's try it this way: fill a glass 2/3 with any of hundreds of Euro pale lagers that should be available all across America, top it off with mineral water, stir and enjoy. Actually, that last one is strictly optional.
The mouthfeel is not only lighter than light, its perilously close to water-like thanks to very few bubbles. Maybe that's why the above instructions didn't say to add *sparkling* water. Yeesh, this is bad beer.
My only other Bulgarian brew prior to Kamenitza Svetlo was Zagorka Special. That one was a pleasant surprise and this one is a disappointment. Oh well, at least the svelte Bulgarians have something to drink that might help them stay that way.
1,500 characters
3.45
/5
rDev
+21.9%
look: 3.5 | smell: 3.5 | taste: 3.5 | feel: 3 | overall: 3.5
50 cl can brought home from Bulgaria by my brother. Clear golden color, fairly big lasting medium creamy white head. Fresh malty, a little bit sour, scent. Malty taste with some fruity aftertaste. Medium body, rather high bitterness. Probably an excellent drink for hot summer days.
282 characters

3.96
/5
rDev
+39.9%
look: 4.5 | smell: 3.5 | taste: 4 | feel: 3.5 | overall: 4.5
50 cl into a pint - gotta love the metric system
A - Very bright golden to straw color. Very clear, obviously well filtered. Hangs around with a 1mm head, down to a film. right and clean white.
S - Light nose, but some pilsner malts come through. Seems malt/grainy in its lead.
T - Starts off with a huge pilsner malt note - very strong for its apparent light malt density. In fact, pils owns this thing through and through. Mid-stream does get a bit dry, more grainy astringency. Finishes smooth, with a macro lager clean finish.
M - Light body, light carbonation. Very smooth - clean finish. Certainly an American macro from the continent to the east.
D - Supremely drinkable. How can you go wrong with this ABV, a nice pilsner taste, and not being very filling.
I was shocked with the quality of this beer - i feel like this is a pils straight out of Pilsen with all the drinkable qualities of it. I would challenge whoever classified it as an adjunct to substantiate that as the flavors do not seem to show any rice, corn, or other.
1,044 characters
Kamenitza Svetlo from Kamenitza AD
Beer rating:
2.83
out of
5
with
11
ratings