Dismiss Notice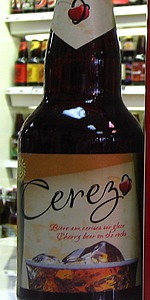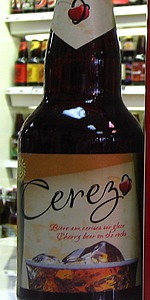 BEER INFO
Brewed by:
Unibroue
Quebec
,
Canada
unibroue.com
Style:
Fruit / Vegetable Beer
Alcohol by volume (ABV):
7.50%
Availability:
Year-round
Notes / Commercial Description:
No notes at this time.
Added by Beersignal on 11-26-2005
This beer is retired; no longer brewed.
HISTOGRAM
Ratings: 10 | Reviews: 9
Reviews by eric5bellies:
More User Reviews:
3.48
/5
rDev
+18.4%
look: 3.5 | smell: 3 | taste: 3.5 | feel: 3.5 | overall: 4
Solid light red colour. Nothing in a head, and true cherry aroma. I was expecting some bad soda pop but instead got true cherry flavour, a bit overcarbonated, but very quaffable. A thirst quencher. Average on mouthfeel, not too thin a body. Secondary mint, other herbs, not too sweet. For people not onto regular beer. Misunderstood and underated.
347 characters
1.38
/5
rDev
-53.1%
look: 2 | smell: 1.5 | taste: 1 | feel: 1 | overall: 2
Bottle: Poured a bright pink/red color ale with a nice bubbly light pinkish head with average retention. Aroma of sweet cherries is totally dominating. Taste is extremely sweet with subtle background hints of tart. I just can't believe of the amount of bad cherry syrup there is in here and even worse it just taste like cough syrup. By far, the worst beer from Unibroue.
372 characters

4
/5
rDev
+36.1%
look: 4 | smell: 4 | taste: 4 | feel: 4 | overall: 4
Poured out into my 3 Monts glass with a couple of cubes of ice, as it says. Poured out a dark ruby, with glints of red orange in the light. The head was thick and big, with a good 2cm of lacing on the top after it had dissipitated.
Lots and lots of sweet cherry in the aroma, with some hints of Cinnamon, sugars. Similar to the smell of the Quelce Chose when it had been heated up, without the sourness.
Sweet Cherry is all that this is. There is still that hint of cinammon and sugars in the back, but its all about the sweetness of the cherry. And it is fantastic!
I could guzzle this down all night long. It is very similar to a Kriek, without the sourness. I have found my perfect beer, hahaha.
701 characters
3
/5
rDev
+2%
look: 3 | smell: 3 | taste: 3 | feel: 3 | overall: 3
a: hazy ruby red color with no head, some carbonation around ends
s: cherries & more cherries -- nuff said
t: shocker - cherries, cherries & more cherries, with a slightly bittersweet aftertaste & alchohol
m: flat until the carbonated finish, almost syrupy, with
d: not bad given the style -- i took the style for granted last time i had a unibroue fruit beer & was mightily disappointed given their usual exceptional line of beers. this one wasn't nearly as bad but i won't go out of my way for it. & i did take the bottle advice & drink this one cold which made it better than my quelque chose experience.
612 characters
3.4
/5
rDev
+15.6%
look: 3 | smell: 3 | taste: 3.5 | feel: 4 | overall: 3.5
A clean dark amber beer with a distinct red tint. The head is beige with a pink tint. The aroma .... sour cherries. The taste and mouthfeel are a bit suprising with the mouthfeel coming across as silky and creamy and a light prickly carbonation. The flavor starts with the strong cherry note and some nice spicey bits (corriander, cinnamon?) with a sweetmalty note in the middle. The finish has a dry tartness.
410 characters
3.32
/5
rDev
+12.9%
look: 3 | smell: 3.5 | taste: 3.5 | feel: 3 | overall: 3
A - Pours into a pint glass murky and dark pink. Virtually no head and a touch of lacing.
S - Funnily enough it has a strong cherry smell.
T - A strong medicinal cherry flavour basically dominates.
M - Cloyingly sweet. Fairly full bodied with medium carbonation.
D - Nothing that I'd activly look for but for a fruit beer it isn't too bad. Most fruit beers don't have enough of the fruit flavour that they are advertisng, this certainly does.
442 characters
1.8
/5
rDev
-38.8%
look: 2 | smell: 2 | taste: 1.5 | feel: 2 | overall: 2
Wow! Is this a sign of things to come? Unibroue has developed a genuine alcopop! Influences of Sleeman slowly permeating into the venerated belgian brewer's recipes. I found this at Metro Joanette and, from the label, I thought it was another Johnny come lately to the micro scene in Québec trying to make a fast $$ from a burgeoning craft beer market. To develop further, serving suggestion on the label states that this beer should be drunk ice cold and ON THE ROCKS!!?? WTF!?!
The appearance is the first sign of disappointment. It pours a lively crimson colour with a faded pink cap of white foam over a crystal clear and initially spritzy bead that craps out inside of two minutes. The head fades away just as quickly, leaving what looks somewhat like a flat glass of watered down cherry cola.
The aromas are synthetic in character and remind me more of cola flavoured sweet tarts than any cherry spiced brew I have ever had. Chapeau kriek is more natural in aroma than this olfactory train wreck. We are far from Quelque Chose.
The flavours and mouthfeel are in-line with the aromas as they reflect not the natural cherries the label claims are used in the brewing process but again a cloying, sickly sweet artificial flavouring more reminescent of those chalky candies I used to eat when I was 10 years old. No balance is to be found and nary a trace of bitterness to cleanse the palate was dected. A great disappointment indeed.
I rarely rip into a beer like I have done with this one, but this is by far the weakest effort ever issued from the Unibroue conditioning tanks. It is unfortunate and I hope it is not a sign of things to come under Sleeman ownership because this type of product could surely do irreparable damage to Unibroue's solid reputation in the eyes of certain belgian beer enthusiasts.
1,826 characters
2.35
/5
rDev
-20.1%
look: 3.5 | smell: 3.5 | taste: 2 | feel: 3 | overall: 1
Poured out a honey brown with a thin white head. Lots of lacing. The nose is crisp, fake cherry, sour, bitter, robitusum, medicine, and some bacterial sourness. The taste made me go "zwuahhh!?" Such a drastic flavor, like taking medicine. It's a bad flavor being masked by a fake tastin fruit flavor. Aweful Lots of bad cherry, fake medicine, pineapple, crap. Blah. Horrendous. So painful. The mouthfeel? Seriously. It's great when I spit it out. Please don't ask me about the drinkability. For shame Canada.
508 characters
2.91
/5
rDev
-1%
look: 4 | smell: 3 | taste: 3 | feel: 2.5 | overall: 2.5
Appearance - 4.0
Not served on ice as suggested, just into a Unibroue tulip straight from the fridge. Poured a finger of bubbly pink head over a deep, dark red body that is barely penetrated by light.
Smell - 3.0
Very sweet but not a lot of aroma apart from the sugar sweetness. Cherry jam is there with a slight sour edge.
Taste - 3.0
Sweet with plenty of cherry flavour, not unlike Belle Vue Kriek. Quite medicinal, fresh cherry flavour with lots of sugar sweetness, slightly sour with a hint of mint. Oversweet to the point of being a clear flaw.
Mouthfeel - 2.5
Nice, fine carbonation is moderate. The beer feels thick, sticky and heavy in the mouth and left my mouth feeling as though I had been sucking on candy.
Drinkability - 2.5
As a normal beer I would score this lower due to the almost sickly sweetness. It is much better when ice cold - I'll have it with ice next time.
OVERALL - 3.1
I'm sure this would be lovely with ice - it gets too sweet with even a little warmth. Not a great beer for a casual drink, but interesting if you are looking for something different.
1,084 characters
Cerezo from Unibroue
Beer rating:
2.94
out of
5
with
10
ratings