Dismiss Notice
"Requisite" Imperialistic Stout
| Stillwater Artisanal Ales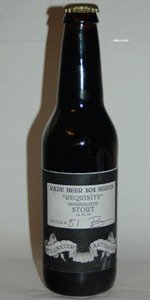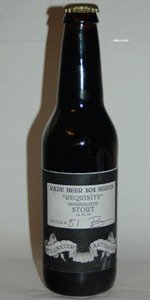 BEER INFO
Brewed by:
Stillwater Artisanal Ales
Maryland
,
United States
stillwater-artisanal.com
Style:
American Double / Imperial Stout
Alcohol by volume (ABV):
9.00%
Availability:
Limited (brewed once)
Notes / Commercial Description:
No notes at this time.
Added by timtim on 10-11-2010
This beer is retired; no longer brewed.
HISTOGRAM
Ratings: 14 | Reviews: 9
Reviews by yourefragile:
3.95
/5
rDev
+5.6%
look: 4 | smell: 4 | taste: 4 | feel: 3.5 | overall: 4
12 oz bottle, purchased at Max's during BBW 2010.
Pours a dark chocolate brown, with a thin tan head that fades to a thin collar and no lace. Rich, roast nose of malt of chocolate, raisin, plum and brown sugar. Slightly thin, watery body with light carbonation, but flavor is holding up and follows the nose. Brown sugar, caramel malt, and light roast start the flavor and finish with a stronger roast and molasses chewiness. Finish has a little cardboard and oxidization, but otherwise this is tasting better now than it did fresh. Thankfully, you can taste how rare this is (which covers up the age for the most part) and as far as Stillwater dark beers go (ok, I'm only comparing this to Folklore) is much prepared.
720 characters
More User Reviews:
3.61
/5
rDev
-3.5%
look: 3 | smell: 4.5 | taste: 3.5 | feel: 3.5 | overall: 3
Thanks to cosmicevan (Evan) for this one. Sampled at a tasting 1/5/11. 4oz. pour from a 12oz. bottle into a snifter. Reviewed from notes.
A: Pours a very thin, .5 finger, off-white head with little retention. Beer is a dark, almost opaque, dark amber. Lacing is stringy with moderate stick.
S: Nose is one of the most unique that I've ever experienced in a beer. Black raspberry desert chocolate. Sweet alcohol, and plum. Very aromatic, dark fruity, and fudgey.
T: Opens sweet fruit. Plum, sweet soy sauce, liquified raspberries and raspberry jam. Slightly smokey and tart in the back. Vanilla, fudge, and chocolate. Finish is slight coffee and chocolate sweetness. Little to no aftertaste.
M: Medium bodied and with low carbonation. Oily and filmy in the mouth. Sticks to and coats the palate. Goes down smooth and silky. Finish is messy with a surprisingly non-existant aftertaste.
D: Described as an "experimental" beer, this one is definitely unique. Worth a try as I've never experienced a prominent chocolate raspberry taste in my imperial stouts before and I think I like it! Beer is a bit thin at parts though and appearance is slightly off.
1,159 characters

3.66
/5
rDev
-2.1%
look: 4 | smell: 3 | taste: 4 | feel: 4 | overall: 3.5
Bottle #62. Picked up at Max's on release day. Served in a tulip glass.
Pours black with a single-finger head that eventually falls to a very thin tan cap and a fairly-thick collar. The nose has a bit of Belgian character, though I vaguely recall Brian saying that he didn't actually use Belgian yeast in this. The nose is also slightly roasty though it has a bit of a medicinal characteristic as well. The taste is roasty and brings a slight bit of creaminess from the mouthfeel. There is also a bit of chocolate in the background. Medium body and definitely roasty throughout with a bit of dryness. No booze. Pretty good overall, though it could probably use a bit more time.
678 characters

3.75
/5
rDev
+0.3%
look: 4 | smell: 4 | taste: 3.5 | feel: 3.5 | overall: 4
Bottle received from Thorpe429 in the Generosity BIF.
A - Blackish beer that turns brown on the edges. Kind of a lighter color for a stout. Off-white head that left a little bit of stick and lacing.
S - Some dark fruits and berries. Also has the requisite (get it?) chocolate malts and slightly roasted notes. It's a pretty sweet, but not sugary sweet, smelling stout. I like the berries and dark fruits.
T - Fruit, some roasted coffee, chocolate fudge, and a little smoke. Taste is alright, but a little bit of a letdown from the nose.
M - Medium bodied, lower carbonation.
O - Interesting beer, can't say I love it, but glad to have tried it. Got some different stuff going on, worth giving a go.
703 characters

3.89
/5
rDev
+4%
look: 3 | smell: 4 | taste: 4 | feel: 4.5 | overall: 3.5
Big thanks to my buddy Dan for sharing this one!
Marked as Bottle #21
A- Poured from the bottle with a thin tan head, which quickly evaporated to reveal a completely opaque still black body.
S- Smells of roasted and stewed malts up combined with impressions of dried licorice and dark fruit, and just a whiff of smoke and sawdust. A moderately rich nose overall.
T- Rich roasted and stewed malts up-front are met with a touch of smoke in the middle, turning to a tannic, slightly bitter finish, which lingers tremendously on the tongue. There's an oaky and briny retronasal effect here as well. Incredibly dry and dynamic, but the flavors are a bit muddled- the only thing keeping this from being a 4.5 in the flavor department.
M- Medium-plus body with a tremendously pervasive soft and creamy carbonation. Moderately high astringency and a soft EtOH heat. A fantasticly crafted mouthfeel.
D- This is definitely a sipper- and a nice treat to split amongst friends.
971 characters
3.59
/5
rDev
-4%
look: 3 | smell: 4 | taste: 3.5 | feel: 3.5 | overall: 3.5
Shared bottle #71/101 with speedwayjim, capra12, billyshears. Thanks to 321jeff for the trade!!!
a-Poured a watery black with no head, no lacing, nothing too pretty. Head was a bit creamy and could be stirred up slightly with some heavy glass swirling.
s-Different for sure. Some sort of coffee and cream maybe. Interesting...some dark fruit in there.
t-We had a hard time putting our finger on what it was until capra12 mentioned black raspberry and bing...that is the flavor/smell. Pretty much a stout with a black raspberry overtone.
m-Smooth and medium bodied.
d-Really different and interesting. One of those beers you can't really tell if you love it or hate it...just that you've never had anything quite like it before. Glad I tried it and I've heard that this was some sort of experimental brew and if so, came out pretty good...not anything worth doing in larger quantities.
889 characters
3.5
/5
rDev
-6.4%
look: 4 | smell: 1.5 | taste: 4 | feel: 4 | overall: 4.5
Picked this up on release day at Max's with a friend. He got bottle #73, I got #74. Tonight we cracked his bottle and split into two Ommegang glasses.
I hate to say this, but the initial aroma was of wet dog. Really. Musky, earthy funk, not the good kind. Not pleasing at all. But things improve from there. Very light mouth feel, lingers just a tad. Nice typical stout flavor profile, tastes of some depth but not as much as other imperial stouts. Slight alcohol hints in the lingering notes, though not of 8.5-9%ABV. Little, if any, lacing. Overall the flavor was decent. A very drinkable brew.
We've still got my bottle which we'll save for some time to see how it matures.
At $14 a bottle, I'm not impressed. But, this may change as it ages.
748 characters

4.15
/5
rDev
+11%
look: 4.5 | smell: 4.5 | taste: 4 | feel: 4 | overall: 4
Bottle courtesy of Mike (thorpe429). Served in a Kuhnhenn goblet. Bottle #39.
A - Slight gusher, so be ready - my bottle was filled nearly to the brim. Generous dark tan foam that settles to a thick cap - there's a weird two-tone head going on, as the bubbles replenishing the cap are darker than the initial foam. Minimal lacing. Black body, with a hint of brown at the bottom of the glass. Lots of sediment, so pour carefully.
S - Even though I hear there isn't Belgian yeast in this, the flavor profile is quite reminiscent of other Belgain stouts - lots of dark fruits, berries, candied cherries, tobacco, coffee, milk chocolate, French Vanilla coffee, and bread. There's a mild green appleskin note as well as a light mustiness. Alcohol isn't really noticeable. In any case, quite rich, complex, and enjoyable.
T - Taste is heavy on chocolate-covered berries, milk chocolate syrup, dark fruits, candi sugar, and yeast, with only light roast characteristics. Again, there's a mild earthiness, green apple, and medicinal note in the finish mingling with dark chocolate bitterness - brett perhaps? In any case, I'd swear this used Belgian yeast of some sort.
M - Smooth, creamy, and milkshake-like, with initially active carbonation that eventually dissipates. Perhaps a tad watery for 9%, but otherwise quite pleasant.
D - I liked this beer quite a bit. Apparently waiting over 18 months to open it helped, as it seems significantly more enjoyable than others have painted it. I had no problem downing the entire 12oz bottle over the course of a few hours. I'd happily drink this again if Brian bothered to make another batch (and didn't charge $14). Definitely one of the best Stillwater offerings I've had.
1,716 characters
4.5
/5
rDev
+20.3%
look: 4.5 | smell: 4.5 | taste: 4.5 | feel: 4.5 | overall: 4.5
I guess Belgian-style Stout isn't a category, but that's what i would consider this one. Maybe it's an old-school style imperial stout. I don't really know, but I'm curious to find out what kind of yeast, etc. that went in to this one, and I'll update when i find out. It's delicious, I can say that much. Anyways... here we go. Rare Beer 101 Series. Bottle #25 from 75 bottle release available only at Max's in Baltimore on 10.10.10 at 10am. Pitch black with a tan head that holds well and leaves proper lace. Gorgeous nose... full of roasty goodness, scents of chocolate (bittersweet and dark) and coffee, some dark fruits, hops, wet earth and a touch of a vinous character in the back. Yum. Proper is the name of the game here. Taste is bitter at first, like roast bitter or espresso bitter, with complex, gear-turning goodness full of fruit and flavor in the middle and a chocolaty finish that comes off pretty dry, although a pleasant sweetness rounds everything out. As it warms, the sweetness shows a bit more and the old-school style vinousness comes out a bit more as well. Mouthfeel is slick and creamy, and the beer goes down without getting sticky like a lot of other stouts of this magnitude. Body is full and definitely not prickly, yet retains a lightness that makes it very easy to drink. Brought the other half with me, so we managed to get two bottles. Can't wait to see how this tastes with a little age on it. Definitely worth getting up on a Sunday morning for. Maybe in a while we'll get some Stillwater sours? Thank you Stillwater. Thank you Max's.
edit: oops! 9%abv with ale yeast, belgian candi sugar and a pretty complex malt bill... guess that makes this an Imperial Stout... ?
1,705 characters
"Requisite" Imperialistic Stout from Stillwater Artisanal Ales
Beer rating:
3.74
out of
5
with
14
ratings