Little Green Dry Hop Saison
| Flat Tail Brewing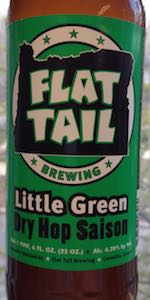 BEER INFO
Brewed by:
Flat Tail Brewing
Oregon
,
United States
flattailcorvallis.com
Style:
Saison / Farmhouse Ale
Alcohol by volume (ABV):
4.20%
Availability:
Year-round
Notes / Commercial Description:
No notes at this time.
Added by artoolemomo on 07-29-2013
Reviews: 11 | Ratings: 46

3.72
/5
rDev
-3.1%
look: 3.5 | smell: 4 | taste: 3.5 | feel: 4 | overall: 3.75
12 oz can
This beer was canned about two and a half months ago, but I'm pretty sure I've had cans of this particular beer that were well over 3 months old, and they have tasted fine.
A somewhat aggressive pour yields a huge two finger head into my can-style glass. The head is white, and very soapy looking. Body is a pale yellow, relatively cloudy, with a huge amount of carbonation. Silly me, I forgot to swirl the yeast out of the bottom until the last minute, so I didn't get too much of it out. Head retention is decent for a head that I can literally hear fizzing away. Bad looking head, body is not bad.
When first cracked, the beer released a lovely dry hopped aroma, now that it has settled, the hop presence is hard to find. Light Belgian yeast character, banana and clove are there, upon further sniffs. Almost a little lemon too. Hop presence is there, if I look hard enough, slightly fruity. It's smells very refreshing. I just wish the pungency and power that I first got hung around after the dust settled, that's my biggest problem. It's still a very nice aroma. For the style, it's nice to be able to pick up any hops at all, it's a nice hybrid. I'll go 4 here, but it's darn close to a 3.75.
Might be just a hair old here, idk, it doesn't taste oxidized, just not as a remember it. This was brought to my bar strait from the rep, so it's fresh enough for tasting I suppose. The overwhelming flavor is lemon, which is not terrible, but it's not amazing, and it's very confusing. Bitterness lingers in the background from beginning to end. Maybe a hair earthy, but mostly just a clean, light bitterness. Reminds me more of German hops, than the New Zealand and Mosaic they list, though the nose had a bit of the Mosaic coming through. Hardly getting any Belgian yeast, or what I would call Saison flavor. It's just such a light beer. I think it's a little too light, especially considering I can't say it really even tastes like a Saison, and it barely smelled like one. I like what they are doing here, and it is still a very light, refreshing beer, but this is far lighter than I remember this beer being, and too light in general. Overall, not bad, tasty, but too light on the flavor for me.
Mouthfeel is good, carbonation is medium-low. It goes a good job of being dry and "wet" at the same time.
The drinkability is very high, it goes down like nothin.
Overall a very interesting beer. Like I stated, I like what they are going for. I don't think this beers recipe has changed, and I don't think it's an old can, now that I'm drinking more of it. I simply think that when I have had this beer in the past I haven't been critically reviewed it. Now that I'm dissecting it, it's good, but too light on the flavor.
The head retention was actually better than decent, there was a good half finger of head that lasted close to ten minutes after this was poured. The appearance was probably even more interesting than the flavor, overall. The body was quite nice. The head was…not nice, but it did last a while and gave decent lacing. Lacing was soapy, like the head, but decent. Overall, I'd say not bad.
3,216 characters
3.9
/5
rDev
+1.6%
look: 3.75 | smell: 3.75 | taste: 4 | feel: 3.75 | overall: 4
Appearance - Pours hazy and straw yellow in color. White, frothy finger-width head. Fair retention before dying to a thin, broken layer of surface suds and a that thickens around the edge of the glass. Fair lacing, mostly made up of spotting.
Smell - A bit of fruity zing (lemon and pineapple) with some light wheat, spice and green banana notes.
Taste - Follows the nose. Tangy, hoppy note sof lemon and pineapple. Light spice and green banana. A hint of wheat sits beneath. The aftertaste lingers with slight funk and lemon rind bitterness.
Mouthfeel - Light-bodied with moderate, slightly bitey carbonation. Goes down easy. A bit watery on the finish.
Overall - A pretty darn tasty little saison. Saisons aren't normally my thing, but this is one I'll keep in mind when the weather turns warmer.
804 characters

4.21
/5
rDev
+9.6%
look: 4 | smell: 4.25 | taste: 4.25 | feel: 4 | overall: 4.25
I had this beer on-tap in a tulip at the brewery.
Appearance: light golden hue with minimal haze and a nice layer of tan foam. Quite good.
Smell: rich grassy, citrusy hops atop a mild farmhouse character. The hops are excellent.
Taste: lightly grassy hops along with a rather mild saison flavor. It's not super funky, but the hops are just soothing, smooth and with a great flavor.
Mouthfeel: light body with a big carbonation and a fluffy creaminess.
Overall: though it's technically a saison, it's the session IPA the world needs.
542 characters
4.24
/5
rDev
+10.4%
look: 4.5 | smell: 4.25 | taste: 4.25 | feel: 4 | overall: 4.25
A great farmhouse ale. Theres a slight dry hope nose but imo it wasnt needed. This brew is so damn tasty. If u like saisons, chk this local west coast beer out!
160 characters
3.21
/5
rDev
-16.4%
look: 3.5 | smell: 3 | taste: 3.5 | feel: 2.75 | overall: 3
Pours into the glass a light yellow color. The head disappears quickly. Smells slightly sour and citrusy. Tastes more hoppy than traditional saison's, but I can't discern any unique flavors other than a slight spiciness. Maintains carbonation which makes it taste and feel like a mineral or seltzer water.
305 characters

3.63
/5
rDev
-5.5%
look: 3.5 | smell: 3.5 | taste: 3.75 | feel: 3.75 | overall: 3.5
Pours a cloudy pale gold with a nice foamy head that diminishes fast. Lots of lacing.
Not much of a nose, maybe some hops, yeast and a bit of wheat
Lots of hops for a saison and a bit of citrus giving it a nice tartness. No fruit , no spice that I can detect. Tastes more like a pale ale.
Nicely carbonated with a clean crispness. At 4.2% it is highly drinkable and refreshing session beer. I'd recommend it but I like their Kölsch better. Cheers!
450 characters

4.01
/5
rDev
+4.4%
look: 4 | smell: 4.25 | taste: 4 | feel: 3.5 | overall: 4
Light golden color, great hop aroma. Taste is great! Very hop forward, with a pleasant saison finish. I could drink this all day every day. My only negative is that it feels a little over carbonated for my liking. Cheers!
226 characters
3.96
/5
rDev
+3.1%
look: 3.25 | smell: 4 | taste: 4 | feel: 4 | overall: 4
Pours a murky light gold with a foamy bone head that settles to wisps of film on top of the beer. Tiny dots of lace drip into the remaining beer on the drink down. Smell is of citrus zest, Belgian yeast, spice, chalk, and slight tropical fruit aromas. Taste is much the same with citrus zest, spice, and Belgian yeast flavors on the finish. There is a mild amount of hop and yeast bitterness on the palate with each sip. This beer has a good level of carbonation with a crisp mouthfeel. Overall, this is a good beer that is light, tasty, and very easy to drink.
Serving type: can.
581 characters

4
/5
rDev
+4.2%
look: 4 | smell: 4 | taste: 4 | feel: 4 | overall: 4
If I could get this beer, which is marketed as a session saison, for a session price, it would be a go-to. It is actually very tasty, with a piney hop profile very similar to Oskar Blues Pinner. Fans of hop-forward session IPAs should give this a try. It's a bit more funky/yeasty, but the hops still dominate. I could drink this all day.
338 characters

2.73
/5
rDev
-28.9%
look: 3 | smell: 2.5 | taste: 2.75 | feel: 3 | overall: 2.75
A co-worker picked me up a few Oregon varieties for the holidays and this was one of the six he purchased for me. Saisons are really finnicky creatures. I feel like there is such a fine line between success and failure that it is really hard to tell what went wrong, especially considering this beer won a third place medal at the GABF.
The appearance of this beer is really pale and straw colored. In the Christmas lights it glows a very pale yellow with minimal carbonation. The nose is pretty weird. My brother-in-law suggested dirty feet and I have to say that is pretty spot-on. I could not smell anything after that.
I taste yeasty grapefruit and a very prominent mustiness with very little carbonation.
I would drink more from this brewery, but there is nothing here after reviewing my notes that would suggest I come back.
834 characters
3.23
/5
rDev
-15.9%
look: 2.75 | smell: 3.5 | taste: 3.25 | feel: 2.75 | overall: 3.25
Appearance- Pours up absolutely no head excepting a few bubbles which appear as if they would have formed a pure cotton white head. The body is hazy, pale straw/weak lemon which glows a sunny but muddy lemon color when held up to the light.
Nose- Not getting any saison notes yet but there is faint hop profile that has nice mustiness (think armpit or dirty feet). The bottle seems to suggest some citrus- maybe orange, maybe lemon. Pretty subdued but still enjoyable. Fades considerably after a few minutes.
Taste- Some citrus around the edges (orange, lemon) with some grapefruit bordering on orange peel. Hints of spice on the finish from the yeast. The mustiness of the nose is the most dominant aspect of the flavor profile but is rather mild. The spice (mostly clove, some coriander, some cinnamon) starts to fade as I drink more of this beer. At the moment, this beer is slightly above average as it lacks complexity and presence. It also seems somewhat thin. Some fruity esters- a splash of white grape. All around this is a fairly mediocre beer.
Mouthfeel- Light bodied with practically no carbonation. This seems to be a real problem for this brewery. Some styles can sustain this but certainly not a saison. Somewhat of a dry finish.
Drinkability- Very sessionable and pretty cheap for a saison. Unfortunately, it's also pretty boring for a saison as well.
Overall- There's a reason these styles cost money. While this is not a bad beer, I'm on the fence as whether I should suggest trying it. At 5 bucks for a bomber, it won't hurt your wallet but it won't wow your taste buds either.
1,616 characters
Little Green Dry Hop Saison from Flat Tail Brewing
3.84
out of
5
based on
46
ratings.