Lavender Extra Special Oak (LESO)
| Element Brewing Company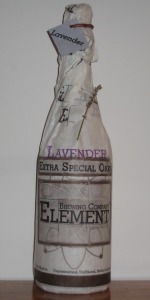 BEER INFO
Brewed by:
Element Brewing Company
Massachusetts
,
United States
elementbeer.com
Style:
English Strong Ale
Alcohol by volume (ABV):
7.75%
Availability:
Fall
Notes / Commercial Description:
We have taken our E.S.O. (Extra Special Oak) and "dry-hopped' it with fresh, organic lavender from South Deerfield, MA. Complex flavors from oak aging are finished with a bright lavender aroma. Very limited release in late summer.
Added by rudzud on 08-23-2012
Reviews: 6 | Ratings: 24

3.92
/5
rDev 0%
look: 4 | smell: 3.75 | taste: 4 | feel: 3.75 | overall: 4
Yum. One of a kind that is distinctive in its flavor profile but not at all like a cheap trick. Light, enjoyable, one of a kind. Definite and surprising lavender/ Had at Hop and Vines in WIlliamstown, Ma
★
204 characters
4.14
/5
rDev
+5.6%
look: 4 | smell: 3.75 | taste: 4.25 | feel: 4 | overall: 4.5
At Union Brewhouse.
Pours a nice clear dark straw with minimal head.
Nice floral nose translates to the taste. Lavender is very well done, subdued. With the oak this is very complex. Nice toast on the finish.
A fan of Element, I need to look for bottles of this.
★
265 characters
4
/5
rDev
+2%
look: 4 | smell: 4 | taste: 4 | feel: 4 | overall: 4
Appearance: 1/3 inch head, medium carbonation, clear, purplish-brown in color
Smell: Lavender dominates, slight oak and toasted malt
Taste: the start is toasted malt light oak, chocolate, and alcohol. Lavender pops in mid taste and dominates to the end.
Mouthfeel: light body, medium carbonation, sweet and oaky with light bitterness.
Overall: I like lavender and this is about as lavender forward a beer as I have ever had. This may not be a hit for everyone, but I really enjoyed this one and its base beer as well. This one has me curious enough to try other Element beers.
★
580 characters
3.87
/5
rDev
-1.3%
look: 3.5 | smell: 4 | taste: 4 | feel: 4 | overall: 3.5
Pours a bubbly fizzy head that attempts to rise to 1 finger but is quickly pushed back to pretty much nothing, semi clear auburn apple juice like brown color.
Nose explodes with lavender, its like those aromatic things my wife puts in the bathroom to make it smell nice, a bit of a lavender soap almost, herbal and aromatic, don't think I've ever smelled a beer like this, ever! A slight herbal thyme aroma as well, and some malts underneath with a bit caramel darker reddish malts, little syrupy, toffee, and some stone apple like fruits from the yeast with hints of esters.
Taste has a lavender and herbal start with bready toasted malts. The lavender comes on strong, then quickly fades for the malts, but then shoots back in waves. An herbal flavor that reminds me of thyme again, and rosemary as well, a very herbal flavor. Effervescent herbs and lavender give way to malts, a little bready and biscuit, with a toasted flavor, almost like pure toast (toasted bread), and light toffee. There is more fruity esters again from the yeast, with a slight yeasty aftertaste. A fair sweetness brings more candy flavors, and almost like candied lavender which is interesting, and touch of phenols with the booze that comes out a bit through the sweetness. Finish brings some warming booze, drinks like its a bit more than 8%, with a little sticky and sweet finish, lots of lingering lavender, thyme and rosemary herbs, and a bit of toffee caramel sweet malts.
Mouth is med to fuller bodied, decent carb, some warming booze.
Overall interesting but hard to drink. The lavender really explodes on all fronts, and adds an herbal flavor that seems like a cross between potpourri and an herbal chicken dish. Lots of the aromatics and effervescent, the beer itself shows through a little with some sweet candy malts, light esters, and a bit of booze. But the lavender is so overpowering it's hard to drink. I'm glad I got to try it, its a very unique beer, but I wish I opened it with a few other people as I now have to finish a 750 by myself. Although it will slow my beer drinking for the night.
★
2,092 characters

3.7
/5
rDev
-5.6%
look: 4 | smell: 4 | taste: 3.5 | feel: 4 | overall: 3.5
A: Pours a very dark amber/brown with a good sized and very fizzy tan head. Fades almost instantly. Just touches of lacing here and there.
S: Loaded with lavender all right. Wonderful fresh floral aroma. Hard to discern much else other than a little toasted malt - it's basically like sniffing a soap bar. Not necessarily in a bad way.
T: Lavender is much more subdued here, thankfully. Toasted malt up front with a bit of nuttiness. Lavender kicks in in the middle especially once it warms up to room temp, with this ultra smooth flowery taste. Almost has a little bit of peppery spice to it. Finishes very oaky with a bit of vanilla and more lingering lavender.
M: Smooth and velvety with a medium body.
O: ESO is a very underrated beer in my opinion. The lavender in this adds complexity but I feel it drowns out the rest of the beer which is normally very good. Unfortunately I don't feel this is an improvement over regular ESO overall, though it is still quite good. Maybe with a little age the lavender might fade a bit and make this a more balanced brew.
★
1,067 characters
4.2
/5
rDev
+7.1%
look: 4 | smell: 4 | taste: 4.5 | feel: 4 | overall: 4
Saw some of this at Julio's and did a double take. What on Earth is this? After some research I guess this is a rather incredibly limited Element release. So these unmarked bottles (only 305 made) take the traditional Extra Special Oak and then "dry hop" it with fresh organic lavender from South Deerfield, MA. As much as I hate Element's paper labels, I really like how they stuck a sprig of dried lavender into the label. Poured into my Duvel tulip.
A - Pours like the regular good ol ESO, a nice crystal clear honeyed amber hue. A good pour yields a fizzy (typical of the staple Element beers) slightly over two finger head that fades to a fizzy, foamy quarter inch blanket. Again, like most of the Element beers, side lacing is unheard of.
S - Heh..Lavender alright. So, the base beer exhibits lots of nice oak and vanilla from it along with nice toasted malts. The addition of "dry hop" lavender though...now we've got a ball game. So the lavender is there, quite floral and perfumey (but not in a potpourri way), and does a rather strong job at mellowing and even masking most of the base aromas; twisting them into something new.
T - Ah...there's the good ol ESO. So it tastes almost completely identical to their regular ESO. Lots of nice oak from the aging process. Its not overpowering, but make no mistake about it this beer is oaky. There are some good toasted malts, but as you begin to taste them, in creeps that lavender, especially as this warms up. It becomes super floral; not sweet and vanilla, but instead good fragrant lavender. The oak returns in the finish, along with some light malt, maybe a touch metallic but that could be my taste buds playing tricks. No alcohol in the taste. The lavender really lingers in the aftertaste.
M - Mouthfeel is like your typical Element as well. In all fairness this is the FIRST Element beer I didnt need a corkscrew and a prayer to open (I've had them all except the 2nd anniversary multiple times). Solid carbonation, alcohol not too noticeable (but still a sipper). The lavender addition actually makes this seem slightly less heavy.
O - Element really needs to look at this beer and realize what their Interval beers should be. This is it. Roughly the same price as their staple beers. Enough with the limited Intervals at almost double the regular bottle price. You can still experiment and keep the price down. Would buy more for the unique experience as this really worked on all fronts.
★
2,461 characters
Lavender Extra Special Oak (LESO) from Element Brewing Company
3.92
out of
5
based on
24
ratings.