Forbidden Fruit Apple Ale
| Cathedral Square Brewery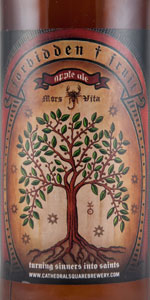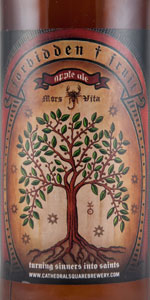 BEER INFO
Brewed by:
Cathedral Square Brewery
Missouri
,
United States
cathedralsquarebrewery.com
Style:
Fruit / Vegetable Beer
Alcohol by volume (ABV):
5.00%
Availability:
Limited (brewed once)
Notes / Commercial Description:
No notes at this time.
Added by zeff80 on 09-02-2011
This beer is retired; no longer brewed.
HISTOGRAM
Ratings: 10 | Reviews: 9
Reviews by JustinMatthew:
1.6
/5
rDev
-33.1%
look: 2 | smell: 2 | taste: 1.5 | feel: 1 | overall: 1.5
Part of a big trade recently.. I'm extremely disappointed he sent me this. Poured from a 22oz in a large chimay goblet.. Golden color, fingers width of white head. Smell is strong in apple, much like a cider. Taste is very bland and disappointing. Just like watered down apple juice and seltzer water.. Gross. Lingering seltzer like mouthfeel between sips. I never wanna drink this again.
388 characters
More User Reviews:


2.33
/5
rDev
-2.5%
look: 4 | smell: 3.5 | taste: 1.5 | feel: 2.5 | overall: 2
22 oz bottle
A - clear golden with a nice white head that lingers; great lacing.
S - apple, bubble gum. Tons of vegetal notes of broccoli and asparagus.
T - no flavor whatsoever. A little mild jolly rancher candy, but not much else. Very diluted apple juice
M - decent carb. Chalky dry finish.
O - smelled great in the bottle but downhill from there. There is potential if there was more flavor, but not something I plan on having again.
443 characters
2.65
/5
rDev
+10.9%
look: 3 | smell: 3 | taste: 2.5 | feel: 2.5 | overall: 2.5
Poured from the bottle a lightly hazy yellow gold with a thin white head.
Aroma of Apple Jolly Rancher candy and a hint of light spiciness.
The taste is grainy with just a bit of green apple. Think light beer mixed with apple cider.
Lighter bodied and slick with moderate carbonation.
An interesting idea but it's not there yet.
332 characters
2.61
/5
rDev
+9.2%
look: 4 | smell: 3 | taste: 2.5 | feel: 2.5 | overall: 2
Nice looking brew, clear and tannish yellow, plenty of head and lace, tons of rising bubbles.
Smell is a little flat apple mixed with some pilsner-ish graininess.
Taste is disappointing but not terrible. Candy apple flavors dominate, but are somewhat on the dry side. An uninteresting malt background follows. The problem is that you can clearly taste apple peels but the bold and crispy center body of a great fresh apple is missing.
Feel is of carbonated apple juice without enough sweetness, and just enough malt to give it a little body.
I think they need to work on this recipe some. It's not something I'd seek out again as-is. However, with some tweaking, this could be a lot better. The idea is fine but the execution needs work.
743 characters
2.59
/5
rDev
+8.4%
look: 4 | smell: 2.5 | taste: 2 | feel: 3.5 | overall: 3
Pours a hazy, gold color. 1/2 inch head of a white color. Great retention and good lacing. Smells of apple, slight sweet malt, hint of pale malt, and a hint of hops. Fits the style of a Fruit / Vegetable Beer. Mouth feel is sharp and crisp, with an average carbonation level. Tastes of sour apple, hint of pale malt, and a hint of hop. Overall, good appearance is the best aspect of the brew. The aroma is mostly sour apple as with the taste. The rest of the ingredients are masked, and the apple is not very good by itself.
524 characters
2.65
/5
rDev
+10.9%
look: 3 | smell: 3 | taste: 2.5 | feel: 2.5 | overall: 2.5
Picked this up on a recent trip to St. Louis. Wasn't expecting much based on the reviews. No freshness dating. Poured from bomber into a tulip. Pours a clear light yellow with a minimal white head. Sparse lacing. Smells readily of apples and a grainy malt. Taste is just as others described, like an apple seltzer. Tastes watered down. Not very appealing. Light in body. Perhaps useful as a food pairing though even then would be disappointing. Deserves a heavier body and more flavor.
485 characters
2.56
/5
rDev
+7.1%
look: 3.5 | smell: 2.5 | taste: 2.5 | feel: 2.5 | overall: 2.5
A - Poured out a clear, golden color with a one-finger, white head of foam. The head receded quickly and left very little lacing.
S - It smelled of sweet apples. Almost like a green apple Jolly Rancher candy.
T - Lots of apple flavor that is mostly sweet and no very tart.
M - It was a little thin and almost tasted a little watered-down. It is a light bodied ale.
O - This one is a miss for me. I like apple ciders and this isn't as good as an average cider.
471 characters
1.67
/5
rDev
-30.1%
look: 3 | smell: 1 | taste: 2 | feel: 1.5 | overall: 1.5
Beer made with 'natural apple flavoring'. Bomber bottle.
Light straw in color with a decent head and good lacing.
May be the worst smelling beer I've had. Smells like sour dog shite that's dried on the bottom of your shoe. Might be a little apple but all I can think of is dogshit. Your welcome.
Taste is better than smell but only in the fact that it doesn't taste like dogshite. Has less taste than an american style light lager. Basically like carbonated water with a very slight fake green apple jolly rancher taste. Pretty horrid.
This is the second beer from this brewery that has been just plain bad for me. First was the beer with agave. From my memory the belgian IPA was ok.
688 characters
2.73
/5
rDev
+14.2%
look: 3.5 | smell: 3 | taste: 2.5 | feel: 3 | overall: 2.5
Bomber poured into a pint glass.
Pours a golden straw color with a very small pure white foamy head. Smell is very faint but is made up of mostly fruit with some grain and yeast notes. Nothing special on the nose. Taste is also not doing much. Very faint notes of fruits but there just isn't anything going on here. Mouthfeel is thin and watery. Overall this isn't that great. Flavor is just too straightforward and lacks a lot.
429 characters
Forbidden Fruit Apple Ale from Cathedral Square Brewery
Beer rating:
2.39
out of
5
with
10
ratings