Dismiss Notice
Dismiss Notice
Vader Black IPA
| Gilgamesh Brewing
BA SCORE
83
good
14
Reviews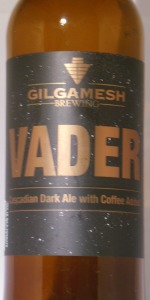 BEER INFO
Brewed by:
Gilgamesh Brewing
Oregon
,
United States
|
website
Style:
American Black Ale
Alcohol by volume (ABV):
6.70%
Availability:
Year-round
Notes / Commercial Description:
No notes at this time.
Added by Reidrover on 03-17-2012
Reviews: 14 | Ratings: 53
3.77
/5
rDev
+3.6%
look: 4 | smell: 3.75 | taste: 3.75 | feel: 3.75 | overall: 3.75
2016-07-09
22oz bottle served in a large mug. Date on the bottle is 10/01/15, so it's...aged.
Pours dark black with deep brown edges, medium sized creamy colored and textured head and not a lot of carbonation. Smell is roasted coffee and malts, and not much else.
Taste is a moderately strong tasting coffee stout with a heavier hop bitterness in the aftertaste. Actually pretty nice.
Mouthfeel is effervescent and surprisingly dry. Overall, not bad.
★
453 characters

3.49
/5
rDev
-4.1%
look: 4 | smell: 3.75 | taste: 3.25 | feel: 3.5 | overall: 3.5
Cascadian Dark Ale brewed with coffee..
12 oz can with 6.4% ABV
Clear dark brown body with a tan head.
Moderately bitter overall and a bit higher in the aftertaste, with burnt coffee and grapefruit (hops) both contributing.
Overall: too bitter and too much burnt coffee and char.
★
280 characters
3.46
/5
rDev
-4.9%
look: 3.75 | smell: 4 | taste: 3.25 | feel: 3.25 | overall: 3.25
Dark blackish brown with s thin round tan head. Head had poor retention. Chocolate cocoa and dark black earth on the nose with a brown sugar sweetness. Taste on the other hand doesn't mirror the taste. The cocoa flavor stays but the bitterness takes it down the dry unsweetened cocoa powder path. A bitter green herbaceous flavor finishes long after the cocoa and lingers with cold bitter coffee with a slight vanilla. Not a hint of sweetness. Finish is very dry. Too dry. Overall, this beer didn't jive with me. The dry bitterness lacked balance and the roasted coffee added an acrid flavor.
★
592 characters
3.43
/5
rDev
-5.8%
look: 4.25 | smell: 3 | taste: 3.5 | feel: 3.5 | overall: 3.5
Very disappointed bottled on date (8-2014) in black ink on brown bottle with black beer inside. Worried from the get go, but the taste was there. Hops a little faded but a nice black coffee bitterness played well with the roasted malts. Very nice porter like color with a beautiful white foam head. Would love to try a fresher bottle.
★
334 characters

2.75
/5
rDev
-24.5%
look: 3.5 | smell: 3.5 | taste: 2.5 | feel: 2 | overall: 2.5
Dark brown with foamy head and good retention. Coffee and earthy hop aroma, almost unfinished yeast also. Good coffee up front to a bitter, very dry finish and tacky linger.
Really good coffee flavor to start but a terribly dirty finish just kills this beer. It also lingers on the palate very unpleasantly.
★
308 characters
3.43
/5
rDev
-5.8%
look: 4 | smell: 3.5 | taste: 3.25 | feel: 3.5 | overall: 3.5
Dark black color, moderately rich, lacey head.
Light to moderate mouthfeel - less rich than the color suggests.
Not a lot on the midpalete, some maltiness. Not a lot on the nose, for me. Some attractive, deeply bitter notes on the long finish; not entirely in balance with the rest of the beer.
They should have spent more time on the recipe for this one - like they couldn't decide what kind of beer they really wanted to make.
★
433 characters

3.77
/5
rDev
+3.6%
look: 4 | smell: 3.75 | taste: 3.75 | feel: 3.75 | overall: 3.75
Poured into a Seattle Beer Week pint glass. Pours a very dark mahogany brown, appearing black in the glass with a half finger khaki head with good retention and lacing. Nice, but light aroma of toasted malt, coffee and grassy, citrus hops. Flavor is citrus hops, dark toasted malt with a hint of char, light brewed coffee; finishes with citrus and grassy hop bitterness and a little charred coffee, a touch astringent. Medium bodied with a hint of creaminess. A well balanced, but somewhat subdued coffee Cascadian Dark Ale. Nice balance of flavors, but the hops seem attenuated. Kudos to Gilgamesh for the date stamp on the bottle, but it is dated 8/2014, over two months old. Odd that they are entering the Washington market with hoppy beers that may be losing their hop nuances. Good enough that I look forward to the IPA I bought at the same time, but I may look for fresher product next time.
★
897 characters

3.3
/5
rDev
-9.3%
Pours two fingers of head on an almost black body.
The aroma has chocolate, coffee and a little lemon and pine. Nice blend.
The taste has a nice moderate pine bitterness throughout, the coffee and roasted malt in the background provide a good balance.
The texture is crisp with moderate carbonation.
Solid.
★
306 characters

3.8
/5
rDev
+4.4%
Label calls it a "Coffee Cascadian Dark Ale". Sounded intriguing when I saw it in the airport gift shop, so I brought one home with me. I enjoy Cascadian Dark Ales as well as the handful of coffee IPAs I've tried, so I was looking forward to this.
The beer's appearance lived up to its name, and the lace clung to the side of my glass all the way down. Aroma reminded me of orange-infused chocolate and coffee, and the taste largely followed suit, but with the coffee more prevalent. I thought this was a very good beer, but I was a bit disappointed that I didn't get as much hop flavor as I expected from a CDA. I felt like the roasty flavors dominated and the hops were just in the background. Maybe it was an old bottle; it was from an airport gift shop, and sadly I didn't see any date on the label. Aside from the lack of hop character I expected, this was a very tasty and drinkable brew. I'll drink it again next time I'm in Oregon.
★
948 characters
4.21
/5
rDev
+15.7%
look: 3.75 | smell: 4 | taste: 4.5 | feel: 3.75 | overall: 4.25
one of the best style fusions i have ever encountered, and my first beer from gilgamesh is a total winner! this thing is awesome. a coffee cascadian dark ale, dark dark brown in color, and holding on to an inch or more of just off white wispy head. it smells intensely earthy and bitter, coffee heavy, but equally robust roasted grain aroma, fresh as they come, and then hopped to high heaven with a mix of bittering and slightly orangey hops. i love it. its coffee first and last in the flavor. up front its balanced by a lot of grain body and a roastiness of its own, maybe a touch of sweetness. on the back end its paired up with the hops, bitter yet juicy, a cool combination with the low acidity coffee and extremely lush full body. deeply earthen vibe to this one, the coffee used is obviously of the highest imaginable quality, and is blended in expertly. still bubbly on the tongue, and a long slightly vegetal bitterness finishes it off. overall im in love with it, have never seen such a cool coffee beer that still fits neatly as an ipa of sorts. truly one of a kind, majorly impressive, and worthy of seeking out. honestly the coffee is almost like another grain in the mash here, it does something different in this than it usually does, and i cant get enough.
★
1,273 characters
3.77
/5
rDev
+3.6%
look: 4 | smell: 3.75 | taste: 3.75 | feel: 3.75 | overall: 3.75
Appearance- Pours up a huge amount of head which seems to have pretty good retention as well. The head is a light beige while the body is a chestnut to chocolate brown that glows burgundy and crimson when held up to the light.
Nose- Small but rounded coffee notes from the bottle which shows more nuance from the glass. It's fairly creamy and hints at caramel and chocolate. Some citrus- mostly oranges. After some time, roasted malt notes start to soar. Swirling shows much of the same. Not mind-blowing, but definitely has some promise.
Taste- Starts off with a nice front of coffee with cream and slight chocolate notes that moves into a middle of citrus (mostly oranges here as well) and then finishes with roasted malts with more of a bitter coffee aspect that mixes with pine and resin from the hops. Not all that complex but it is a fairly effective flavor profile. Good balance and integration. Some caramel that blends with the citrus of the middle and almost becomes burnt caramel with hints of matchstick but the coffee bitterness takes over before this. I've experienced coffee in CDAs (or CDAesque beers) before and I think it's a good way to go. Fair amount of presence but somewhat simplistic. Coffee is pretty solid and doesn't have any sour or acrid notes. Not a great beer but it is a good, solid one. I think some of the lower ratings may be from people who expected a more traditional black IPA rather than a coffee IPA.
Mouthfeel- Almost medium bodied with light carbonation and hints at smoothness and cream.
Drinkability- Fairly accessible and while not all that complex, it does keep my interest. 5 bucks a bomber seems fair and I might purchase this again.
Overall- Good, solid beer. Pretty true to a nascent style while being innovative at the same time. Definitely worth a try and I wouldn't pass this up if it were given to me. Not sure if I would buy it again. The lack of complexity is a factor in that.
★
1,943 characters
4.18
/5
rDev
+14.8%
look: 4.5 | smell: 4 | taste: 4 | feel: 4.5 | overall: 4.5
Served from the bottle into an imperial pint glass.
A- Poured a very dark brown with big fluffy off-white head that left big chunky, cascading lace.
S- Big roasted coffee, citrusy and grapefruit hops, some grassy and piney hop notes. Lots of coffee and hop bitterness in the aroma.
T- Big roasted coffee, piney and grassy hops, pretty big sweet bready notes, caramel syrup, toffee, light earthy notes ,and some light citrusy and grapefruit hops. Huge coffee and hop bitterness from start to finish.
M- Medium body, quite creamy, smooth, and mostly dry finish.
O- I am a big fan of this coffee infused hoppy ale. I had this at a beerfest earlier in the year and it was one of the best beers I had that night, glad to see Gilgamesh has started to bottle it. It has very bold coffee and hop character with high bitterness and it blends together nicely.
★
855 characters
3.6
/5
rDev
-1.1%
look: 3.5 | smell: 3.5 | taste: 3.75 | feel: 3.5 | overall: 3.5
sampler on tap at the Salem Bite Brew-n-Food festival
bit of head, not much, though. fine veil of foam across surface. hops balanced by nice sweetness, a bite of carbonation. transitions from hops into sweetness. dark garnet / brown, finishes with kick at the front of the tongue.
★
281 characters

4
/5
rDev
+9.9%
look: 4 | smell: 4 | taste: 4 | feel: 4 | overall: 4
Pint at Gilgamesh's Lounge in downtown Salem. $4 Dark dark brown with a nice tan head..it was dark in the lounge! Nice roasty coffee, strong porter mixed with resiny hop aromas. Excellent creamy dark coffee taste up front then a nice dose of hop bitterness that lingers pleasantly. Good mouthfeel to this one..thick and tasty. Overall and excellent CDA..one of the better
★
373 characters
Vader Black IPA from Gilgamesh Brewing
83
out of
100
based on
14
ratings.