DJ Jazzy Hef
| Gilgamesh Brewing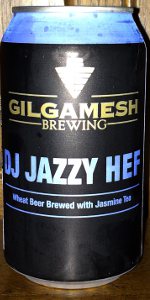 BEER INFO
Brewed by:
Gilgamesh Brewing
Oregon
,
United States
gilgameshbrewing.com
Style:
Hefeweizen
Alcohol by volume (ABV):
5.40%
Availability:
Year-round
Notes / Commercial Description:
No notes at this time.
Added by lacqueredmouse on 07-08-2012
Reviews: 7 | Ratings: 28
3.58
/5
rDev
+16.6%
look: 4.5 | smell: 2.75 | taste: 3.75 | feel: 4 | overall: 3.75
This is a light brew that goes down well and has the slightest taste of jasmine. I wish it was more rich and sour and or sweet. Its an easily pleasable beer for those who like tbe standard wheat beer with a tad sweetness and hop after taste.
241 characters
3.99
/5
rDev
+30%
look: 4 | smell: 3.75 | taste: 4.25 | feel: 3.5 | overall: 4
Apple juice colored with 20% opacity, fluffy head that is smaller than most but retains its density quite well. No lace.
Smells of banana, rotten banana, washed wheat, and clean water. Faint orange squirts too.
A surprising amount of juicy orange in the flavor, with banana accents and just more juiciness. Tangy yeast overwhelms the profile with a light sour character but more zing than anything. Malts and wheat also make a formidable wall.
Mostly a carbonated feel, medium bodied but zero creaminess. Semi dry and crisp finish.
Jazzy is probably a good adjective for this beer. It's juicy and wild and probably full of mistakes, but it comes together beautifully and has tons of soul. I'd drink this again.
717 characters

3.39
/5
rDev
+10.4%
look: 3.75 | smell: 3.5 | taste: 3.25 | feel: 3.75 | overall: 3.25
Poured from 12oz can into a dimpled mug.
Appearance: cloudy yellow hue with a light effervescence and a finger of frothy white foam atop. Not bad.
Smell: lightly wheaty and lightly jasminey. It is subtle and has some too-earthy undertones but it actually kind of works for me.
Taste: the tea and the wheat don't really play together. The jasmine emerges sweet end enticing from the earthy mess underneath, but as interesting as it is it's not enough to redeem this beer. Points for originality.
Mouthfeel: medium body with a big carbonation and a decently smooth creaminess. Not bad.
Overall: this beer is a bizarre experiment. It's not a terrible beer, but it's hardly a successful one either.
709 characters

3.12
/5
rDev
+1.6%
look: 3.5 | smell: 3.25 | taste: 3 | feel: 3.25 | overall: 3
Very little foam when poured into the chalice. Clear light amber color. Quite sharp on the tongue with plenty of carbonation in the mouth. Slight beery aroma. Fruity and slightly malty flavor.
The initial few tastes give the impression of a sourish odd sort of wheat beer that has something unaccountably wrong with it. Then I read the fine print. The aftertaste does finally taste like jasmine tea. Reasonably drinkable, but I am not convinced this is something you should do to a Hefe that might have been fairly tasty. From the 12 oz can purchased at Elizabeth Station in Bellingham, Washington.
599 characters
2.33
/5
rDev
-24.1%
look: 2.75 | smell: 2.75 | taste: 2 | feel: 2 | overall: 2.5
This is pretty far from a Hefe. Pours almost clear deep straw color, not much head. Aroma is sweet malt and some candied sugar. It has similarity to a dubbel, but pale. Weird and not very drinkable.
199 characters

3.43
/5
rDev
+11.7%
look: 3.25 | smell: 3.25 | taste: 3.5 | feel: 3.5 | overall: 3.5
Pint at "Game Over" adult arcade ( yeah baby!!) in Lincoln City OR $4.50 Pale , slightly hazy yellow body with a small white head..leaves nice lace. Aroma OK has some flowery tea like stuff that could be the jasmine tea. Nice taste to it..wheat,bubble gum and jasmine. Nice enough Good body..well carbonated but still smooth without being watery. Reasonable beer while p;laying Ms.Pacman at a table machine!!!
409 characters
1.71
/5
rDev
-44.3%
look: 2.5 | smell: 1.5 | taste: 1.5 | feel: 2 | overall: 2
On-tap at Bailey's Taproom in Portland OR.
Pours a very light yellow colour with minimal haze, a big negative for a hef. Head is a nice fine white colour, forming a solid egg-white cream across the crown of the beer. Really, though, it's a weak looking beer. Unimpressed.
Nose is yeasty, off and really not in style at all. It has none of the fragrance that suits a wheat-based brew, instead giving plasticene and salty dough. There's a slight pear note, but it's not nearly enough, and it's almost unnoticeable against the other unpleasant characters. Really. Awful. Rubbish.
Taste is similar. Light yeast which lends a character almost like that most appalling Aussie hop Pride of Ringwood. Fetid white corn comes through lending a weak hint of rank, off chilli. Really? This is what you're giving me Gilgamesh? This is very poor indeed. Feel is light but pointless.
Blech. This is genuinely far from being a hefeweizen, and in fact is actively offensive to me. Very, very, unimpressed—so much so, that I'm prepared not to try Gilgamesh again based on the paucity of this example of their craft.
1,111 characters
DJ Jazzy Hef from Gilgamesh Brewing
3.07
out of
5
based on
28
ratings.