Porterhouse Restaurant & Brew Pub
BEER AVG
-
none
Awaiting 10 Ratings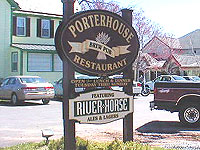 PLACE INFO
Type:
Brewery, Bar, Eatery
5775 Lower York Road
Lahaska
,
Pennsylvania
, 18931
United States
(215) 794-9373 |
map
porterhousepub.com
Notes:
No notes at this time.
Added by WilliamPhilaPa
Reviews: 15 | Ratings: 17
3.28
/5
rDev
-12.3%
vibe: 3 | quality: 3 | service: 3 | selection: 4
I am writing this review to let everyone know that there is no brewing going on and will not be in the foreseeable future. We stopped in while holiday shopping at Peddler's Village and they told us they have not brewed in over a year and that they just sold off their equipment. In walking out I caught a glimpse of what I believe was their brewery and it was gutted. I echo all the other reviews in that this is no longer a BREWPUB but none the less they do over a nice, but small selection of craftbrew.
P.S. - I had to enter review numbers for all the fields. We walked in asked a couple questions and walked out so I really do not know too much of quality, service, and value.
★
682 characters
2.45
/5
rDev
-34.5%
vibe: 3 | quality: 3 | service: 3 | selection: 1
Stopped in this past weekend for a few cold ones as it was very hot. Had stopped in several years ago and was hoping that they were brewing their own. Turns out that they are still not brewing and no signs that they are trying. At least we were told that they were not a brewpub anymore. It would be nice if they changed their signage and website. Otherwise the selection of taps were good as they were from small breweries. This place has good potential as it is located within walking distance of Peddlers Village and other shopping outlets. New Hope is located a short distance along with Washington's Crossing. The awful rating in selection is that they are not a brewpub as it is still billed. The general selection of the taps is good+.
★
742 characters
4.13
/5
rDev
+10.4%
vibe: 4 | quality: 4 | service: 4.5 | selection: 4 | food: 4
Drove to Fairless Hills one morning to do a meet and greet with the new guy, and in and out within a few hours, thought to salvage the day with a light lunch excursion. Where to go, what to do, something, something, somewhere. Wait, remember when we moved the brewing equipment into storage in Philly, that guy, said he brewed some place a dozen miles the other side of New Hope. Where was that? La-has-ka. Is that a real place? How do you get there? More important, how do you get back? Lemme map it, ooooh, deep between the PA highways in no man's land...
And I nearly blew right on by it, hidden away stand aloneish in the back of an outlet strip something or other. A row of fermenters behind glass greet you in the entranceway and then you're dropped inside looking down the "L" shaped bar, linoleum topped with a wood lip. The bar seats about a dozen and a half, with 3 raised bar tables and 3 small booths behind it running to the far wall. Above the bar back side, a slightly raised area seating upwards of a dozen over booze, glassware, and ceramic mug club mugs tucked below and shelved to both sides of the break. 3 small roundie tables sit up behind there along a center arch window and paneled windows to both sides. To the rear, a room holding 6 clothed tables around a small wood stove tucked inside an old fireplace. Stars, boxes, balls and ornaments on the mantle, a framed mirror above, and some framed prints here and there. A bar counter on the wall separating the rear room from the bar area deals seating for 4 from both sides. Old fashioned signage above on the sill to the rear room, plus bramble strung with red & white Xmas lights, hop bunches and Xmas balls.
It's a pretty good sized room, two toned light gray walls with a white trim over dark gray lowers, the far wall decorated with 9 large and not so mix and matched round clocks, wood plank floors and a slight arched ceiling with spinning fans. Flatscreens in the corners, glass ball drop lamps over the bar, mounted wall lamps & sunken spots, and candles on the tables.
Staircase in the corner brings you to the main dining area upstairs, a large light olive room with about 30 booths and tables. Big windows overlook the Bucks County tree farm fields out back. Open, airy, lots of light.
2 towers of 8 taps each on the bar, 1 on the end and 1 in the center. They've got 4 house taps on (Harvest Lager, Skye Dew Scotch Ale, Dark Wheat, Mild Brown Ale) and 4 guest taps (Stone IPA, Ommegang Witte, Sly Fox Xmas Ale, Dales Pale Ale). The sampler gets you the 4 house beers and then you get to choose a guest tap for your 5th beer, all served in small flute glasses. The Harvest Lager was very crisp, Vienna malts, came in at 6%, quite nice; the Skye Dew Scotch Ale was a mild scotch at 3.5%, peat smoked whiskey malt with a light smokiness; the Dark Wheat was no Dunkel, done with a Belgian yeast, it had a strong cloviness and Belgian candy sugar sweetness to it, and came in at 5%, and the Mild Brown Ale, at 3.5%, chocolatey and nicely malty, this was a good dark mild and my favorite of the lot, with the Harvest Lager just behind it. For my guest tap, I opted for the Sly Fox Xmas Ale, which was all "milk in a bowl of apple jacks" spicy. They've also got a bottled beers to go or stay and play, kept in a cooler on the far wall. Harpoon UFO & Winter Warmer, Sierra Celebration, Sly Fox Pils, Stone IPA, Dale Pale Ale amongst the most notable there.
And a bite. Lunch menu is tap-a-teazers, soups 'n such, and sensational salads. I was going to get the Ancho grilled fresh tuna salad until I read its description. "...Atop a field of greens (okay), adorned with artichokes (wait, that's a 3 syllable vegetable rule violation), portabella mushrooms (no trip, no boom), red onions (okay), Kalamata olives (no), Feta cheese (evil, so no), and finished with a balsamic vinegarette (yeah, fine)". Okay, that wasn't going to happen. I opted for the Chesapeake Crab bisque instead, all creamy, chunky, crabby, done up with root vegetables, very good.
Service was good, entertaining and attentive, and I talked with the GM Gabe for a bit about their beer and how and by whom it comes to be brewed. Beers were good overall, as was my crab bisque fooding. And now I've been to La-has-ka...
★
4,276 characters
3.29
/5
rDev
-12%
vibe: 3.5 | quality: 2 | service: 4 | selection: 4
Porterhouse- Lahaska PA.
Stopped in here on a Sun. afternoon. New Hope and Peddlers Village packed! Sat at the long tiled bar and plenty of people slowly shuffled in and filled up the bar and tables. The bartender was quick with my beers. The beer itself was not that good, and although I didn't have anything to eat here the American Cuisine menu looked good and at resonable prices. 3 beers ran me $15. There's also a fridge full of packaged goods, Lotsa Victory beers in there.
Overall- If you're in the area stop in for luch and a beer on tap, but not 1 of their own beers!
★
579 characters

2.95
/5
rDev
-21.1%
vibe: 3.5 | quality: 3.5 | service: 2 | selection: 3
*** When you bring in Yards Beers to "improve" it speaks volumes***
I actually hit this place about a year ago and was so unimpressed, I didn't review it. Hit here on the long way home from a huge beer-day on Saturday since I heard that they serve Yards Beers now too. Porterhouse is first and foremost a restaurant. The brewing area is way off to the side, only viewed when you enter. The bar area is tucked off to the side while the restaurant area runs the show. White walls are acentuated with a bunch of clocks.
Beers on tap: Yards IPA, Pale, Pynk Lambic, Saison, and Riverhorse Belgian and a couple others.
What burned my fanny was that it was 10 PM on a Saturday and the waitress quipped that the kitchen was closed while a few waitresses kept carrying out trays of food. Ya mean ya couldn't "sell" a quick bowl of soup? Jeepers!
Could you bring your Mother here? It's a restaurant, afterall, so yes you could.
Last call: Not really what I consider a "brewpub" but more of a restaurant that serves Yards and Riverhorse.
★
1,043 characters

4.18
/5
rDev
+11.8%
vibe: 4 | quality: 4 | service: 4 | selection: 4.5 | food: 4.5
Here's everything from my original review that still applies...
~~~
A nicy cozy restaurant feel with a little bar. Service isn't bad but isn't amazing. The platters are a bit pricey but the pubgrub menu is very tasty and pretty decently priced.
Either way, it's a solid restaurant in a really nice area that serves good beer...mini-pubcrawl possibilities with Triumph in New Hope and the Candlewyck in Buckingham.
~~~
I was really looking forward to getting back here since it's now more or less Yards' brewpub. Walked in and saw 4 familiar tap handles...Philly Pale, IPA, Saison and PYNK. 4 more brewpub-only beers included a dark lager, a baltic porter and uhhh 2 more that I forget. Plus they had the Washington Porter, the Jefferson Ale and the Franklin Spruce in bottles. Very nice. Upon tasting we agreed the brewpub-only beers were up to the high quality standard expected from Yards.
We got there just before 10:00 and were rather hungry after not eating at our last brewpub stop like we'd planned then making a rather lengthy stop at Somerville SuperSaver. We asked the bartender if the kitchen was still closed and she said no. They had definitely just closed the kitchen, as things were still going in and out...it would have been nice if she'd run back and checked if we could still get a sandwich or soup or something.
All things considered, this place is only going to keep getting better with the cooperation of Yards. Looking very forward to getting back here soon. This place is way overlooked!!!
★
1,531 characters

3.9
/5
rDev
+4.3%
vibe: 4.5 | quality: 3.5 | service: 4 | selection: 4 | food: 4
Conveniently located across from Peddler's Village, so the wife can shop while you sip some beers. This is basically a River Horse brewpub, as there were 8 draft beers all River Horse brewed. There were some macro bottles like Coors Light and Mich Ultra for those uninterested in the RH offerings.
The large brewing kettles are the first thing you see when walking into the restaurant. The large 25 stool bar is sunken down a step or two, and the bartop has a nice light stone decor. Several TVs adorn the area, and a collection of about 10 clocks are high on the wall, with most showing the correct local time.Several two person booths and some large table finish the floor. A clear refridgerator selling sixpacks of RH beers is close to the bar too.There are stairs that head to an upstairs dining area that I did not check out.
The beers on tap during this visit were the usually available RH Special Ale, Lager, Hop Hazard Pale, Blonde, and Frostbite. But the remaining three taps are not sold in bottles - Ebeneezer's Ale, Dopplebok, and Irish Stout. The three pints I had were OK, as RH beers are decent but not overwhelming.
The food is typical pub grub and was tasty. Bartender was friendly and quick to refill beers as they became empty. A nice place to stop to take a break from shopping in the area.
★
1,322 characters
4.3
/5
rDev
+15%
vibe: 4 | quality: 4 | service: 4.5 | selection: 4.5 | food: 4.5
The location is directly across the street from Peddler's Village, which is a large development of cobblestone paths and shops. Porterhouse is linked up with Lambertville NJ's River Horse brewery. All they serve there are River Horse beer. What makes this place unique though is that when you go, they have a multitude of beers on tap that River Horse does not commercially market or bottle. For instance, they continue to serve their Summer Blonde (under the general name of Blonde), a Dopplebock, an Irish Stout, and another interesting winter seasonal to go along with their Belgian Frostbite...their Ebeneezer Ale. This beer basically smells and tastes like Christmas Day...sweet with hints of cinammon and nutmeg. Also, it has a orange-reddish color, much lighter than most darker winter seasonals you see out there.
The place has a downstair bar and dining area, which is limited to burgers and typical bar food. Upstairs is more upscale...and much more expensive. We ate up there for the first time this weekend...I had the Porter Duet, a petite filet minon along with a lump crab cake...not cheap but very good. The crab cake was out of this world. Excellent service as well.
Just an FYI, for those of you interested in a Bucks County, PA beer crawl, all within 10 minutes of one another...you can hit the River Horse brewery, Triumph, Porterhouse and if you are really adventurous, head over to Crabby Larry's in Chalfront (don't expect too much and you will be fine)...Milford NJ's Ship Inn is also probably only 10-15 minutes north of Lambertville, but that is heading in the opposite direction..
★
1,615 characters
4.13
/5
rDev
+10.4%
vibe: 4.5 | quality: 3.5 | service: 5 | selection: 3.5 | food: 5
While I was in PA I had to visit a brewpub or two or I just wouldn't know what I'd do with myself. This brewpub was fairly close to where I was staying (Doylestown) so I figured we'd give it a shot. This establishment had two floors, a downstairs bar where pub food was available and an upstairs where a more formal fine dining area was. The food in this joint was top notch. Offerings varied quite a bit from a nice Porterhouse Steak, to a nice rendition of a surf in turf, using a nice crab cake and filet combo.. Also there was a baked "parched" sea bass dish, and plenty of other beautiful meals. The prices were set at fine dining levels.. Most entrees ranged about 20-30 dollars but IMHO it was well worth it. The appetizers were great as well. As for the service, well besides the fact that most of the waitstaff seemed to not know a ton about their beers (which they get or brew through Riverhorse Brewing) they do know how to treat their customers. The appetizers, soups, and meals all came out at proper timing and the waitress was just right on the ball. Now as for the beers, well I'd recommend not coming here for them. The only two which were decent were the Hop Hazard APA, (which was decently hoppy but nothing over the roof) and a nice Stout. Aside from that, the Lager, Seasonal Raspberry Wheat, and the other selections I had were nothing special. Overall I would recommend to come here solely for the great food, and secondly for the decent beer.
★
1,466 characters
3.88
/5
rDev
+3.7%
vibe: 4 | quality: 4 | service: 3.5 | selection: 4 | food: 4
Was there on a Sunday afternoon. The bar was basicially empty where we sat. A big square bar that is a lot like a party room, with lots of seating around the bar and limited dining. I assume that the main dining area is upstairs, but we did not go there to investigate. There are three TV's for viewing around the bar. There are 8 taps, with 4 brewpub only Riverhorse beers, so plenty of selections, although I am not a big fan of many of the Riverhorse brews. I really did like the Stout that was on the Nitro pour, and the Spring Bock was decent. I also enjoyed lunch. Although the lunch menu is decent, I wont say more than you will be satisfied with your food at lunch time. Have not tried their dinner menu. Overall a decent place to visit, although some of the beers may best be left untried.
★
798 characters

4
/5
rDev
+7%
vibe: 4 | quality: 4 | service: 4 | selection: 4
We stopped on by here for a beer or four on our way from the Triumph Brewpub in New Hope. No complaints, except for the demolition derby duel for a parking space and the large crowd, well - it was Saturday night about 8pm! I have never been to the former Buckingham brewpub, but always have heard good things from reliable friends.
We walked right through all of the couples and families in the crowded vestibule, who were waiting for a table. I think we got a few dirty looks. Oh Well. We found two open spaces at the far end of the rectangular bar. I ordered the beer sampler, which included 5 tall five ouncers of River Horse beers. (all of their house beers are brewed by them). Special Ale, Lager, Hop Hazard, Stout and the Belgian Frostbite. All were decent, some very good and some just average. The bartender was very busy, but took time to talk to us about the beer and gave me a free sample taste of the Belgian Triple, which I thought was nice of him.
The bar was a decent sized rectangle with 2 sets of 8 taps. Also on tap were: the Triple, Blonde and a Black and Tan. The menu looked good but we didn't eat. The atmosphere is casual, with suits, next to sweatshirts and ball caps. This was a lively place and the beer was fine. But, I think we were lucky parking the car and our butts.
★
1,305 characters
3.63
/5
rDev
-2.9%
vibe: 4 | quality: 3 | service: 4.5 | selection: 3 | food: 4.5
I've tried and tried again, but I just don't get Riverhorse beer. I mean, beer geeks normally have nothing great to say about their beers and I haven't seen the beers available anywhere except in the immediate area. It's one of those breweries that I'm surprised is still open.....
That said, Porterhouse is a step up from the old Buckingham Brewpub that used to be on the premisis. Atmosphere is nice enough and the service, including the hostesses, was top notch. Very friendly and accomodating. I ordered off the less expensive pub menu and got a huge salad and some very tasty sweet potato fries. Dinner menu was on the expensive side with most entrees being in the low $20's.
Five beers on tap, none of which I haven't seen in the bottled lineup. I'll sum up the beers with this quote from my girlfriend: "Hop Hazard? With a name like that, shouldn't there be at least a hint of bitterness?" I had the Bock that had no nose whatsoever and a very slight malty aftertaste. Not impressed.
★
993 characters
3.85
/5
rDev
+2.9%
vibe: 3.5 | quality: 3.5 | service: 4 | selection: 4 | food: 4.5
Well my fiancé and I arrived here one rainy morning. I must say we thought the place may be closed. As we walked closer we noticed a bartender/waitress, so we went ahead walked in and found ourselves the only ones in the place. I ordered the sample line up of the River Horse brews since I only had a couple of the brews served here. The sampler includes five (6oz) brews. I was pleased with most of them but not overwhelmed. The layout is fairly basic but inviting with plenty of room around the bar, and a dining room off to the side and additional seating upstairs. I don't remember exactly what type of burger I ordered but I do remember that I was a very happy man after I took that first bite! The food was excellent. So although is a little pricey it is worth it. Around the bar there was about 16 taps but I believe they have two taps for ever beer. So if your ever in the Peddler's Village area, check this place out.
★
929 characters
4.18
/5
rDev
+11.8%
vibe: 3 | quality: 4.5 | service: 4 | selection: 4.5 | food: 4
I was quite pleased with the changes made to the Porterhouse from the old Buckingham Mountain Brewery. The Pub Brewing system is still in place as you enter (and it seems cleaned up a bit). The small bar, cocktail area, and small dining room have been re-done in warm earth tones of moss, mint, and dark wood. Replica antique signs and clocks add a light touch of character but leave it basically open, warm, and inviting. The dining area features a small faux-fireplace; and it's quite comfortable despite it's limited size because of the windows that open it up and leave it warm and sunny (except on rainy days!). The huge upstairs dining area is much the same way, open and comfortable with alot of windows; very much a family-type restaurant. There are 8 beers on tap and a black & tan. Most are brewed at the River Horse brewery, but I was impressed with the beers brewed on-site. The menu is well varied, but there are only a few vegetarian items. It's a bit pricey, but not overwhelming; it is after all, across the street from Peddler's Village. The food is good, although some of the dishes are a bit overdone with oil - still, quite enjoyable! The service is good, and I intend to stop back as often as possible.
★
1,223 characters

4.3
/5
rDev
+15%
vibe: 4 | quality: 4.5 | service: 4 | selection: 4.5
This Brewpub has its brews hand crafted and brewed on site by the people from Riverhorse Brewing Company, which lies just across the NJ-PA border. (Porterhouse has a greater beer selection than Riverhorse does!) The brewpub has a very nice atmosphere and feel to it. The upstairs dining room was upscale and inviting. We didn't eat but the food looked great and we heard good things about it.
The Beers. OK, let's talk.
The beers offered included a Special Ale (copper ale), German-style Lager, Hop Hazard Pale Ale, Dark Harvest Ale (brown ale), Tripel Horse (Belgian style Tripel), Porterhouse Blond, McHenry's Irish Stout and a seasonal selection (which was a Winter Ale). The Special, Lager, Pale and Dark Harvest are Riverhorse signature beers, the rest are only available at the Porterhouse. A sampler consists of a 5 ounce glass of the Special, Lager, Pale and Stout. Of course, I asked for 2 samplers including all of the beers!
Overall, they were very good. The stout was a little thin but had a very good taste. The Tripel, though weighing in at 9.4% ABV, was not too strong for the average palate (the others mostly weighed in between 4.3% and 4.7%). The Dark Harvest Ale and the Hop Hazard stood out as the best of the bunch. I thoroughly enjoyed the beers.
Of the approximatley 47 brewpubs that I have visited, I would rank the Porterhouse (overall score) around number 20.
★
1,389 characters
Porterhouse Restaurant & Brew Pub in Lahaska, PA
0
out of
5
based on
0
ratings.