Leviathan Triple IPA
| Clown Shoes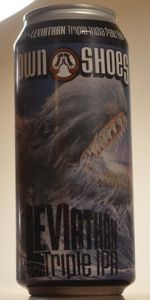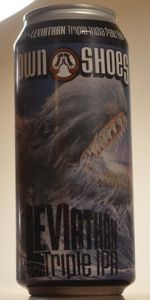 BEER INFO
Brewed by:
Clown Shoes
Massachusetts
,
United States
clownshoesbeer.com
Style:
American Imperial IPA
Alcohol by volume (ABV):
11.00%
Availability:
Rotating
Notes / Commercial Description:
A New England cult classic is back but with a Clown Shoes twist! A big, bold, Imperial IPA clocking in a 11% ABV, expect a lingering bitterness that balances dank hop additions blending earthy, fruity, and floral notes.
Added by superspak on 08-23-2018
HISTOGRAM
Ratings: 11 | Reviews: 6
4.67
/5
rDev
+22.6%
look: 4.25 | smell: 4.75 | taste: 4.75 | feel: 4.75 | overall: 4.5
On-tap at Il Vinaio, Mesa AZ:
Pours a dark amber. Lacing sticks.AThe smell is of dank pine. Caramel. Musty hops mix with sweet - toffee, caramel, nougat. Nutty malt with piney, earthy hops.
The taste is incredible. Sweet caramel with pine. Bitter with a sweet, almost sticky background. Licking the lips, sweetness mixes with earthy, piney bitterness. Very well-balanced.
Almost syrupy - but smooth.
This is an incredible brew - Piney/floral/earthy mixes with caramel. Alcohol is present but not hot. An imperial IPA gone wild, but dangerously delicious!\ and
drinkable!
575 characters
3.75
/5
rDev
-1.6%
look: 3.75 | smell: 3.75 | taste: 3.75 | feel: 3.75 | overall: 3.75

3.91
/5
rDev
+2.6%
look: 3.75 | smell: 4 | taste: 4 | feel: 3.75 | overall: 3.75

3.69
/5
rDev
-3.1%
look: 3.25 | smell: 3.5 | taste: 3.75 | feel: 4 | overall: 3.75

3.52
/5
rDev
-7.6%
look: 4 | smell: 3.25 | taste: 3.5 | feel: 4 | overall: 3.5
Canned on 11/7/18. 16oz can poured into a tulip. Pours a burnt golden with nice clarity; white head that fades leaving solid retention and lacing. The aromas are floral along with some caramel. Malts are there. The flavors are bold. More floral notes along with some citrus. Grapefruit is there along with some subtle hints of pineapple. Some pine sap and resin. Nice hop bitterness. It's slightly spicy. Some sticky sweetness to it. It's ultimately bittersweet. Nice malt backbone. It finishes warm and the alcohol is definitely noticeable, but it's not quite hot or boozy. Mouthfeel is full-bodied with moderate carbonation. It's slick, smooth and makes for a nice sipper.
This is a solid "Triple IPA". It's a big beer and it drinks big as well. The flavors open up as it slightly warms. It's fun to drink. Not bad at all.
825 characters
3.5
/5
rDev
-8.1%
look: 3.5 | smell: 3.5 | taste: 3.5 | feel: 3.5 | overall: 3.5
3.38
/5
rDev
-11.3%
look: 3.5 | smell: 3.5 | taste: 3.25 | feel: 3.25 | overall: 3.5
Yellow-gold in color with ample, slightly off-white fizzy head. Aroma a gives a light alcohol sear to the nostril and fills it with malt, orange and other assorted citrus. Taste is alcohol heavy obviously with the 11% ABV yet manages to do an ok job with the flavors and balance. A little less ABV would have helped this one a bit
330 characters

3.77
/5
rDev
-1%
look: 4.5 | smell: 3.75 | taste: 3.75 | feel: 4 | overall: 3.5
Like the reviewer before me let's put the bottom of the can's details here: From the bottom of the can: 'Canned on 312 11/07/18 4:02' So mine was canned at around 4 in the morning. The prior reviewer's, around 10:30PM that night. This makes a difference? And never mind the 311/312 difference. The prior shouldn't be written.
Beer pours clear and golden with a high-foam head. Sparse carbonation. Caked spotted lacing.
Smell is very light bread. Mostly bread, but a hint of citrus and caramel malts if my cold-infested nasal cavity can make a decent call here. No alcohol detected.
Taste is bitter and sweet, a lupulus liquid of strength. I like that it's not medicinal, but it's full of pine and sweet hop flavoring, ending fairly dry. Nothing of complexity in this. Less cloy-territory would have made this more enjoyable.
Feels thick and chewy, medium-low carbonation. Syrupy too.
Big drinking. A single can is enough.
941 characters
4.04
/5
rDev
+6%
look: 5 | smell: 3.5 | taste: 4 | feel: 5 | overall: 4
From the bottom of the can: 'Canned on 311 11/07/18 22:31"
Appearance: The beer has an amber body with good clarity. It has a medium sized white head with dense foam. It has good retention and lacing.
Aroma: There is a bit of what smells like peach and wheat flour.
Taste: It has a very good peach flavor mixed with some grain husk and multi-grain bread flavor. It tastes a bit like peach jam on toast. It's very good.
Mouthfeel: The mouthfeel is perfect. It has a nice smooth texture that finishes clean and accentuates the hops. The can states that this is "11% ALC./VOL" but the alcohol is hidden very nicely.
Overall: This is really a good testament for how a good, high alcohol, Imperial IPA should taste. I would really recommend it to anyone looking for a big, flavorful, delicious beer that doesn't slam you with alcohol. It does an excellent job of delivering both hop and grain flavors and aromas.
912 characters

3.75
/5
rDev
-1.6%
look: 3.75 | smell: 3.75 | taste: 3.75 | feel: 3.75 | overall: 3.75

3.92
/5
rDev
+2.9%
look: 4.5 | smell: 3.75 | taste: 3.75 | feel: 4.5 | overall: 4
So this was canned on 11/07/18 clocking in at 11%. Pours a very attractive amber orange with a massive 2 plus finger sticky white head that leaves scattered lace all over the place as it slowly settles into a thin layer of white bubbles. 4.5
Smell is apricot, tangerine, pine, and some aggressive grapefruit and a hint of warming alcohol. 3.75
Taste follows yikes loaded with apricot, pine, tangerine upfront with a healthy shot of grapefruit and alcohol in the bold finish. 3.75
Mouthfeel is big, plenty of life, a tad dry, and at 11% ABV you can taste and feel it, but still dangerously approachable. 4.5
Overall this is an old school West Coast style Beast, that reminds you every sip that it high in ABV and flavor, but still a well crafted brew. 4
756 characters
Leviathan Triple IPA from Clown Shoes
Beer rating:
3.81
out of
5
with
11
ratings