Stubble Jumper Saskatoon Berry Ale
| Banff Ave. Brewing Co.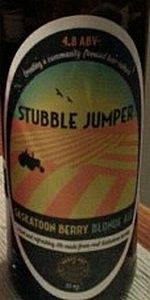 BEER INFO
Brewed by:
Banff Ave. Brewing Co.
Alberta
,
Canada
banffavebrewingco.ca
Style:
Fruit / Vegetable Beer
Alcohol by volume (ABV):
4.50%
Availability:
Rotating
Notes / Commercial Description:
Like a good five o'clock shadow the berry components in our seasonal ale add a touch of the exotic to a smooth exterior. Real Saskatoon berries are used to infuse this beer with hints of tartness and a refreshing finish. Served with a slice of lime.
Added by biegaman on 08-16-2010
Reviews: 3 | Ratings: 6
3.61
/5
rDev
+10.4%
look: 4 | smell: 3.5 | taste: 3.5 | feel: 3.75 | overall: 3.75
20oz pint at the brewpub, on a cool (June!), sunny Saturday afternoon.
This beer appears a murky, red salmon-tinted medium amber colour, with a thin cap of wispy, bubbly, and faintly foamy off-white head, which leaves some splotchy mountain crag lace around the glass as things slowly retreat.
It smells of fruity, sugary dark berries (I could never readily identify Saskatoons), rather reserved bready pale and caramel malt, a mineral water flintiness, and tame leafy, earthy hops. The taste is grainy pale malt, muddled citrus and berry fruit, a bit of wayward gritty yeast, and earthy, weedy hops.
The bubbles are quite understated, just a mild frothiness throughout, the body medium-light in weight, and plainly smooth, the fading fruitiness aiding and abetting here. It finishes off-dry, the Saskatoons on the uprise (that's a scary thought, politically speaking!), alongside a generously lingering bready malt.
An agreeable enough local fruit infused amber ale, easy to drink, and no weird manifestations in flavour. Very mountain village, summertime friendly, I can only partially imagine right now - my choice of shorts this morning not up to the vagaries of June in the Bow Valley, apparently.
1,206 characters

3.2
/5
rDev
-2.1%
look: 3 | smell: 3 | taste: 3.5 | feel: 3 | overall: 3
The lone seasonal offering at Banff Ave Brewing, sampled on our last trip to Banff.
Hazy, almost murky, brownish golden color, thin white foam that quickly disappeared. Interestingly, it was served with a lime wedge (I read the beer menu so was expecting this). Slight pink/purple highlights around the edge of glass.
A bit of a grainy, almost wheat smell. Some sweetness, but not really getting any saskatoons, the lime added to the citrus aroma. Slightly fruity taste, but more grainy or grassy than anything. Thin mouthfeel, not a lot of carbonation to give it a nice kick. A nice try, but might need a bit more tweeking. Not 'bad' by any means, but have had better fruit beers.
683 characters

3.03
/5
rDev
-7.3%
look: 3 | smell: 2.5 | taste: 3.5 | feel: 2.5 | overall: 3
On-tap at Banff Avenue Brewing Co, in Banff.
Saskatoon berries are purple but this beer is more pinkish - fuchsia to actually be precise. Its otherwise pretty colour is completely mucked by an awfully murky clarity. The fact it manages less bubbles, body and surface combined, than you'd need one full hand to count also has a tarnishing effect on its appearance which, frankly, isn't so becoming.
Although I had had Saskatoon berries with a couple meals earlier in my trip, I had yet to really develop a feel for how they taste. The first time I had them they were dried and very sweet, the second they seemed to be pickled in some kind of vinegar and the third time (technically), in this beer, they seemed... pretty indiscriminate. At least in smell.
No, in taste as well. While there was a definite berry fruitiness, the beer wasn't overly assertive or characterful when it came to the fruit. I related it to some vague combination of blueberry, elderberry and huckleberry and that's about as specific as I can be. The corny, cardboardy taste of the malts was much more prominent and noticeable.
And, if you couldn't tell, that was not a positive thing. The maltiness is dull, light and insipid. It drinks with a cloying texture that is likely made worse than it should be because of a near complete lack of carbonation. It's not enough to just throw the berries in there; you still need a respectable base beer if you want the end result to be at all pleasurable!
If you didn't know what Saskatoon berries were like before hand chances are you still wouldn't really have a good idea after a full pint. Contrary to what this brewer says, the berries don't "add a touch of the exotic" - they add little of anything save a vague, generic fruitiness. I'd ignore any curiosities and try one of the better Banff Ave. offerings instead.
1,844 characters
Stubble Jumper Saskatoon Berry Ale from Banff Ave. Brewing Co.
3.27
out of
5
based on
6
ratings.