Pale Ale (Nelson Sauvin)
| The Kernel Brewery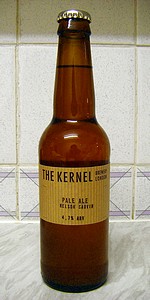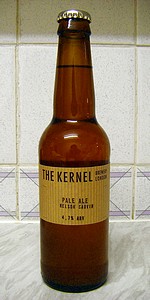 BEER INFO
Brewed by:
The Kernel Brewery
England
,
United Kingdom
thekernelbrewery.com
Style:
American Pale Ale (APA)
Alcohol by volume (ABV):
4.70%
Availability:
Limited (brewed once)
Notes / Commercial Description:
No notes at this time.
Added by CanuckRover on 10-25-2010
This beer is retired; no longer brewed.
HISTOGRAM
Ratings: 12 | Reviews: 7
Reviews by beerdrifter:

4.42
/5
rDev
+12.2%
look: 4 | smell: 4.5 | taste: 4.5 | feel: 4 | overall: 4.5
Picked this up at the beer store at the De Molen Brewery. Slightly hazy yellow pour with two finger head, with decent retention and lacing. The nose is amazing! Nelson Sauvin are my favorite hops, and the wonderful, unique, perfumey smell is part of the reason. Along with that signature odor comes tons of grapefruit. The taste is just as big and bold. Fresh picked, bitter, earthy hops are nicely offset with a solid sweet malty base. The tangy grapefruit bite is present throughout. Very crisp, and fresh finish with a nice bitter ending. The mouthfeel is a little flat, almost cask-like. But that's the only thing I can find wrong with this beer. An excellent interpretation of a single hop Nelson Sauvin. Would love to see the IPA version of this. And I'm definitely going to seek out more from Kernel next time I'm in London!
831 characters
More User Reviews:

3.21
/5
rDev
-18.5%
look: 3 | smell: 3.25 | taste: 3.25 | feel: 3 | overall: 3.25

3.84
/5
rDev
-2.5%
look: 4.25 | smell: 4 | taste: 3.75 | feel: 3.75 | overall: 3.75
4.51
/5
rDev
+14.5%
look: 3.5 | smell: 5 | taste: 4.5 | feel: 4 | overall: 4.5
Pours a slightly hazy pale gold. Not a massive head. Settles fast. Spotty lacings.
Incredibly aroma. Fruit saladish. Peach, lemon, even pineapple. Just lovely.
Obviously created to showcase the hop. Aroma comes through on the tongue. Pineapple sweetness followed by more traditional citrus flavours and a white wine finish.
Can't fault the mouthfeel and boy is it drinkable!
Classified as APA, unlike the other listings for their Pales.
451 characters
4.21
/5
rDev
+6.9%
look: 3.5 | smell: 5 | taste: 4 | feel: 4 | overall: 4
Purchase at the Brewery in Jan '12, BBB 05 Jan 2013, now at 5.4%!
Pours a murky orange colour, you can't see your fingers if you wiggle them on the other side of the glass !!! Small white head throughout drinking.
Fantastic aroma, Nelson Sauvin hops, pine, hops, pine - it's all in the nose on this beer!
Some tropical fruits in the flavour, maybe mango, slight grapefruit taste. definite taste of wood and slight spicing. Sour to bitter in the aftertaste, dryish finish.
Medium bodied beer, little carbonation.
515 characters
4.24
/5
rDev
+7.6%
look: 4 | smell: 5 | taste: 4 | feel: 3 | overall: 4.5
A: Pours an orange golden, quite clear for the first half, sediment levels depend on how far down you pour (since it's bottle conditioned). No real head to speak of, only a few large bubbles around the edges
S: Extremely interesting! It is clear that this is not your typical hop varietal. There's some element of the citrusy West Coast hops, but what really dominates is a sweet fruit. Passionfruit or star fruit. Phenomenal. No real malt aroma. I wouldn't hang on to this one too long- once the aroma fades you'll lose a lot of what's special.
T: Nice upfront balance between hops and malt. There's a good bitter finish, but I wouldn't mind if it were a bit more aggressive. And I can't help but feel that there's something a little lacking in between. I'd like a little more flavor in the mid range of the experience, perhaps a stronger or darker malt presence.
M: Relatively rich, coating. The carbonation is a bit on the low side, and I think that causes it to feel heavier than it really should. Perhaps a few more weeks in the bottle will help with this.
D: Quite good. Refreshing, interesting. It's low range for the ABVs from this brewery. Very easy to drink.
Overall: While not the best beer I've had recently, it is certainly the most interesting. I love what they've done with the use of a distinctive hop varietal. This is unlike anything I've had before and I'm glad that I got to experience it.
1,415 characters

4.07
/5
rDev
+3.3%
look: 4 | smell: 4.5 | taste: 4 | feel: 3.5 | overall: 4
Bottle from the Cask and Kitchen, Pimlico, London. Best before June 2012
A: Very cloudy, almost completely opaque. Nice white head lasts for quite a while. No lacing present in my Stella Glass
S: As a fan of Sauvignon Blanc wine, I really fell in love with the hop profile of this one. The scent of fresh, perfectly ripe oranges purfumes from the glass. Rich berries; blueberry and raspberry are also present. Fresh crystal malt backbone.
T: Sweet malt but dominated by hops. A fruit basket of flavors just like the scent.
M: Fairly typical bodied APA. Rather sweet and sticky. Could be drier.
Overall: I can't recall if I've ever had a solo Nelson Sauvin hopped beer before, but I'm definitely a fan of this variety and I'll seek out other examples in the future. The beer itself is excellent. The mouthfeel a slight let down but I'm definitely impressed with The Kernel and I'm looking forward to drinking the rest of my stash.
934 characters
3.91
/5
rDev
-0.8%
look: 3.75 | smell: 4 | taste: 4 | feel: 3.75 | overall: 3.75

3.78
/5
rDev
-4.1%
look: 3.25 | smell: 4 | taste: 3.75 | feel: 3.75 | overall: 3.75
4.25
/5
rDev
+7.9%
look: 4.5 | smell: 4.5 | taste: 4 | feel: 4 | overall: 4.5
Picked this up at the Brewery, BB 15 Nov 2012. ABV 5.3
Poured a hazy orange with a thin head that remained and sticky lacing. Smells of heavy pine, sap, needles, bark, the whole sha-bang!! touch of honey as well. Tastes much more balanced, pine still there and dominant but not as much as the smell would indicate. Not as floural or citrusy but very drinkable and a crisp clean after taste. Palate is medium with nice carbonation and very pleasant on the tongue. Overall another Great beer from the Kernel.
507 characters
3.27
/5
rDev
-17%
look: 3.5 | smell: 4 | taste: 3 | feel: 3 | overall: 3
Purchased at an Odd Bin chain wine shop in London recently; bottle-conditioned in a 330ml brown bottle, BB 04/08/2011, served cool in Tripel Karmeliet's tulip-shaped stemmed glass.
A: initially looking almost like a Tripel ale, due to the presentation - the lightly hazy dark orangey amber hue comes with subdued carbonation, force-poured with a short-lived off-white froth.
S: the aroma is predominantly hop-fruity, with sharp guava aroma (not very sweet) springing to mind, plus mixed elements as of Florida oranges, juicy pint grapefruit juice, apricot, nectar, grass and pine oil where my imagination leads. The sweet pale malts are rather subdued in front of hoppiness, but I guess this is what it means to present. Sharply fruity and enjoyable, albeit at the expense of balance.
T: the flat-ish foretaste is in fact lightly bitter and semi-tannic, almost like bitterness from crushed citrus seeds intertwining with tannins of semi-fermented tea. The mid-taste is rather quiet, soon the flavour is brought to an almost neutrally-flavoured finish where the yeastiness plays a bit of tannic, citric-bitter and piney part besides the residual impact of hops. Malts are almost nowhere to be found, making this 4.7% ale even more light-bodied than it could've been if a more traditional take was followed.
M&D: I think the bottle-conditioning of this bottle is obviously not right - the carbonation level is almost too flat for any bottle-conditioned beer (even by the standards of British RAIBs), although the yeast sediments seem to make no fuss with the flavour, either. Well, the yeasts seem to be dead, in fact. In fact, the bouquet on the nose fails to prepare me for the super quiet flavour, rendering a huge discrepancy of sensual experience all in all. To me, this bottle at best is an unbalanced ale with pleasant hop fragrance on the nose. A pity. Maybe I'll be lucky to bump into the draught version while visiting the brewery tap in the near future...
1,965 characters
3.54
/5
rDev
-10.2%
look: 3.75 | smell: 3.5 | taste: 3.5 | feel: 3.75 | overall: 3.5
Pale Ale (Nelson Sauvin) from The Kernel Brewery
Beer rating:
3.94
out of
5
with
12
ratings