IPA Simcoe Citra Nelson Sauvin Apollo
| The Kernel Brewery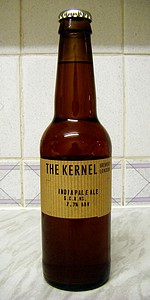 BEER INFO
Brewed by:
The Kernel Brewery
England
,
United Kingdom
thekernelbrewery.com
Style:
American IPA
Alcohol by volume (ABV):
7.70%
Availability:
Limited (brewed once)
Notes / Commercial Description:
No notes at this time.
Added by CanuckRover on 10-26-2010
This beer is retired; no longer brewed.
Ratings: 5 | Reviews: 5
Reviews by Boozecamel:

4.47
/5
rDev
+5.2%
look: 4 | smell: 4.5 | taste: 4.5 | feel: 4.5 | overall: 4.5
Appearance: Pours a golden orange, with a couple of fingers of white head.
Smell: Citrussy and hoppy tropical fruits. Citra hops very prominent. Also getting some piney notes.
Taste: Wonderfull citrus hop burst up front, pineapple and lemon zest. Moderately bitter finish. This beer had me drooling.
Mouthfeel: Very light cleansing mouthfeel.
Overall: Great, solid IPA. Not ridiculously hoppy, but well balanced and easy drinking. A real hop feast. Extremely tasty beer. Maybe I have had a slightly newer version of this as the ABV is listed at 6.4% and the acronym doesn't have full stops in between letters.
614 characters
More User Reviews:
3.81
/5
rDev
-10.4%
look: 3.5 | smell: 5 | taste: 3.5 | feel: 4 | overall: 3
Pours a hazy copper. Thin head and spotty lacings.
Wonderful aroma. Alot of hops contending for top of the hill here. Loads of citrus flavours, from grapefruit to lemon to tangerine. Bit of pineapple too, that's how I keep describing Nelson Sauvin, I better smell a pineapple to make sure I'm getting it right...
Interestingly you seem to get the real bittering stuff up front. Very piney and resinous. Fresh citrus pops in the finish, nicely refreshing.
Actually quite drinkable as far as flavours go, but it tastes its strength and that would slow me down.
These guys seem to nail everything they do, and these hop showcases in their IPA and PA lines are just fantastic.
687 characters

4.54
/5
rDev
+6.8%
look: 4 | smell: 5 | taste: 4.5 | feel: 4 | overall: 4.5
Bottled from Sourced, St. Pancras Station, Olde Laaanda Town, 2010.
The best English bottled IPA I've ever tasted.
What do you mean, that's not enough characters? What's quantity got to do with quality? Hey ho, here we go...
...Zested lemon thrown on a freshly mown lawn. Um Bongo tinged with cat's piss. Slight caramel - think toasted popcorn. Nothing bites yer tongue off, nothing swamps, everything complements.
The best English bottled IPA I've ever tasted. If The Kernel only ever made this beer, I'd love them for ever more. If they put this beer into minicasks and sold it at Sourced, I'd have Evin O'Riordain's babies.
631 characters
4.31
/5
rDev
+1.4%
look: 5 | smell: 4 | taste: 4 | feel: 4.5 | overall: 5
Bottle at The Rake in London. From notes.
A - Pours a cloudy, dark gold with tons of chunky stuff at the bottom. Lot's of carbonation coming up and a one finger, nice creamy eggshell head. Once the yeast is added it turns into a great yeasty mess, much hazier and tons of chunks. Hop residue sits on the bottom signalling some dry hopping in the bottle in addition to bottle conditioning. Leaves great lacing and has good retention with a half finger head the whole way down. Best looking IPA I've ever seen.
S - Nice juicy, resinous hops. Mango, passionfruit, grapefruit all come to mind. Nice.
T - A little bready. Mostly the same as the aroma with that great tropical fruit mix, probably from the Nelson and Citra hops. Malt backbone keeps this under control. Tasty.
M - Medium carbonation, medium body. Medium bitter finish. I found a piece of a hop flower in my teeth almost like a piece of spinach. Cool.
O/D - Probably the best IPA I've ever had or damn close to it. Every component you could want with great balance. Lot's of oily, fruity hops. Not weak at all. World class.
1,087 characters
4.12
/5
rDev
-3.1%
look: 3.5 | smell: 4 | taste: 4 | feel: 4.5 | overall: 4.5
Purchased at an Odd Bin chain wine shop in London recently; bottle-conditioned in a 330ml brown bottle, BB 04/08/2011, served cool in Tripel Karmeliet's tulip-shaped stemmed glass.
A: pours a murky dark amber colour, a fluffy off-white head, with mild carbonation in action.
S: marvellously hoppy - fragrantly grapefruity and flowery in essence, combined with ripe peaches, juicy lemons, lychee-ish sweetness, and rather mild maltiness, with only a hint of alcohol. Juicy~~
T: mildly carbonated, the soothing swallow of sour-sweet citric fruitiness is balanced with tangy tannins, yeastiness (Yakult-like lactose drink rings a bell) and fragrant lychees, then leading towards a rather chewy, lightly spicy bitter aftertaste of more esters, hops and fruits. Malts play a rather subdued role in the balance, or, help to keep some kind of balance.
M&D: very well-carbonated, this medium-bodied, relatively high-gravity ale is surprisingly drinkable and fairly delicious without going hop-crazy.
992 characters
IPA Simcoe Citra Nelson Sauvin Apollo from The Kernel Brewery
4.25
out of
5
based on
5
ratings.