Scanner Darkly Black IPA
| The Kernel Brewery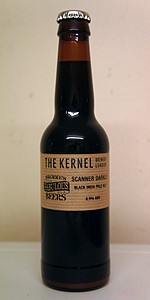 BEER INFO
Brewed by:
The Kernel Brewery
England
,
United Kingdom
thekernelbrewery.com
Style:
American Black Ale
Alcohol by volume (ABV):
6.90%
Availability:
Limited (brewed once)
Notes / Commercial Description:
No notes at this time.
Added by His_Royal_Hoppiness on 03-03-2013
This beer is retired; no longer brewed.
Ratings: 11 | Reviews: 6
Reviews by mtbdonn:

More User Reviews:

3.71
/5
rDev
-2.1%
look: 3.75 | smell: 4 | taste: 3.5 | feel: 3.75 | overall: 3.75
A 330ml bottle with a BB of May 2013 (bottled Jan 2013). Acquired a little while ago from Trembling Madness in York. The front label suggests that this is a collaborative brew with Brodies (though I'm not sure if any collaborating actually took place). Unsure if the name references the hop varieties used or merely Philip K. Dick's novel.
Poured into a Duvel tulip. Bottle conditioned. A dark brown hue that appears black in the glass. Yields a large head of creamy beige foam that lasts for a while before reducing to a surface layer. Aroma of intense hop notes: grapefruit, citrus, pine, hints of tropical fruit. This is underpinned by mild roasted malt, faint caramel and earthy yeast. Smells great.
Tastes of overwhelming hops and dark malt, followed by a powerful bitter finish. Notes of pine resin, citrus, faint tropical fruit, roasted malt, mild burnt grain, a hint of coffee and earthy yeast. Very dry, with a strident hoppy bitterness upon swallowing. Mouthfeel is smooth, tingly and slightly spicy, with a nice, thick body. A shade undercarbonated - could be more effervescent. Highly astringent, with an aftertaste of bitter aromatic hops and dark malt.
A pretty good effort, though not the best Kernel beer I've had. Looks OK, and the aroma is lovely - tons of hop notes to tantalise your nasal cavity. The flavour is a bit rough around the edges; the aroma hops don't come across so well and the malt is buried by the bitterness. Body is nice but a tad too flat - the carbonation could be livelier. Having said that, it's still a huge hop bomb with a big presence. Worth a punt for hop lovers out there.
1,621 characters

3.65
/5
rDev
-3.7%
look: 4 | smell: 4 | taste: 3.5 | feel: 3.5 | overall: 3.5
330ml Bottle. Pint glass. Enjoyed on mar´13. Very dark brown in color. Beige froth, thick layer lasting crown. Intense resinous & herbal – lavender- aromas rounded by subtle cocoa. Roasted malts & increasing bitterness flow all over. Medium body. Moderate carbonation. Oily texture. Silky, flavorful & astringent palate. Long bitter finish shows slight chocolate hues. Resins on the aftertaste. Worth to try!
411 characters
3.72
/5
rDev
-1.8%
look: 3.75 | smell: 3.5 | taste: 3.75 | feel: 3.5 | overall: 4
A dark beer with a frothy head that does not seem to settle.
The smell is very hoppy with fruity and citric hops and some of that catpee hop. There is a light dark malt smell but this may be my mind playing me. The hops determine 99% of the smell.
The taste is quite bitter with a nice dank, piney and citric hoppiness. There are not really other tastes standing out other than the hops. The light roast I picked up in the smell do not seem to display in the taste. The beer is a classic Black IPA,
500 characters

3.77
/5
rDev
-0.5%
look: 4.25 | smell: 4 | taste: 3.75 | feel: 3 | overall: 3.75
On-tap at the brewery.
A: Dark brown with a medium tan head.
S: Intense grapefruit aroma.
T: Loads of fresh citral hops and pine - a lingering bitter aftertaste.
M: Medium-bodied with very little carbonation.
Despite the colour difference, this tasted almost identical to the Kernel's IPA Citra - I was hoping for some maltier notes to come though, but I found this a little one-dimensional and over-hopped. As with their Citra and Mosaic Pale Ale, this has fairly minimal carbonation - this might not bother some people, but I'd prefer a bit more carbonation to balance out the bitterness.
595 characters
3.54
/5
rDev
-6.6%
look: 3.75 | smell: 3.5 | taste: 3.5 | feel: 3.75 | overall: 3.5
Poured from a 330ml bottle into a Fullers snifter glass. Bottled: 29/1/13.
Pours a thick looking, dark brown colour with a decent off-white head. Some lacing.
Smells hoppy, with a hint of sweetness.
Tastes very hoppy - citrus, pine, dry finish. Dry, burnt malts, combining with the hops to create a very bitter taste. Warming alcohol taste, and a thick, almost creamy mouthfeel.
Overall a pretty new and original drink - for me at least. Far from perfected, but a good combination of strong US hops and dark malts.
521 characters

4.15
/5
rDev
+9.5%
look: 4 | smell: 4 | taste: 4 | feel: 4.5 | overall: 4.5
Purchased at the Kernel Brewery in London, bottle-conditioned in a 330ml brown bottle, bottled on 29/01/13, BB 29/05/13, served lightly chilled in a straight pint glass. Note: The beer label also prints Brodies Fabulous Beers on the front, which, according to a staff at the brewery, is supposed to be the brewing partner for this specific product, although in the end on the brewing day the representative from Brodies never showed up…! The back label says THANKS JAMES – don't know if the gratitude is genuine or… stating the opposite… (for not showing up!!)
A: pours a deeply dark brown to ebony colour, slightly murky, topped with a huge and frothy light tan head which lasts well, while the carbonation comes at a decent level as well.
S: ripe grapefruity, sweet guava-like, earthy and piney hop aroma abounds, while the thick body of sweet dark malts also lend some depth to be enjoyed on the balance; a swirl brings up the resinous hoppiness and a pleasant whiff of sweet chocolates from the dark malts with a touch of cream and a touch of stinky charred coffee beans. Very very pleasant and robust comes the aroma.
T: juicy and delicious from the outset, immediately the exotic fruity hoppiness surrounds the palate along with bitter-sweet chocolate malts with a tinge of burned nuts/coffee, while the chewy & bitter grapefruit-peel-like tannic bitterness from the good amount of American and/or New Zealand hop varieties (possibly Citra/Mosaic/Nelson Sauvin, etc.?) takes over and results in a superbly lingering aftertaste with a black peppery touch and three-dimensional mouthfeel… Unlike a paler, normal version of IPA, the darker malts here seem to really help settle the flavour profile on a good balance, with a lesser sweet edge overall and additional burned/roasted aroma & taste.
M&O: healthily carbonated, it tastes fresh and refreshing while the alc. (6.9%abv.) really hides well behind the hops and malts. This full-bodied Black IPA is not heavy on the palate at all, but rather light (thanks to the lively hop profile), easy-drinking and moreish that alas such a small bottle disappears all too fast… This bottle-conditioned version is indeed better than the draught (on tap) version I tried at the brewery tap, which was slightly too cloudy for certain particular flavour elements to pierce through. Will definitely try to get a few more bottles next time I'm back in London!
2,416 characters
Scanner Darkly Black IPA from The Kernel Brewery
3.79
out of
5
based on
11
ratings.