Kvas Yahont

Moskovskaya Pivovarennaya Kompaniya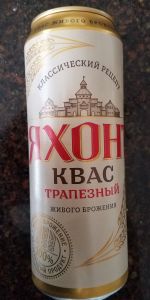 Rate It
Beer Geek Stats
| Print Shelf Talker
From:

Style:

ABV:

1.2%

Score:

Avg:

3.34

| pDev:

14.07%

Reviews:

9

Ratings:

Status:

Active

Rated:

Oct 12, 2022

Added:

Oct 11, 2014

Wants:

Gots: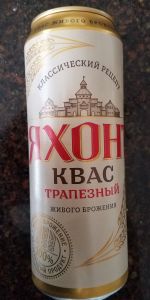 Recent ratings and reviews.
| Log in to view more ratings + sorting options.
Reviewed by Sigmund from Norway
2.44
/5
rDev
-26.9%
look: 2.75 | smell: 3 | taste: 2.25 | feel: 2 | overall: 2.25
500 ml can, from the grocery store in Tofinis Hotel, Ayia Napa, Cyprus. Dark brown colour, minimal and shortlived beige head. Aroma of rye bread. The flavour has a moderate sweetness, notes of rye bread and sugar. Thin mouthfeel.
Oct 12, 2022

Reviewed by elNopalero from California
3.27
/5
rDev
-2.1%
look: 4.25 | smell: 3.5 | taste: 3.25 | feel: 2.75 | overall: 3
From a can.

This pours a bready, malty, dark cola color. The aroma is light, rye-bread notes and caramel. Sweetish, with more caramel and a drying, slightly chalky finish.
Aug 06, 2020
Reviewed by tone77 from Pennsylvania
3.46
/5
rDev
+3.6%
look: 3.75 | smell: 3.25 | taste: 3.5 | feel: 3.5 | overall: 3.5
A thanks to my comrade woodychandler for this beer. Poured from a brown plastic 2 liter bottle. Has a damn near black color with no head at all. Smell is mild, bready. Taste is of dark breads, molasses, on the sweet side. Feels medium bodied in the mouth and overall it ain't bad.
Sep 27, 2019

Reviewed by woodychandler from Pennsylvania
3.54
/5
rDev
+6%
look: 4 | smell: 3.75 | taste: 3.5 | feel: 3.5 | overall: 3.25
Boy, if I didn't catch enough flak during NBS Week 731, today's New Back to the Beer Future Sunday, Part 3, Mission II, (Week 761) is really gonna bring me down! I have solidly returned to a Sunday of Kvasses & while I CAN't be happier, many are unhappy with me as an Amerikanski. 8=(

From the Bottle: "Refectory Classic Recipe" (from the Cyrillic).

I unscrewed the cap on this massive 2-L plastic bottle (thanks, RussianTable.com!) & charged my glass nearly to the brim. It fizzed mightily, formed a brief finger of fizzy, foamy, light-tan head that quickly fell to wisps. 8=( Color was Dark Brown to Very Dark Brown (SRM = > 27, < 34) with NE-quality clarity & ruby highlights. Nose had the treacle-like breadiness that I have noted repeatedly today. Mouthfeel was thin, but on par for the style. The taste was more sweet than sour, with a light treacle presence and a more pronounced breadiness. This was more palatable than some of the others, for sure. That said, it still struck me as being a bit too sweet. Finish was sweet to semi-sweet. I was not really impressed with & by this one. YMMV.
Sep 22, 2019
Reviewed by biboergosum from Canada (AB)
3.24
/5
rDev
-3%
look: 3.5 | smell: 3.25 | taste: 3.25 | feel: 3.5 | overall: 3
500ml can, from a Russian grocery store in southwest Edmonton that I didn't even know existed until last month.

This beer pours a clear, medium red-brick brown colour, with two fingers of puffy, loosely foamy, and generally just fizzy tan head, which leaves absolutely nothing in the way of lace anywhere near the glass as it quickly blows off.

It smells of rather sweet brown sugar, soaked rye bread, caramel syrup, musty raisins and dried cherries, and a mild earthy yeastiness. The taste is sugary malt, further reduced brown molasses, very sweet plump raisins and prunes, toasted rye grain, some old-world yeastiness, and a muddled dark orchard fruitiness.

The carbonation is quite anemic in its AWOL frothiness, the body a solid middleweight, and mostly smooth, in a malt pop sort of manner. It finishes on the sweet side, of course, molasses, brown sugar, and rye malt seeing your battered palate out the back door.

Overall - yeah, this is certainly a lot better than my first experience with the style (no spongy floaties here!), but still way too sweet to be taken seriously. It's like warm, bubble-free cask ale, I mean, how is that palatable? They call this the equivalent of soda pop for Eastern European kids, but I'm not buying that tripe - they have Pepsi over there too, which is a whole lot more enjoyable than this. I'm done.
Oct 26, 2017

Reviewed by Huhzubendah from District of Columbia
3.44
/5
rDev
+3%
look: 5 | smell: 3.5 | taste: 3.25 | feel: 3 | overall: 3.5
Can from Russian Gourmet in Alexandria, VA.

Beautiful crimson body with a half inch of tan collar. Malt, cherries, sugar. Tastes like a cherry coke. Fun.
Jun 11, 2015

Reviewed by emerge077 from Illinois
3.47
/5
rDev
+3.9%
look: 3.5 | smell: 3.25 | taste: 3.5 | feel: 3.75 | overall: 3.5
Can is dated 03.10.14 and 03.10.15, which could be production/best by dates.
Ingredients: water, barley malt, rye malt, sugar, lactic acid. No artificial ingredients.

Poured into a mug, as kvass is traditionally served in, not that it matters much.
This is clearly a quaffing beverage though.

Dark chestnut brown color, ruby highlights, perfect clarity with no sediment. A finger of head dissipates fast, leaving behind a ring and some spotty lacing around the edges.

Aroma is faintly sweet, raisins and a musty mineral well water smell. A little more rustic that most I guess.

Taste is pleasantly tart with a light raisin molasses sweetness that flashes by initially before the tartness. Aftertaste of raisin bread. Thin bodied with soda carbonation. A little bland overall but interesting that it is much more tart than most commercial kvas (besides All Stars Bakery). Worth a try if you see it at the deli.

Kvass #28
May 11, 2015

Reviewed by ONovoMexicano from New Mexico
3.18
/5
rDev
-4.8%
look: 4 | smell: 3.5 | taste: 3 | feel: 3 | overall: 3
Served in a snifter from a 16 ounce can.

Thick and frothy dark-khaki head. Highly carbonated, dark brown body. 4

Smells like rye bread and raisins. Very bready. 3.5

Taste and nose are faithful to one another. Raisiny and sweet bread-like, but also with a dark malt, almost rye, flavor. Tartness adds another interesting note. I kind of enjoy this. It's a bit sugary although I'd say artificial sweetener might be more what I'm tasting. 3

It feels pretty thin and has essentially no carbonation. This makes it easy to drink but it almost doesn't feel like beer. It seems like a low ABV barleywine maybe. 3

First kvass for me. It's enjoyable to drink. There's enough on the flavor to be interesting but it lacks oomph, body, and resembles Malta goya or a flat Dr. Pepper a little too much. 3
Dec 23, 2014

Reviewed by flagmantho from Washington
3.26
/5
rDev
-2.4%
look: 3 | smell: 3.25 | taste: 3.25 | feel: 3 | overall: 3.5
Poured from 500mL can into a dimpled mug.

Appearance: dark brown with a low-to-moderate haze and no head whatsoever. It looks like a kvass.

Smell: sweet with a bready, molassesey character and just a hint of raisin aroma. Not too bad for the style.

Taste: definitely a little more molasses-type flavor than most kvasses I've had. Kind of like a really heavy, dark, sweet bread. I like it.

Mouthfeel: fizzy and kvass-like. Not much to say here.

Overall: very drinkable and refreshing, despite its high sweetness factor. I'm still not sure why kvass hasn't caught on more here in the US.
Oct 11, 2014
Kvas Yahont from Moskovskaya Pivovarennaya Kompaniya
Beer rating:
81
out of
100
with
14
ratings