De Graal Dubbel
| Brouwerij De Graal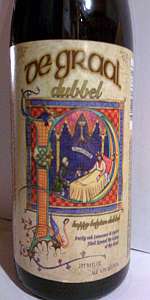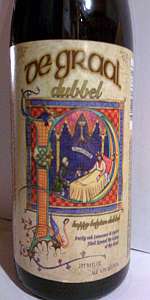 BEER INFO
Brewed by:
Brouwerij De Graal
Belgium
degraal.be
Style:
Belgian Dubbel
Alcohol by volume (ABV):
6.50%
Availability:
Year-round
Notes / Commercial Description:
None provided.
Reviews: 9 | Ratings: 16

3.17
/5
rDev
-7.8%
look: 2.5 | smell: 3 | taste: 3.5 | feel: 3 | overall: 3
On-tap- Snifter glass. Dark brown color headed by beige froth. Brief crown. Belgian yeast, plum, toasted malt & intense floral aromas. Enters fizzy with toasted flavor. Full body. Moderate carbonation. Caramel malt & candy flavors create sugary sensation & quite cloying mouthfeel. Long sweet/bitter finish. Fruits & figs on the aftertaste.
340 characters
2.88
/5
rDev
-16.3%
look: 2.5 | smell: 2.5 | taste: 3 | feel: 3.25 | overall: 3
Sold as "Big Brown Bastard".
The beer pours with a fizzing sound. The clear liquid is gold-red-brown (35 EBC). The beige head is airy, it dissolves quickly without any lacing.
The smell is mild, unbalanced and a bit frowsy. Phenolic spices and some dried fruits. Caramel, bitter oranges and some alcohol and chloride.
The taste is fruity and somewhat roasted. Red berries, Caramel and toffee, some warming alcohol, hints of nuts and bitter almonds. Light body. The aftertaste got growing bitter notes, bitter almonds, dry hints of leather and caramel, green apples and sweet fruit drops. The finish is dry with notes of Carambola.
The carbonation is medium to light, the fresh bubbles mid-sized. The liquid is semi-dry and light.
This is one light dubbel. Perhaps something for the beer-drinkers unexperienced with the style?
833 characters
4.5
/5
rDev
+30.8%
look: 4.5 | smell: 4.5 | taste: 4.5 | feel: 4.5 | overall: 4.5
Picked up a mess of dubbels on a recent trip to Brussel that I haven't seen in midwest US. This one was 2.50 Euro for a 330 ml bottle notched with a best by date of 06/11, might have been on the shelf for awhile!
A-Poured into a chalice this one gives about a finger of light tan head that breaks down and hangs on the side of the glass. That murky brown color with some red tints remniscent of a dubbel is here.
S-Yum, definitely a dubbel. Rich malty sweetness-cookies with a touch of molasses, fruity esters (fresh apples and raisin maybe), a touch of spicy phenols and alcohol.
T-A lot going on here but is a bit hard to figure out all the flavors and sensations detected here. Sweet toasted malts with carmelized notes, a bit of an earthy touching on tobacco flavor in here (hops?). Not overly rich but satisfying and light.
M-Tight, light carbonation zing. Very mouth drying, quick finish. Damn smooth. Body is light. Makes you want more. Very minimal alcohol burn.
D-This is tasty and easy to enjoy. With a little lighter alcohol content than most, I wish I had more.
O-I love the complexity of the Belgian dubbel, so hard to find 1 in the US that rivals these. This 1 exceeded my expectations. A wonderful beer that makes me feel like I'm sitting in a Belgium cafe.
1,279 characters
3.3
/5
rDev
-4.1%
look: 3 | smell: 3 | taste: 3.5 | feel: 3 | overall: 3.5
Poured from a 25.4 oz bottle into a Unibroue tulip.
A: Pours a hazy, light brown color with one-half finger of pale tan head. Not much retention and lace.
S: Odd-- berries and a little booze. Not bad but not what I was expecting.
T: Leads with a slightly funky caramel, there are also traces of dark fruit and molassess. Finishes lightly bitter. After a few sips, some light, tart cider joins the mix. Then a slightly boozy butterscotch, and pepper. Interesting flavors, but not hanging together really well. At the very end, some cinnamon.
M: Feels too light, but the carbonation is good.
O: Not bad, but it seems a little unfocused. This is reminding me a little of the Petrus Oud Bruin, which I wouldn't expect from a Dubbel. Well, give it a try, you might like it better. Probably not one I would buy again, but still good enough to finish the glass.
859 characters
2.32
/5
rDev
-32.6%
look: 2 | smell: 2.5 | taste: 2.5 | feel: 2 | overall: 2
Poured into a tulip glass with minimal head that quickly disappeared, a clear brown color, minimal carbonation.
Aroma is caramel and yeast.
Taste is on the sweet side, but not in a good way, very average.
Mouthfeel was not very good. Lack of carbonation combined with a watery feel left it wanting.
Maybe this was on the shelf too long.
340 characters
4.05
/5
rDev
+17.7%
look: 4 | smell: 4 | taste: 4 | feel: 4.5 | overall: 4
Colour is a very lovelty golden brown but unfortunately there is a large off-white head
Smell is of honey, syroup, malt and floral notes
TAste is much the same with a big malt bomb ufront followed by honey-caramel little bitterness
Mouthfeel is its standout feature refreshing prickly yet creamy
Drinkability is good but alcohol presence is high for only some 6%
366 characters

3.7
/5
rDev
+7.6%
look: 3.5 | smell: 3.5 | taste: 3.5 | feel: 4.5 | overall: 4
Appearance: pours a clear brown color with a 1/2" head that breaks apart quickly to form a few big surface bubbles.
Smell: caramel, earthy tones, and some yeast are all that is picked up by the nose.
Taste: caramel, ripe red plums, hints of raisins, yeast, and a mild bitterness are wrapped in a earthy blanket.
Mouthfeel: lightly crisp to start, nicely smooth at the finish. Very brief aftertaste. Medium bodied beer.
Drinkability: overall this is a decent dubbel that was easy to quaff. There are better dubbels out there but this will hit the spot if you are in the mood for one.
588 characters
3.45
/5
rDev
+0.3%
look: 3.5 | smell: 3.5 | taste: 3.5 | feel: 3 | overall: 3.5
Brilliant blood orange with ripe tangerine and polished brass highlights. The sandstone colored crown doesn't look Belgianesque, but it still looks good. The foam is firm and sponge-like, with large craters and small pits in its upper surface. Very little lace makes it to the glass.
Dubbel smells darker than a Belgian amber and lighter than a Belgian dubbel. Okay, so Belgian amber ale isn't a style... but it should be. The beer smells like toasted bread, steely caramel and assorted fruits. A modest spiciness is undoubtedly coming from the yeast.
My first Brouwerij De Graal beer is far from the best dubbel on planet Earth. One fairly major problem is that there isn't enough carbonation. That leads to a beer that struggles to stay inflated enough so that all the nooks and crannies of the flavor profile can be prodded and probed. Assuming any nooks and crannies exist, that is.
This is a light-end-of-the-style dubbel, but it's clearly a dubbel. Flavors include lightly toasted brown bread, caramel apples, English breakfast tea leaves, an herbal woodiness and a pinch of ground clove. Problem is, the various components don't fit together very well. In other words, the whole is less than the sum of the parts.
Sweet, bitter, tart and spicy are all present in roughly equal measure. The result is very little verve and a paucity of panache. It's hard to figure the brouwerij's claim that this is a 'hoppy Belgian dubbel' because it's pretty much middle of the road in that regard. Warming changes nothing with respect to the flavor profile.
The mouthfeel is this ale's Achilles' heel. With a proper amount of bubbles, I have no doubt that the final three scores would have been 4.0, 4.0 and 4.0. As is, it's no more than light-medium, loses its way on the finish and has next to no lift.
Since several more De Graal ales are biding their time in my cellar, it's my hope that Dubbel is the exception rather than the rule. $8.29 isn't bad, but then the beer isn't that good.
1,989 characters
3.17
/5
rDev
-7.8%
look: 3 | smell: 3.5 | taste: 3 | feel: 3.5 | overall: 3
Best before 06-05. Poors in without to much of a head and whats there is yellowwhite but soon gone. Beercolor is brown with huge particles foating in it.
Smell is very spicy and with that some maltarome mostly darkmalt and sweet ending with litle roastnote. Taste is mostly sweet, full bodied with maltaromes, yeastspice and a sweet aftertaste. Gues they forgot about adding anything with bitterness. Rich flavour makes the beer big in mouthfeel but the "not fresh and fruity" note makes it not that drinkable to me. Something else though.
540 characters
De Graal Dubbel from Brouwerij De Graal
Beer rating:
3.44
out of
5
with
16
ratings