Lavery Brewing Company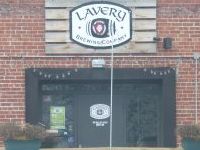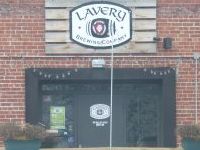 Brewery, Bar, Eatery
128 W. 12th St.
Unit 101
Erie
,
Pennsylvania
, 16501
United States
(814) 454-0405 |
map
laverybrewing.com
Notes:

cratez from Canada
3.1
/5
rDev
-26.5%
vibe: 3.25 | quality: 3 | service: 2.5 | selection: 3.75
Visited with my wife on a recent trip to Jamestown/Lakewood and Erie, PA.
Tried the following:
Lavery Dulachan IPA (can)
Lavery Dark Warrior Black Lager (draft)
Lavery Madra Alta IPA (draft)
Lavery Imperial French Ale (sample)
Beers ranged from middling to good. Only a few patrons in the taproom on our visit, and yet the service was underwhelming, even though we told the bartender we were visiting from Toronto. Didn't try the food as we ate at Cloud 9 before coming here. Our overall experience was okay, but given the average quality of the beer and the substandard service, I don't think we'd come back. Disappointing.
Feb 26, 2020

EMH73 from New York
4.29
/5
rDev
+1.7%
vibe: 4.25 | quality: 4.25 | service: 4.5 | selection: 4.25 | food: 4
Large taproom with friendly and knowledgeable service. Fights offered. Beers were quite good and there was a wide assortment available on tap and to go as well. Small sample tastes are given which is a great way to weed out beers you dont like when not doing flights. Rather large food menu for a brewery, everything we tried was good to very good. Pretzels pair perfectly with IPA's. Friendly group of people in the tap room, easy conversation with strangers.
Oct 25, 2019

puck1225 from Texas
4.15
/5
rDev
-1.7%
vibe: 4 | quality: 4 | service: 4.5 | selection: 4 | food: 4.25
Tucked away in an old industrial building, you go in at the one side of the building and you think you are walking into the brewery. Just keep walking around it and you come to a spacious tap room with every friendly and helpful service. Enjoyed the food and the beer. We had our meal at outside picnic tables. Perfect for the mild summer day in Erie.
My favorite thing about the beers I have had from this brewery: they don't taste exactly like you might expect, but in a good way!
Will certainly go back next time in town.
Jul 22, 2018
Fee from Pennsylvania
4.15
/5
rDev
-1.7%
vibe: 4 | quality: 4.5 | service: 4.25 | selection: 3.75 | food: 4
Lavery has some great beers - especially if you are into IPAs. Friendly service and a nice outdoor area. Food was fine but beer was excellent. Nice neighborhood feel to the place.
Jul 18, 2018
Brez62 from Pennsylvania
4.58
/5
rDev
+8.5%
vibe: 5 | quality: 4.75 | service: 4.5 | selection: 4.5 | food: 4
My go to place for great beer, tasty eats, and friendly conversation. It's never a problem that the beer menu is always changing. We are always able to find a delicious IPA, yummy stout, or perfect pilsner. The Brewery also attracts the most interesting people from all different places. With no televisions in the pub, prepare yourself for pint improving conversation. Staff is friendly and knowledgeable. Owners are sincere and dedicated to the craft. Make the pilgrimage. You'll be happy you did. Slainte!
Jan 02, 2018

Hopyard57 from New York
4.13
/5
rDev
-2.1%
vibe: 4.5 | quality: 4.25 | service: 4.5 | selection: 3.5 | food: 4
We stopped in driving thru town on a road trip with our two small kids and the place and people were the perfect medicine after a day on the road. Small limited menu but tasty nonetheless. They had 7-9 beers on tap plus root beer, we tried the IPA, Belgian cream ale and pumpkin stout. All flavorful and well crafted. Nothing overwhelming but definitely worth checking out, especially if I were local, I'd throw my support behind them and be a regular. Took a sixer of IPA cans to go, cheers from the hotel room.
Aug 30, 2015

Mikus from Pennsylvania
3.51
/5
rDev
-16.8%
vibe: 3.75 | quality: 3 | service: 3.75 | selection: 3.75
Cool little joint, you can see all of the equipment when you come in. Barkeeps were very inviting (especially with our 3 kids). No food when we went, they had a food truck outside. Quality disclaimer: most of their brews were nice, clean, etc. However, their Berliner had major issues and should NOT have been on tap. It smelled like barf. Was not properly soured. It should have been detected and dumped. Other brews were just fine, rauchbier, pumpkin stout, black lager, and Dulachian IPA (with Voodoo). Lace Curtain Belgian was really nice. Honestly, I wouldn't go back personally due to the Berliner issue, but they are probably still worth a shot in Erie.
Aug 29, 2015
3fdread from Illinois
4.89
/5
rDev
+15.9%
vibe: 4.75 | quality: 5 | service: 5 | selection: 4.75 | food: 4.75
Awesome spot for a quick pick up, or a flight session while playing connect four with the fam. Great beer, great food, keep it simple. This place knows what it's doing. Imperial farmhouse is world class. Cheers!
Jul 26, 2015

SudsTerkel from Colorado
4.75
/5
rDev
+12.6%
vibe: 4.75 | quality: 4.75 | service: 4.5 | selection: 5
Stopped by LBC while visiting family in the area. I'd heard of their award-winning Dulachan, which was the 1st on my list to sample. Superbly executed from start to finish; also had the Farmhouse Saison and the Red, which provided an equally satisfying drinking experience. Liked the friendly and knowledgeable staff, who supplemented the experience as well. I'd go back here in a minute and if living in Erie, I'd be a regular. My hat's off to the proprietors; staking out a craft beer presence in a town that's been the dreaded Bud-Molson-Miller lager turf for years is an achievement...long may they prosper!
Jun 01, 2015

gcasher from Pennsylvania
4.5
/5
rDev
+6.6%
vibe: 5 | quality: 5 | service: 4 | selection: 4 | food: 5
This was my first time to Lavery Brewing and the moment, I walked in the front door, I knew the place was special. There was a catwalk feel to the entrance as I was guided around the brewing facility and dropped off into a hall with a tap bar and tables. There were five beers on tap and a cider. There were three beers available in bottles. The pub menu was brief, but outstanding. Of note were the chickpea tots, the charcuterie plate, the three dips with pita bread (spicy chickpea, olive tapinade, and curry), and the macaroni grilled cheese sandwich. The beers of note were the Belgian pale ale, the rye stout aged in makers mark oak barrels and the Dula Vibes Triple IPA brewed with Voodoo. The Dula VIbes was truly outstanding.
Jul 06, 2014
Morey from Pennsylvania
4.33
/5
rDev
+2.6%
vibe: 4.75 | quality: 4.5 | service: 4.5 | selection: 4 | food: 3.75
Very happy that these guys finally opened up a pub. Great place to go out for a beer in Erie, and a MUST to visit if you're passing through. 6 beers on tap with growlers, half growlers, and bottles available for takeout. Menu changes and continues to grow. I've only had a few food items so far, and everything has been good.
Jan 11, 2014
Lavery Brewing Company in Erie, PA
Brewery rating:
3.86
out of
5
with
1316
ratings