Open Baladin Roma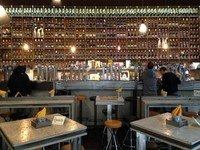 PLACE INFO
Type:
Bar, Eatery
Via degli Specchi, 6
Roma
, 00186
Italy
+39 6 683 8989 |
map
baladin.it
Notes:
No notes at this time.
Added by Plomb on 09-12-2010
Reviews: 11 | Ratings: 24
4
/5
rDev
-8.5%
vibe: 4 | quality: 4 | service: 4.25 | selection: 3.75
Good selection of continental beer, but the IPA section had no hops & was clearly brewed with Belgian yeast. It was quite hot inside but the staff was friendly, bathrooms clean, and lots of beer selections!
207 characters

4.06
/5
rDev
-7.1%
vibe: 3.75 | quality: 4.5 | service: 3.5 | selection: 4.25
Went one lunchtime in Feb 2016. Great selection of local beers, I only wanted to try one of their barleywines which was fantastic. Service was fine although don't really wished to be told where to sit. Stuck on a small table near the bar where there was a nice snug which I only found out by going to the toilet. Can see why this would appeal to locals and tourists but was too stylised for my liking. Prices were fair for central Rome.
436 characters

3.89
/5
rDev
-11%
vibe: 4.25 | quality: 4 | service: 3.75 | selection: 3.75
Ok place with big tap list of Baladin stuff, including many Xyauyu variants for small pours from bottles. Service was fine, didn't eat the food. Worth a stop in if you're there, but was hoping for a cellar bottle list of some sort.
231 characters
4.97
/5
rDev
+13.7%
Wow, open the front door and you're in a large room with a big bar - bottles everywhere, covering the walls. Lots of seats and tables throughout, and also an upstairs area that's very cozy, like a hookah lounge almost. To my knowledge there are several other rooms that I have yet to visit. This is a big place. As for the beer, it's a great menu - obviously lots of Baladin beers, which are amazing, but also beers from a lot of other Italian breweries. And all beers are 5 euro (of course the sizes vary). I've grown to like this brewpub better than Bir&Fud, Ma Che Siete, and 4:20. Definitely visit if you're in Rome
619 characters
4.98
/5
rDev
+14%
vibe: 4.75 | quality: 5 | service: 5 | selection: 5 | food: 5
When in Rome drink @ Open Baladin!!!
This was a beautiful gastro pub serving beer made in northern Italy by Baladin. Had a bit of an issue finding the place but the neighborhood was friendly, think its an Argentinian neighborhood, and about four block from a Roma futbol club store.
The draft selection was impressive, had an Italian IPA that was average. The real treat was the nice selection of Italian craft beer, including Baladin beers. Great fresh parmesian potato chips!! I thought the prices were fair for the quality. Alot of the staff spoke good English. I still have a bottle of vanilla Noel left. I didnt like the Nora beer, ancient style herb beer. The Terre reserva 2010 was a great aged barleywine, wish I would've brought a bottle home.
755 characters
3.79
/5
rDev
-13.3%
vibe: 3.5 | quality: 3.75 | service: 3.75 | selection: 4 | food: 3.75
Lunchtime mini-session on 10th Dec 2013.
We were already knackered from our walking/getting lost tour of the main sites in Rome when I manouvered us towards this bar: the wife and I needed a beer, seat and a rest.
Felt at home as soon as we walked through the door. A wall of beer bottles behind the bar, which covers the whole length of the rear in the main room: in front of the said wall is a huge row of taps all along the bar, with three hand-pulls on the far right.
Modern design and slick feel to everything: beer menu was a bit grubby and slightly out of date, but they are minor faults as you sit down and take in the place. Every other beer on the menu that we wanted wasn't available, more than a minor fault now. The beers we did have were all fine: we stuck with unknown Italian brews rather than the UK/International selection, thinking 'when in Rome do as the Romans do', hope they weren't drinking the other beers!
Service was with a smile and in English (my Italian is non-existent): it got busier over the lunchtime with food orders and it became full with every table being occupied, but we still got served our beers without any waiting or worry. We had a cone of hot crisps/chips with a salsa sauce to help us drink more, very nice, it appears to be a speciality of the bar.
All in all a pleasant experience and I can see why this bar gets rave reviews.
1,379 characters

4.75
/5
rDev
+8.7%
vibe: 4.75 | quality: 5 | service: 4.75 | selection: 4.75 | food: 4
Open Baladin, hidden in the heart of Rome, was a real treat. It was certainly one of my more memorable experiences in a trip full of memorable visits.
I can't gush about the food, as I found their vegetarian burger option tasty but decent, and their homemade potato chips were excellent but too much. However, I was here for the beers and the beers did not let me down.
On my first visit our server brought us to their underground nook, Dal Nonno Clandestino (I think). This, I imagine, changed our experience dramatically, as I asked to sit at the bar. If we were in the main room not only would we have to compete with the crowds and the volume I don't think we would have had the same one-on-one attention which allowed me to ask about their many options.
I returned the following day to peruse their bottled offerings and pick up some selections to take back with me.
I also dropped in minutes before leaving Italy as I had freed up some space in my luggage for another glass and some more goodies—priorities!—but they weren't technically open for business.
In all cases I found the servers and staff to be friendly, helpful and informative.
The people I spoke with were bilingual, in both Italian and English
As for the beers… ah! I became hopelessly in love that night with a beer named Xyauyú.
If you're reading this site and you're anywhere at all near Campo de'Fiore/downtown Rome you have no reason not to visit!
1,447 characters

4.36
/5
rDev
-0.2%
vibe: 5 | quality: 4.25 | service: 4.5 | selection: 4.25 | food: 4
Went here on a recent trip to Italy based on great reviews on BA. Definitely the best beer I had while in Italy. Food was gastro pub flair. Beer was a fairly wide selection...aside from a few Baladin brews I had a St. Bernardus Abbott 12 on tap. Bought a Baladin Terra 2010 barleywine aged in red wine barrels to bring home. Will review that when I drink it.
358 characters

4.15
/5
rDev
-5%
vibe: 5 | quality: 5 | service: 2 | selection: 5 | food: 4
Overall I loved this place. Just walking in and seeing a wall of beer bottles sets the mood right away. Literally, the back wall, behind the bar is bar to ceiling beer bottles lined up on display. According to the bartender they were all from Italy. We did see something from Brooklyn Brewing on the tap menu, but the majority were Italian and most of them brewed by Baladin. They offer almost every style on tap. Stout, IPA, Hefewizen, etc.
The menu is basic pub fare. Burgers, potatoes various ways, several sandwiches, and wings. We just had the chips with paprika and the potato croquettes with gargonzola. Both were tasty but nothing out of this world.
The beer menu is phenomenal. You cannot go wrong and the prices were very fair. Plus you can take home almost anything in a bottle.
One thing I can say is the bartender service was good but once we got a table, forget about it. Our server took our order and we never saw her again. The bartender brought our beer out after it sat at the bar, the kitchen set our food down, and we had to go to the register to ask to cash out.
If you like beer and are in Rome, this is one of three places to go. Period.
1,166 characters
4.63
/5
rDev
+5.9%
vibe: 4.5 | quality: 4.5 | service: 4.5 | selection: 5 | food: 4.5
Making your way in the world today not only takes everything you got but sometimes its a crapshoot. so, when I discover a week from my departure to Roma that Baladin has opened a beer bar and what appears within walking distance of my digs, I am excited....
located in Centrico Storico, close to Campo De'Fiori, still located down a small side street and the place has no obvious sign. got to know its there, which apparently means young Roman professionals in the know and the occassional beer geek tourist such as me.
I get there at 9:00 and the place is 3/4s full with reserved tables for the rest of the dining room but plenty of room at the expansive bar. the staff speak limited english but the place is a beer shrine to the italian micro scene. I mention my love for Super and Issac and my enjoynment of Birrifico d'Borgo and I am "in for the the night. what to say, small place that fancies as a restuarant to cook gastropub grub to complment the amazing beer list 30+ drafts and 100+ bottles of which 95% are Italian Birra Artiginale. All pours are 33cl for 5 euro which I found more than reasonable especially for draft super and Nora and Issac. The xfume type beers are more price 10cl for 5euro. The place has the rep by the Rome foodies as best hamburger in roma, beef ground in house from sustainably raised Lazion cattle, excellent burger though not in the class on my Philly favorites such as Standard tap. Had also the buffla mozz paired with the Issac, amazing pairing. Oveall great place best to go as a group to eat restaurant style as the romans do not view this a a place to sit at the bar it being a restaurant in their eyes. When Ileft at 11 on a Thursday night the place was packed and others were working to get in. One of 3 to 4 places in rome to experience amazing craft beer and food, whihc I should say still not quite as amazing as bir+fud in trastervere. Seek and find if you can and enjoy
1,923 characters
4.88
/5
rDev
+11.7%
vibe: 5 | quality: 5 | service: 4.5 | selection: 5 | food: 5
Along a little alley near Campo de' Fiori there's one of the most famous and greatest pub of Rome. Open Baladin is the paradise of italian beers. 40 taps and more than 100 bottles of the most famous italian microbreweries. There is also a little selection of foreign beers, mostly belgian. The food is simply outstanding, and it doesn't matter if the prices are high. The hamburger is about 8 or 9 euro but the meat is the best, italian friesian cattle "presidio slow food". The fried potatoes are ...WOW!... and they are served with home made ketchup. The patisserie is classy too. A special place!
599 characters
Open Baladin Roma in Roma, Italy
4.37
out of
5
based on
24
ratings.