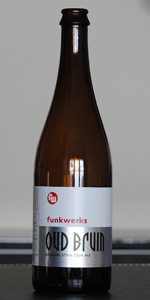 Rate It
Beer Geek Stats
| Print Shelf Talker
Style:

ABV:

7.5%

Score:

Avg:

3.96

| pDev:

8.84%

Reviews:

14

Ratings:

From:

Avail:

Rotating/Seasonal

Wants

Gots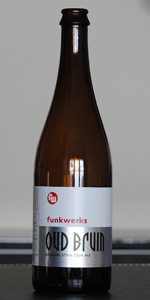 Notes: This 7.5% traditional Flemish-style sour was produced from a blend of beers aged for a range of up to two years in a variety of oak barrels. Long and slow fermentation with a blend of Brettanomyces, Lactobacillus, and other sour cultures contribute to the characteristically tart flavor. Notes of black cherry, raisin, and a hint of dark chocolate.
Parmesan from Colorado
3.69
/5
rDev
-6.8%
look: 3.75 | smell: 3.5 | taste: 3.75 | feel: 3.75 | overall: 3.75
L:. Pours a dark murky brown red with a small tan head and no lacing on the glass.
S:. Notes of cherry and caramel, a touch of berry and a bit of slight hop, lots of sour, aroma feels a little light for the style.
T:. Strong sour and acid, notes of cherry and berry, and a touch of caramel and toffee, a touch of vinegar.
F:. Smooth body, some acid in the background, medium body.
O:. Seems a little lighter on flavor than the other Oud Bruins.
May 17, 2021

Sabtos from Ohio
4.15
/5
rDev
+4.8%
look: 3.75 | smell: 4.25 | taste: 4.25 | feel: 4 | overall: 4
Appearance is dark brownish-red with a short fuzzy khaki head settling to a bubbly ring.
Charred barrel and dark cherry interplay well here, within a mildly sour base that has a good balance throughout.
Jan 21, 2020

REVZEB from Illinois
4.14
/5
rDev
+4.5%
look: 4.25 | smell: 4 | taste: 4.25 | feel: 4.25 | overall: 4
Had on tap. Well done in the feel and taste, with edgy sourness but not overly so, keeping the dark sweet elements of cherry, raisin, chocolate and toffee pudding at the forefront. Some acidity and large wood compliment. Flavor opens up more in taste than smell, with pretty nice depth and toasty warm booze and malt.
Jan 10, 2019

snaotheus from Washington
4.02
/5
rDev
+1.5%
look: 4 | smell: 4.5 | taste: 3.75 | feel: 4 | overall: 4
2017-12-09
750ml bottle served in a large snifter. Bottled on 2017-09-04. Given to me by @mr-jj.
Pours dark reddish brown with smallish head and medium to low carbonation. Smell is nice -- tart cherries. Sour.
Taste is tart, cherries, a little muddy. Not particularly standout, but good.
Mouthfeel is dry, and nice. Overall, nice beer.
Dec 10, 2017
tempest from New York
4.2
/5
rDev
+6.1%
look: 4 | smell: 4 | taste: 4.25 | feel: 4.5 | overall: 4.25
My favorite oud bruin, but I like that it's more bitter, less sweet, and more sour. It's still an oud bruin, right? There's a mild malty, sweet praline character. Then biting lemon rinds kick in with an earthy bitterness. The aroma is a bit plain with simple barnyard, but I have few complaints.
Jul 17, 2015
BeerAdvocate from Massachusetts
3.86
/5
rDev
-2.5%
look: 3.75 | smell: 4 | taste: 3.75 | feel: 4.25 | overall: 3.75
From BeerAdvocate Magazine #84 (Jan 2014):
Amazing. Funkwerks without a doubt has a firm grasp on what it takes to make stellar barrel-aged beer, though this one is a bit rough around the edges. Perhaps a bit too acidic and a tad too dry from the wood, though that's somewhat expected from the whiskey barrels. Overall, a great sour, but another 6 – 12 months in the bottle could help mellow this Oud Bruin out a bit.
STYLE: Flanders Oud Bruin
ABV: 7.5%
AVAILABILITY: Limited
LOOK: Excellent show of froth, cloudy dark brown color
SMELL: Thick oakiness, vinous, tart, musty cellar, faint tart cherry, phenolic, mint, hint of vanilla
TASTE: Smooth, slick mouthfeel, semidry, moderate-sized body, oaky, tart, leather, toasty, mild hoppiness, raisins, hint of booze, vague vinous note, bone-dry finish
Jun 19, 2015
DenverHopHead from Colorado
3.89
/5
rDev
-1.8%
look: 4.25 | smell: 4 | taste: 3.75 | feel: 4.25 | overall: 3.75
Poured from a 750mL bottled with a bottled on date of 6/24/13, so well aged; into a tulip.
Appearance - a deep red, auburn pour, cloudy, but carbonation bubbles appear when you examine the glass. Thick, bubbly off-white head produces a sticky curtain of lacing!
Smell - sweet and sour; oak barrels, red wine, hint of whiskey!
Taste - follows the nose with the sweet and sour candy, aged red wine and whiskey!
Feel - terrific blend of sweetness, sour and tart; mild body, smooth and flavorful!
Overall - I'm not a sour beer fan, however, this must be my favorite; likely due to the fact it is barrel aged and the bottle itself is aged roughly 17 months!
Nov 08, 2014
GarthDanielson from Virginia
4
/5
rDev
+1%
look: 4 | smell: 4 | taste: 4 | feel: 4 | overall: 4
Poured on-tap at the brewery and served in a tulip, the beer is a ruby brown coloring, with a tan halo of head. Nose of dark cherry, oak, old world fruit, booze, and tart sweetness. Flavors are tangy caramel, tart cherry, merlot characteristics, woody highlights, and a subtle acidic note. Robust and full-bodied. The aftertaste is tart cherry all over, with some merlot and cabarnet notes, with a dry, lingering, tart finish. Heavy brew.
Oct 30, 2014
UCLABrewN84 from California
3.75
/5
rDev
-5.3%
look: 3.75 | smell: 3.75 | taste: 3.75 | feel: 3.75 | overall: 3.75
Thanks to GRG1313 for sharing this one at his tasting.
Bottled 6/24/13.
Pours a hazy copper with a foamy tan head that settles to a partial film on top of the beer. Small streaks of lace form around the glass on the drink down. Smell is slightly sour with malt, fruit, and acidic aromas. Taste is much the same with sour malt, fruit, and acidic flavors on the finish. There is a mild amount of acidity on the palate with each sip. This beer has a lower level of carbonation with a slightly crisp mouthfeel. Overall, this is a pretty good beer with a pleasant sourness all around.
Jan 21, 2014
StonedTrippin from Colorado
4.24
/5
rDev
+7.1%
look: 4 | smell: 4.25 | taste: 4.25 | feel: 4.25 | overall: 4.25
some of the best stuff to come out from funkwerks, and thats really saying something as all of their beer is outstanding. just getting into sours, this beer is quality beyond their newness. lighter brown in color with some amber hues and a soda head of clearish tan bubbles. the nose is tart as it is sour, with a richer malt base consisting of chocolate malt amongst others, not sweet but with a little richness to it. there is a lot of acid too, which pulls me from grain to yeast, almost fruity in nature, citric and lactic at the same time, subtle but leading. the flavor is just like the nose, although the acid is more forward than indicated. its all the way through, not just in the finish, and the carbonation being so bright makes it really come alive. dry in the finish, even though there is some heft to the darker grain, its all gone on the swallow. as carbonated as they come, its fizzy and almost loud in the mouth. i hope funkwerks keeps up with the sours, this is a heck of a way to make a splash in that world. i wish this was a little more available than it is, but a really nice american made example of the style.
Jan 18, 2014

spoony from Colorado
3.94
/5
rDev
-0.5%
look: 3.75 | smell: 4 | taste: 4 | feel: 3.5 | overall: 4
From a 750 ml bottle into a wine glass. I didn't notice any date on the bottle, but I didn't look too hard. Reviewed from notes dated Dec. 23, 2013.
A-The brew pours very murky with a sort-of purple-brown color; it looks like an old bruise (to get kind-of gross). The head is short-lived and khaki in color. The head starts at about a finger and drops quickly.
S-There is a bit of sour cherry, but this beer tends toward the earthy end of the style with leather, plum, soil, and oaky flavors being more prevalent than sour or vinous flavors. I get just a little hit of cola, and tartness. The smell is interesting and inviting, although not as sour or complex as the best examples of the style.
T-The taste is also on the earthy side with only a bit of tartness on the drying finish. I get flavors like leather, soil, plum, tobacco, and a bit of vinegar. It is semi-sweet for the style, but the sweetness is kept (mostly) in check by the earthy flavors.
M-The feel is medium body with a soft, slightly chewy carbonation that was odd for the style, but agreeable.
O-This is a pretty decent attempt at a tough style. A little bit more sour/tartness would have paired well with the earthy flavors, but even lacking the pucker factor, I found this beer growing on me as I finished my first glass and poured my second. It manages to be complex, but approachable. A nice take on one of my favorite styles.
Dec 27, 2013

ajmitch4 from Colorado
4.09
/5
rDev
+3.3%
look: 4 | smell: 3.75 | taste: 4.25 | feel: 4.5 | overall: 4
Very excited to try Funkwerks' first stab at a barrel-aged sour. Poured from a bomber into a tulip glass.
Color is a very dark brown with a hue of ruby/auburn. Head is fantastic, it has good carbonation. It died down after a few minutes.
Smell is of the lacto and brett bacteria, not a hint of alcohol and the malts and dark cherry shine through at the end.
Taste is very similar to the smell, I get the black cherries and tart at first. Not overly tart which I'm a little bummed about. However the balance with the malts is very good, this isn't one-dimensional. Where it lacks in sour it makes up for it's complexity but I still crave more sour.
Mouthfeel is satisfying, a nice carbonation. I could probably drink a whole bottle by myself - excellent drinkability.
Overall I'm extremely bummed I didn't get another one of these to see how it ages. But I'm licking my chops to see what Funkwerks can do with their next attempt at a barrel-aged sour.
Dec 18, 2013
Beaver13 from Colorado
3.04
/5
rDev
-23.2%
look: 4.5 | smell: 3 | taste: 3 | feel: 2.5 | overall: 3
750 ml bottle. Pours dark reddish amber with a big fluffy reddish tan head that retains well and leaves some lacing.
The aroma is woody cherry with some acidic dry tartness. A little band-aid comes out as it warms.
The flavor is sweet and tart cherries with some vinous alcohol and an acidic dry finish. The mouthfeel is medium bodied with spritzy carbonation and is a bit watery.
Overall, a nice sour. I like the subtle sour and cherry, but it's a little thin and too dry and acidic for me. The longer it sits, the more band-aid notes come out.
Nov 26, 2013

denver10 from New Mexico
4
/5
rDev
+1%
look: 4 | smell: 4 | taste: 4 | feel: 4 | overall: 4
Pours a brown with a mahogany hue and a khaki head, that leaves very nice lacing on sides. Aroma offers some pomegranate and plum, some vinegar, coffee cake, caramel, and woody. Flavor starts off with the dark fruits which is then disrupted by some vinegar, there's also some caramel and brown sugar, a good does of some breadiness, and it closes out with the woodiness that offers a little bitter in the finish. More mildy sour than moderate. A fuller, heavy mouthfeel. Overall, Funkwerks with another winner. Would definitely drink this again.
Nov 24, 2013
Oud Bruin from Funkwerks
Beer rating:
88
out of
100
with
66
ratings